How to Do a Balance Transfer With Chase
A balance transfer to the right Chase credit card could save you some serious cash while repaying debt. Check out how to do a transfer and which Chase cards work well for this.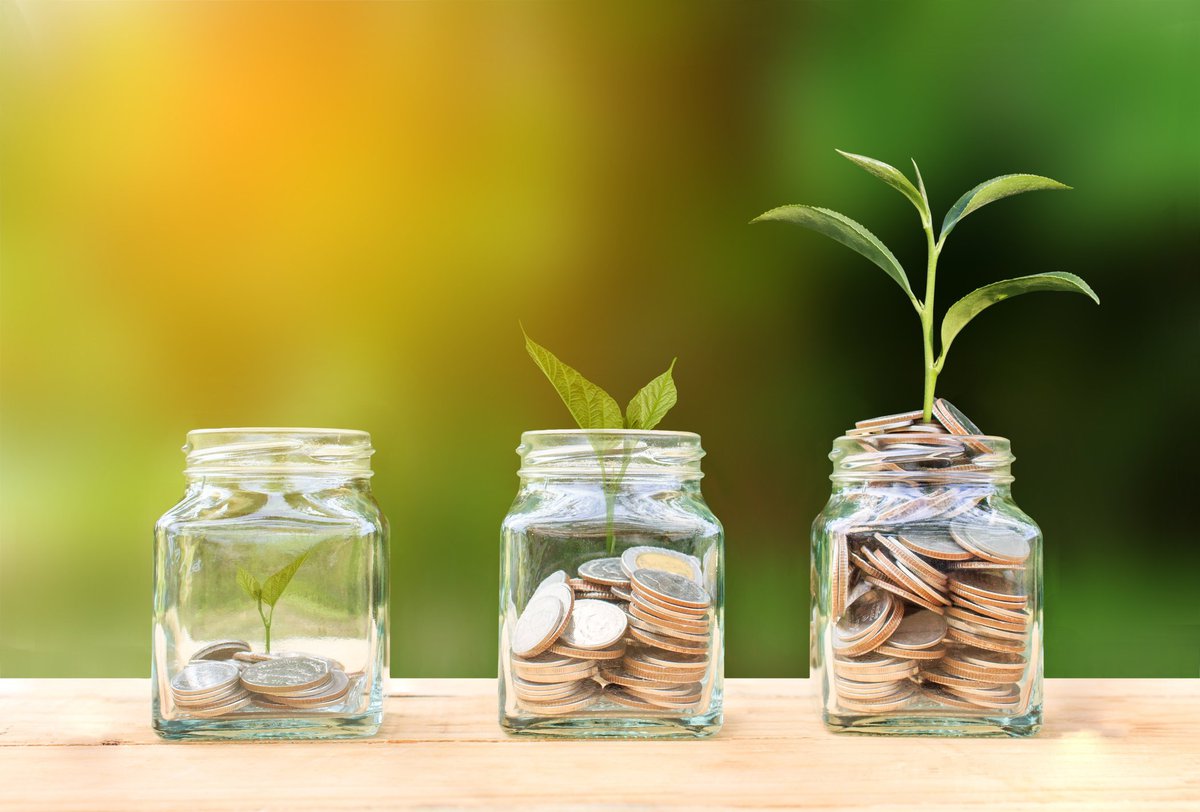 When you have credit card debt, one of the biggest challenges to getting it repaid is the interest rate. Every bit of progress you make is lessened by next month's interest charges.
A balance transfer card gives you a chance to stop the bleeding. You can transfer your debt over to a card with a 0% intro APR and have some time to pay down your balance. Chase has a few excellent cards for just this purpose, and once you have one, it doesn't take long to complete your transfer.
What to know before your balance transfer
There are a few rules and other pieces of information to keep in mind when you transfer a balance.
Most credit cards charge a balance transfer fee that's based on the amount transferred. If your Chase card has a balance transfer fee, the transfer limit for that card will be its credit limit minus the fee amount. For example, if you have a Chase Freedom® with a $10,000 limit and a 5% balance transfer fee, then Chase will let you transfer up to $9,500, assuming you have all your credit available. Chase Freedom® offers a 3% intro balance transfer fee when you transfer a balance during the first 60 days your account is open, with a minimum of $5. Then, either $5 or 5% of the amount of each transfer, whichever is greater.
Chase also has some specific rules for its balance transfers:
The limit on balance transfers to Chase cards is $15,000 within a 30-day period.
You can't transfer balances between Chase cards, so you must be transferring from a non-Chase card to your Chase card.
You must have a balance transfer offer on your Chase card. Chase doesn't let you transfer a balance without one, although it wouldn't make much sense to do this, anyway. 
How to do a balance transfer with your Chase credit card
1. Log in to your Chase account.
2. Go to the credit card page for your balance transfer card.
3. Click "Things you can do," and then click "Transfer a balance" from the drop-down menu.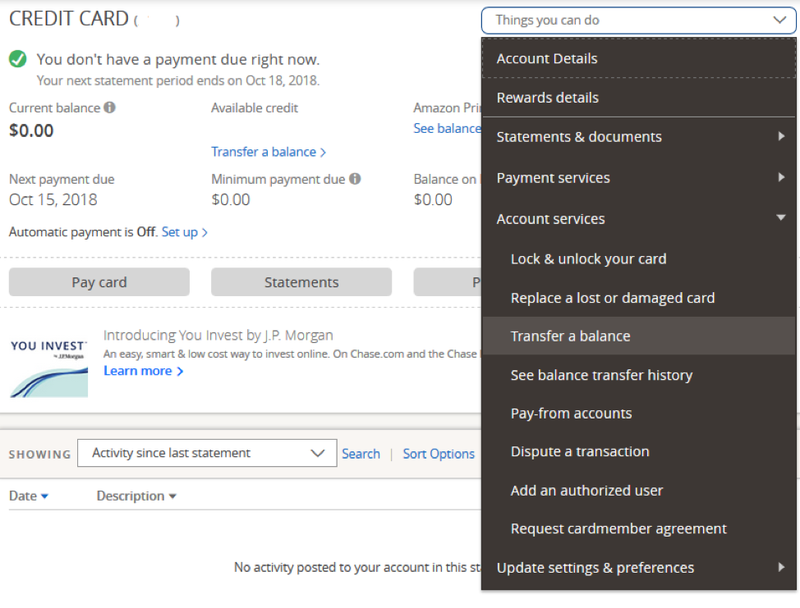 4. Select a balance transfer offer and click "Next."
Chase will show you any balance transfer offers available for the card you chose. You can pick another card from the drop-down menu to see what other offers you currently have.

5. Enter the credit card number of the card with the balance you want to transfer along with the transfer amount, and then click "Continue."

6. Review and submit your balance transfer.
Chase balance transfer cards
If it's strictly balance transfers you're after, then Chase's best card for that is undoubtedly the Chase Slate®. It offers:
0% intro APR for 15 months on purchases and balance transfers
$0 intro balance transfer fee for first 60 days
Free balance transfers are rare and a fantastic way to save some money. After the first 60 days, there's a 5% fee for any balance transfers with the Chase Slate®, so don't wait around after you get the card.
Two other options are the Chase Freedom® and the Chase Freedom Unlimited®, which also earn cash back. They both have the same 15-month intro 0% intro APR on purchases and balance transfers, but they each have a balance transfer fee of $5 or 3%, whichever is greater, on transfers made within 60 days of account opening. After that, the go-to balance transfer fee is $5 or 5%, whichever is greater.
A balance transfer isn't a one-stop solution to credit card debt, as you still need to be diligent in paying the balance down so you don't waste the opportunity. But it can certainly make a big difference in how quickly you get out of debt and how much interest you pay. With the generous 0% intro period you get on certain Chase cards, you'll have plenty of time to reduce or even erase what you owe.
Our credit card expert uses the card we reveal below, and it could earn you $1,148 (seriously)
As long as you pay them off each month, credit cards are a no-brainer for savvy Americans. They protect against fraud far better than debit cards, help raise your credit score, and can put hundreds (or thousands!) of dollars in rewards back in your pocket each year.
But with so many cards out there, you need to choose wisely. This top-rated card offers the ability to pay 0% interest on purchases until late 2021, has some of the most generous cash back rewards we've ever seen (up to 5%!), and somehow still sports a $0 annual fee.
That's why our expert – who has reviewed hundreds of cards – signed up for this one personally. Click here to get free access to our expert's top pick.
We're firm believers in the Golden Rule, which is why editorial opinions are ours alone and have not been previously reviewed, approved, or endorsed by included advertisers. The Ascent does not cover all offers on the market. Editorial content from The Ascent is separate from The Motley Fool editorial content and is created by a different analyst team.