Study: The Financial Timeline of Relationships
Many or all of the products here are from our partners that pay us a commission. It's how we make money. But our editorial integrity ensures our experts' opinions aren't influenced by compensation. Terms may apply to offers listed on this page.

Discussing money can be awkward and frustrating, and if done in the wrong way, it can even be considered offensive. The amount you earn is a number shrouded in secrecy, while the amount of debt you've incurred may be cloaked in embarrassment. Nonetheless, these topics inevitably surface in close relationships, and the financial conversations within romantic relationships can be particularly tricky.
The financial "milestones" of romance include everything from lending your partner money for the first time to saving for retirement together, but how and when should these things (and everything in between) happen? We surveyed 1,012 people in relationships to find out. We asked them everything from how long it took to discuss their debt with their partners to which financial traits they found most admirable in a partner. We even compared their relationship satisfaction to how they chose to reach certain financial milestones. Continue scrolling to discover America's best advice and worst mistakes in romantic financial entanglement.
Fiscal attraction
Wealth, as it turns out, was not the most desired financial trait in a partner. When asked to imagine a dream partner in strictly financial terms, the majority of our participants -- 70.7% -- hoped their partner would set financial goals. So long as ambition and goal-setting were priorities, wealth and status were considered relatively less important in relationships. Having a high salary was only expressed as the most desired financial trait by 32.6% of our participants.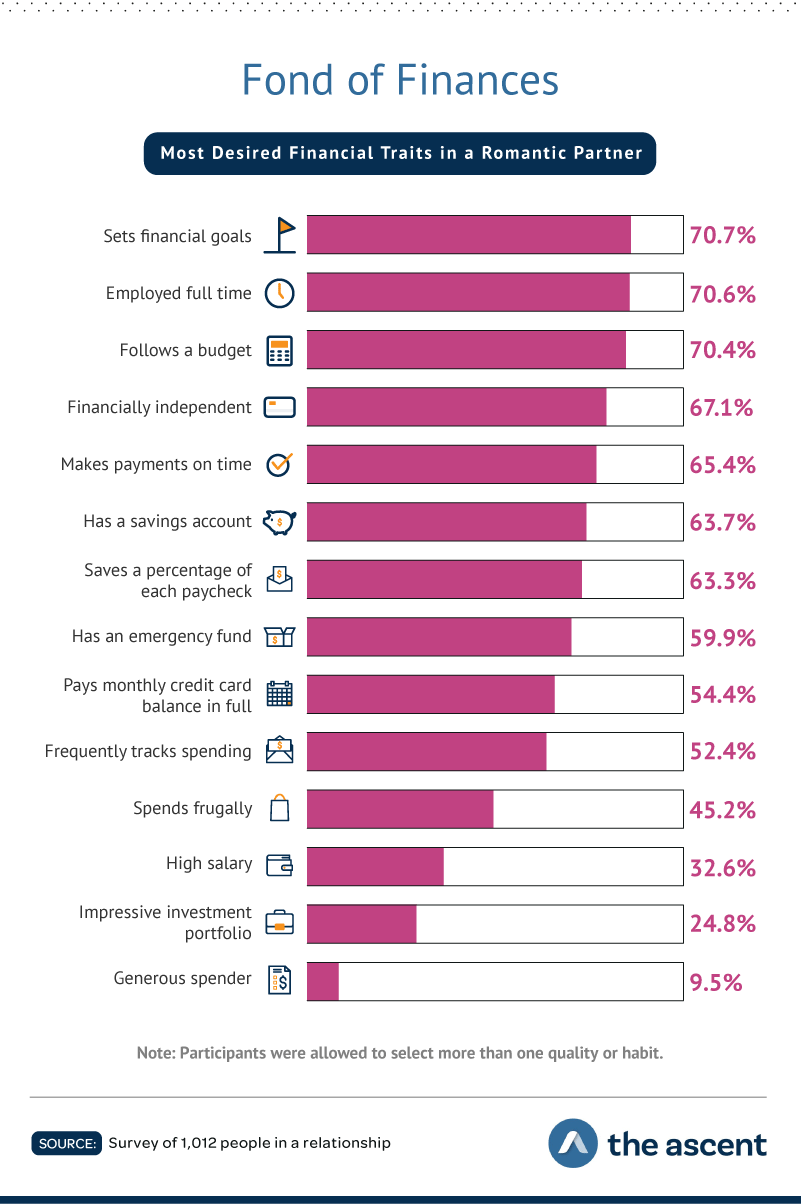 Financial independence also trumped the value of high salaries and investment portfolios. Without parents or lenders involved, partners can gain a certain level of autonomy and control over their own financial decisions and, perhaps, experience more freedom within the relationship.
Having a full-time job was the second-most desired financial trait by a razor-thin margin. Almost 71% of our respondents hoped their partner would have full-time employment. Because long-term unemployment has been shown to correlate with depression and anxiety, the lack of a job can create problems that extend beyond money and into the realm of mental health, according to the American Psychological Association. That said, job dissatisfaction can also disrupt mental health, so it's important for partners to find professions they're passionate about.
Different desires
Genders and generations diverged when it came to selecting the most desired financial traits in their spouses and partners. Men were less likely than women to desire any particular financial trait. The most often desired financial trait by men -- setting financial goals -- was only mentioned by 68.6% of male respondents. On the other hand, 76% of women hoped their partners would have full-time employment. This was only deemed highly desirable by 65% of men.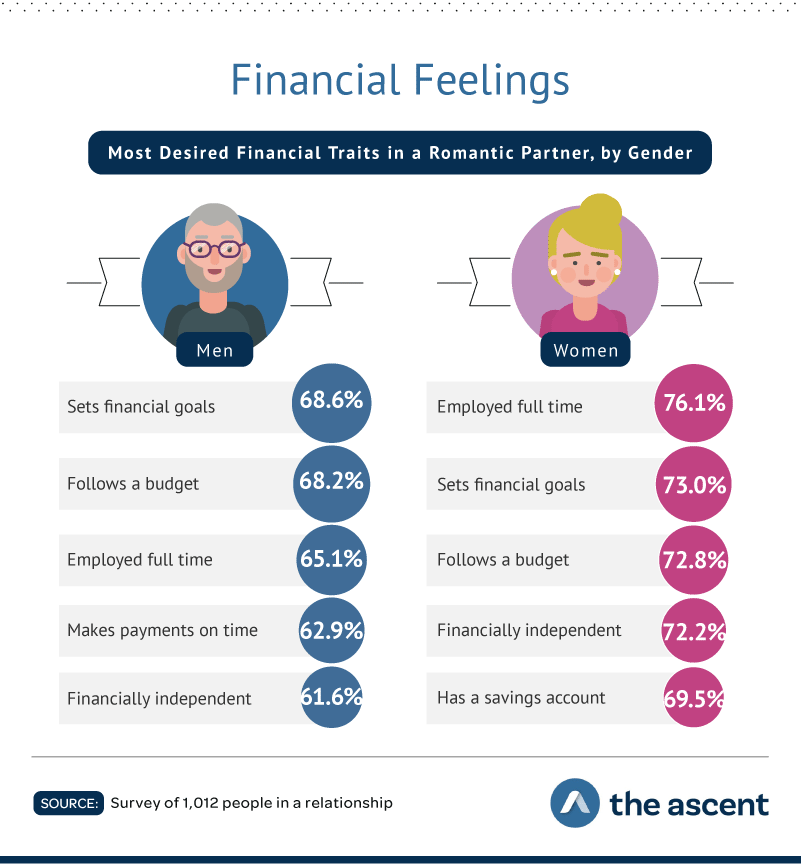 Concerning spending habits, 68% of men and 73% of women hoped their partners would follow budgets -- a reasonable request, considering the American propensity to overspend. Setting a budget can also be a sign of responsibility and more future-oriented mindset.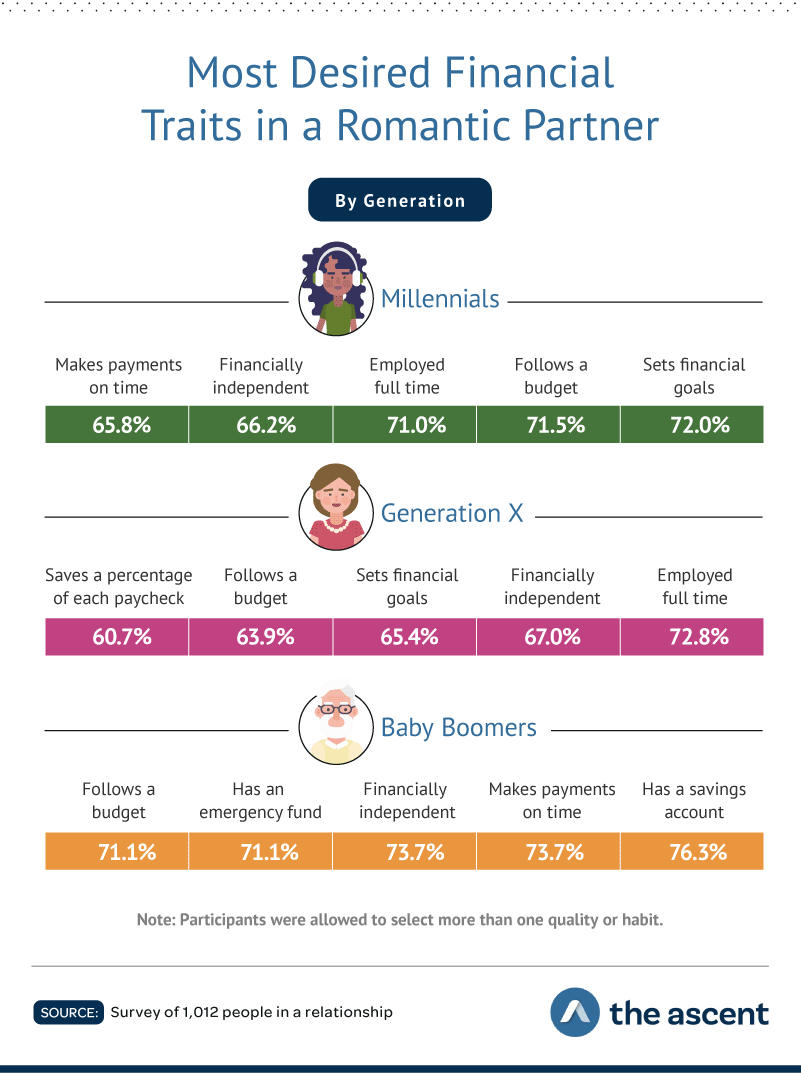 Setting financial goals was also important to 72% of our millennial respondents and 65.4% of Gen Xers. Baby boomers, however, mostly wanted their partners to have a savings account. With retirement potentially on the horizon for these respondents, a sound financial and romantic future could depend on their quality of life after work ends. With American debt rising steadily as well, 73.7% of baby boomers and 65.8% of millennials also hoped their spouses and partners would make payments on time.
Bank of American love

In defining the stage and seriousness of a potential relationship, people often look for certain telltale signs. First kisses and sleepovers appeared to happen within the first month, but financial milestones took slightly longer to begin, on average. Two months into their relationship, our respondents lent their partner their credit cards for the first time.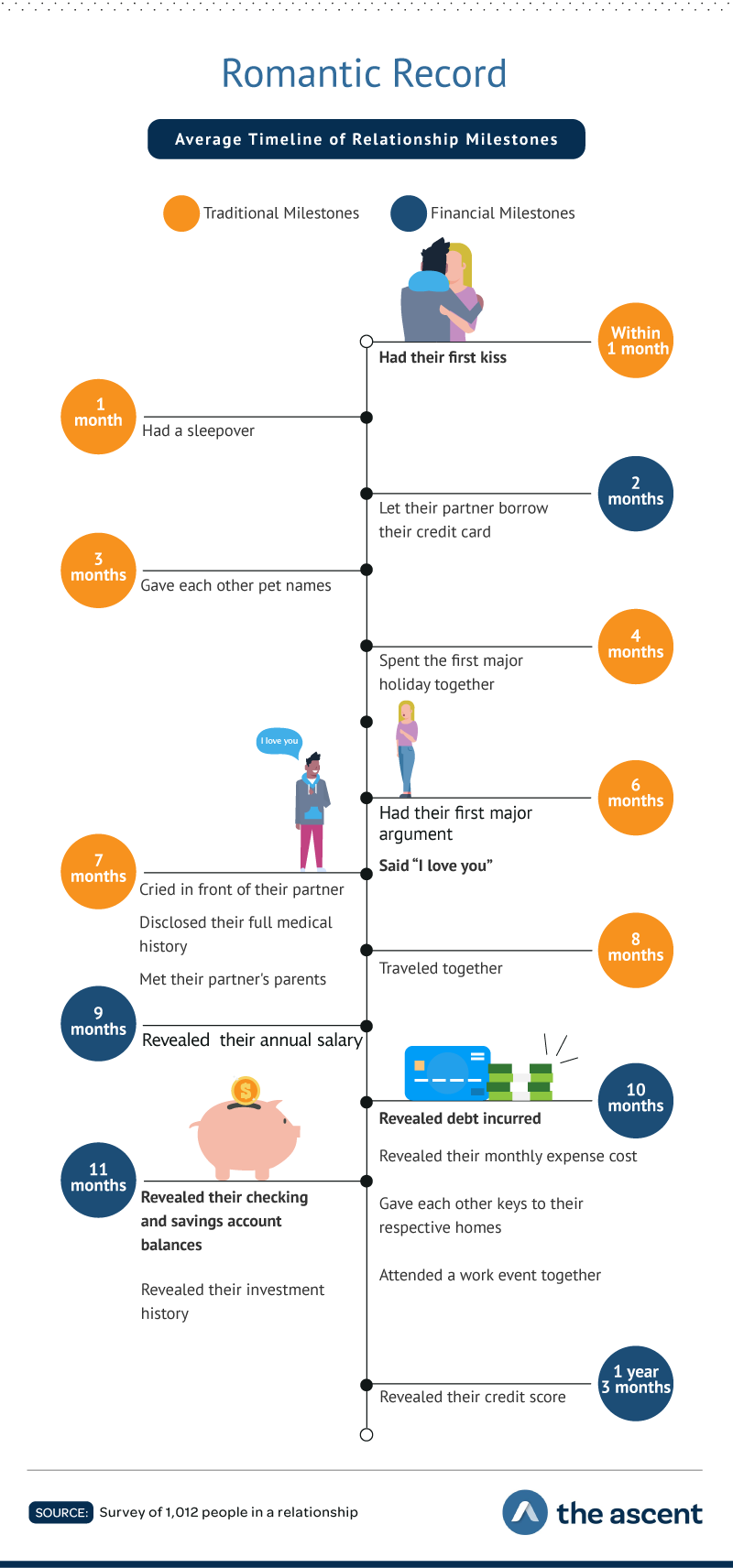 Before revealing their annual salaries at nine months, partners took a host of other romantic steps: They chose to spend their first holiday together and even said "I love you" months in advance of revealing how much money they earned each year. People even took 10 months to tell their significant others about their debts and waited a year and three months to reveal their credit scores.
What's even more shocking is that more than a third of couples surveyed said finances caused more stress than anything else in their relationship. One of the biggest problems that couples can face, when it comes to money, is communication. Financial compatibility often comes more from an open ability to discuss financial standings and goals, and less from any particular financial standing.  

Splitting the check

Perhaps due in part to the increasing number of female breadwinners (per the Bureau of Labor Statistics), splitting the bill evenly has become fairly common in modern relationships. But if handing the waiter two credit cards instead of one sounds too embarrassing to do on a date, partners also have the option to split that check (or any payment) afterward through the use of convenient digital apps.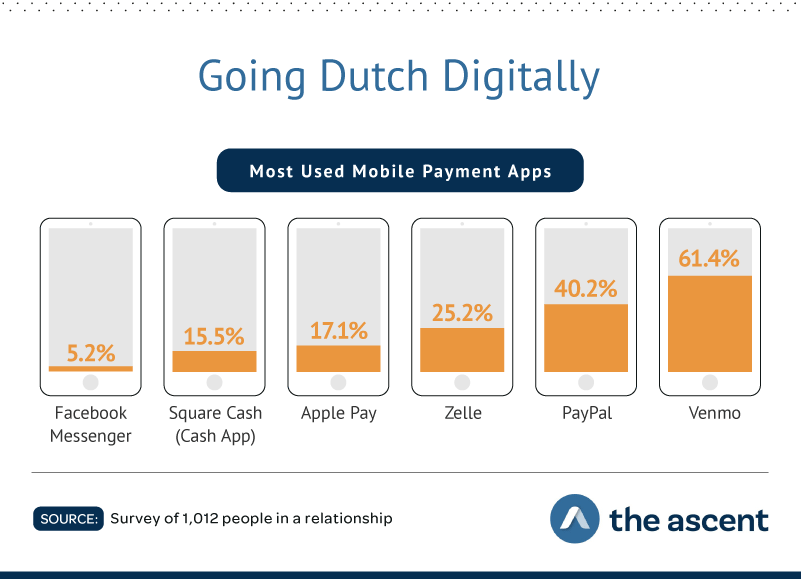 Venmo was the most common choice for dividing payments among partners. About 61% of our respondents had used Venmo, while another 40.2% had used Paypal to split bills with their significant others. Facebook Messenger was the least popular way to split charges, with only 5.2% of couples using the platform to do so.
Marriages and money
It's particularly important for married couples to have a sense of trust and shared responsibility when it comes to finances. In some cases, the debt of a single spouse can become a shared debt after marriage. Even if your spouse opens a line of credit in his or her name only, you could still technically be held liable for any accumulated debt.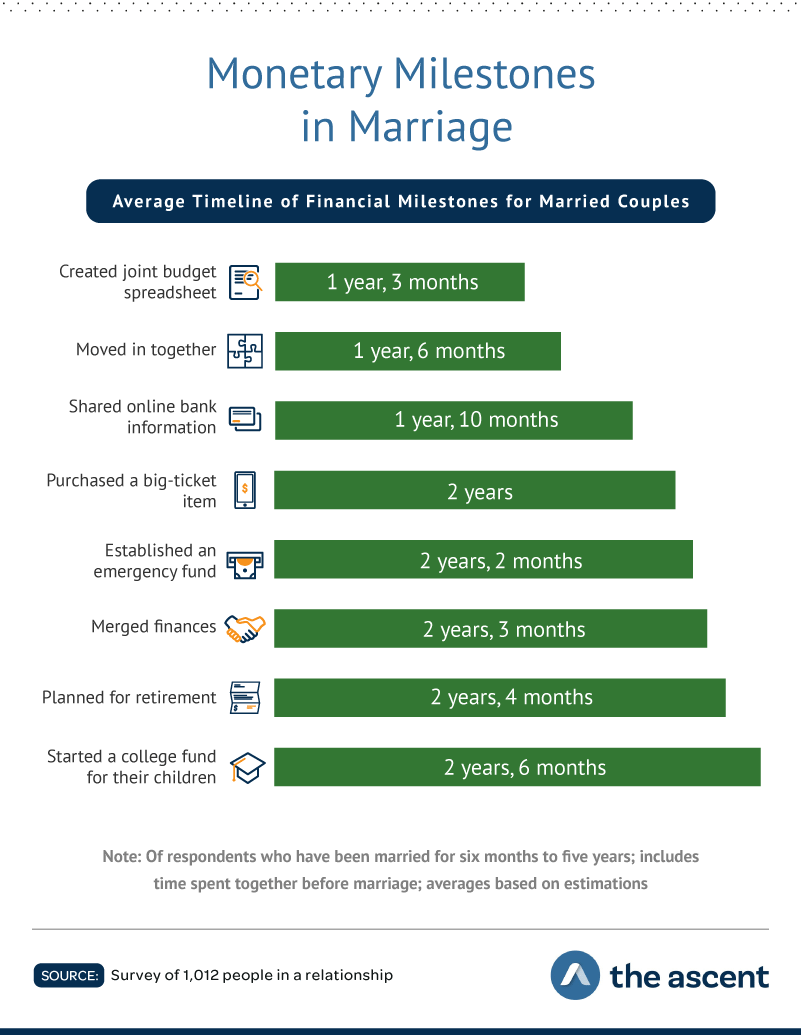 The married couples who created a joint budget spreadsheet waited a year and three months to do so. This can be a great way to visualize and collaborate on monetary expenditures and goals, helping both partners stay on the same track. In fact, married couples chose to do this three months before moving in together, on average.
Perhaps the most significant financial moment in a marriage, however, is the decision to begin merging finances. Married American couples waited an average of two years and three months to join financial forces. As it turns out, the amount of time a couple waited to join finances had a strong correlation to the health of the relationship: Satisfied married couples waited nine months longer, on average, than dissatisfied marriages to merge their finances. If there's no rush, this decision could certainly be worth the wait, especially if it allows time to discuss financial standings and establish mutual goals.
Monetary mingling

Although merging finances can feel convenient and beneficial for two people who spend a lot of time together and share many expenses, it's not a mandatory rule for any relationship. That said, 78% of respondents agreed that committed couples should merge their finances at some point. And this wasn't the only financial advice they were willing to share.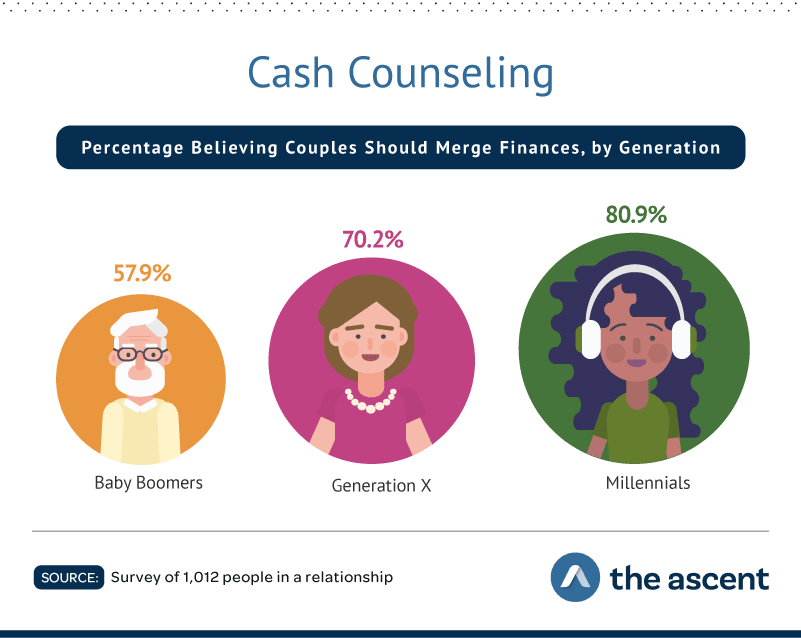 Ultimately, Americans innately understand that communication is key. Of the respondents, 67% insisted that couples be honest about their purchases, and another 58.2% encouraged others to be open about their financial situations. Ultimately, an enormous bank account or a mountain of debt will not make or break the relationship. However, the transparency and communication behind those financial standings can lead to healthy relationship patterns.
The third-most given piece of financial advice was for couples to prioritize paying off their debts, advised by 56.8% of participants. Because debt has been shown to cause nearly as many emotional problems as financial problems, it makes sense that a relationship could improve as debt begins to diminish. Reducing debt can also enable couples to invest more in their relationship, whether that means going on romantic dinner dates or even buying a home together.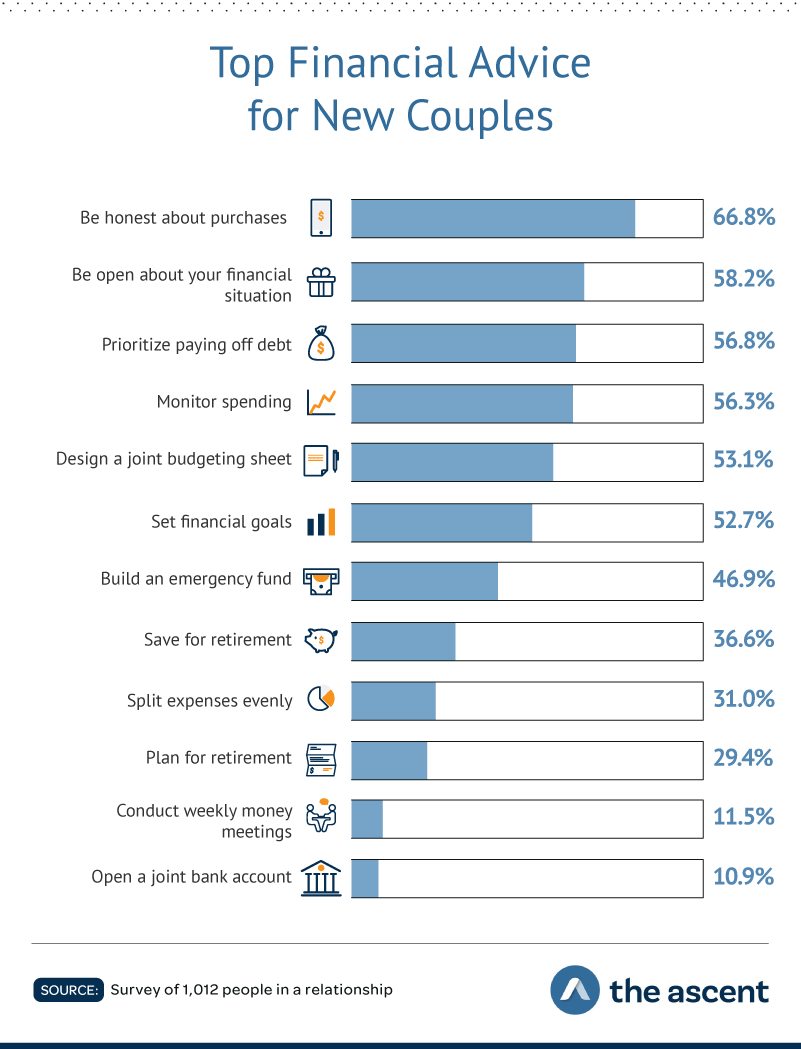 A financially sound relationship
Fortunately, for the Americans currently in debt or anybody who may be struggling financially, relationships don't automatically suffer from debt or low salaries. Our survey results suggest it's more important to be both truthful and understanding during important financial conversations.
Although finances can be awkward and difficult to discuss, patience and honesty can go a long way, as our respondents showed. Merging finances and setting shared monetary goals are important milestones in a relationship, and they need to be treated with care. In financial conversations and beyond, your relationship (and possibly your bank accounts) are much more likely to grow steadily and healthily under the protection of honest and open communication.
Methodology and limitations
For this study, we administered online surveys to 1,012 people in the United States. To qualify for this survey, participants were required to currently be in a relationship (casual or serious) or married. We screened for participants whose relationship length did not exceed 30 years together.
Of the 1,012 participants surveyed, 75% identified as millennials, 18.9% were a part of Generation X, and 3.8% were baby boomers. The remaining 2.4% consisted of respondents who belonged to either Generation Z or the silent generation. Of the participants, 53.1% identified as female, 48.4% were male, and 0.3% selected "not listed." Only generations with a sample size of 26 or more respondents were included in the appropriate breakdowns. We used an attention-check question to ensure participants read each question thoroughly. Those who failed to answer an attention-check question were disqualified. If participants entered inconsistent data throughout the survey, they were also ejected.
We compiled a list of financial advice, traits, and habits from several authoritative online sources. Some of the answer options have been bucketed and relabeled for clarity. Additionally, results that strayed well beyond the standard deviation were excluded and considered outliers.
The main limitation of this study is that the survey findings rely on self-reported data. Self-reported data is problematic in that answers may be subject but not limited to exaggeration, telescoping, or attribution. Also, the time in which each relationship milestone was experienced is based on estimations. Participants may have endured difficulty in recalling when certain events happened. To curb this issue, we instructed survey takers to take a moment to reflect on their relationship timeline and when major milestones were met. The claims in this study have not been tested for statistical significance and, therefore, are based on means alone.
Fair use statement
Know somebody on the verge of making a big financial step with his or her partner? They might want to read this first. You are more than welcome to share this page for noncommercial purposes, so long as you remember to link back to this page and its authors to give them proper credit.
Top credit card wipes out interest until 2023
If you have credit card debt, transferring it to this top balance transfer card secures you a 0% intro APR into 2023! Plus, you'll pay no annual fee. Those are just a few reasons why our experts rate this card as a top pick to help get control of your debt. Read our full review for free and apply in just 2 minutes.
We're firm believers in the Golden Rule, which is why editorial opinions are ours alone and have not been previously reviewed, approved, or endorsed by included advertisers. The Ascent does not cover all offers on the market. Editorial content from The Ascent is separate from The Motley Fool editorial content and is created by a different analyst team.
Discover Financial Services is an advertising partner of The Ascent, a Motley Fool company. Randi Zuckerberg, a former director of market development and spokeswoman for Facebook and sister to its CEO, Mark Zuckerberg, is a member of The Motley Fool's board of directors. The Motley Fool owns shares of and recommends Apple, Facebook, and PayPal Holdings. The Motley Fool recommends Discover Financial Services and recommends the following options: long January 2022 $75 calls on PayPal Holdings, long March 2023 $120 calls on Apple, and short March 2023 $130 calls on Apple. The Motley Fool has a
disclosure policy
.