These 4 Times Paying With Cash Is Better Than a Credit Card
Believe it or not, there are instances when cash is still king.
Image source: Getty Images.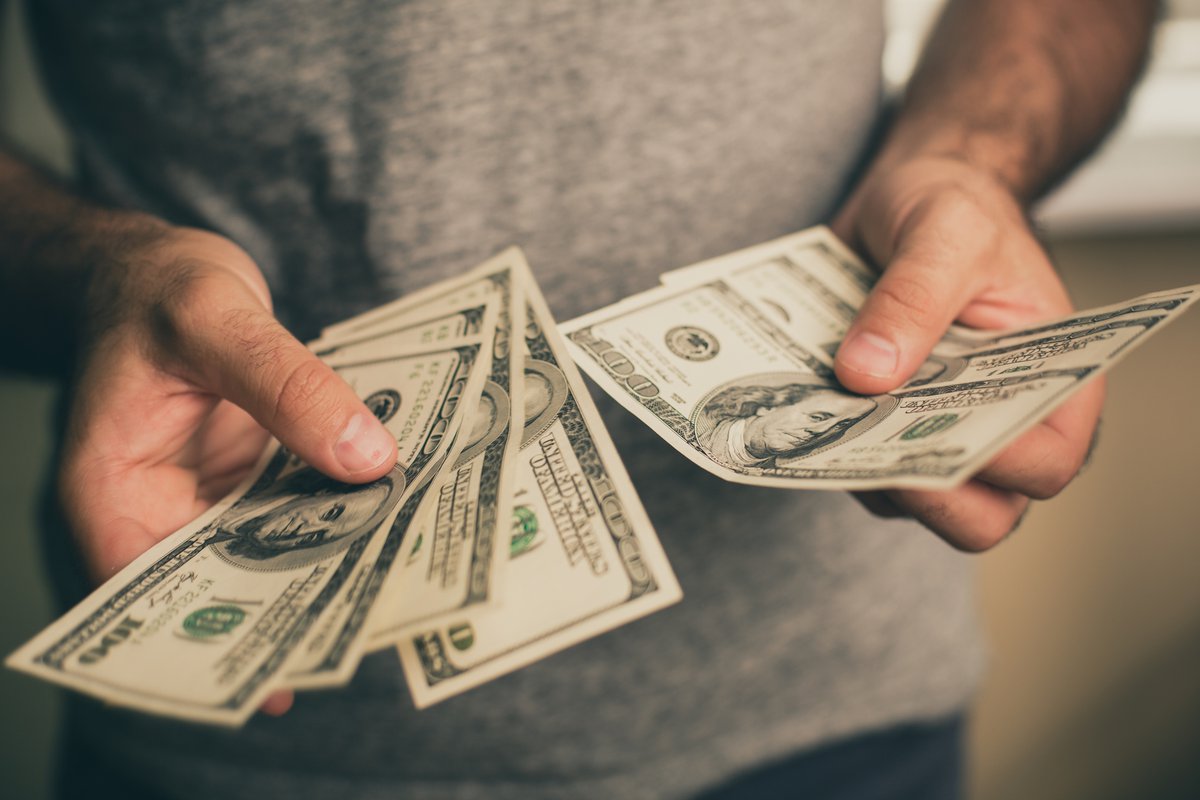 As a longtime holder and user, I firmly believe that credit cards are often the best and most convenient way to buy something. That's supposing, of course, that a cardholder is fiscally responsible enough to spend within his or her means, keep credit utilization low, and pay off monthly balances as often as possible.
Although a credit card is one of the most versatile financial instruments ever conceived, it's not infallible. Yes, even in this day and age there are instances where you shouldn't pay with credit cards. Here are four examples.
1. You are not allowed to
Some merchants think that 2% is a very high percentage. This is roughly the rate that businesses have to fork over from a purchase in order to pay the issuer and the card network (Visa, Mastercard, American Express, etc.) involved in the transaction.
As hard as it can be to believe, some consider this very modest amount to be usurious, and won't accept credit cards as payment at all. At such places it'll likely be cash-only, although some of these holdouts might accept checks for their goods or services.
Fortunately, with the prevalence of credit cards these people are very much the exception rather than the rule. Unless you desperately need what they're selling at that moment, it's best to steer your business to a more accommodating merchant.
2. You can get a better deal without it
Although it can be a gray area both in terms of law and in the merchant agreements signed with card networks, some businesses will offer discounts for non-credit-card means of payment. These merchants aren't rebellious enough to reject credit cards as buying instruments entirely, instead they discourage their use with this practice.
To score the discounts, you need to pay with something that isn't a credit card. Again, cash transactions are popular in these instances.
One of the many advantages of a credit card is that you don't have to walk around with stacks of cash. Plastic is more convenient and secure. As with the above example, non-card discounters should probably be given a miss in favor of card acceptors whenever possible.
3. You'll pay a "convenience fee"
Unfortunately, credit card aversion isn't limited to picky merchants or cash fanatics. Even legitimate and (more or less) honest entities sock it to users of plastic. This can be common for organizations that don't typically, or can't, handle credit card transactions; the fee compensates them for the additional work of providing the convenience to you (at least in theory).
The IRS is one of those organizations, as it's barred by law from accepting direct credit card payments. So by using third-party payment service providers the IRS effectively charges a credit card holder a "convenience fee" of roughly 2% when you pay your tax bill online with the plastic.
Outside of the public sector, convenience fees (or one of several similar phrases that mean the same thing) crop up in a variety of shopping situations, such as advance purchases of movie tickets.
Understandably, card networks and issuers aren't nuts about convenience fees. Would you want anyone to pay extra simply for using your means of purchase? In the merchant agreements they sign with businesses, they try to limit them to certain instances and circumstances. But their partners don't always follow this to the letter.
4. You'll pay foreign transaction fees
One sneaky way issuers frequently squeeze money out of unsuspecting credit card holders is through the foreign transaction fee. This is exactly what it sounds like -- a levy (usually in the 3% neighborhood) for using your plastic outside of U.S. borders.
Does that number sound small? On its face it is, but keep in mind that it's nearly impossible to avoid spending money when on the road. Even a thrifty trip abroad can add up when factoring in all expenses -- several days (at least) of lodging, meals, transport, entrance fees to attractions, etc.
Pay for a $3,000 jaunt abroad, and you'll be socked with a not-so-cool $90 in fees given the example above.
Luckily, it seems more issuers are foregoing the foreign transaction fee, so it's best to have at least one foregoer in your portfolio for voyages abroad. Travel rewards cards frequently don't have this fee, so consider owning at least one and using it when outside of the U.S.
Our credit card expert uses the card we reveal below, and it could earn you $1,148 (seriously)
As long as you pay them off each month, credit cards are a no-brainer for savvy Americans. They protect against fraud far better than debit cards, help raise your credit score, and can put hundreds (or thousands!) of dollars in rewards back in your pocket each year.
But with so many cards out there, you need to choose wisely. This top-rated card offers the ability to pay 0% interest on purchases until late 2021, has some of the most generous cash back rewards we've ever seen (up to 5%!), and somehow still sports a $0 annual fee.
That's why our expert – who has reviewed hundreds of cards – signed up for this one personally. Click here to get free access to our expert's top pick.
We're firm believers in the Golden Rule, which is why editorial opinions are ours alone and have not been previously reviewed, approved, or endorsed by included advertisers. The Ascent does not cover all offers on the market. Editorial content from The Ascent is separate from The Motley Fool editorial content and is created by a different analyst team.