Transferring Chase Ultimate Rewards Points to Hyatt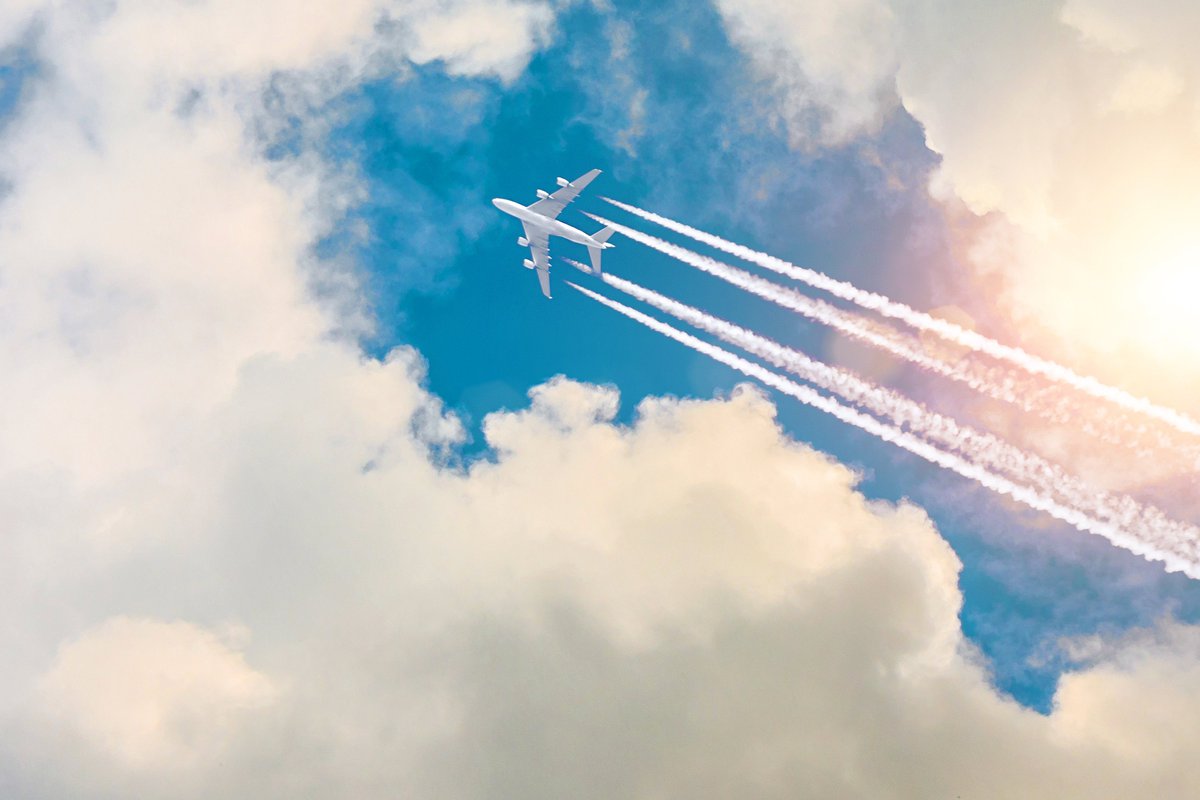 When you want to redeem your Chase Ultimate Rewards points for a place to stay, Hyatt is an outstanding option. Although it's not the largest hotel chain in the world, it still has solid coverage, especially in the United States. Award availability is great, and you can get high values for your points no matter what category of hotel you book.
Before you can treat yourself to a free stay with Hyatt, you'll need to transfer your Ultimate Rewards points to its World of Hyatt program. I'll show you exactly how you can do that in this guide, and then go into maximizing the value of your award stays.
What you need
The only requirements for a transfer is a credit card in the Ultimate Rewards program, a World of Hyatt account, and the minimum transfer amount of at least 1,000 points. The current Chase cards in the Ultimate Rewards program are:
If you don't have a World of Hyatt account, there's a registration form online, and membership is free.
How to transfer Chase Ultimate Rewards points to Hyatt
Chase has a 1:1 points transfer ratio with all its partners, and once the transfer goes through, there's no canceling or getting your Ultimate Rewards points back. While transfers to Chase's other three hotel partners can take a day or two to process, with Hyatt, it happens immediately.
Here's how you can turn your Ultimate Rewards points into Hyatt points:
1. Go to your Chase Ultimate Rewards account.
The fastest way to do this is through the Chase Ultimate Rewards site. Simply log in and select the credit card with the points you'd like to transfer (if you have more than one card).
You can also get to the Ultimate Rewards home screen through your Chase credit card account. On a personal account, you'll select the card first, click "See Balance" under "Ultimate Rewards," and click the "Redeem Rewards" link that appears. On a business account, you'll see an Ultimate Rewards link towards the right after you log in.
2. Select "Transfer to Travel Partners" from the Ultimate Rewards home screen.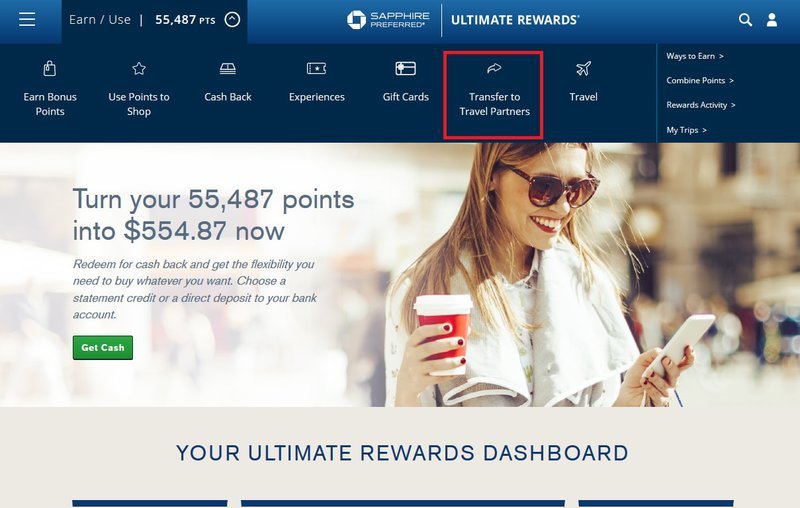 3. Go to the World of Hyatt listing in the Hotels section and select "Transfer Points."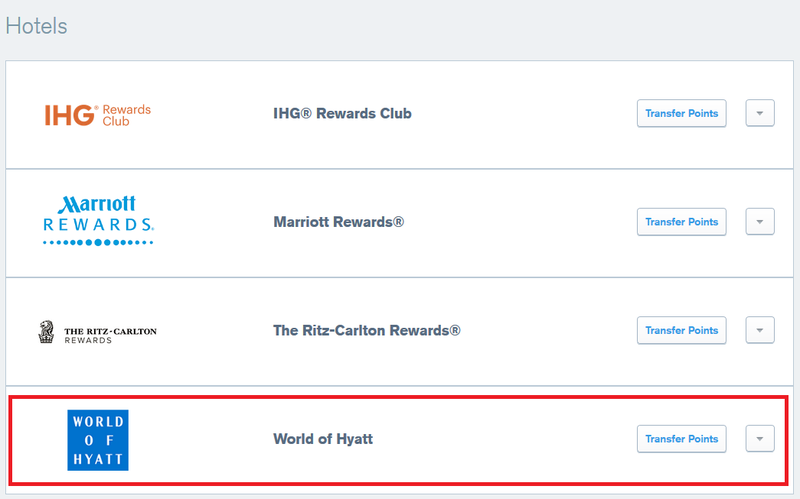 4. Choose a recipient for the transfer.
You're able to transfer points to yourself or a recipient who is both an authorized user on your account and a member of your household.
Use the dropdown menu to pick the recipient, and then enter the corresponding World of Hyatt account number.
5. Decide how many points to transfer.
You must send your transfer in increments of 1,000 points, and the minimum amount is also 1,000 points.
6. Submit the transfer.
Chase gives you a standard review screen with warnings about misuse or fraud and a rundown of your transfer. If everything looks correct, you can click confirm and get your Hyatt points.
How to book a Hyatt award stay
From the Hyatt homepage, you can enter a city, address, landmark, airport, or hotel name in the search field. A dropdown box will then appear with city and hotel suggestions to choose from. After that, enter your desired check-in and check-out dates, the number of rooms you need, and your number of guests.
If you didn't select a hotel on the search form, then the first thing you'll need to do on the search results page is pick one. That takes you to the next stage, which is choosing your room (you'll be at this section already if you selected a hotel on the search form).
Hyatt displays room costs in cash by default, but you can change that by clicking "Show World of Hyatt Points & Awards."
When you've found the room you want, click "Select." You'll need to log in to your World of Hyatt account if you haven't done that yet, and then you can complete the booking.
Getting the best value from Hyatt points
Hyatt bases the cost of a room in points on the category of the hotel and what type of room it is. There are seven categories of Hyatt hotels, starting with the least-expensive Category 1 hotels and going up to the most-expensive and luxurious Category 7 hotels.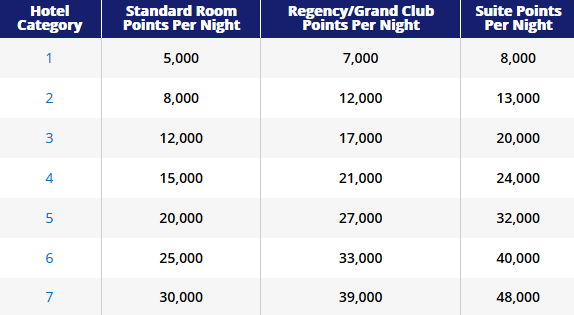 You also have the option to pay with points plus cash. This cuts the number of points you need in half, and the cash fee will depend on the category of the hotel.
The first thing you should know about using Hyatt points is that there really aren't any bad redemption options. Values are good on award stays at each hotel category. Paying with points plus cash can often get you even more value per point, if you don't mind spending some money instead of having everything covered with your travel rewards. How you redeem your points will come down to personal preference and where you'd like to stay.
Of course, there are some standout hotels in the Hyatt catalog where you can get a great value for your points, including:
Park Hyatt Maldives Hadahaa -- Located in an island paradise, rooms here cost over $500 but are available for 25,000 points per night.
Park Hyatt New York -- This hotel in the heart of New York features massive rooms that are flush with amenities, and you can book a $750 room for 30,000 points per night.
Park Hyatt Paris-Vendome -- Centrally located and with gorgeous room designs, this hotel offers rooms that cost over $700 for 30,000 points per night.
Hyatt All-Inclusive Resorts -- If you'd like to have everything taken care of on your vacation, then any of Hyatt's all-inclusive resorts will do the trick for 20,000 to 25,000 points (cash prices are typically over $400 or $500). 
You do tend to get more value for your points when you use them to book expensive Hyatt hotels in popular destinations, but this isn't a hard-and-fast rule. The cash prices of hotels can vary considerably even for hotels in the same category, and there are Category 1 hotels where you can get upwards of $0.02 per point.
Should you transfer points to Hyatt or redeem through Chase's portal?
Besides transferring points, your other option is booking a stay with Hyatt through the Ultimate Rewards site. When you do this, Chase lets you turn your points into cash that you then apply towards the purchase. Chase Sapphire Preferred® and Ink Business Preferred® cardholders get $0.0125 per point, and Chase Sapphire Reserve® cardholders get $0.015 per point.
An advantage to booking this way is it's basically the same as paying in cash to Hyatt, which means you earn five Hyatt points for every dollar you spend. You don't earn points on award stays.
For the most part, it's better to book Category 5, 6, and 7 hotels with Hyatt points, because you usually get $0.02 per point or better this way. On lower category hotels, you may be better off booking with the Ultimate Rewards program, but it depends on the hotel.
The only way to be sure on the decision is to calculate the cents per point for both options yourself. That's what I'd do, especially since Hyatt's site makes it so easy to compare room costs in cash and points.
Hyatt's coverage
Hyatt has over 750 hotels across more than 50 countries, although the majority of its hotels are in North America. You can find Hyatt hotels in most of the big destinations. While coverage in small to mid-size cities isn't great outside the United States, the brand has been growing quickly.
The Hyatt Credit Card
If you're a frequent Hyatt customer, you may be interested in its co-branded credit card offered by the hotel chain and Chase. Here are the highlights of the Hyatt Credit Card:
40,000 bonus points after you spend $2,000 within three months of opening the account
One night free every year after your cardmember anniversary at any Category 1-4 Hyatt hotel or resort
3 points per $1 on purchases at Hyatt hotels and resorts
2 points per $1 on purchases at restaurants, on airline tickets purchased directly from the airline, and at car rental agencies
1 point per $1 on all other purchases
$75 annual fee 
When you have this card, you're automatically a Discoverist in the World of Hyatt program. While that's the first elite status tier in the program, the perks aren't going to wow you. You can check out at 2 p.m. if you request it with a participating hotel, which is nice. Hyatt will also give you one free bottle of water daily (a $1 value, absolutely free!).
All jokes about free water aside, this card is 100% worth it if you stay at a Hyatt hotel at least once per year. That free night you'll earn can save you much more than the $75 you'll spend on the annual fee. Category 4 Hyatt hotels are often over $250 per night, so you could come out ahead by $175 if you book just one night in one of those. Hyatt lets you redeem your free night online.
Final thoughts
For award bookings, Hyatt ranks near the top not just among Chase transfer partners, but among all hotels. Most other hotels charge significantly more points for their rooms across every category. The lone drawback is that Hyatt doesn't have as much coverage as some of its competitors. Still, it's certainly worth looking into Hyatt when making your travel plans, as its more affordable hotels are excellent choices for their points costs and its luxury hotels are spectacular.
Our credit card expert uses the card we reveal below, and it could earn you $1,148 (seriously)
As long as you pay them off each month, credit cards are a no-brainer for savvy Americans. They protect against fraud far better than debit cards, help raise your credit score, and can put hundreds (or thousands!) of dollars in rewards back in your pocket each year.
But with so many cards out there, you need to choose wisely. This top-rated card offers the ability to pay 0% interest on purchases until late 2021, has some of the most generous cash back rewards we've ever seen (up to 5%!), and somehow still sports a $0 annual fee.
That's why our expert – who has reviewed hundreds of cards – signed up for this one personally. Click here to get free access to our expert's top pick.
We're firm believers in the Golden Rule, which is why editorial opinions are ours alone and have not been previously reviewed, approved, or endorsed by included advertisers. The Ascent does not cover all offers on the market. Editorial content from The Ascent is separate from The Motley Fool editorial content and is created by a different analyst team.