Transferring Chase Ultimate Rewards Points to Virgin Atlantic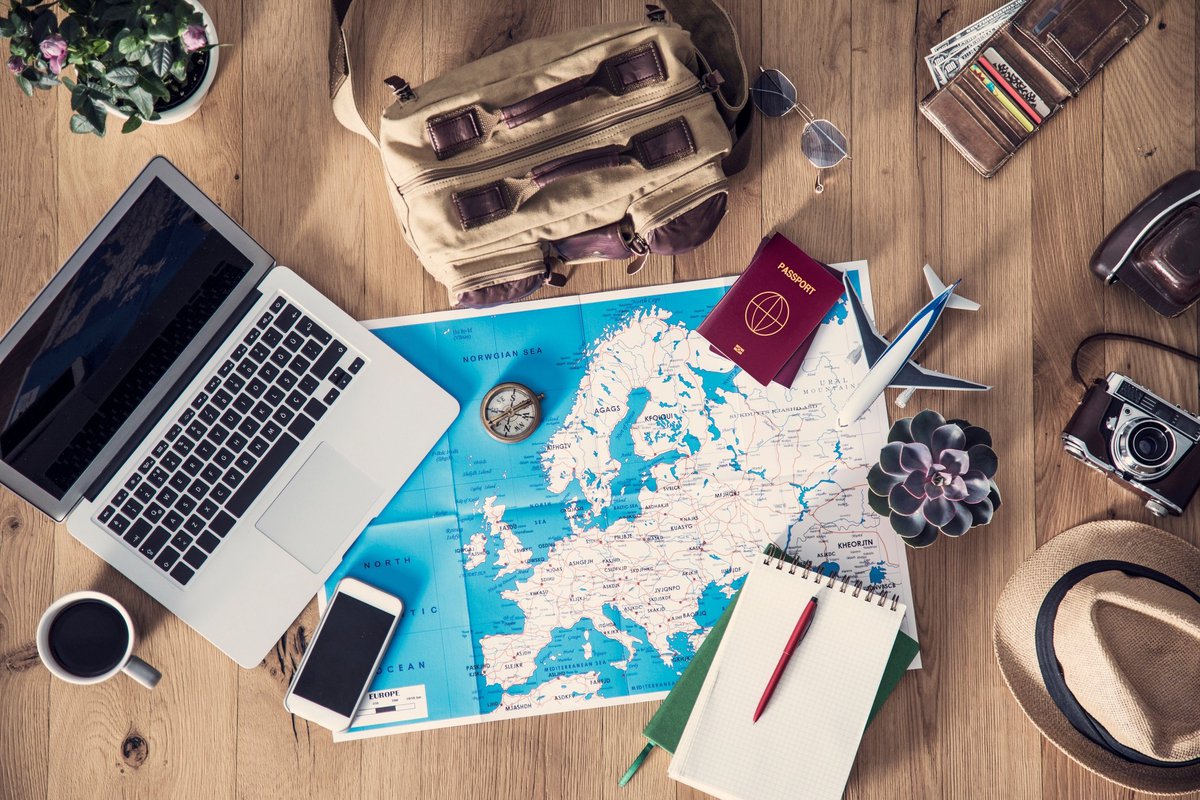 Based in the United Kingdom, Virgin Atlantic is the smallest airline partnered with Chase's Ultimate Rewards points program. It makes up for having fewer route options with comfortable seating, a high-quality travel experience, and several worthwhile partners where you can book tickets with Flying Club miles.
Transfers to Virgin Atlantic come in handy for booking certain routes, and you can use those miles for award tickets on Delta. This guide will explain the transfer process, and then we'll get into the dos and don'ts of redeeming your new miles.
What you need
To make a transfer, Chase requires that you have at least 1,000 points in your account and an active credit card in the Ultimate Rewards program. The current cards that qualify are:
Since you're transferring your points to the Virgin Atlantic Flying Club, you'll also need an account with them. You can register for that online.
How to transfer Chase Ultimate Rewards points to the Virgin Atlantic Flying Club
Once you know the process for transferring points online, it doesn't take long to do, and the transfer itself goes through as soon as it's submitted.
All transfers are final, with no way to cancel or send your miles back to the Ultimate Rewards program, so wait until you're sure before you confirm it. The transfer ratio is 1:1.
Here's how to complete the online transfer process:
1. Go to your Chase Ultimate Rewards account.
I'd recommend logging in through the Chase Ultimate Rewards site. If you have multiple cards in the rewards program, then you'll need to choose the one with the points you want to use.
There's also a link to the Ultimate Rewards program from your Chase credit card account. If you have a personal account without any business cards, just choose a card and click "See Balance" under "Ultimate Rewards." A "Redeem Rewards" link will appear that you can use to access the Ultimate Rewards site.
Chase business accounts have a different layout with a link to the Ultimate Rewards program on the right-side of the screen.
2. Select "Transfer to Travel Partners" from the Ultimate Rewards home screen.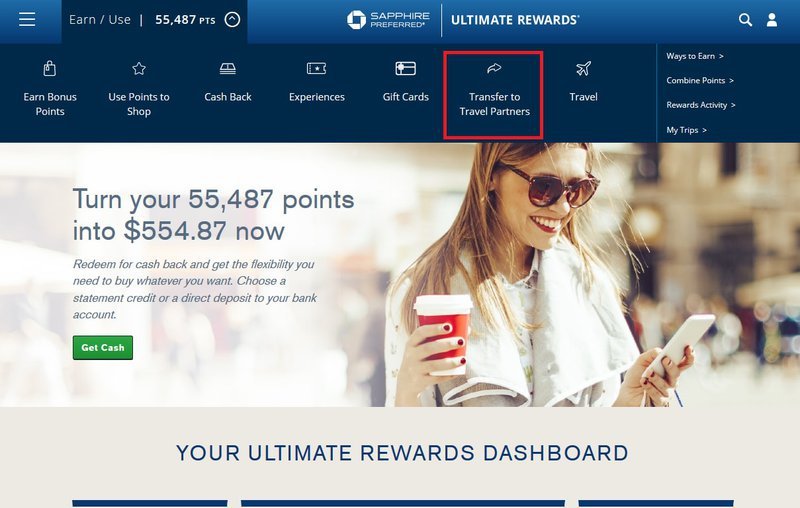 3. Go to the Virgin Atlantic listing in the Airlines section and select "Transfer Points."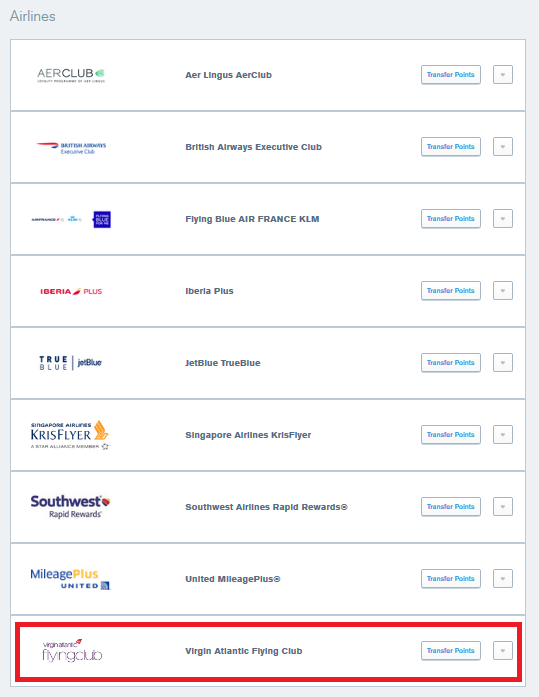 4. Choose a recipient for the transfer.
There's a dropdown menu to do this, and then you must enter the recipient's Flying Club account number.
Chase has firm rules regarding transfer recipients. The recipient must be either yourself or an authorized user on your account who lives at your house.
5. Decide how many points to transfer.
The minimum is 1,000 points, and you're also only allowed to transfer in increments of 1,000.
6. Submit the transfer.
On the review screen, you can look over all the specifics regarding the transfer before you finalize it. This page also advises you of the possible penalties if Chase determines that you've conducted fraud or other misuse with your credit card or the Ultimate Rewards program.
Once you hit confirm on this page, you'll have your Flying Club miles.
How to book award tickets with Virgin Atlantic
I'm going to preface this by telling you that it's rarely a good idea to book an award ticket on Virgin Atlantic. They have high surcharges, and you can put those miles to much better use booking on a partner airline. But Virgin Atlantic's site will only show you its own flights and most Delta flights, so you need to book everything else by phone, not online.
If you do need to use the Virgin Atlantic site, it's user-friendly, easy to navigate, and gives you helpful options to refine or broaden your search.
From the homepage, enter your departure and return cities. There's a dropdown menu next to these fields where you can switch to one-way or multi-city flight bookings.
Next, click "Select dates." A calendar will pop up, and you can choose the dates for your trip. If you're open about that, there's the option to see all flights within one or five weeks in your search results, which helps quite a bit when you want to check out multiple potential flight dates.
Under payment, choose either "Pay with miles" or "Pay with miles plus money," and then click "Find my flights." Note that if those options are grayed-out, it means you can only pay cash for the route you selected.
The search results will display available flights, one leg of your trip at a time. After you've chosen a flight for one leg, you can click through to the next. Each flight includes its total cost in points plus any surcharges. The airline will prompt you to log in to your Flying Club account if you haven't already, and then you can complete the booking.
Maximizing the value of your Virgin Atlantic miles
Unfortunately, Virgin Atlantic is one of the worst airlines for award ticket surcharges. Just look at this example comparing the cash and miles prices on a ticket from New York to Dubai.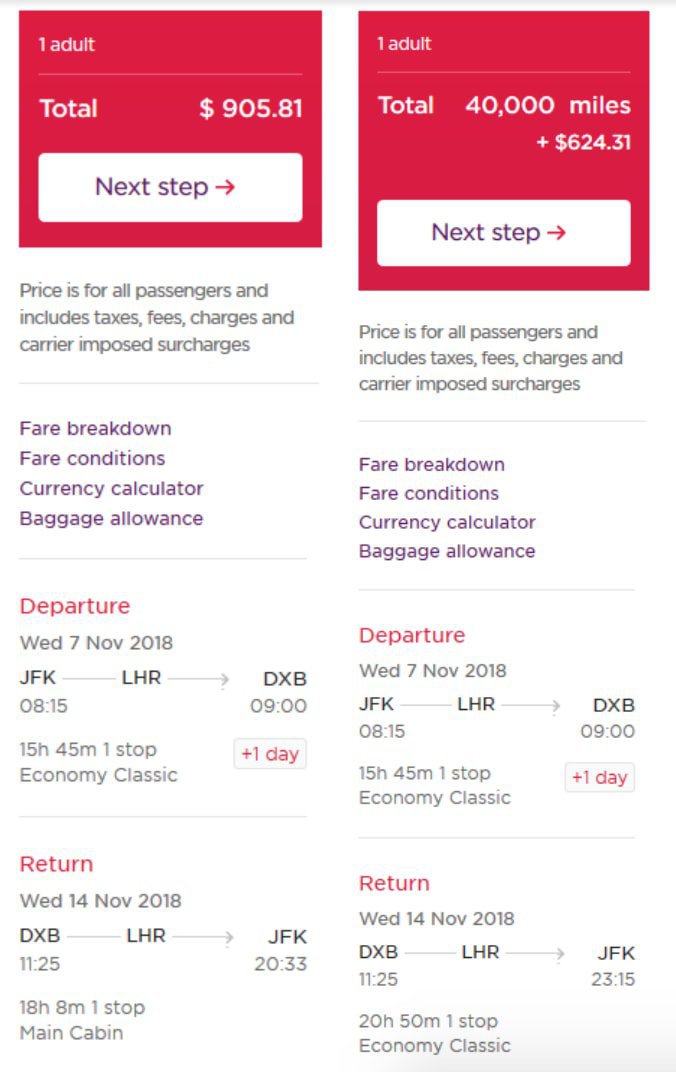 A round-trip flight from New York to Dubai for 40,000 miles sounds like an incredible deal, until you take the $624.31 in surcharges into account. Once you subtract those, you're only getting $0.007 per mile. You could get more than that redeeming points for travel through Chase's Ultimate Rewards portal (worth up to $0.015 per point, depending on your credit card) or even as cash back ($0.01 per point).
You get the same lackluster value for your miles on any route whether you choose economy seats or upper class seats (Virgin Atlantic's name for business class). Premium economy award tickets can get you a decent value in terms of cents per mile, but the only major perk with those seats is extra room. The bottom line is Virgin Atlantic award seats are a subpar way to spend Ultimate Rewards points.
Virgin Atlantic miles still have their uses, though, as the airline also has 10 partners. The partners with the best redemption options are:
Delta for flights almost anywhere in the world
All Nippon Airways (ANA) for flights to Japan and throughout Asia
Air New Zealand for flights to Australia and New Zealand
South African Airways for flights to Africa 
Better option - Transfer Ultimate Rewards to Virgin Atlantic, then Delta
Delta is the premier partner within Virgin's program, and its presence alone makes Virgin Atlantic miles much more useful. Since Delta isn't a transfer partner with Chase, transfers to Virgin Atlantic give you a way to use Ultimate Rewards points to book flights with one of the world's largest airlines. You won't get hit with fuel surcharges, award availability is usually excellent, and best of all, you can book many Delta flights on the Virgin Atlantic site.
The only frustrating part is that you often need to use a workaround to search for those Delta flights. When you type in a route that Delta flies but Virgin Atlantic doesn't, it will say "No matches found." But you can actually search for this route by clicking the location icon in the "City or Airport" field, and then selecting the location manually.

Typing in "Atlanta" doesn't work, so I click the location icon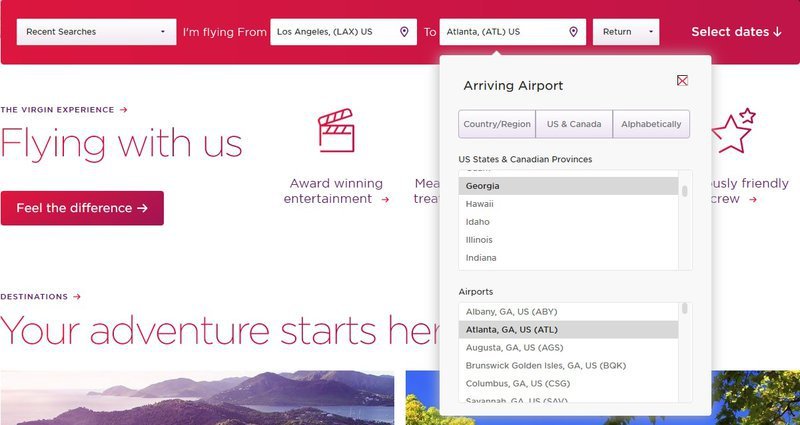 Atlanta shows up under this menu

And now I can search this route that Delta operates
With all other partner airlines, you'll need to look up the flight you want on their own sites, and then call Virgin Atlantic to book an award ticket.
Should you transfer points to Virgin Atlantic or redeem through Chase's portal?
Rarely do we have such a clear answer to this question, but Virgin Atlantic's massive surcharges make it a no-brainer. If you want to book an economy or premium seat with Virgin Atlantic, use the Ultimate Rewards portal to redeem your points towards the cash price of the ticket. With a Chase Sapphire Preferred® or Ink Business Preferred, you get $0.0125 per point, and with a Chase Sapphire Reserve®, you get $0.0150 per point.
For premium economy seats on Virgin Atlantic, it's typically better to transfer your points to the airline instead of using the Ultimate Rewards portal, although it's good to double-check both options first. You should also transfer your points to book travel with Virgin Atlantic's partners, because you can do better than $0.0150 per point with the right partner award ticket.
Where can you fly with Virgin Atlantic?
As Virgin Atlantic is headquartered in the United Kingdom, the bulk of its routes are between there and the United States. It also operates flights to Latin America, the Caribbean Islands, Dubai, Hong Kong, Johannesburg, and a few other locations.
While the airline doesn't have a huge selection of routes, its partners open up many more places that you can travel with Virgin Atlantic miles.
The Virgin Atlantic Credit Cards
Although Chase doesn't have any co-branded credit cards with Virgin Atlantic, the airline has released two travel credit cards of its own, which are:
The Virgin Atlantic White Card, which has a $49 annual fee, earns 3x miles per dollar on Virgin Atlantic purchases and one mile per dollar on all other purchases, and a signup bonus of 12,500 miles after your first purchase.
The Virgin Atlantic Black Card, which has a $90 annual fee, earns 3x miles per dollar on Virgin Atlantic purchases and 1.5x miles per dollar on all other purchases, and a signup bonus of 20,000 miles after your first purchase. 
You can also earn bonus miles every account anniversary year and when you add an authorized user to your account.
I'd recommend passing on both cards. The signup bonuses are below average and, while Virgin Atlantic miles can be useful, they're easy enough to get without using a credit card tied to the airline.
You already know that you can transfer Chase points to Virgin Atlantic, but you can also do the same with American Express Membership Rewards points, Citi ThankYou points, and Starpoints from the Starwood Preferred Guest Program. It's not worth it to pay an annual fee on a Virgin Atlantic card when those other transfer partners have cards with better signup bonuses and more versatile travel rewards.
Final thoughts
The Virgin Atlantic Flying Club certainly has its drawbacks, namely those crazy surcharges on award tickets. Its partners offer much better redemption options for your miles, and being able to use those miles with Delta is an especially nice benefit. Virgin Atlantic also usually provides a very pleasant experience for flyers, so you may want to look for cash tickets that you can book directly through Chase Ultimate Rewards.
Our credit card expert uses the card we reveal below, and it could earn you $1,148 (seriously)
As long as you pay them off each month, credit cards are a no-brainer for savvy Americans. They protect against fraud far better than debit cards, help raise your credit score, and can put hundreds (or thousands!) of dollars in rewards back in your pocket each year.
But with so many cards out there, you need to choose wisely. This top-rated card offers the ability to pay 0% interest on purchases until late 2021, has some of the most generous cash back rewards we've ever seen (up to 5%!), and somehow still sports a $0 annual fee.
That's why our expert – who has reviewed hundreds of cards – signed up for this one personally. Click here to get free access to our expert's top pick.
We're firm believers in the Golden Rule, which is why editorial opinions are ours alone and have not been previously reviewed, approved, or endorsed by included advertisers. The Ascent does not cover all offers on the market. Editorial content from The Ascent is separate from The Motley Fool editorial content and is created by a different analyst team.