7 Small Investments to Make if You Want to Sell Your Home Fast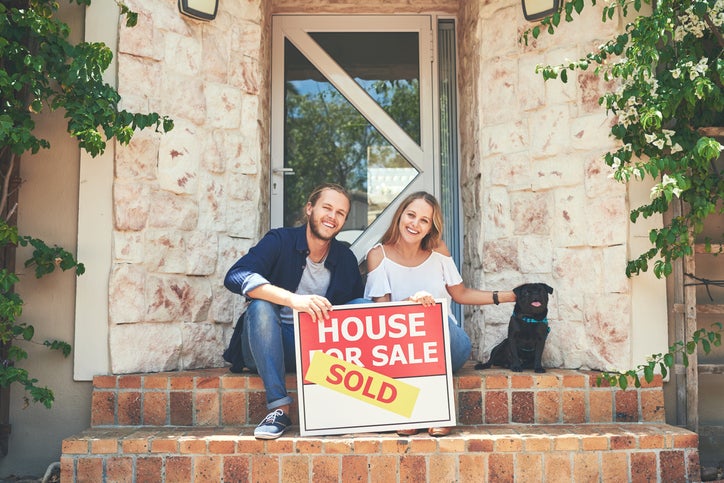 Many or all of the products here are from our partners that compensate us. It's how we make money. But our editorial integrity ensures our experts' opinions aren't influenced by compensation. Terms may apply to offers listed on this page.
When you're selling your home, the trick is to stand out from the crowd.
When you're selling your home, it can be difficult to know how much to spend on sprucing it up. After all, there's no point in throwing money away on renovations that won't increase its value -- especially if the new owners might redo them anyway.
However, there are some affordable ways to make your house stand out from the competition. And by competition, I mean other homes in your area with similar features, selling for a comparable price to your own.
Check your budget to learn how much you have to spend. Only you know how much you need for a mortgage down payment on your next home and how much you'll spend on moving costs. Once you know what you have, here are seven things you can do to beat the competition. Some are absolutely free, while others are relatively inexpensive.
1. Create curb appeal
The first thing buyers notice is how a home looks from the street. A neat yard gives the impression your property is carefully tended. If your yard looks like it could be used as a horror movie set, mow the lawn, trim the shrubs, and pull the weeds. Another sweet touch is a planter near your front door, overfilled with new plants. You can take it with you when you go. In the meantime, it makes an excellent first impression.
2. Edit and create space
The human mind can only take in so many stimuli at once. Anything more feels like brain clutter and can be unpleasant for home buyers. Go through each room and remove any unnecessary items. Box them up. You can always display them again when you move. The idea is to allow buyers to imagine themselves living in your home. It's harder to do that if all they see is your memories.
Next, it's time to create space. Here's what stagers do: Once they've removed all personalized items from your home (including family photos), they remove all unnecessary pieces of furniture. Any furniture they bring in is just "the right" size, meaning that no room feels crowded, and it's easy to move from one side of a room to the other without tripping over extra furniture. You can remove large pieces and rearrange furniture yourself at no cost.
3. Rent a storage unit
As tempting as it may be to store the items you box up and remove from your house in the garage, don't do it. Remember, buyers are also interested in how much space you have in the garage. According to move.org, a storage unit's monthly cost in 2020 runs between $60 and $180. Depending on how much you remove from your home, you may be able to get by with a smaller unit. And don't forget, your belongings only need to be in storage until the house sells.
4. Hire professional cleaners
Invest in a professional "move-out" cleaning crew to avoid the worry about whether your home is clean enough to show. HomeGuide says that home cleaning services charge an average of $25 to $50 per hour. To put that in perspective, a 2,000 square-foot home with three bedrooms and two baths should cost between $135 to $180. I'd suggest you plan for the higher end of that estimate.
If your home has carpeting, the average cleaning cost is $0.25 per square foot, or $25 to $70 per room. Clean carpeting not only makes your home look better, but it also helps with any odors that may linger.
While we're on the subject of relatively inexpensive updates, consider polishing the woodwork throughout your home. The total cost is around $50 for supplies and a little elbow grease. I find that it helps to listen to a great podcast as I work.
5. Install new hardware
Once the cabinets in your kitchen and bath have been deeply cleaned, you may notice how dingy the hardware looks. A relatively inexpensive fix is to replace the pulls and knobs on cabinet doors and drawers. Choose something in keeping with the style of your home.
6. Add a fresh coat of paint
Unless they're looking for a fixer-upper, buyers generally dislike the idea of painting the interior walls of a home before they move in. If your painting skills are practically pro level, consider buying enough paint to cover each room. The more neutral the color, the better. If you decide to go with a professional painter, the average interior paint job costs anywhere from $1,000 to $4,000.
7. Spring for a home inspection
Typically, the buyer pays for a home inspection, but for around $400, you can do it yourself. Here's why I think it's a good idea:
You know what to expect and can make needed repairs before the first showing.
You set your property apart from the competition by allowing buyers to see the inspection as they tour your home.
You offer buyers a sense that you have cared for the property.
Selling a home can be stressful. But it doesn't have to be. Sit down, make a list of any tasks that will make your home more appealing. Ultimately, showing your home in its best light can put more money into your bank account.
We're firm believers in the Golden Rule, which is why editorial opinions are ours alone and have not been previously reviewed, approved, or endorsed by included advertisers. The Ascent does not cover all offers on the market. Editorial content from The Ascent is separate from The Motley Fool editorial content and is created by a different analyst team.