These 6 Banks Are Letting Homeowners Pause Their Mortgage Payments
Many or all of the products here are from our partners that pay us a commission. It's how we make money. But our editorial integrity ensures our experts' opinions aren't influenced by compensation. Terms may apply to offers listed on this page.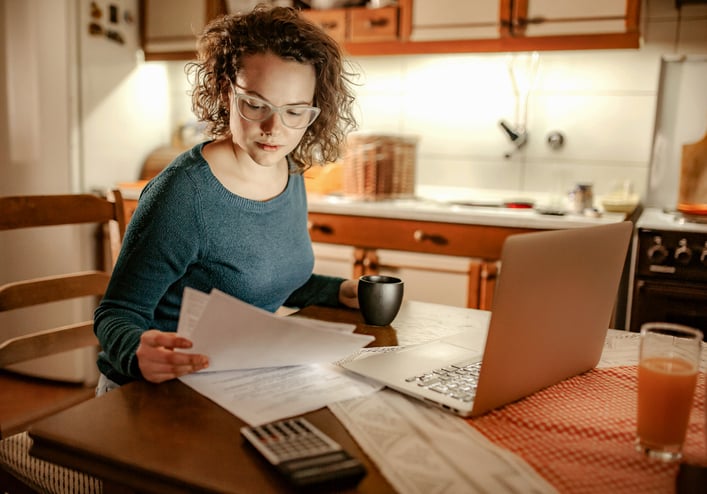 Millions of mortgages are in forbearance, including many where the lender didn't legally have to grant one.
As part of the CARES Act legislation signed into law in late March, many homeowners are legally entitled to reduced or paused mortgage payments (also known as mortgage forbearance). Many lenders are extending this offer to all borrowers -- not just those they are legally obligated to.
Forbearance is almost always an option for borrowers, not just during a pandemic or a recession. But it's getting a lot of attention right now because of the state of the economy.
If you're eligible for forbearance, you have to request help. Your payments won't be paused automatically. So how do you know if your mortgage qualifies for assistance?
Who qualifies for forbearance under the CARES Act?
Thanks to the CARES Act, any homeowner with a federally-backed mortgage is entitled to a mortgage forbearance of as long as 12 months. This applies to about two-thirds of U.S. home mortgages.
More specifically, that includes conforming mortgages owned by Fannie Mae or Freddie Mac, as well as loans backed by the FHA or the Department of Veterans Affairs (VA mortgages). Millions of borrowers decided to exercise their rights under the CARES Act. As of early July, roughly 6% of mortgages owned by Fannie Mae and Freddie Mac were in forbearance.
Mortgage relief for home loans not covered under CARES
There are many mortgages that this law doesn't apply to. Jumbo mortgages (those that exceed the Fannie Mae and Freddie Mac conforming loan limits) are one big example. How big is a Jumbo mortgage? The conforming loan limit for 2020 is $510,400 for a single-family home in most markets but can be as much as $765,600 in certain high-cost housing markets.
An even higher percentage (8.2%) of mortgages that are not federally backed are in forbearance right now. This means lenders are going above and beyond government requirements to assist homeowners.
Is your lender one of them? Find out here.
How these six top mortgage lenders are helping borrowers
Let's take a look at how six of our top mortgage lenders of 2020 are helping struggling mortgage borrowers during the COVID-19 pandemic.
Better Mortgage: Online mortgage lender Better Mortgage is taking its forbearance offer a step beyond what is legally required. The lender is offering loan forbearance to all borrowers whose loans are serviced by its two sub-servicers, The Money Source or Loancare, and has suspended all foreclosures during the pandemic. Plus, Better Mortgage is waiving late payment and overdraft fees on its loans.
CitiMortgage: Citi's mortgage sub-servicer is Cenlar FSB, and it is offering 90-day forbearance for all of Citi's mortgage loans, as well as providing forbearance of as long as 12 months for federally-backed mortgages as required by the CARES Act.
Bank of America Mortgage: Bank of America Mortgage follows the CARES Act guidelines for federally-backed mortgage loans. In addition, if Bank of America owns your loan and it isn't federally-backed, there are two programs you can take advantage of. The Bank of America Payment Deferral Program allows customers who are current on their loans to defer payments for three months, with the missed payments added to the end of the loan term. And, the Bank of America Payment Forbearance Program is offered to customers who have already missed a payment and could allow for a three-month forbearance period.
Navy Federal Credit Union Mortgage: Navy Federal allows mortgage borrowers to request a forbearance for a set period of time. If they are still experiencing problems after that, borrowers can request an extension.
Rocket Mortgage: Rocket Mortgage primarily originates federally-backed mortgages, which are covered by the CARES Act. It allows borrowers to request an initial three-month forbearance as well as extensions for up to a total of 12 months, directly on its web portal.
PNC Bank Mortgage: PNC allows all mortgage borrowers to submit a hardship request with no additional documentation requirements. You'll get a 90-day initial forbearance with the ability to extend to 180 days if needed. In addition, PNC Mortgage offers the ability to temporarily reduce the mortgage payment.
Important things to know about mortgage forbearance
There are a few key points to remember if you're thinking of applying for mortgage forbearance.
Contact your bank for all mortgage relief options
First of all, don't give up if your lender doesn't specifically say that they are granting forbearance to non-federal mortgages.
Late payments and foreclosures are a lose-lose situation for both the borrower and the bank, so many lenders (beyond those discussed here) are more than willing to work with their borrowers. Every lender I know of has a COVID-19 page on their website. If you're struggling to make your payments, it's a good idea to call the number or email the bank's COVID contact to see what your options are.
Request mortgage forbearance specifically
Also, it's important to emphasize that you have to ask for forbearance. Even if your mortgage is federally-backed and you're legally entitled to forbearance, you still need to let your lender know. In other words, don't simply stop making your mortgage payments -- if you do, it can trigger late fees and can hurt your credit score.
Speaking of credit scores: A forbearance won't hurt your score. During a granted forbearance period, your mortgage lender will continue to report your loan to the credit bureaus as "paid as agreed." You also won't accumulate any late fees for missing payments while your loan is in forbearance.
Understand the terms
Finally, it's important to mention that not all forbearances work in the same way, especially when it comes to what happens when the forbearance period ends. It's important to know the terms of your particular forbearance before you agree to it.
The most common type of loan forbearance during the COVID-19 pandemic involves adding the missed payments to the end of the loan term. For example, if you receive a three-month forbearance, you'll simply make three additional mortgage payments beyond the original end of your mortgage term. Some lenders instead make the entire deferred amount due as a balloon payment at loan maturity (so, you'd have to pay three or more mortgage payments all at once). Others may have different options, such as allowing you to catch up on your missed mortgage payments over time.
Is a mortgage forbearance right for you?
Mortgage forbearance during the COVID-19 pandemic is generally easy to qualify for. While you have to ask for it, most lenders aren't asking for any documentation or proof that you need a forbearance.
Having said that, it's generally not a great idea to accept a mortgage forbearance unless you actually need one. In many cases, interest continues to accrue on the deferred amount and could end up costing you hundreds of dollars over the life of the loan.
However, if you are experiencing a legitimate financial disruption as a result of the coronavirus pandemic, mortgage forbearance could help you continue to make ends meet until your income returns to a normal or more predictable level. If you think a forbearance could be right for you, contact your lender to find out exactly what housing assistance is available, as well as the terms you'll be agreeing to and obligations you'll have while your loan is in forbearance.
The Ascent's Best Mortgage Lender of 2022
Mortgage rates are at their highest level in years — and expected to keep rising. It is more important than ever to check your rates with multiple lenders to secure the best rate possible while minimizing fees. Even a small difference in your rate could shave hundreds off your monthly payment.
That is where Better Mortgage comes in.
You can get pre-approved in as little as 3 minutes, with no hard credit check, and lock your rate at any time. Another plus? They don't charge origination or lender fees (which can be as high as 2% of the loan amount for some lenders).
We're firm believers in the Golden Rule, which is why editorial opinions are ours alone and have not been previously reviewed, approved, or endorsed by included advertisers. The Ascent does not cover all offers on the market. Editorial content from The Ascent is separate from The Motley Fool editorial content and is created by a different analyst team.
Bank of America is an advertising partner of The Ascent, a Motley Fool company. Citigroup is an advertising partner of The Ascent, a Motley Fool company.
Matthew Frankel, CFP
owns shares of Bank of America. The Motley Fool has no position in any of the stocks mentioned. The Motley Fool has a
disclosure policy
.