Why Online Home Valuations Are Often Wrong
by Dana George | Updated July 19, 2021 - First published on June 18, 2021
Many or all of the products here are from our partners that pay us a commission. It's how we make money. But our editorial integrity ensures our experts' opinions aren't influenced by compensation. Terms may apply to offers listed on this page.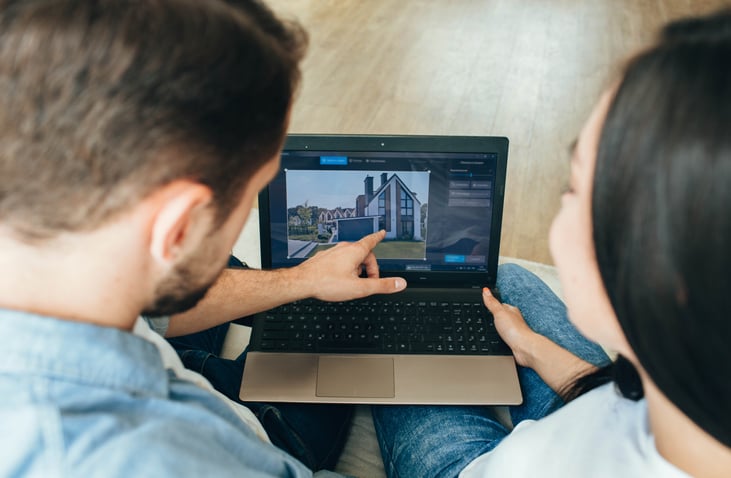 You can't count on an online valuation tool alone to know how much your home is worth.
With all the talk about the red-hot housing market, you may be curious about the value of your property. You may even have checked out one of the most popular valuation estimators. Whether you turned to Zillow, Redfin, Realtor.com, or Trulia, the estimate you found there may or may not be accurate.
As Trulia says on its website, its estimate can give you a good idea of a home's value, but it is not an official appraisal. It is simply a starting point.
According to Home Bay, homeowners, on average, overestimate the value of their property by 8%. But what about most online valuation tools? How do they come up with their estimates? And why do they sometimes get it wrong?
It's all about algorithms
Home valuation tools count on generic data like the square footage of your home, the number of rooms, and number of garages. While those stats are easy to feed into a computer, they're only part of the story.
Let's say three homes around the same size as yours have sold in your area in the past year. They all sold for $350,000, so, not surprisingly, your home has an online valuation somewhere around $350,000. But what if you've finished your basement since you purchased the home? What if you've had all the carpet replaced with hardwood floors? Companies like Zillow and Redfin don't factor in those upgrades, and because of the way their algorithms are designed, they assume your home has the same value as those recently sold.
This is just a guess, folks
As Trulia states, the valuation you find on its site is an "idea" of your home's value. Zillow calls its "zestimates" a starting point. Only an official appraisal can offer the actual value of a home.
Data is pulled from all over
Some valuation sites ask homeowners to provide property record updates. It's difficult to guess how many people go to that trouble. Others -- like Redfin -- pull info directly from the multiple listing service (MLS). Still others claim to use public records, but it's difficult to know how up to date those records are.
It isn't easy to estimate intangibles
The adage that a property is only worth what someone is willing to pay for it is true, and something that cannot be effectively calculated into a home estimate. Imagine you're selling a home nearly identical to another house on the market. The other home was last painted when The Spice Girls were on tour. It smells like pets, and is dark and cluttered. You've decluttered and deep cleaned yours. Your walls are freshly painted; your wood floors gleam; you've removed personal items (like photos) so home buyers can better visualize themselves living in the house. If a buyer considers your home more valuable because it's in move-in condition, there is no way for an algorithm to pick that up.
Also, home buying is personal. There's no predicting when a person might make an offer on a home because it reminds them of their grandparents' house, or because it looks like the home they dreamed of living in when they were a kid. Most buyers tell you they knew within moments of walking into a house whether it was right for them. It's like forming an emotional relationship with an inanimate object. There's just no accounting for it.
The market changes continually
When you look at the online estimated value of your home, you may be seeing a guess of what your house was worth (to that one company) months ago. That's because there's no way to know how old their comparable sales stats are.
A grain of salt
Online home valuations may be in the ballpark, but should be taken with a grain of salt. Once you see what the online guys are saying, there are two ways to get closer to the true value of your home:
Ask a real estate agent for a comparative market analysis (CMA). A CMA takes things into account that an online valuation cannot. It factors in the basics, like square footage and number of rooms. But the agent conducting the CMA also factors in the quality of area schools, condition of the home, area amenities, and the condition of the microclimate of the property (in other words, how well homes in the immediate area are selling). Depending on whether you list with the agent, they may charge for a CMA -- typically, $100 to $200.
Order a professional appraisal. If a buyer borrows from a mortgage lender to purchase your home, they must have the home appraised -- the lender doesn't want to lend more than the property is worth. While this is not usually an expense you face as the seller, for approximately $450 to $550, you can hire an appraiser yourself. Doing so offers a couple of benefits. The first is that you know in advance how much the house is worth. The second is that the buyer knows what the home is worth, and is less likely to expect you to accept a low-ball offer.
If you're just starting to think about selling your home, an online home valuation is a good place to get a sense of what's happening in your area. But when it's time to properly price the property, your best bet is to trust an experienced real estate agent.
We're firm believers in the Golden Rule, which is why editorial opinions are ours alone and have not been previously reviewed, approved, or endorsed by included advertisers. The Ascent does not cover all offers on the market. Editorial content from The Ascent is separate from The Motley Fool editorial content and is created by a different analyst team.
Dana George
has no position in any of the stocks mentioned. The Motley Fool owns shares of and recommends Zillow Group (A shares) and Zillow Group (C shares). The Motley Fool has a
disclosure policy
.