Why You Shouldn't Allow the Dip in Pending Homes Sales to Shake You Up
Many or all of the products here are from our partners that pay us a commission. It's how we make money. But our editorial integrity ensures our experts' opinions aren't influenced by compensation. Terms may apply to offers listed on this page.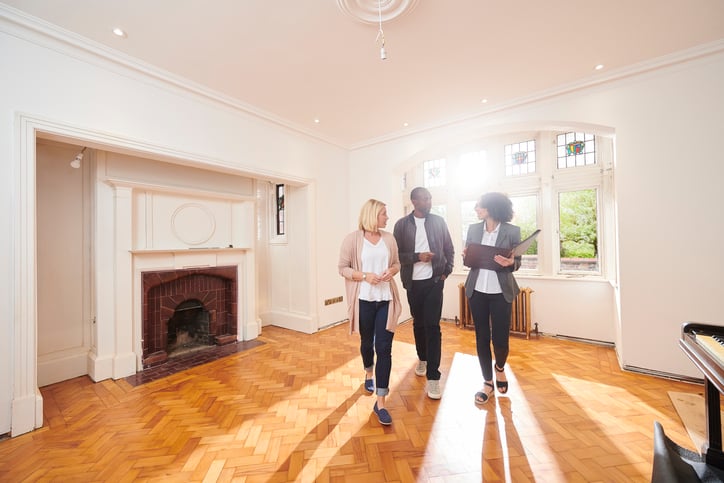 As the housing market ebbs and flows, it's up to you to keep a clear head.
If recent data from the National Association of Realtors® (NAR) is any indication, a housing slowdown of sorts may be underway. The decline in pending sales was not dramatic enough to send agents running in circles while clutching their pearls, but it's a significant indicator of what's going on in the real estate market.
A pending sale (or pending offer) is when a buyer has submitted an offer and the seller has accepted. The home isn't quite sold yet, but it's moving in that direction. Once a sale is pending, all those things that go on behind the scenes are put into action. For example, the home is inspected and appraised, and the buyer finalizes their mortgage.
The number of pending sales in any given month provides a snapshot of how hot the market is at that moment. It's not just the number of homes on the market or the number of people competing for the same houses. Pending sales represent the number of times a home buyer and home seller came to an agreement.
July sales
One of the key highlights of the recent NAR data was news that pending homes sales dipped in July, noting two consecutive months of decline. The country's only region that did not experience a month-over-month decline in pending sales was the West. However, all four regions have experienced a year-over-year drop of 8.5%. The most significant decrease was in the Northeast.
Cooling is relative
In a typical housing market with new houses going up for sale and plenty of inventory, slowdowns are normally due to a decrease in the number of people looking to purchase a home. Today, it appears that the cooling has more to do with a lack of sufficient inventory.
Lawrence Yun, NAR's chief economist, says as much. "The market may be starting to cool slightly, but at the moment, there is not enough supply to match the demand from would-be buyers."
Interestingly, Yun said that even though the market has calmed, 27% of buyers in July still chose to bypass appraisal and inspection contingencies.
If you're a buyer
When inventory is low enough to slow pending sales, you know there's an issue. That said, low inventory does not mean you're out of luck. It's still possible to strike a deal with a home seller, even without giving up your right to a home inspection or appraisal. Once you find a house you like, here's how you can make it work for you.
Be cooler than the rest
The truth is this: Even if you can't find a reasonably priced house you like right now, housing prices will probably soften as inventory grows. Going into the house hunt thinking, "If I don't buy a house right now, I'll never get one," could be dangerous. Such thinking could lead you to pay more than you should for a property or skip those crucial contingencies, like a home inspection or appraisal. Tell yourself that if you can land a deal that works for you, great. If not, there's no harm in waiting.
And remember, you don't owe it to anyone to buy a house if now's not the right time. Even if a real estate agent has worked with you for months, it's not your job to buy a house to make them happy. If they've done a good job, come back to them when prices cool and you're ready to look again.
Get pre-approved for a mortgage
Once you're ready to make an offer, the home seller will want to know that you won't have any trouble getting approved for a mortgage. Providing a pre-approval letter with your offer tells the seller two things: You're a serious buyer, and it's unlikely you will have trouble qualifying for a mortgage.
Increase the earnest deposit
An earnest deposit (sometimes called "earnest money") is a sum of money you include with your offer. It's typically 1% to 5% of the sale price. Let's say you're making an offer of $300,000. That means that your earnest deposit would be between $3,000 and $15,000.
If other buyers make an offer on the house, their earnest deposits are likely to be on the lower end. That's because once the seller accepts an offer, the buyer can't back out without a legitimate reason. If the buyer gets cold feet, the seller has the right to keep the earnest deposit.
Consider the earnest deposit from the seller's point of view. A low deposit may make them wonder if the buyer is serious. Worse yet, it may make them worry that the buyer is not financially able to buy a house. On the other hand, a larger-than-average earnest deposit says you're serious -- and not worried about qualifying for a loan.
Make the most flexible offer
Offer to let the seller set the closing date, even if that means having to wait a month or two more to get into the house. It may be that the seller needs to find another place to buy or is waiting for a new home to be built and is nervous about when they can move. Allowing them to set the closing date not only shows that you're willing to work with them, but it also makes life easier on their end -- and what seller wouldn't want that?
You can also offer to rent the house back to them after closing. Let's say the seller is moving out of state, but their new job doesn't start for eight weeks. They want a chance to organize their life before moving out. Even if you set a quick closing date, offer the seller the opportunity to rent the house back from you for a month or two. Your offer of an extension could be the thing that inspires a seller to choose your offer over another.
The current dip in inventory is not at all earth-shattering. Not only does the market ebb and flow over time, but as long as you're ready to buy and you follow your head over your heart, you're likely to eventually find the right house.
We're firm believers in the Golden Rule, which is why editorial opinions are ours alone and have not been previously reviewed, approved, or endorsed by included advertisers. The Ascent does not cover all offers on the market. Editorial content from The Ascent is separate from The Motley Fool editorial content and is created by a different analyst team.