3 Times a Personal Loan Is Better Than a Credit Card
by Dana George | Updated Oct. 28, 2021 - First published on Feb. 12, 2021
Many or all of the products here are from our partners that pay us a commission. It's how we make money. But our editorial integrity ensures our experts' opinions aren't influenced by compensation. Terms may apply to offers listed on this page.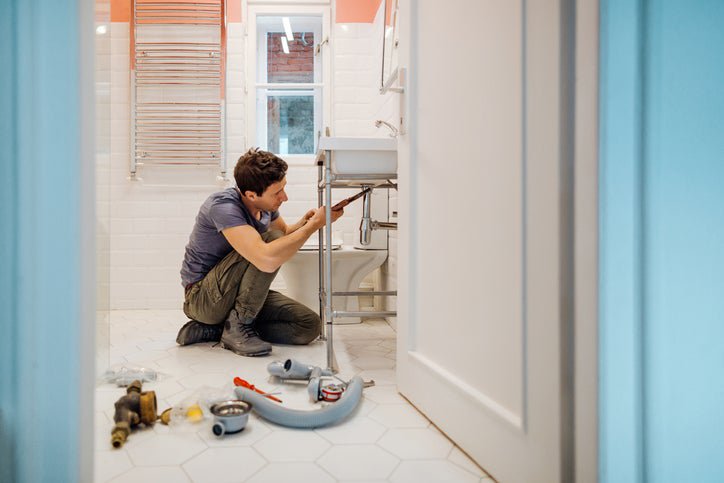 While credit cards may work for small purchases that can be repaid quickly, a personal loan is generally the right choice when you need more time.
If you're like most people, you make dozens of financial decisions each week. Everything, from where to buy groceries to whether you need a new pair of shoes, is a decision. Depending on what's going on in your life, one of those decisions may be how to pay for something you need. Here, we'll cover at least three times funding a project with a personal loan is better than pulling out a credit card.
1. When the interest rate is lower
The average interest rate on credit cards hovers around 14.5%, according to the Federal Reserve, with many carrying an even steeper rate. If you have a good credit score and need to make a large purchase that can be paid off over time, you're almost always money ahead with a personal loan.
Let's say your mother-in-law is moving in, and you want to create a comfortable space for her in your walk-out basement. You're doing much of the work yourself and expect the project to cost $20,000. Here's how taking out a personal loan to pay for the remodeling project compares to paying for the project using credit cards.
You take out a personal loan with an APR of 6%. Your monthly payment for four years is $468, and you pay a total of $2,476 in interest.
You use a credit card with an interest rate of 14.5% and make equal monthly payments of $391. It takes six years and nine months to pay the credit card off, and you pay a total of $11,334 in interest.
In nearly every situation, a loan from the best personal loan lenders will save you money. In this case, it would save $8,858 in extra interest payments.
Note: The type of personal loans we are discussing here are from credible lenders. Payday loans and car title loans are not credible. In fact, they are predatory. Payday loan lenders often charge interest rates exceeding 400%, and car title lenders regularly charge 300% APR or more, according to the Federal Trade Commission. Their business model is to give loans to people whose credit is too poor to qualify through other lenders. Then they tie borrowers up with a high interest rate that makes it almost impossible to pay off the loan by its due date.
2. When you need more than 30 days to pay the debt
If it's going to take more than 30 days (one billing cycle) to repay a debt, using a credit card to pay for a purchase can lead to a high interest rate that is tough to get on top of. Let's say your car needs $3,000 in repairs and you put it all on a credit card with an interest rate of 17%. If you make a $75 payment each month, it will take you five years to pay the card in full, and you'll end up paying $1,458 in interest. Of course, this is the worst possible scenario, but it's easy to get caught up in credit card debt while you also have other bills to pay.
There are only three circumstances under which paying for a purchase with a credit card makes sense:
When you have a card with a 0% introductory rate that allows you to pay the purchase off over 12 to 18 months with no interest.
When you have a credit card that carries a very low interest rate (this is unusual).
When you make a purchase and pay it off in full before the end of your first payment cycle, saving yourself any potential interest charges.
Otherwise, if you need time to pay off a loan, a personal loan is the smart move. That's because you go into a personal loan knowing precisely what your interest rate will be and when the loan is scheduled to be paid in full. As long as the lender you choose offers a fixed interest rate (most do), you know exactly what to expect each month and can build your budget around that payment.
If you have an excellent credit score, you're in great shape for a loan and are likely to land the lowest, most attractive interest rate. If you have a good credit score, a personal loan will almost always offer you a lower interest rate than a standard credit card. If your credit is poor, you may also land a better rate through a lender that specializes in personal loans for people with bad credit.
That said, if your credit score is low, there are many reasons to dedicate yourself to improving that score. Here are a few:
You'llll be offered better interest rates and loan terms.
You'll be able to get a loan when you need it, like when you're buying a home or financing a vehicle.
You'll be more likely to land a job that requires good credit.
You'll have an easier time renting a home, getting utilities connected, or signing up for a cell phone plan.
Note: If your credit is poor, raising your score will take time and effort, but millions of Americans have done it, and so can you.
3. When you want to consolidate high-interest debt
There's nothing like a personal loan to help you consolidate high-interest debt. Let's say you have three credit cards, with interest rates ranging from 14% to 22%. You may also have a high-interest loan on appliances or a recreational vehicle. There are at least three benefits to consolidating those debts into a personal loan with a lower interest rate.
You save money on interest.
You enter the loan knowing when it will be paid in full.
You may lower your monthly payment by choosing a personal loan with a longer repayment term.
Note: If you must lower your monthly payment to make ends meet, choosing a longer term makes sense. However, the longer the term, the more you'll end up repaying in total interest. Always choose a loan with the shortest repayment term you can afford.
There's a time and place for most financial products (payday loans and title loans excluded). Before you decide how to pay for something, sit down and do the math. Decide for yourself which payment method allows you to pay the debt off fastest and with the least amount of interest.
The Ascent's best personal loans for 2022
Our team of independent experts pored over the fine print to find the select personal loans that offer competitive rates and low fees. Get started by reviewing The Ascent's best personal loans for 2022.
We're firm believers in the Golden Rule, which is why editorial opinions are ours alone and have not been previously reviewed, approved, or endorsed by included advertisers. The Ascent does not cover all offers on the market. Editorial content from The Ascent is separate from The Motley Fool editorial content and is created by a different analyst team.
Ally is an advertising partner of The Ascent, a Motley Fool company. JPMorgan Chase is an advertising partner of The Ascent, a Motley Fool company.
Dana George
has no position in any of the stocks mentioned. The Motley Fool owns shares of and recommends Ethereum. The Motley Fool has a
disclosure policy
.