Published September 26th, 2017.
We think the best credit cards for students are those that pack in valuable perks to help cardholders maintain good credit hygiene, including no annual fees, best-in-class cash rewards programs, and credit scores for free. Our picks of the best student credit cards below all include these perks. But it's important to keep in mind what student credit cards are, perhaps, most useful for: building credit and managing a credit budget well to harvest the most value from cash rewards.
Best for highest cash-back credit card for students
Discover it® for Students packs in perks you'd expect from a premium, no-annual-fee credit card, but college students can access similar perks with this card. All that's required is fair credit or better. Notably, the card pays 5% bonus cash back (capped on $1,500 of bonus category spending each quarter) in rotating categories you activate, and 1% on all other purchases. What's more, Discover will match all the cash back earned in the first year with its Cashback Match™ offer -- that works out to up to 10% cash back! This is the highest cash back credit card we've come across for college students. Students can also earn an extra $20 cash back each school year when maintaining at least a 3.0 GPA (5 year limit).
Terms and Conditions
Show More
Bonus Offer
Cashback Match™ -- Discover will automatically match all the cash back you earn at the end of your first year. New cardmembers only.
Annual Fee
$0
Purchase APR

Intro: 0%, 6 months

Reg: 13.99% - 22.99% Variable

Balance Transfer APR

Intro: 10.99%, 6 months

Reg: 13.99% - 22.99% Variable

Credit Requirement
Fair
Get a dollar-for-dollar match of all the cash back you've earned at the end of your first year, automatically.
Earn 5% cash back at different places each quarter like gas stations, grocery stores, restaurants, Amazon.com, or wholesale clubs up to the quarterly maximum each time you activate.
Good Grades Rewards: $20 cash back each school year your GPA is 3.0 or higher for up to the next 5 years.
No annual fee. No late fee on first late payment. No APR change for paying late.
Get 100% U.S. based customer service & get your free Credit Scorecard with your FICO® Credit Score, number of recent inquiries and more.
Freeze It® on/off switch for your account that prevents new purchases, cash advances & balance transfers in seconds.
New! Receive FREE Social Security number alerts-Discover will monitor thousands of risky websites when you sign up.
0% intro APR on purchases for 6 months, then the standard variable purchase APR of 13.99% - 22.99%.
Show Less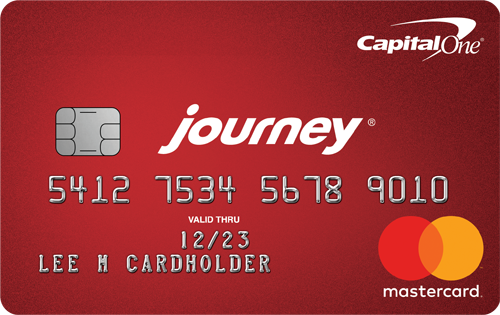 Best student credit card for building credit
Journey® Student Rewards from Capital One® amps up the value for cardholders who want to get a higher rate of cash back for all purchases than what Discover it® for Students offers. Cardholders are incentivized to keep their credit hygiene on point and they earn 1.25% cash back for that month when paying bills on time, versus 1% for purchases, the same amount as Discover's student card. The crucial difference is paying bills on time and keeping debt balances low are the two most important factors for your credit score (as discussed above). This card rewards those debt savvy behaviors, which could be the answer to how to build credit fast.
Show More
Bonus Offer
N/A
Annual Fee
$0
Purchase APR

Intro: N/A

Reg: 24.99% (Variable)

Balance Transfer APR

Intro: N/A

Reg: 24.99% (Variable)

Credit Requirement
Average/Fair/Limited
Earn 1% cash back on all your purchases. Pay on time to boost your cash back to a total of 1.25% for that month
There's no limit to the amount of cash back you can earn, and rewards won't expire for the life of the account
Get access to a higher credit line after making your first 5 monthly payments on time
Pay no annual or foreign transaction fees
Fraud coverage if your card is lost or stolen
Pick the monthly due date that works best for you
Show Less
---
How to build credit fast with student credit cards
Building good credit is an essential component of beating your financial goals and credit cards can be powerful tools to help cardholders build credit fast, when managed well. Importantly,  paying bills on time and keeping debt levels low are the two most important factors in determining your FICO® Score. On-time-payments account for 35% of your score, while credit utilization (debt divided by total available credit limits) accounts for 30%. There's no better way to rapidly go from no credit history to good, or excellent, credit than by paying bills on time and keeping debt in check.
Make the most of student credit card cash rewards programs
We Fools believe credit cards rewards are best earned when paying off balances in full each month. That's because interest isn't charged on balances paid off monthly. This is the easiest way to harvest the full value of credit card cash rewards programs and there's no sense in earning rewards at single-digit rates only to watch as they're eaten up by far higher, double-digit rate interest charges. Not only will this "transactor" credit card approach help you earn lucrative rewards, but it also helps to build your credit as bills are paid off like clockwork and credit utilization is low.
---
The Motley Fool receives compensation from some advertisers who provide products and services that may be covered by our editorial team. It's one way we make money. See our advertiser disclosure policy for additional details. But know that our editorial integrity and transparency matters most and our ratings aren't influenced by compensation. The statements above are The Motley Fool's alone and have not been provided or endorsed by bank advertisers. Review The Motley Fool's ratings methodology to uncover how we pick the best credit cards. The Motley Fool owns shares of and recommends Visa.