These 7 Countries Have the Largest Gold Reserves
Author: Reuben Gregg Brewer | January 29, 2018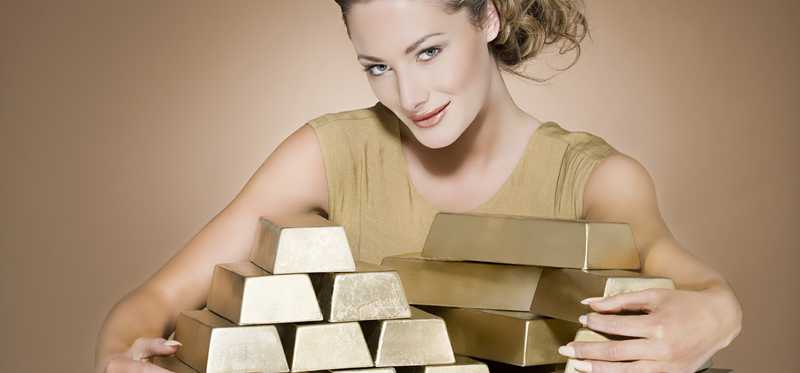 Who's who of global gold hoarders
Gold was once used as the backstop to the world's currencies, but now most currencies are backed by the faith and credit of the governments that issue them (which makes them fiat currencies).
That said, if you look at the countries with the largest gold reserves, and the amounts these countries hold, you might see the important roles that gold still plays around the world. Far from being a relic of a distant past, gold is still a vital store of wealth for the largest and most important nations on Earth, even if the metal's relationship to currency has changed.
Here's a who's who of the major global gold hoarders.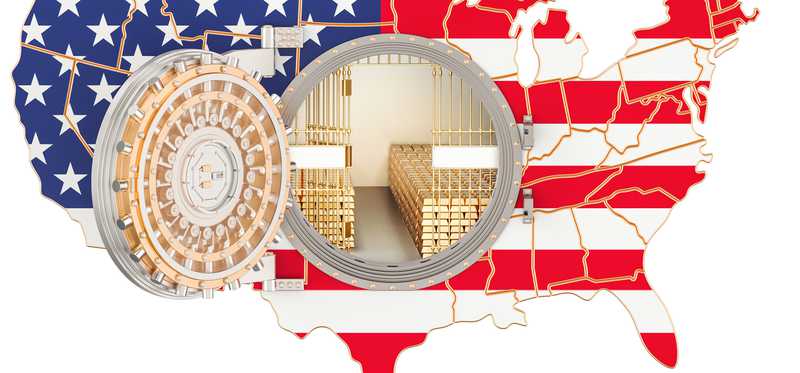 1. The United States
It's no surprise that the largest economy on Earth is also one of the largest holders of physical gold. But what might be a little more shocking is that the U.S. gold store, at over 8,000 metric tons, is more than twice the size of the second-largest holder's.
The Federal Reserve's carrying value, or the book value, for the gold it owns is roughly $11 billion. But in its December update on those holdings, the Fed mentions in a footnote that the actual value is around $330 billion. That means the real value of the U.S. gold reserve is not reflected in the Fed's balance sheet. In other words, there are potentially more assets available to support the U.S. government than a cursory look at the Fed's balance sheet would indicate. That's a comforting thought if you are worried about the country's ability to meet its future obligations. 
The fact that the U.S. owns so much gold owes to both the country's size and its impressive growth over the last hundred years or so. When every dollar of currency had to be backed by gold, the U.S. needed to collect and hold a lot of it to back its growing economy. After the gold standard was scrapped, the U.S.'s affinity for the metal didn't die, even though the link to the dollar did.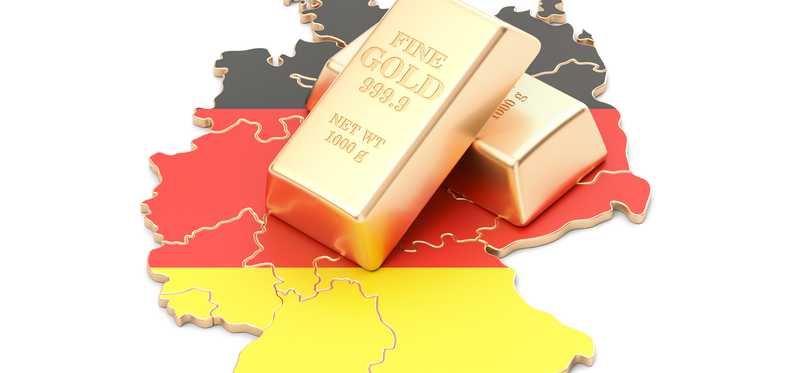 2. Germany
Germany is the runner-up when it comes to gold reserves: It owns around 3,300 metric tons of the yellow metal. Germany's No. 2 slot makes sense, given that it's the world's fourth-largest economy, though it may appear to be punching above its weight when you consider the physical size of the country.
That said, Germany's penchant for owning gold might harken back to its use of the metal as a hedge against inflation and other adverse economic events. Gold is a store of wealth; it may not be a currency, but it can certainly be used to buy things. We can't make more of it, unlike paper currencies, which governments can print in huge quantities if they so choose. Gold has intrinsic value that a government can fall back on in the event of severe financial hardship. That's something the Germans probably find appealing, given that the country faced crippling inflation in the early 1920s. 
Germany moved a lot of gold out of the country during the Cold War to keep it safe, but the country has been bringing that gold back at a rapid clip in recent years. It's enough to make you wonder if Germany knows something about the future of the Euro that we don't.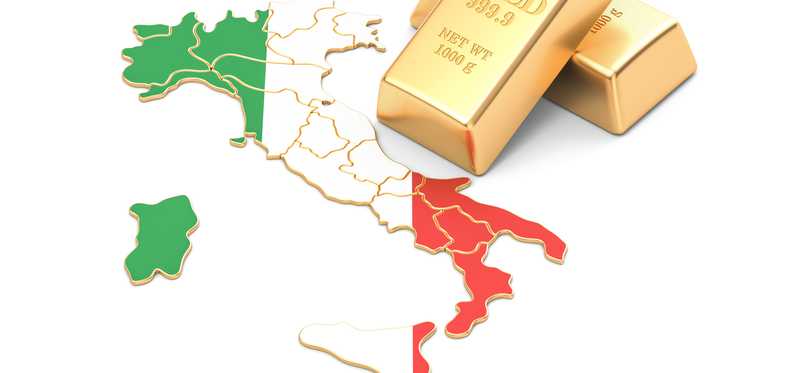 3. Italy
It's surprising to see Italy in the No. 3 spot on this list with roughly 2,400 metric tons of gold. But the truth is that this country has a long history when it comes to mining for gold, dating all the way back to the Roman Empire.
Today, melting glaciers in the Alps frees up gold that then gets washed down into Italian rivers and streams, such as the Elvo River. That's the site of a modern-day "gold rush," with people from around the world showing up to pan for fun and fortune. Some report finding bread-crumb-sized flakes of the prized metal. 
Italy's gold reserves, meanwhile, have waxed and waned over time. They hit a low point during World War II at a meager 22 metric tons. However, following the war, the country was able to rebuild its gold store thanks to the return of gold confiscated by the Nazis and the use of foreign exchange surpluses to buy the yellow metal.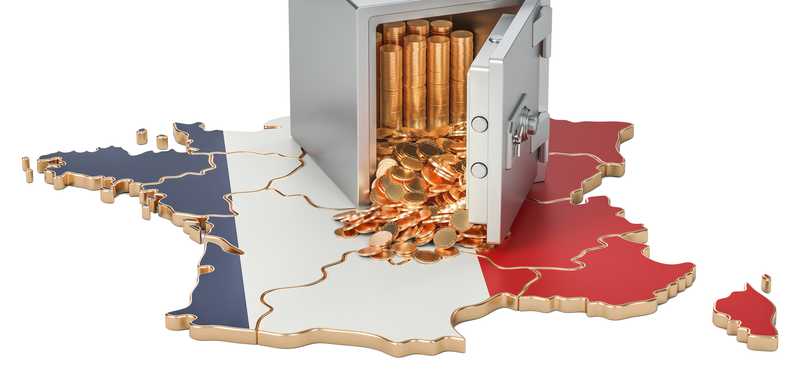 4. France
France's gold reserve amounts to about 2,400 metric tons -- roughly the same amount as Italy. Most of France's gold is stored in a secret vault below Paris. That said, the country was a net seller of gold between 2005 and 2009. France disposed of a huge amount of gold over that four-year span, noting that at the start of 2005, it owned nearly 3,000 metric tons of the metal (which would have been good enough put the country in the third spot on this list).
Changes in gold prices can have a major impact on France's finances. Unlike the U.S., which holds gold on its balance sheet at a book value well below the current value of its reserves, France carries its gold at the current market price. That adds a little more volatility to the country's balance sheet. For example, in 2016 the value of France's gold hoard increased by nearly 10 billion euro -- a 13% jump year over year. Because gold makes up around 60% of the country's gold and foreign currency reserves, such price swings can quickly alter France's fiscal backstop.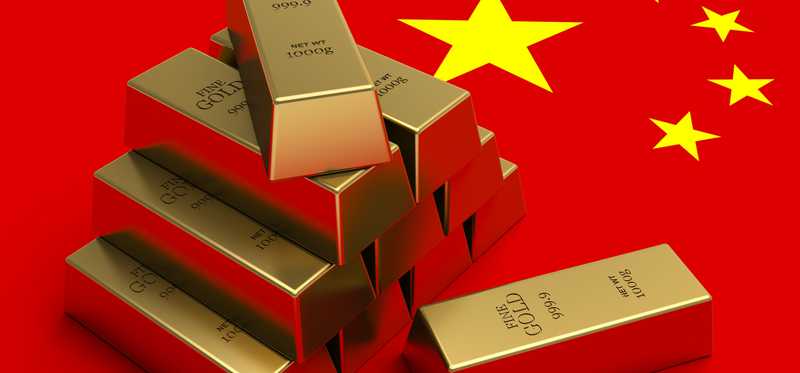 5. China
China has around 1,800 metric tons of gold in its reserves. That seems a bit low, considering the size of the country, its enormous GDP (second only to the U.S.'s), its huge trade surplus with the U.S. and other trade partners, and Chinese consumers' fascination with the yellow metal.
China already has the greatest consumer demand for gold in the world. Roughly 50% of worldwide gold demand is for jewelry, with China (inclusive of Hong Kong and Taiwan) representing about 37% of global gold jewelry demand. That means nearly 20% of the world's gold is used just to make gold jewelry sold in China.
Other major uses of gold include industrial applications (roughly 7% of demand), economic management efforts by central banks (about 9%), and investment by individuals and institutions (37%).
ALSO READ: Can You Guess the World's Largest Gold Jewelry Market? (Hint: It Isn't The United States)

6. Russia
Russia comes in just behind China with around 1,700 metric tons of gold. That's a notable high for the country, which started a buying spree back in 2014. The country's gold reserves are now higher than they've been at any other point during Vladimir Putin's time leading the large and influential nation, according to Bloomberg.
The big question is why. And the answer is fairly simple if you look back at the date of the renewed interest in gold: In 2014 Russia took over Crimea, annexing part of Ukraine. The global community was not pleased with that move and started to hit the country with economic sanctions. To put it mildly, political tensions have been running high since that point, with many world leaders seeing Russia as a provocateur on the world stage. 
Bulking up its gold reserves may help Russia deal with adversity should existing sanctions grow even more stringent or should new ones be applied. This is a clear case of a country looking to protect itself from a real economic threat. I wouldn't be surprised to see Russia rise on this list in the future.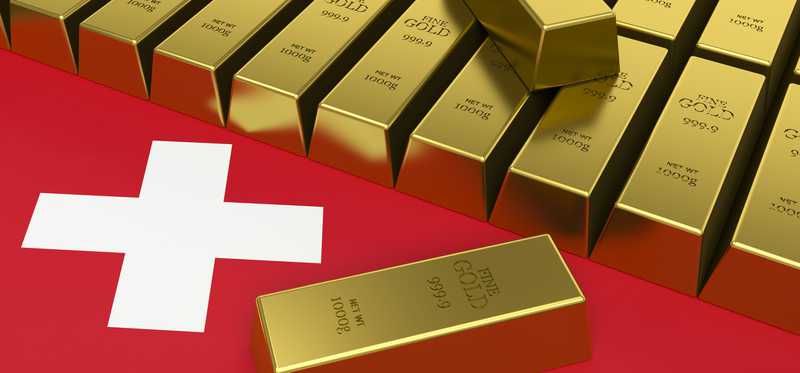 7. Switzerland
The last country on our list is Switzerland, with roughly 1,000 metric tons of gold. Although a relatively small country, Switzerland has long been considered a safe haven for valuables because of its strict privacy laws and its longstanding neutrality in global politics.
But the nation has recently been making gold news headlines because of its sewers. It appears there's so much gold going down the drain in Switzerland that it could actually be worthwhile to invest in recovering it, according to a Bloomberg report. The culprit, it seems, is waste from gold processing and manufacturing -- not wealthy people cavalierly flushing the metal down the toilet. 
In 2014, there was a serious attempt to increase the nation's gold reserve. A movement called "Save our Swiss Gold" wanted to force Switzerland's central bank to increase its gold reserves. It even went to a vote, losing by a wide margin. At the time, the Swiss central bank chief noted that increasing the country's gold hoard was unnecessary because the Swiss franc was no longer backed by the metal. 
In other words, Switzerland (and any nation with a fiat currency) only needs enough gold to protect it against adverse economic events. As a relatively small country with a long history of not taking sides, Switzerland presumably doesn't need to worry too much about financial distress -- at least, its citizens had better hope not, given that they voted down the "Save our Swiss Gold" referendum.

The Motley Fool has a disclosure policy.