Savings Accounts Beginners Guide
The Beginner's Guide to Finding the Savings Account You Need
Learn what banks charge and what interest you can expect to get from your savings account.
Starting a savings account is one of the most important priorities in managing your financial life.
Inevitably, things happen that result in unexpected costs, and having the money set aside to cover those surprise expenses can save you from having to go into debt. Given how financially devastating debt can be -- especially for those who struggle just to make ends meet -- the need for a savings account is very real and can help you avoid a trap that for many has become nearly inescapable.
Those who are just beginning to look at their finances often get flustered by the wide array of options there are in the financial world. Even when you focus on savings accounts, it can be hard for a beginner to navigate the various offerings that banks and other financial institutions have to choose from.
By understanding what advantages and disadvantages there are to different sorts of savings accounts and what banks charge to open a savings account for you, you'll be able to make a better-informed decision about the best choice for you. This beginner's guide to finding the best savings account to meet your needs should help you start out in the right direction.
What kind of savings account should I open?
You'll find a wide variety of different types of savings accounts. Among them are:
Regular savings accounts

High-interest savings accounts

Online savings accounts

Money market accounts

Jumbo accounts

Certificates of deposit
There are pros and cons with each type of account. Regular savings accounts often have the fewest restrictions but also pay relatively little or no interest. High-interest savings accounts offer better rates but often have higher minimum balances or monthly fees. Online savings accounts are offered over the internet and often come with more attractive features than those offered by brick-and-mortar banks.
Money market accounts can offer additional services like check-writing, and rates can differ dramatically from regular savings account options. Jumbo accounts offer higher interest but require large initial deposits, while certificates of deposit require you to lock up your money for a set period of time in exchange for a more attractive interest rate or else face penalties for early withdrawal.
Which type of savings account you should open depends on exactly what your specific needs are. If you're just looking for a place to stash spare cash, then a number of different savings account types will get the job done. Those who have particular wishes with respect to access and spending will need to narrow their focus on the one or two types that fit best with their needs.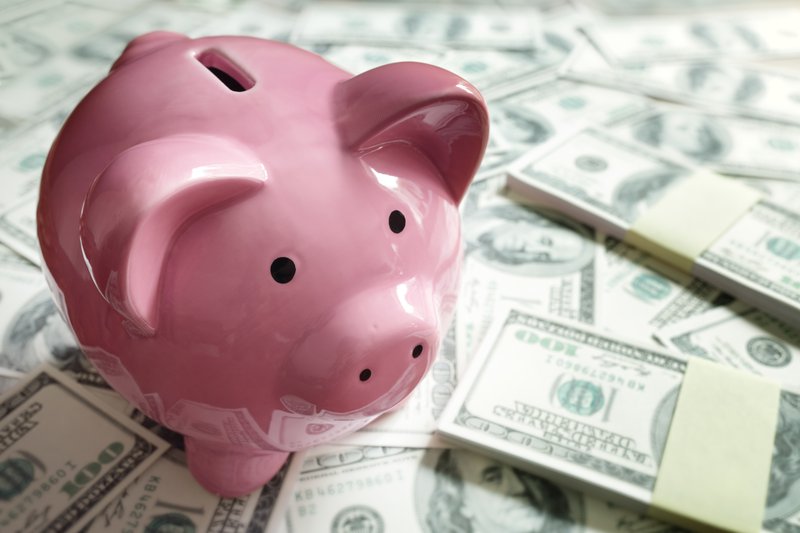 Do all savings accounts earn interest?
Nearly all savings accounts pay interest on your deposits, giving you a financial incentive to save. Yet especially in recent years, many savings accounts have had extremely low interest rates. It hasn't been uncommon recently to see rates as low as 0.01%, meaning that over the course of an entire year, you'd earn just $0.01 in interest on a $100 deposit.
In general, you can expect to see some common traits across savings accounts and the interest rates they offer:
Basic savings accounts tend to have the lowest rates, while high-interest savings and jumbo savings accounts pay better.

Big national banks often pay the lowest interest rates, while smaller banks and credit unions sometimes offer better rates.

Online banks tend to pay more in interest than brick-and-mortar institutions.

Money-market accounts typically have higher rates than regular savings accounts.

The longer you have to lock up money in a certificate of deposit, the higher the rate usually is.
None of these things is universally true. You'll sometimes find exceptions to these general rules, especially when banking institutions decide to run promotional deals to attract new accountholders. Most of the time, though, you'll do better if you start out with these guidelines in mind.
What to look for in a free savings account
A free savings account is one that doesn't charge fees to open or maintain the account. Because it's a simple choice, free savings accounts are often where a beginner will start saving. But there are some things you should look out for in order to make sure you get the best possible deal.
Make sure it's actually free -- First, make sure the account truly is free. Some banks will impose fees if you don't maintain a minimum balance, and that can turn what seems like a free account into a high-cost savings option.
Compare interest rates --Many free savings accounts pay almost no interest, because banks figure they're giving you the convenience of unrestricted access to a no-cost savings option. That's fine if your savings are modest, but as your account grows, missing out on higher interest can be costly.
Convenience -- Third, check whether the bank will be as convenient as you like. For instance, big banks often have nationwide networks of ATMs where you can withdraw cash, while smaller institutions might have only a few in-network ATMs. You might pay a fee when you need cash outside your ATM network, so if that's an issue for you, make sure your bank meets your specific needs.
Loyalty perks -- Lastly, if you already have a relationship with a bank for a checking account, credit card, or other financial service, see if your bank will give you a better savings option. Some banks will have special packages for relationship customers that have more favorable terms than what you'd get from a vanilla free savings account from the same bank, including higher-interest options instead. As long as there aren't additional fees involved in signing up for a broader relationship package, getting those extra perks can be valuable.
5 common savings account fees
Unfortunately, there are many fees that savings accounts often impose. They can include:
Monthly maintenance fees that are assessed either in all cases or if your balance drops below a minimum limit.

Excess withdrawal fees that banks charge if you make too many withdrawals in a given period.

Fees for receiving paper statements instead of emailed or online statements.

Overdraft fees for trying to withdraw more than your available savings account balance.

ATM fees for withdrawals at cash machines.

Inactivity fees if you go a certain period without making any deposits or withdrawals.
Not all banks charge all of these fees, and some make a point of charging none of them. For instance, many online banks don't have ATMs of their own but agree to pay you back for the fees you incur by using another bank's ATMs. To be absolutely sure about what fees you'll have to pay and under what conditions you might have to pay them, there's no alternative to reading through the fine print of your deposit agreement with your financial institution.
Savings account withdrawal limit
The main difference between a checking account and a savings account is that there's a limit on the number of withdrawals you can make in any given month from a savings account.
Six-withdrawal limit -- The Federal Reserve, which oversees the banking system, has a rule called Regulation D that puts a six-withdrawal limit on savings and money market accounts. Withdrawals made in person at the bank don't count toward the limit, but electronic withdrawals through debit cards or online bill payment systems do count, as do checks written on money-market accounts.
Some savings accounts come with added restrictions. For instance, certificates of deposit in most cases charge early withdrawal penalties if you take any money out before the CD's maturity date.
If you go over the six-withdrawal limit, most banks will charge a fee. If you do so too often, many banks will actually close the account. Because the rule is a Fed regulation, there's only so much latitude a financial institution has to allow repeat offenders to keep going against the principle that savings accounts are intended to be used less often as a source of funds than checking accounts.
One key benefit of savings accounts is that they offer deposit insurance from the Federal Deposit Insurance Corporation, or FDIC. This coverage protects savings of up to $250,000 even if the bank that holds your savings account fails.
The $250,000 limit applies per bank, so if you have multiple accounts at the same bank in the same name, then you can't get additional insurance coverage. However, if the names on the accounts are different, you can get multiple $250,000 coverage amounts.
For instance, if you have an individual savings account with $250,000 as well as a joint account with your spouse that holds $250,000, both would be fully covered. Through creative use of account titling, savers can keep $1 million or more on deposit at an FDIC-insured banking institution while retaining full insurance coverage if something were to happen to the bank.
Credit unions aren't covered by the FDIC, but the National Credit Union Administration, or NCUA, provides essentially the same coverage for credit union customers.
How to open a savings account
To open a savings account, you'll want to follow a simple process:
Figure out which bank or financial institution has the account that best meets your needs.

For regular banks, take the money you want to deposit to your local branch, along with identification, such as a passport or driver's license, in order to meet legal requirements with which financial institutions must comply in order to allow you to have a savings account there. For online banks, you'll want to have ID information on-hand when you prepare to open your account. The online bank will need it to meet regulations for opening an account.

Fill out the paperwork with the bank staff's help if you visit in person, or for an online bank, complete the online application by entering your required personal information and arranging either for an electronic funds transfer into the new online account or to send a check to the bank by mail.

Sign a signature card so that your bank will have it on file.

Even most brick-and-mortar banks have online systems that you can access once you've opened your account. Create a login and password, and make sure you have that information on hand when you need to make future transactions or inquiries.
Most savings accounts offer a variety of different ways to make deposits.
Deposits in person -- The most obvious is to go to the bank and make a deposit directly at a branch. That's especially handy for those who have business accounts or otherwise deal with a large number of transactions on a daily or regular basis.
ATMs -- Most banks also let you make deposits at ATMs. Not all ATMs are equipped to take deposits, though, so be sure to check whether your local cash machine has the ability to make deposits rather than just assuming you'll be okay.
Mobile deposit -- Finally, advances in technology have allowed many financial institutions to accept checks electronically as deposits. Mobile apps let you take a picture of the check and send it to your bank, which can then process the image and move the money into your account.
Similarly, your options for making withdrawals from your account have gotten more extensive over time. They include the following:
Going to the physical bank branch location and asking for a withdrawal, either in cash or in the form of a check.

Taking money out via ATM withdrawals.

Using a debit card to make purchases.

Moving money from your savings account to a different account through an online transfer, either directly through your bank or via an online bill payment system.

Money market accounts sometimes offer checks that you can use to make withdrawals.
Banks have grown increasingly concerned about security, especially for online transactions. You can expect many banks to require not only standard passwords to make withdrawals but also to use two-factor authentication, requiring you to have a code sent to a cellphone number by text or to an email account in order to verify your identity.
Five tips to make the most of your savings account
If you want to make the most of your savings account, keep these tips in mind:
Save more -- The more you save, the more interest you'll earn.

Avoid fees -- Even the smallest of fees can wipe out most or all of your interest.

Find a high rate -- Scout out the best rates you can. Often, you can find a difference of 2 percentage points or more between the highest-interest accounts and the most basic savings account. If you manage to save up $5,000, that difference works out to $100 per year -- nothing to give up idly.

Take advantage of loyalty perks -- Use your savings account as a starting point. Banks like to cross-sell other financial products, such as mortgages, car loans, and checking accounts. You can sometimes get a better deal on all of these accounts by keeping them with the same bank.

Consider both your savings and spending needs -- Consider the big picture financially. Savings accounts can be better solutions than checking accounts, but the returns still pale in comparison to what a true investment in an area like the stock market can produce. You shouldn't keep all of your investable assets in savings accounts, especially if you have financial needs that are still five years or more into the future.
Our picks of the best online savings accounts
We've vetted some of the most popular high-yield online savings accounts to bring you our shortlist of the best high-yield online savings accounts for 2019. Check out the table below and read on for more detailed reviews of each online savings account.