Cash vs. Credit Card: Which Is the Better Way to Pay?
Credit card offers frequently tout the rewards you earn when you spend with a card, but they don't always get the advantage over the time-tested greenback. Credit cards can get you in trouble if you carry a balance from month to month, as you'll pay interest on debt you accumulate on a card.
But that doesn't make cash the obvious choice, as it has its downsides, too. Carrying cash can be a risk, and getting your hands on it -- particularly outside of banking hours -- can be a pain. Here are a few instances where it may make financial sense to use one type of payment method over another.
The case for cash
Cash has its place: It's accepted almost universally and makes it easy to budget. Dave Ramsey has made a career as a personal-finance loudmouth by campaigning for cash-only budgets because cash enforces a hard limit on spending, unlike debit or credit cards. His low-tech envelope budget works for the simple reason that when you run out of cash, that's it -- you're out of money to spend.
Cash tends to be a universal solvent for life's problems and inconveniences. Even though I rarely, if ever, carry any meaningful amount of cash while in my own city limits, it's the first thing I remember to bring when traveling. It's also convenient at sporting events, where the cash-only lines are frequently shorter and faster moving. Keeping a spare $100 bill hidden in your glove box is really nice when you need to call for a midnight tow, or fill up at a gas station miles away from civilization.
Paying with cash can also net you a deal. Some smaller retailers and service providers offer discounts to customers who pay with cash. Gas stations seem to favor the practice because the margins on gasoline are razor thin, if not negative, when people pay by card. As an added benefit to the gas-station owner, cash payments bring customers inside the store, where travelers can be pitched bottles of water, candies, and other high-margin products they can't sell to people who pay at the pump.
Cash and credit cards have their pros and cons, depending on how you budget and what you're buying.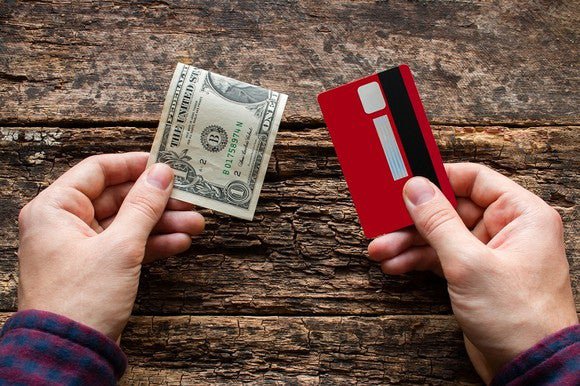 When cash isn't king
Cash does have its shortfalls. Carrying around a lot of cash can be a risk, as it's easy to lose, and can't be readily traced if stolen. Being a cash-only consumer also has its unique inconveniences, particularly as it relates to getting cash when you need it.
Even though there are 425,000 ATMs in the United States, they never seem to be nearby when we really need one, and when they are, the fees can be nearly usurious. The non-customer withdrawal fee at the average ATM was $2.90 in 2016, or about 2.4% of the average ATM withdrawal of $122. Given this, many people pay more in ATM charges than they earn in interest on their accounts, thus paying for the privilege of accessing their own money.
Beyond the fees, banks tend to have ATM withdrawal limits that make it impossible to get more than $400 or $500 in a single day. If you need more than that, you'll have to make a trip to the nearest bank branch, which is often further away than the nearest ATM. And unlike an ATM, bank branches are typically open only during normal banking hours. This can be particularly annoying when it's Columbus Day, a holiday you might forget if not for locked-up bank branches and empty mailboxes.
The case for credit cards
Credit cards are accepted almost everywhere and make it possible to spend more than we might have on hand right now -- an advantage and disadvantage. Unlike debit cards, credit cards typically don't have a daily spending limit, either, making it possible to use the entirety of your credit limit on one, or many, purchases in a single day.
Credit cards are the preferred payment for hotel stays and rental cars. Some chains simply don't accept cash for rental cars or rooms, due to the fact they have little recourse if a room is trashed, or a car is returned with damage. As an aside, a cash-only hotel could easily have tens of thousands of dollars in the till by midnight, a massive security risk most would prefer to avoid.
Credit cards beat out cash and debit when they're lost or stolen. You can kiss lost or stolen cash goodbye, but credit card users are protected against fraudulent credit card transactions, having no more than $50 of liability for unauthorized activity. In the real world, though, cardholders are rarely asked to cover the $50 of losses for which they're legally liable, as it's a public-relations nightmare for any bank daring enough to enforce it.
Rewards and other perks are the credit card's most obvious advantage over cash and debit. The best cash-back cards return 1.5% to 2% of each purchase in the form of cash, while the best travel cards can pay out at least that much in points, miles, or statement credits that can be redeemed for travel. Cards that offer rewards in bonus categories can offer as much as 5%, or more, on groceries, gasoline, and other specific types of spending.
Many cards also offer 0% intro APR periods which allow cardholders to finance their balances at 0% for as long as 21 months. Compared to the average rate on a personal loan -- a loan most comparable to a credit card -- this benefit can be worth hundreds of dollars on its own. 
Where credit cards fall flat
The big downside with credit cards is that they can pile on an existing budget problem for people who lack the responsibility to spend within their means. The average card with a balance was charged 14% interest in May 2017, far more than the rate charged on virtually any other bank loan.
About 60% of credit card accounts were used to carry balances from one month to another in 2015, according to the Federal Reserve. That means only about 40% of credit card accounts were always paid in full, or never had a balance during the year. To be fair, it's likely some cardholders were simply taking advantage of 0% intro APR periods, but it's impossible to know just how many were doing so.
Credit cards should also be shelved for large payments, where so-called convenience fees are more common. Off the top of my head, I've seen convenience fees of 2%-3% of the payment amount on college tuition, rent, insurance premiums, utility bills, and federal or state taxes. If paying by credit results in a convenience fee, it almost always makes sense to pay by debit, check, or ACH transfer, as a 3% fee adds up to $30 on $1,000 of spending. 
Why not both?
There is a time and place for cash and credit, as both have their advantages and disadvantages, and neither are accepted for every type of purchase.
My personal view is that people who have no problems spending within their means would be better off with credit cards for most purchases, given they offer the best layer of fraud protection, rewards on each purchase, 0% intro APRs, and ancillary benefits like rental car insurance, purchase protection, and the ability to build credit -- benefits you don't get with cash or debit.
I can admire the practicality of sticking to a cash budget, thus avoiding the temptation to run up a balance or overdraft with plastic payment methods. But for all the reasons listed above, when I hear "cash or credit?" my answer is almost always "credit, please."
Our credit card expert uses the card we reveal below, and it could earn you $1,148 (seriously)
As long as you pay them off each month, credit cards are a no-brainer for savvy Americans. They protect against fraud far better than debit cards, help raise your credit score, and can put hundreds (or thousands!) of dollars in rewards back in your pocket each year.
But with so many cards out there, you need to choose wisely. This top-rated card offers the ability to pay 0% interest on purchases until late 2021, has some of the most generous cash back rewards we've ever seen (up to 5%!), and somehow still sports a $0 annual fee.
That's why our expert – who has reviewed hundreds of cards – signed up for this one personally. Click here to get free access to our expert's top pick.
We're firm believers in the Golden Rule, which is why editorial opinions are ours alone and have not been previously reviewed, approved, or endorsed by included advertisers. The Ascent does not cover all offers on the market. Editorial content from The Ascent is separate from The Motley Fool editorial content and is created by a different analyst team.