Transferring Chase Ultimate Rewards Points to Southwest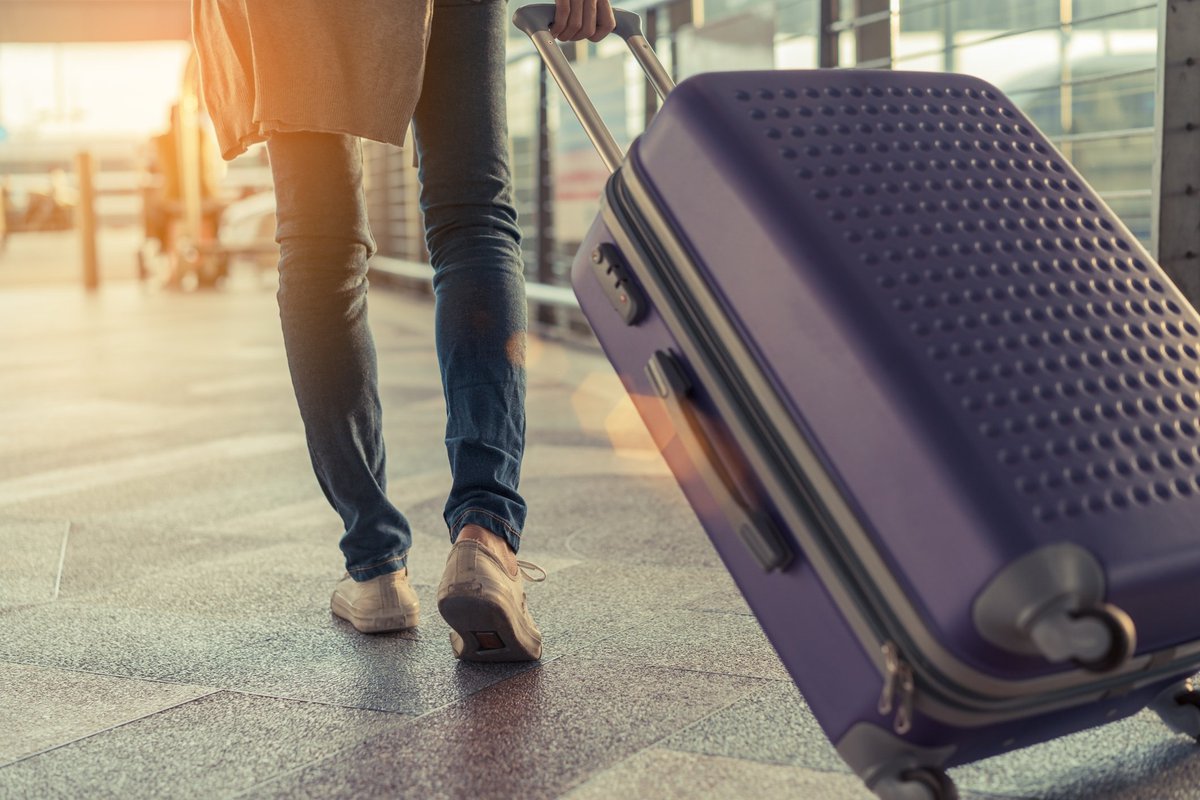 The Chase Ultimate Rewards program is among the best of any card issuer, thanks in large part to its 13 transfer partners. And as one of two domestic airlines partnered with Chase, Southwest is a popular transfer choice for Ultimate Rewards points.
If you want to book a flight on Southwest using Ultimate Rewards points, you can do so by transferring your points online, and you'll get a 1:1 transfer ratio (each 1 Ultimate Rewards point is worth 1 Rapid Rewards point). I'll be covering exactly how you can do that, step by step, in this guide, along with how to maximize the value of those points when you book your flight.
What you need
Before you begin, you'll need a Chase credit card that earns Ultimate Rewards points (surprise, surprise), at least 1,000 points to transfer, and a Southwest Rapid Rewards account.
The following Chase credit cards earn Ultimate Rewards points: 
If you don't have a Southwest Rapid Rewards account already, you can go to the registration page and fill out the required information to create one.
How to transfer Ultimate Rewards points to Southwest
The process for turning Ultimate Rewards points into Rapid Rewards points takes a matter of minutes online, and once you confirm everything, it goes through immediately. Just remember that it's a one-way street. After transferring your points, you can only use them with Southwest or one of the airline's partners.
Here's how the transfer process works:
1. Go to your Chase Ultimate Rewards account.
The quickest way to get there is through the Chase Ultimate Rewards login. You can also log in to your Chase credit card account, and then go to the Ultimate Rewards page from there.
With a personal Chase account, you must select a credit card, click "See Balance" under the "Ultimate Rewards" heading, and then click "Redeem Rewards." If you have a business card with Chase, your account will look a bit different, and you can simply click "Ultimate Rewards" on the right side of the screen.
2. Select "Transfer to Travel Partners" from the Ultimate Rewards home screen.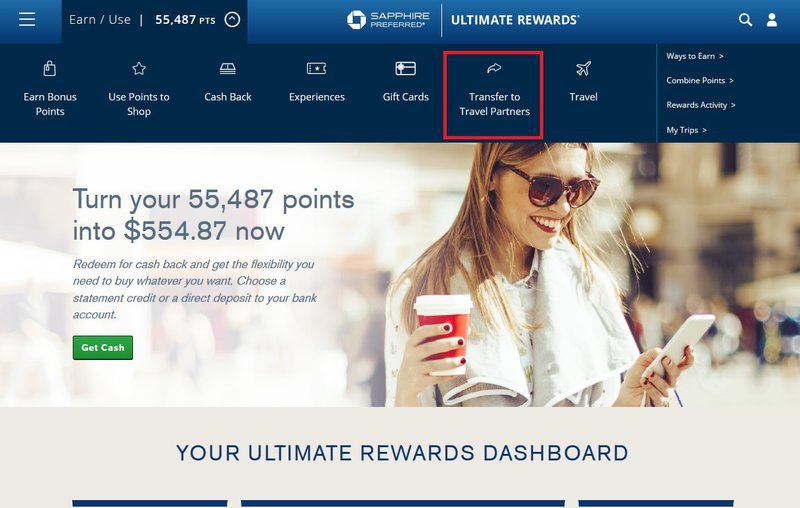 3. Go to the Southwest listing in the Airlines section and select "Transfer Points."
4. Choose a recipient for the transfer.
Chase requires you to transfer points to yourself or a member of your household who you've set up as an authorized user on your account.
When you've chosen a recipient from the dropdown menu, you'll need to enter their Rapid Rewards account number.
5. Decide how many points to transfer.
You can only transfer points in increments of 1,000.
6. Submit the transfer.
Chase provides a review screen with all the requisite details, plus warnings about how they'll rain death upon your account for any fraudulent activity with your credit card or the Ultimate Rewards program. Unless you're operating a points larceny ring (not recommended, by the way), you probably don't need to worry about that.
How to book an award ticket with Southwest
If you've ever booked a flight with Southwest in cash, doing so with points is almost the same.
From the Southwest homepage, you'll enter all the details for your desired flight, including the departure city, arrival city, and your travel dates. In the top-right corner of the flight search, click Points. Note that you can also toggle between prices in dollars and points on the search results page, allowing you to check what kind of value you'll get with potential award tickets.

The search results will display all the flight options for those dates, and you can choose your sorting method and any filters to trim down your options. If you're open regarding your travel dates, the Low Fare Calendar shows you the best deals for traveling on each day of the month.
After you've chosen your departure flight, you'll choose a return flight, unless you're booking a one-way ticket. Southwest will provide a breakdown of your trip details, including the cost in points and any additional cash fees
Click "Continue," and if you haven't logged in to your Rapid Rewards account yet, Southwest will ask you to. Enter your username and password, and you can confirm your trip.
Getting the best value from your Southwest Rapid Rewards points
Southwest has a few key differences from most airlines that you should know about before you book an award ticket with them:
You don't need to worry about award availability, because Southwest lets you book any seat with cash or points.
There are no change or cancellation fees.
Although Southwest has three types of fares you can book, the seats are the same throughout the aircraft.
Those first two items are great for travelers and reinforce Southwest's reputation as one of the more customer-friendly airlines. You'll always be able to book with points and changing an award ticket is a breeze. If you booked one and later notice a better deal, just cancel your original ticket and buy another at the lower price.
Southwest's three fare types are Wanna Get Away, Anytime, and Business Select. Whether booking with cash or points, Wanna Get Away tickets are by far the cheapest, Anytime tickets are usually two to three times more expensive, and Business Select tickets are slightly more than that.
With most airlines, you get a better value per mile when you book award tickets in higher travel classes. The benefits of business and first-class tickets also make them significantly better than your run-of-the-mill economy ticket
Southwest has always been different, with the cost of an award ticket depending on both the fare type and the cash price of the ticket. Wanna Get Away tickets would cost the fewest points per dollar, which made them the best value. The airline has since changed its redemption rules, and now you get a similar value per point (usually about 1.4 to 1.5 cents per point) no matter which fare type you choose.
Despite the changes, Wanna Get Away tickets are still the best choice. Anytime award tickets cost more without providing any additional benefits. Business Select gets you priority boarding and a free premium drink, neither of which are worth spending so many more points.
Should you transfer points to Southwest or redeem through Chase's portal?
Chase also gives you the option of booking travel through the Ultimate Rewards program. If you have the Chase Sapphire Preferred® or Ink Business Preferred®, you can redeem points towards travel purchases at a rate of 1.25 cents per point. With the Chase Sapphire Reserve®, you get 1.5 cents per point.
Booking a flight this way usually earns you points/miles with the airline, although you should double-check when booking the flight to make sure. Award tickets don't earn points, giving the Ultimate Rewards travel portal an edge in that regard.
You could go to the trouble of comparing the value you'll get on a flight with each method, but that's time-consuming. Here's my recommendation:
Transfer points to Southwest if you have the Chase Sapphire Preferred® or Ink Business Preferred®
Redeem points through Chase Ultimate Rewards if you have the Chase Sapphire Reserve® 
Southwest flights currently don't show up through the Ultimate Rewards flight search, so you'll need to call a Chase travel advisor at 1-866-951-6592 to book one.
Where you can fly on Southwest
Southwest flies to most of the major airports in the United States and several of the most popular destinations in Latin America. But even though it's one of the major domestic carriers in terms of its number of passengers, it has far fewer destinations than American Airlines, Delta, and United.
Before you transfer your Ultimate Rewards points to Southwest, search for your desired route or check the airline's route map to verify that you'll be able to go where you want.
Pros and cons of transferring Chase Ultimate Rewards points to Southwest
It's not always easy to decide where to transfer your Ultimate Rewards points. United Airlines is another one of Chase's domestic airline transfer partners, and with a little extra work, you could technically even use Ultimate Rewards points to book travel on American Airlines or Delta (you'd just need to transfer those points to an international partner in the same airline alliance).
Southwest and its Rapid Rewards program do have several advantages over other airlines, including:
Low-cost flights, with Southwest almost always offering flights for equal or fewer points than the competition.
Two free checked bags on every flight for every passenger.
Flexible change and cancellation policies -- Southwest doesn't charge change fees, and if you cancel your award ticket, you get all your miles refunded.
The Southwest Companion Pass, which you obtain if you accumulate 110,000 points in one calendar year and which lets a chosen companion fly with you for free.
It also has some notable disadvantages, including:
Fewer routes than the other major airlines, as mentioned above.
No assigned seating -- you can take whatever seat is available when your boarding group gets on the plane, but this means the later groups have less desirable seating options and may have trouble finding overhead space.
No first-class seating -- this isn't a huge deal for most travelers, but it is an option other airlines have that Southwest doesn't. 
Chase's Southwest credit cards
There are currently two personal credit cards and one business credit card available for Southwest through Chase:
The Southwest Rapid Rewards® Plus Credit Card with a $69 annual fee, currently offering 40,000 bonus points for spending $1,000 within the first three months your account is open.
The Southwest Rapid Rewards® Premier Credit Card with a $99 annual fee, currently offering 40,000 bonus points for spending $1,000 within the first three months your account is open.
The Southwest Rapid Rewards® Premier Business Credit Card with a $99 annual fee, currently offering 60,000 bonus points for spending $1,000 within the first three months your account is open.
Each card earns 2 points per $1 spent on Southwest Airlines and participating hotel and car rental partners, and 1 point per $1 spent on all other purchases. You also earn bonus points every account anniversary year, with the Rapid Rewards® Plus earning 3,000 points, and the Rapid Rewards® Premier personal and business cards earning 6,000 points.
One big perk of all these cards is that their signup bonuses count towards a Southwest Companion Pass. So, after you get your bonus, you'd need another 50,000 to 70,000 points instead of 110,000.
If you're a loyal customer of Southwest, then getting one of these cards makes sense. You'll be well on your way towards a Companion Pass, which is a fantastic benefit if you have someone who flies with you frequently. You'll also pick up some bonus points every year.
But for most travelers who may fly an array of different carriers, one of the Chase Sapphire® cards is the better choice.
Final thoughts
Once you know how to transfer Chase Ultimate Rewards points to a Rapid Rewards account, it's a fast, simple process. While Southwest may not have a glamorous first-class product or a ton of international routes, its prices are among the very best. Those low prices and the Companion Pass make Southwest especially useful for families looking to take an affordable vacation. Keep an eye on the deals and you could score roundtrip tickets without dipping into your points.
Our credit card expert uses the card we reveal below, and it could earn you $1,148 (seriously)
As long as you pay them off each month, credit cards are a no-brainer for savvy Americans. They protect against fraud far better than debit cards, help raise your credit score, and can put hundreds (or thousands!) of dollars in rewards back in your pocket each year.
But with so many cards out there, you need to choose wisely. This top-rated card offers the ability to pay 0% interest on purchases until late 2021, has some of the most generous cash back rewards we've ever seen (up to 5%!), and somehow still sports a $0 annual fee.
That's why our expert – who has reviewed hundreds of cards – signed up for this one personally. Click here to get free access to our expert's top pick.
We're firm believers in the Golden Rule, which is why editorial opinions are ours alone and have not been previously reviewed, approved, or endorsed by included advertisers. The Ascent does not cover all offers on the market. Editorial content from The Ascent is separate from The Motley Fool editorial content and is created by a different analyst team.