Transferring Chase Ultimate Rewards Points to United Airlines
Take advantage of your Chase Ultimate Rewards points by turning them into United miles and redeeming them for high-value award tickets.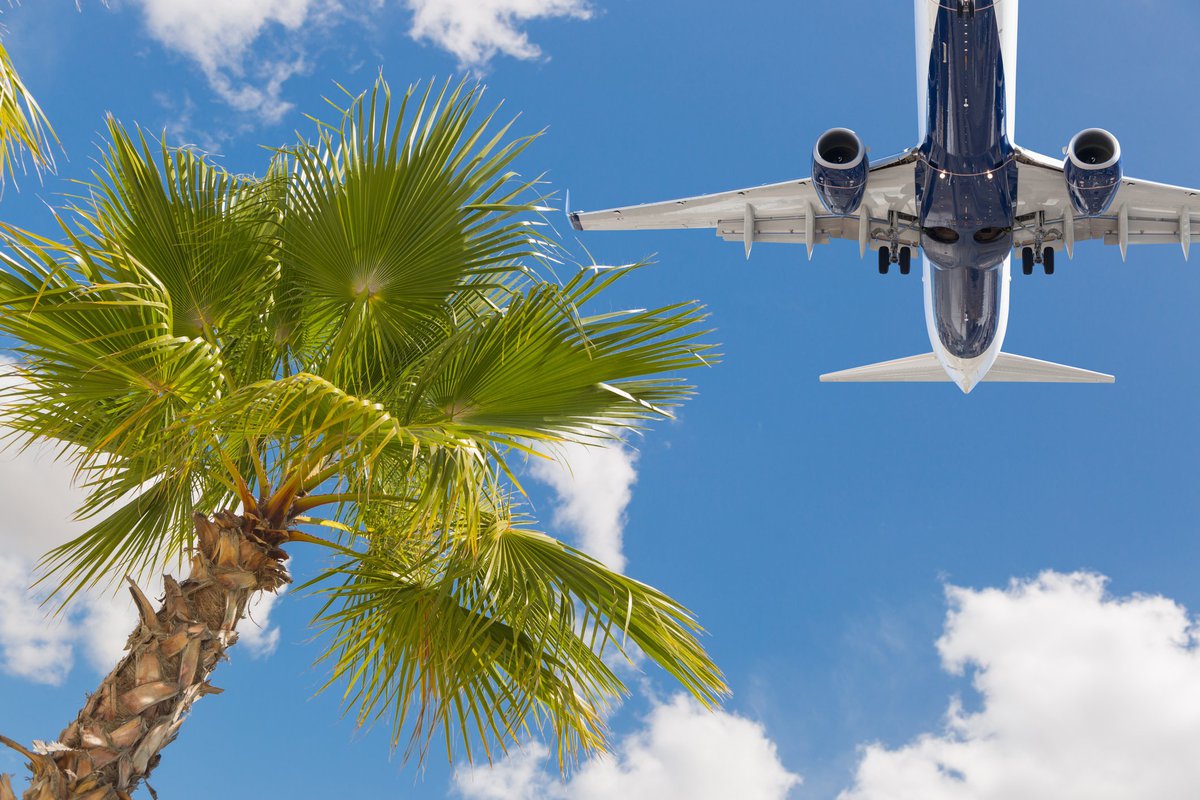 With all its destinations, United Airlines can be a valuable transfer choice for your Chase Ultimate Rewards points. Through United, you can turn those points you earned with your Chase card into a trip to Hawaii, Europe, Japan, or almost anywhere within the continental United States, to name just a few options.
Transferring Chase points to the United MileagePlus® program is simple enough, but if you haven't done it before, this guide will explain the process. After that, I'll go into how you can get the most value when you book a flight with United.
What you need
If you're reading this, you probably already have a Chase credit card that earns Ultimate Rewards points. In case you don't, here are the current cards that qualify:
Along with one of those travel credit cards, you're going to need at least 1,000 Ultimate Rewards points and a United MileagePlus® account to complete the transfer. You can register for an account on the airline's enrollment page.
How to transfer Chase Ultimate Rewards points to the United Airlines
Chase lets you transfer your Ultimate Rewards points online to any of its partners at a 1:1 ratio. Once you submit a transfer to United, it processes immediately, which means there's no wait time before you have the miles in your account. Like any other transfer, you can't undo it and get your Ultimate Rewards points back later, so it's best to wait until you're ready to book a flight, and then do it all at once.
Here's how you can transfer your points to United:
1. Go to your Chase Ultimate Rewards® account.
I recommend going through the Chase Ultimate Rewards® login, as that's the fastest option. After you log in, you'll need to choose the credit card with the points you wish to use.
There's also a link to access the Ultimate Rewards portal from your Chase credit card account. If you have a personal account, choose a credit card, click "See Balance" under the "Ultimate Rewards" heading, and then click "Redeem Rewards." Since you've already chosen your specific credit card, you'll be taken directly to the Ultimate Rewards® home screen.
Business Chase accounts are structured differently, and there will be an Ultimate Rewards® link on the right side of the page. After selecting that link you'll need to choose a credit card just like when logging in through the Ultimate Rewards site.
2. Select "Transfer to Travel Partners" from the Ultimate Rewards® home screen.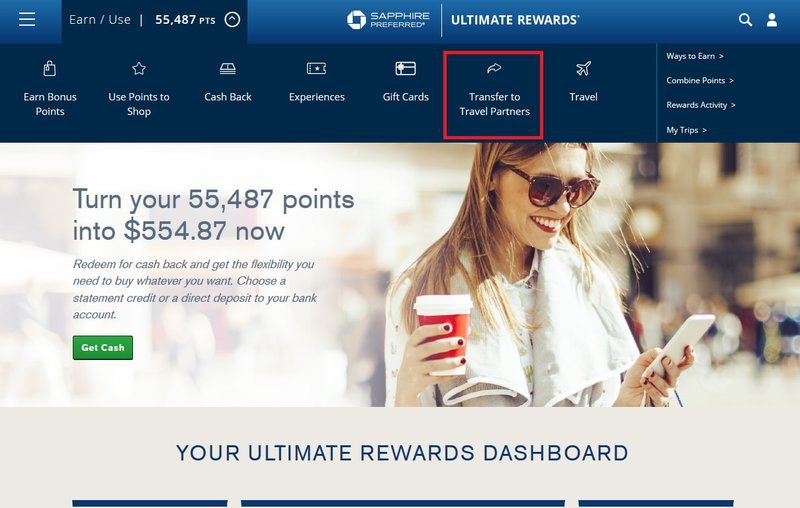 3. Go to the United listing in the Airlines section and select "Transfer Points."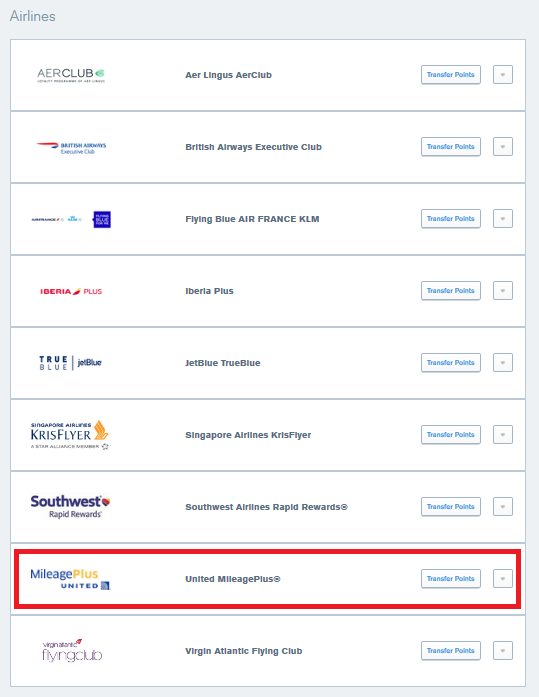 4. Choose a recipient for the transfer.
You can select your recipient from a dropdown menu, and then punch in their MileagePlus® account number.
The recipient must be either yourself or an authorized user on your account who is also a member of your household.
5. Decide how many points to transfer.
As mentioned before, 1,000 points is the required minimum.
6. Submit the transfer.
There's a review screen that will break down all the transfer details, plus a paragraph about how Chase can and will shut down your account for any misuse or fraud related to its credit cards or the Ultimate Rewards® program. When you're ready, go ahead and click "Submit."
Booking an award ticket with United miles
Once you have miles in your MileagePlus® account, you can use them to book travel through the United site. All you need to do is check the "Search for award travel" box at the bottom of the search form and enter the details for your desired flight.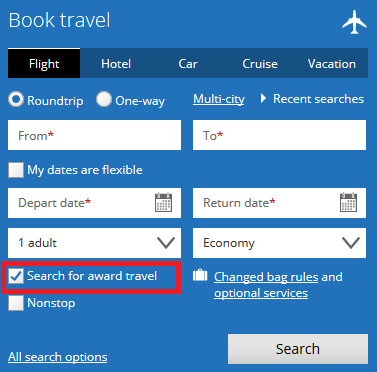 Checking "My dates are flexible" is a good idea if you aren't committed to any particular dates. United will show you its Low Fare Calendar, where you can see what type of award ticket availability there is.
After you select your flights, you'll need to log in to your MileagePlus® account if you haven't already. The site will take you to a review page where you can verify the details of your trip and get everything confirmed.
Destinations you can visit on United Airlines
United is one of the largest airlines in the world, flying to over 340 destinations. Over 200 of those are in the United States, which means flights are available to most of the country's major airports. The airline also has flights to Asia, Europe, the Middle East, Australia, and New Zealand.
In addition to operating its own flights, United is part of the Star Alliance, the largest airline alliance in the world. You can use United miles to book flights with any of the other 27 airlines in that alliance. It doesn't always get you the best value, as you'll usually pay at least 10,000 miles more than you would if you had used the partner airline's miles, but it does open up plenty of new destinations. And on the bright side, United doesn't include fuel surcharges, even on award bookings with partner airlines.
Most valuable redemption options for United miles
United flights will generally have one economy cabin, often with the option to purchase a larger economy seat with more legroom, and one premium cabin, which will be either business class or first class. The airline's flagship product is United Polaris® business class, which is its premium cabin option on long-haul international flights. 
There are two types of United award tickets available -- Saver and Everyday. Saver tickets cost significantly less but have limited availability. Fortunately, you can check the Low Fare Calendar to see which dates have Saver tickets, which is why I recommend using it for award ticket searches.
While United previously based award ticket prices on its awards chart, they will stop using that chart as of Nov. 15, 2019. Instead, they are using dynamic pricing, which means the cost of award tickets will depend on demand, and you'll pay more miles for popular routes or during busy travel times.
So, how can you get the best value for your United miles? Here are a few tips:
Start shopping as early as you can for a better chance at booking Saver tickets.
Short-haul economy flights can be a good, low-cost travel option in several regions, including the United States, Europe, Australia, and New Zealand.
The highest values per mile are typically premium cabin award tickets on transcontinental and international flights.
You'll have the most flight options, and the best chance at a high-value redemption, if you're flying into or out of a United hub. The airline has hubs at the following airports:
Chicago O'Hare International Airport (ORD)
Los Angeles International Airport (LAX)
Washington-Dulles International Airport (IAD)
Denver International Airport (DEN)
Newark Liberty International Airport (EWR)
Houston George Bush Intercontinental Airport (IAH)
San Francisco International Airport (SFO)
There's also a trick that can really allow you to make the most of your miles with United, and that's the Excursionist Perk. If you're flying to a different region, this perk lets you add a free one-way flight within that region to your trip. It's easiest to explain with an example.
Let's say I want to travel from Los Angeles to South America, specifically Lima, Peru and Bogota, Colombia. By clicking the "Multi-city" link on United's flight search, I could search for flights from Los Angeles to Lima, Lima to Bogota, and then Bogota back to Los Angeles. Even though that's three one-way flights, United would only charge me for two of them. This would also work well if you were taking a trip from the United States to Europe.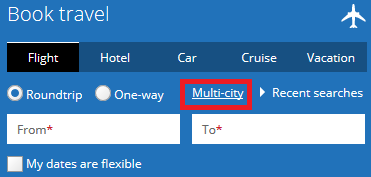 Should you transfer points to United or redeem through Chase's portal?
Thanks to Chase's Ultimate Rewards® program, you don't need to transfer your points to book a flight with United. You could also redeem your points through Chase's travel booking portal.
The redemption value for those points is $0.0125 per point if you're a Chase Sapphire Preferred® or Ink Business Preferred® cardholder, and $0.015 per point if you're a Chase Sapphire Reserve® cardholder. Since you're essentially paying in cash from United's perspective, you'll earn miles on the purchase, which you don't earn on award tickets.
Here's what I recommend to decide between these two redemption methods:
If there aren't any Saver award tickets available on the flight you want, then use Chase's travel portal. It will almost always cost fewer miles than an Everyday award ticket.
With economy tickets, either redemption method could be cheaper, so you'll have to compare them yourself.
For tickets in a premium cabin, United Saver award tickets tend to be a better value than Chase's travel portal.
If you're traveling internationally and can take advantage of United's Excursionist Perk, then you should do that by booking an award ticket.
Of course, with United's dynamic pricing, award tickets will be more expensive and provide less value when demand is high. So if you're flying around the holidays or any other peak travel times, then you're likely better off taking the guaranteed value of Chase's travel portal.
Remember that you can always compare what kind of value you'd get with an award ticket before deciding whether to transfer your points. Just divide the price of the ticket by how many miles it would cost you. If it's higher than the rate you'd get from the travel portal, then you know that an award ticket would be a better deal.
The Chase United credit cards
United has a few credit cards of its own with Chase. Those are:
United MileagePlus® Explorer Card with a $95 annual fee (waived the first year)
United MileagePlus® Explorer Business Card with a $95 annual fee (waived the first year)
United MileagePlus® Club Card with a $450 annual fee
United TravelBank Card with no annual fee 
With the United MileagePlus® Explorer Card, you and one companion each get a free checked bag. The Club Card increases that to two free checked bags for you and a companion, plus it offers access to United's airport lounges.
Do any of these deserve a place in your wallet? For most people, the answer is no. Unless you fly with United frequently and either need to check bags every time or really love the airline's lounges, these cards don't get you the best value.
No matter which United card you're looking at, there's a Chase card with the same or better bonus categories that will earn you Ultimate Rewards® points, a much more useful rewards currency.
Chase Sapphire Preferred® is a superior alternative to the United MileagePlus® Explorer Card for many people. Chase Sapphire Reserve® smokes the Club Card. And if you need a business card, the Ink Business Preferred® has a clear edge on the Explorer Business Card.
The TravelBank Card isn't bad since it costs you nothing, but neither do the Chase Freedom® and the Chase Freedom Unlimited®. Those cards also earn you legitimate cash back instead of cash back you can only use with United.
Final thoughts
Turning your Ultimate Rewards points into MileagePlus® miles can lead to valuable redemption opportunities if you know where to look. With all the destinations and the airline's many partners, you can go just about anywhere. And United's Excursionist Perk is perfect for seeing more of the world without paying extra. If you'd like to take a big trip this year, look into flights with United to see where you could go with your Ultimate Rewards points.
Our credit card expert uses the card we reveal below, and it could earn you $1,148 (seriously)
As long as you pay them off each month, credit cards are a no-brainer for savvy Americans. They protect against fraud far better than debit cards, help raise your credit score, and can put hundreds (or thousands!) of dollars in rewards back in your pocket each year.
But with so many cards out there, you need to choose wisely. This top-rated card offers the ability to pay 0% interest on purchases until late 2021, has some of the most generous cash back rewards we've ever seen (up to 5%!), and somehow still sports a $0 annual fee.
That's why our expert – who has reviewed hundreds of cards – signed up for this one personally. Click here to get free access to our expert's top pick.
We're firm believers in the Golden Rule, which is why editorial opinions are ours alone and have not been previously reviewed, approved, or endorsed by included advertisers. The Ascent does not cover all offers on the market. Editorial content from The Ascent is separate from The Motley Fool editorial content and is created by a different analyst team.