United MileagePlus® Explorer Card Review: A Valuable Airline Credit Card for People Who Fly United
United MileagePlus® Explorer Card Review: A Valuable Airline Credit Card for People Who Fly United
Elizabeth is a writer specializing in credit cards, debt repayment, and small business. Her work has also appeared on MSN Money, Yahoo! Finance, and Business Insider.
We are committed to full transparency in our mission to make the world smarter, happier, & richer. Offers on The Ascent may be from our partners - it's how we make money - and we have not reviewed all available products and offers. That transparency to you is core to our editorial integrity, which isn't influenced by compensation.
As one of the largest airlines in the world, United Airlines operates domestic and international routes to hundreds of destinations. If you find yourself taking flights with United often, then you could save money and get some helpful travel benefits with the United℠ Explorer Card. The United℠ Explorer Card is one of the airline's more affordable credit cards, but that's not for lack of features. Here's everything you need to know about how this card does compared with the best credit cards.
Ratings Methodology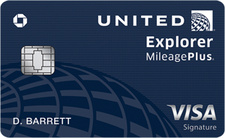 Great for: United Airlines Loyalists
United Explorer Card
Why Apply
With a big sign up bonus and 2 miles per $1 spent on restaurants and hotel stays, the miles will accumulate quickly if you're a frequent traveler.
Credit Rating Requirement:
Rewards
Earn 40,000 bonus miles after spending $2,000 in the first 3 months, and earn an additional 25,000 bonus miles after spending a total of $10,000 in the first 6 months
Annual Fee
$95 (waived the first year)
Intro APR
Purchases: NA
Balance Transfers: NA
Ongoing APR
18.24% - 25.24% Variable

Bonuses & Perks
Earn 40,000 bonus miles after spending $2,000 in the first 3 months, and earn an additional 25,000 bonus miles after spending a total of $10,000 in the first 6 months, up to $100 Global Entry or TSA Pre✓® Fee Credit.
Highlights
40,000 bonus miles after you spend $2,000 on purchases in the first 3 months your account is open.
$0 introductory annual fee for the first year, then $95.
New! Earn 2 miles per $1 spent at restaurants and on hotel stays.
New! Up to $100 Global Entry or TSA Pre✓® Fee Credit.
New! 25% back on United inflight purchases.
Check your first bag for free (a savings of up to $100 per roundtrip) when you use your Card to purchase your ticket.
Enjoy priority boarding privileges and visit the United Club℠ with 2 one-time passes each year for your anniversary.
Earn 2 miles per $1 spent on purchases from United, and 1 mile per $1 spent on all other purchases.
The information for this card has been collected independently by The Ascent and not provided by the issuer. Therefore, some terms may be out of date. Visit the issuer's website for more information.
What I like about United MileagePlus® Explorer Card
40,000 bonus miles -- You get this sign-up bonus after spending $2,000 within the first three months. The 40,000 miles could get you multiple domestic tickets or an international ticket, and the low spending minimum on this bonus makes it easy to get, putting it in line with many of the top sign-up bonuses.
2 miles per $1 on restaurants, hotel stays, and purchases with United -- The United℠ Explorer Card has a competitive rewards rate among airline credit cards, earning more back in multiple categories where travelers often have high spending.
First checked bag is free -- This applies to both the cardholder and one companion on the same reservation. United charges $30 for a passenger's first checked bag, so this benefit could save you $30 to $60 per flight and double that per round-trip, depending on whether you're traveling with a companion. You must book the reservation with your United℠ Explorer Card for this benefit to apply.
Global Entry/TSA Precheck credit -- If you sign up for either the Global Entry or TSA Precheck program and pay the fee ($100 for Global Entry or $85 for TSA Precheck) on your United℠ Explorer Card, it will be automatically reimbursed. Global Entry is the clear choice, because a membership to that also gets you a TSA Precheck membership.
Two complimentary one-time United Club℠ passes every year -- United will give you two passes to its United Club℠ when you open your account and every year thereafter on your account anniversary date. One-time passes cost $59 otherwise.
25% back on United in-flight purchases -- When you use your United℠ Explorer Card to buy in-flight food, beverages, or Wi-Fi, you'll receive a 25% statement credit.
Priority boarding -- You and any companions on your reservation will get to board before the general boarding group.
No foreign transaction fee -- As with almost all travel cards, the United℠ Explorer Card has no foreign transaction fee.
$95 annual fee (waived the first year) -- United wasn't going to give away this card's benefits for free. You don't need to pay anything the first year you have the card, but every year after that will cost you $95.
How MileagePlus miles work
Once you have MileagePlus miles, you can use them to book award tickets on any United flights that have award availability. United is also a founding member of the Star Alliance, which has more than 25 other airlines on its roster. When other Star Alliance airlines have award space open to United flyers, you can use your miles to book award tickets with those airlines.
There are two types of award tickets available through United:
Saver tickets typically cost fewer than half as many miles as Everyday tickets, but there are far more Everyday tickets available. Still, considering the difference in value, it's worth shopping for your award ticket early so that you can score a better deal on a Saver ticket.
What are MileagePlus miles worth?
If you use your miles wisely and stick to Saver award tickets, you can expect to get about $0.0125 to $0.02 per MileagePlus mile.
As with most other types of airline miles, the value of your miles will depend in large part on the flight and the ticket you book. In general, you'll get a better value with business or first-class award bookings compared to economy bookings, and international flights tend to offer more value than domestic flights.
At the high end of the value spectrum, international business and first-class award tickets can often get you well over $0.03 per mile. On the low end, cheap domestic flights may get you $0.01 per mile or less.
How to redeem MileagePlus miles
When you're ready to redeem your MileagePlus miles, just go to the United flight search, which is available on the airline's homepage.
Check the "Book with miles" box, enter the rest of your desired flight information, and then perform your search. You can also check the "Calendar shop" box to see award availability for an entire month. This is a useful tool when you're flexible regarding your travel dates.
You can see how much every flight will cost in miles from the search results. Keep in mind that each price is per one-way segment, so if you're booking a round-trip or multi-city trip, there will be a cost in miles for each segment of that trip. There is an exception on multi-city trips to a new region when you use the United Excursionist Perk, which you can learn about here.
After you've chosen your flights, the booking process is the same as if you were paying in cash, only you'll be using your miles. All the miles you've earned with your United℠ Explorer Card will be in your frequent flyer account with the airline.
Yes, given the benefits of the United℠ Explorer Card, the $95 fee is certainly justifiable.
Every year, you'll get the following:
First checked bag free for you and a companion -- $30 or $60 per flight, $60 or $120 round-trip

Two passes to the United Club℠ -- $108 ($59 each)
There's also the credit of up to $100 for a Global Entry/TSA Precheck membership.
Just note that while the fee is justifiable based on the value the card can offer, what matters is whether the fee is justifiable for you specifically. If you never check bags and you couldn't care less about visiting the United Club℠, then you wouldn't get your $95 worth from this card.
Here's how you can get the United℠ Explorer Card.
1. Click the "Apply Now" link on the card page.

2. Fill out the application form with the required information.
You'll need to enter your contact and income information. If you're already a member of the United MileagePlus program, make sure you enter your account number during the application so that your United℠ Explorer Card will be tied to your account.

3. Submit your application.
After you submit your application, you'll receive a message letting you know whether it was approved, denied, or is under review. For denials, you may want to call Chase about your application to see if you can get it overturned. If your application is under review, you can either call in immediately to ask about it or wait and see.
You should strongly consider this card if you:
Fly with United for most of your travels

Take at least three to four flights per year

Want to earn MileagePlus miles to use for award bookings
If you're a frequent flyer with United, then this card is a good pick. In fact, I consider it the best option in United's credit card lineup, although the United℠ TravelBank Card is a nice no-annual-fee alternative if you don't mind earning United TravelBank cash instead of miles. The United MileagePlus® Club Card has the most benefits, but its $450 annual fee is hard to swallow.
For anyone who isn't particularly loyal to United, there are other travel cards out there that offer a greater variety of reward redemption options.