U.S. Bank Visa® Platinum Review
U.S. Bank Visa® Platinum Review
Eric is an expert who has been covering personal finance since the mid-1990s. His articles have appeared broadly on sites such as MSN, USA Today, and Yahoo.
We are committed to full transparency in our mission to make the world smarter, happier, & richer. Offers on The Ascent may be from our partners - it's how we make money - and we have not reviewed all available products and offers. That transparency to you is core to our editorial integrity, which isn't influenced by compensation.
You should consider the U.S. Bank Visa® Platinum if you're wanting to avoid paying credit card interest on purchases and balance transfers. This card has one of the longest 0% intro APR periods on the scene, and that's saying something in a card universe where the best credit cards are full of tasty perks. There's more to a card than its goodies for new customers, though. Read on for more about the other features of this card.
Ratings Methodology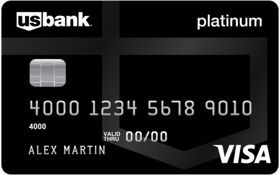 Great for: 0% intro APR offer
U.S. Bank Visa® Platinum Card
Why Apply
With an 18 billing cycle intro APR offer for both balance transfers and purchases, this is one of the best low interest credit cards on the market.
Credit Rating Requirement:
Rewards
Intro APR for 18 billing cycles
Intro APR
Purchases: 0%, 18 billing cycles
Balance Transfers: 0%, 18 billing cycles
Ongoing APR
14.49% - 25.49%, variable

Bonuses & Perks
Free TransUnion® Credit Score when you enroll in Online Banking
Highlights
0% Intro APR on purchases and balance transfers for 18 billing cycles. After that, a variable APR currently 14.74%-25.74%.
No Annual Fee.
Fraud protection detects and notifies you of any unusual card activity.
Free TransUnion® Credit Score when you enroll in Online Banking.
Choose your payment due date.
Get up to $600 protection on your cell phone (subject to $25 deductible) against covered damage or theft when you pay your monthly cellular telephone bill with your U.S.Bank Visa® Platinum Credit Card. Certain terms, conditions, and exclusions apply.
The information for this card has been collected independently by The Ascent and not provided by the issuer. Therefore, some terms may be out of date. Visit the issuer's website for more information.
What I like about the card
0% intro APR on purchases for 18 billing cycles -- It's hard to beat this long stretch, which covers a year and a half of card statements. It's ideal for financing costly purchases, then (gradually) paying them off over time without incurring interest.
0% intro APR on balance transfers for 18 billing cycles -- Again, this is one of the longest periods among all credit cards. Transfers must be made within 60 days of account opening to qualify.
No annual fee -- U.S. Bank gives its cardholders a break on this not-unusual charge across the credit card world.
Cell phone protection -- This is a still-uncommon, but quite useful credit card perk offered to U.S. Bank Visa® Platinum owners. The cardholder's cell phone is insured against damage or theft for up to $600, and the limit is two claims per year for total coverage of $1,200. A deductible of $25 per claim applies.
TransUnion® credit score for free -- Cardholders have a credit monitoring tool at their fingertips. TransUnion®'s CreditView product is available through U.S. Bank's online banking site.
Flexible due date -- Doesn't it sometimes feel that many of your bills come due at the same time? You can do something about that with this card's flexible due date, although not all dates are available. Cardholders should call the number on the back of their plastic to arrange this.
3% balance transfer fee -- Balance transfers to this card aren't exactly frictionless, despite the 0% into APR on them. U.S. Bank will charge 3% on the transferred amount, with a $5 minimum. This could add up to quite a high fee when using balance transfer cards to pay off debt.
2% Foreign transaction fee -- In a world where credit card issuers seem more willing to forego this pesky charge, the issuer is holding on to it, making this card not an ideal card to take on trips abroad.
Rewards program -- This card does not earn cash back, miles, or points like a great many competitors. Earning such rewards is a key selling point for today's consumers, who enjoy earning payouts and merchandise derived from their credit card spending.
The card is designed for people with excellent credit and a 740 FICO® Score and higher. If you have a lower credit score, all chances of approval aren't lost. Yes, credit scores are heavily weighted in a credit decision, but other factors such as income and current debt are assessed as well.
How to best use a 0% intro APR for balance transfers
The 0% intro APR on balance transfers is comparatively generous, but it doesn't last forever. So here's a step-by-step look at how to take the best advantage of an excellent, but limited-time, opportunity to reduce the debt load from other credit cards in your portfolio.
Estimate what you can afford to pay each month -- Remember, the clock is ticking here -- 18 billing cycles feels like a long time, but it'll go by quicker than you think. Make your best estimate as to how much of a transferred balance you can realistically pay within those 18 installments, and don't transfer more than that amount.

Devise a monthly payment -- It's good to have at least a rough idea how to apportion each billing cycle's payment so the balance is paid off before the APR promo expires. The simplest approach is to divide the total balances transferred by 17 to ensure the monthly payments will retire the full amount before the promo elapses and with room to spare.

Pay more if you've got more -- Paying down excessive debt is one of the most fiscally responsible things you can do, so it should be a priority. If you've got a month where you're relatively flush, strongly consider devoting at least some of the extra funds to retiring more of those transferred balances.

17 is the limit -- Past your 17th statement, the magic money carriage turns back into a pumpkin. Any remaining transferred balances will start to accrue interest.
This is clearly a card best tuned for those looking to hop on the long 0% intro APR for balance transfers period. Eighteen billing cycles is plenty of time to pay down balances transferred from interest-accruing credit cards.
Yes the 3% balance transfer fee will cost you a bit -- nobody likes paying fees! But this is a relatively small expense for what you potentially save in interest payments from outside cards.
The 0% intro APR for purchases is also a very attractive feature of this card, making it a fine product for those looking to fund expensive buys. As long as you pay off that new motorbike, home cinema setup, or life-size moon landing module replica within the allotted 18 billing cycles, you're good to go.