The 7 Best Pest Control Software Options
Many or all of the products here are from our partners that pay us a commission. It's how we make money. But our editorial integrity ensures our experts' opinions aren't influenced by compensation. Terms may apply to offers listed on this page.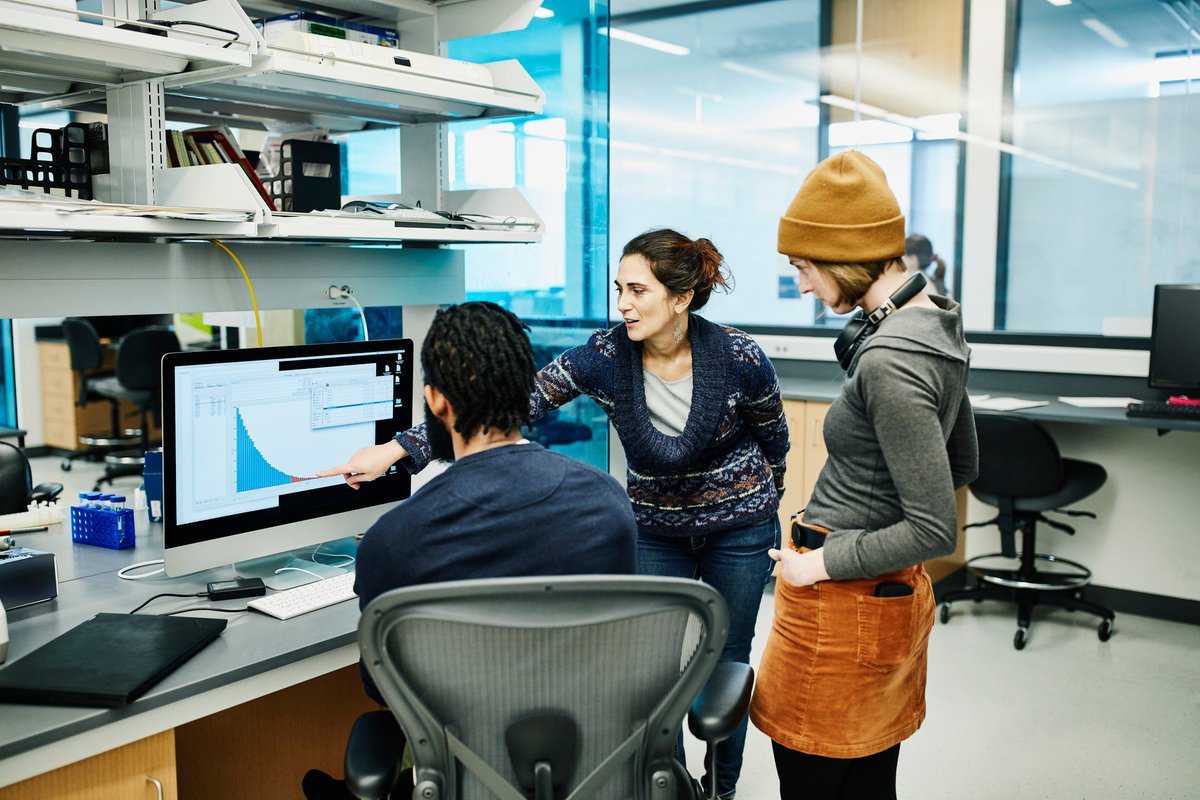 Running a pest control company means having to deal with special challenges unique to your industry. As a result, you want the best pest control software tool suited for your operation.
The best pest control software can take a growing extermination business from a struggling enterprise to a profit-making machine. But be careful in choosing just any kind of field management software: your industry has a few unique challenges to consider first.
Whether you're looking for mobile pest control software or pest control scheduling software, you need a solution that offers strong features and tools for managing a highly interconnected team of exterminators in the field.
Look no further: these pest control software reviews will help you figure out which option will most likely fix your operation so you can start on a trial right away.
The best pest control software tools, at a glance:
mHelpDesk
Housecall Pro
Service Fusion
Intuit Field Service Management
FieldEdge
What to look for in great pest control software
Pest control companies have many of the same challenges as your typical field service company. They need to manage a team of technicians in the field, handle customer queries, do accounting and invoicing, and handle all sorts of other administrative tasks.
But pest control companies have some additional considerations when it comes to software, and so you'll need to look for platforms that have three attributes in particular.
1. Tools to handle seasonal changes
One challenging reality of running a pest control company is that it is highly seasonal. Many insects go dormant in the winter, leading to a lull in business, and then there is an explosion of calls in the spring and summer. These wild swings can be difficult to manage.
As a result, you need robust accounting features that can handle the changing cash flows and help you plan to ride those slow times out. The software should also have marketing tools so you can use that slow time to promote your company so you're first in people's minds when they spot those creepy-crawlies in their house.
2. Strong dispatching capabilities
Yes, there are HVAC and plumbing emergencies. But nothing gets a customer to the phone quicker than seeing a bunch of cockroaches scurrying around on the floor.
Your customers want a fast response, so you should have software with good dispatching capabilities that help your team quickly assess the situation, identify the customer and any past service work you've done, and get a technician out there.
It's also helpful to have software that allows not just you but your customer to track where the exterminator is, live all the way to the site.
3. Managing multiple locations
Again, all field service companies need to manage countless customers at many different locations, but good pest control management can be especially crucial because you're dealing with toxic substances.
You need to abide by regulations and ensure the safety of your customers -- and technicians. Which means you need a platform that can ensure you have the right technician at the right location at the right time with the right tools and the right information about the problem.
Our 7 picks for pest control software
There's a lot of pest control management software options out there, but in our opinion these seven work order software options do the best job of handling the complex management that goes into a pest control company.
1. mHelpDesk
mHelpDesk is aimed at typical field service businesses such as HVAC, electricians, and, of course, pest control. It's one of our top field service management software options because of a solid range of features, a great user interface that is easy to navigate, and an overall excellent user experience.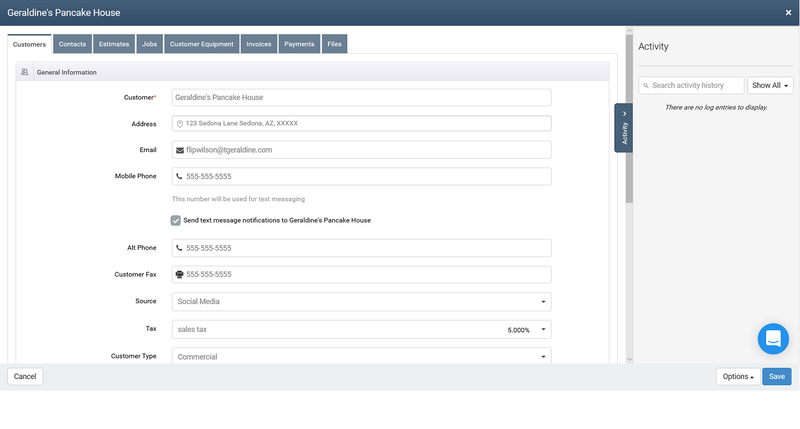 What makes mHelpDesk particularly solid for pest control is its routing feature, which shows where clients and jobs are located on a map. It maps out the most efficient routes for your technicians so they can get to that urgent call as quickly as possible, while saving on gas and mileage in the process.
Pricing: This is definitely expensive software, costing $374/month for the first 10 employees and then $35 for each user after that, up to 15. For over 15 users, you have to contact the company to get a quote.
2. Jobber
Jobber is another platform that scored very well, thanks to a solid user interface, good differentiation between the desktop and the smartphone app (one is not simply a knockoff of the other), and a one-of-a-kind way of organizing all the information you need to have at your disposal. It offers features like GPS routing, payment tracking, and automation tools.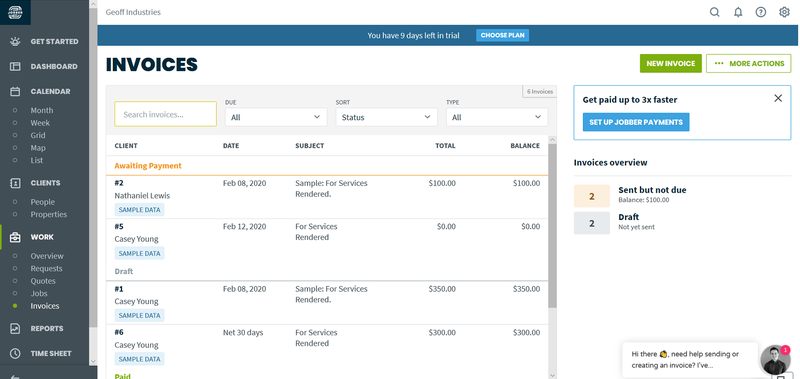 The Jobber app is particularly good for pest control companies because it simplifies the desktop version and provides a user interface that is more focused on putting the necessary details in front of your exterminator, such as the daily schedule and client information. They can also clock in and out of a job via the app.
Pricing: The Core version of the app runs $29/month for one user, while the Connect is $99/month for seven users, and Grow is $199/month for up to 30 users.
3. ServiceTitan
ServiceTitan is ideal for field service companies with growing or already large operations that they need to manage from a central office. This cloud-based software allows exterminators to communicate with the home office and access important information onsite such as service history and billing information.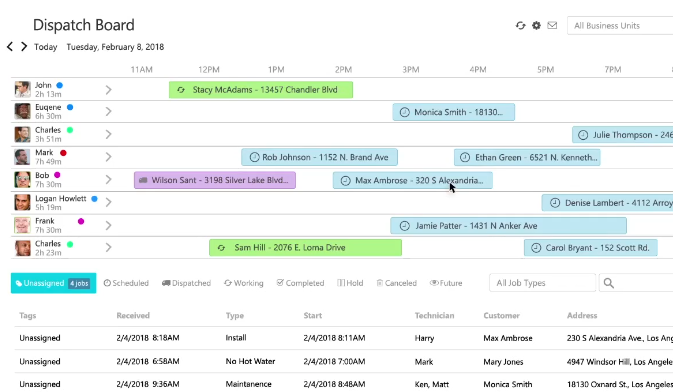 One great aspect of the software is that both you and the customer can track the technician's location on a map and watch them in real time as they navigate to the customer site. This is a real boon for customers who are itching for an exterminator to get rid of their infestation as quickly as possible and want to know how soon they will arrive.
Pricing: ServiceTitan doesn't list pricing. In order to get a quote, you will need to set up a demo with the company by filling out a form on their website to have someone guide you through a consultation. They currently do not service companies with fewer than two technicians or one staffer.
4. Housecall Pro
Housecall Pro has one very big advantage over many other platforms: its sheer simplicity. This cloud-based platform helps you monitor a team of technicians as well as quickly and easily invoice and communicate with customers. Onboarding is also a breeze, although it is a bit on the expensive side.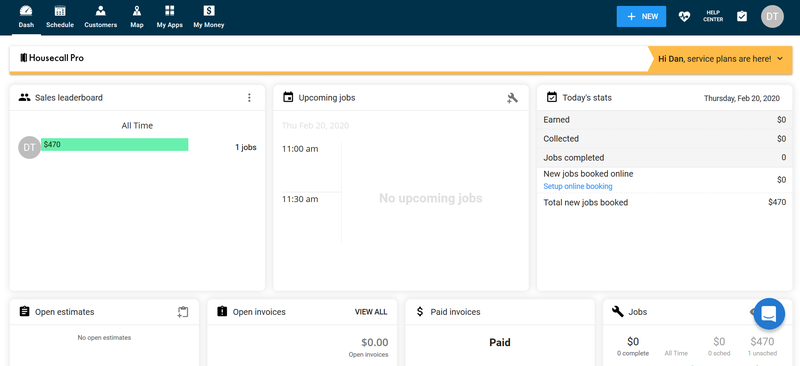 Housecall Pro's invoicing feature distinguishes it from other similar platforms. It automatically populates invoices and allows your customers to pay directly from the invoice. This allows your team to spend more time on eradicating pests and less on messing with billing.
Pricing: Housecall Pro's pricing setup is a bit complicated, offering heavily discounted subscriptions for those who pay up-front for a year. It's $49/month on an annual subscription if you have one user, or $65 for month to month. That figure increases to $109/month, or $149 for month to month for one to five users, and then it costs $30/month for each additional user. For five users and up, you may want to explore the XL version, but there is no listed price, and you'll need to contact the company for pricing.
5. Service Fusion
Service Fusion helps field service companies manage a lot of work order tickets and technicians in the field at the same time. It can automatically generate invoices and then send an email to all parties involved, letting you know if the customer accessed the invoice. It also syncs with QuickBooks, which helps streamline the accounting and billing aspects of field service management.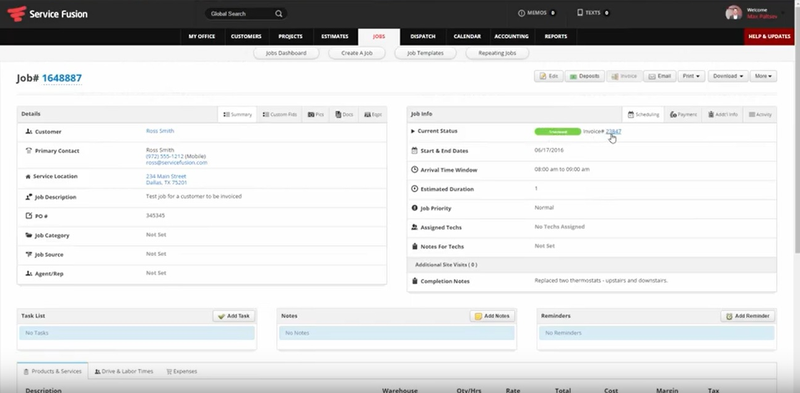 Unlike some field service management software solutions, Service Fusion offers in-depth GPS tracking, which is important for pest control companies who need to know where their exterminators are at all times. And the fact that it automates a lot of accounting processes makes it easier for them to focus on the job at hand.
Pricing: Like Jobber, Service Fusion has three pricing tiers, with the lowest priced -- Starter -- costing $99/month. Plus costs $199/month, and Pro is $349/month. The nice thing about this setup is that all packages include unlimited users, so you're just paying for more features.
6. Intuit Field Service Management
Intuit Field Service Management is great for field service companies looking to better manage invoicing, billing, and other accounting aspects of their organization, which you might expect, since it comes from the same company that produces QuickBooks. It primarily focuses on administrative tasks to support field service work, so if you are looking for something a little more focused on field operations, this may not be for you.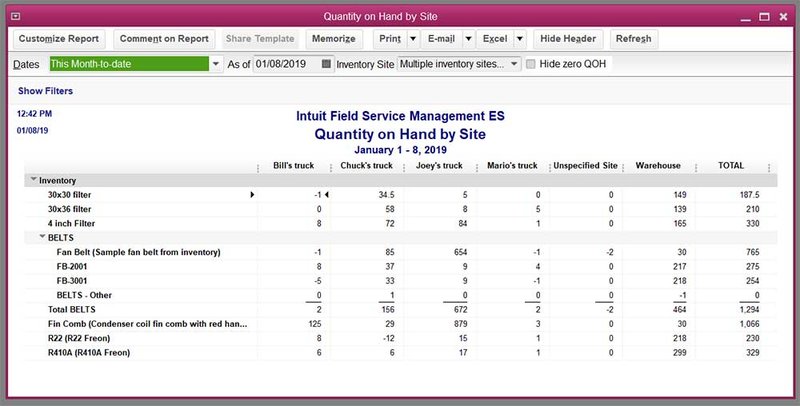 However, since exterminators in the field often have to deal with a lot of paperwork and billing, software like this can save them a good bit of time so they can focus on getting rid of the pests. The software's mobile app is also easy to use, making the whole process easier for technicians.
Pricing: Intuit's pricing breakdown is fairly simple, with only one version to buy, although there are two add-on packages you can purchase. It costs $35/ month per user, for up to 10 users. The price then drops to $31/month for up to 40 users and $28/month for up to 101 users.
7. FieldEdge
FieldEdge consolidates a large number of field service management tasks -- such as billing, invoicing, scheduling, and dispatching -- into one seamless platform. It's a higher-priced solution generally geared toward larger companies, but it may be something a growing pest control company that needs more features could explore.
FieldEdge is excellent for managing a complex team of terminators, and it has a lot of features to help you do so. It integrates live with QuickBooks, which is great for your technicians who have to do billing onsite, and there's a built-in price guide as well. Unfortunately, if you're looking for pest control routing software, FieldEdge doesn't offer automatic routing or GPS tracking, although they say they plan to at some point in the future.
Pricing: You can't look up prices on their website, but the company told The Ascent in a phone call that licenses cost $100/month per user for the desktop version of the software and $125/month per user for a mobile version used by field technicians, along with a $4,000 setup and training fee.
Good pest control software is out there
Pest control software for small businesses, or for large businesses, will help a manager who is on top of their game by providing the tools they need to handle all aspects of this complex business.
If you're in the market for new software, trying a few of these options will help you understand what your business could be doing better, and you may find that one of them is the perfect fit.
You should look for software that has good accounting features to manage cash flow, solid invoicing tools, the ability to monitor your exterminators in the field, and will overall help you run a more efficient operation. And the only way to figure out whether these software options can help you out is to take a few on a test drive.
We're firm believers in the Golden Rule, which is why editorial opinions are ours alone and have not been previously reviewed, approved, or endorsed by included advertisers. The Ascent does not cover all offers on the market. Editorial content from The Ascent is separate from The Motley Fool editorial content and is created by a different analyst team.