5 Best Work Order Software Options
Many or all of the products here are from our partners that pay us a commission. It's how we make money. But our editorial integrity ensures our experts' opinions aren't influenced by compensation. Terms may apply to offers listed on this page.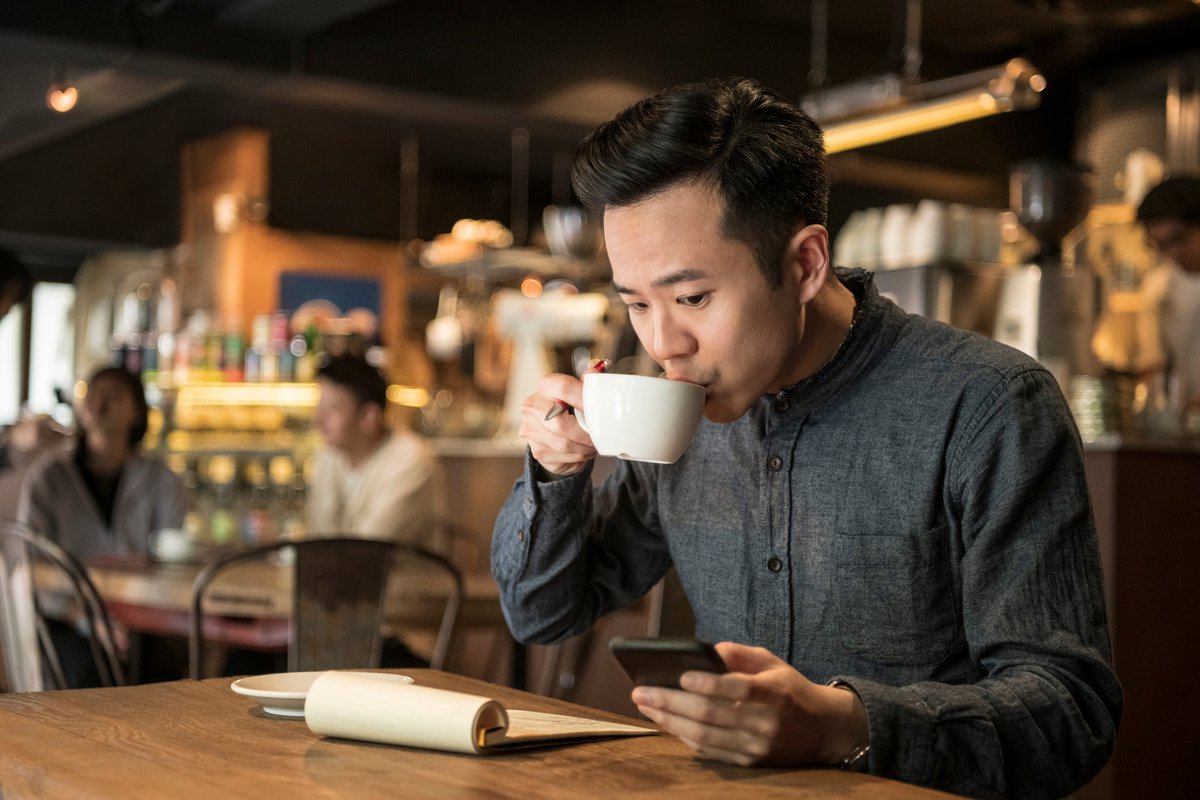 Work order software helps field service companies organize technicians, respond to customers, and handle invoicing. These five work order software options will help you streamline your business.
A lot of things can go wrong in the field service industry. A technician might miss an appointment because they had an old copy of the schedule before it was updated with new clients. Or a manager can find out months later that the company was never paid for a job because the invoice never went out.
Work order management software, also referred to as field service management software, can help companies manage a team of technicians and solve customer problems in the field effectively and efficiently, all while keeping things clean and organized on the administrative and billing end.
If you're looking for the best work order software, you've come to the right place. We'll break down the work order systems that are available to businesses of all sizes and which might work best for you.
What to look for in a great work order software
Work order tracking software, job ticket software, and maintenance ticket software need to help companies respond to customers' needs while dealing with billing and invoicing, often while on the fly.
As a result, work order systems should have the following three characteristics:
1. Billing and invoicing
At the heart of a good work order program is billing and invoicing. Any software you choose should have simple, straightforward capabilities for drafting invoices for customers.
Look for options that automate many of these functions, which could save your employees a lot of time currently spent on data entry.
2. Customer database
It is key for field service companies to have an organized list of customers that can easily be accessed no matter where you are, so you should look for work order software that has a strong customer database function.
It should be both easy to use and have a way to click on a customer to bring up more details beyond simple contact info, such as past work history so technicians can get the context they need to get the job done.
3. Mobile app
You can't have a field service company without having technicians who are actually in the field, and that means in order for the software to make sense for your company, you need it to have a mobile version that your workers can take with them.
Pretty much every field service software option is going to have a work order app for just that reason, but check to make sure that it works on both Android and iOS phones (if your workers have both) and that it offers enough features to do the job.
Some mobile apps are just stripped-down versions of the primary software. They often eliminate some features that are hard to translate to mobile, but you may find these features essential in the field.
Our 5 picks for work order software
There are a lot of great work order software options available, but these five do a particularly good job of nailing each of the above characteristics. While none of these are free work order software options, some can be had for a very low cost, and you can contact the developers to inquire about a free trial.
1. FieldEdge
FieldEdge is a work order management system meant for service businesses like plumbers, HVAC installers, and landscapers, helping teams coordinate their activities while staying in contact with the main office.
The software is meant more for large businesses and has a high price point as a result, but you get a lot of support and customization options.
FieldEdge integrates with QuickBooks, which will help streamline billing, especially if you already use that software to organize your finances. FieldEdge has a built-in price book of parts and inventory that can make billing even easier and reduce a lot of redundant activities.
There's a mobile version of the software that works on both Android and iOS devices. It shows things like activities for the day and total hours worked.
Key feature: FieldEdge has an interesting feature that causes a new work order to be created whenever a customer calls, which can cut down on manual entry and allow the employee to focus on more important tasks. It also keeps the team better organized so that work orders aren't falling off anyone's radar.
Pricing: Although the company doesn't list prices on their website, they indicated to The Ascent during a phone call that licenses are about $100/month per user for the desktop version and $125/month per user for field technicians. There's also a $4,000 one-time fee for remote training and software setup.
2. Jobber
Jobber is aimed at field service businesses who have employees who spend a lot of time in the field and are run by a central office. It's a good option for small business users, both because of its pricing and its flexibility.
The software's billing and invoicing features are very in-depth and even intimidating for some who just want a simple work order software solution. However, many organizations may find this level of detail essential. It's easy to create invoices, and you can send them via text message or email.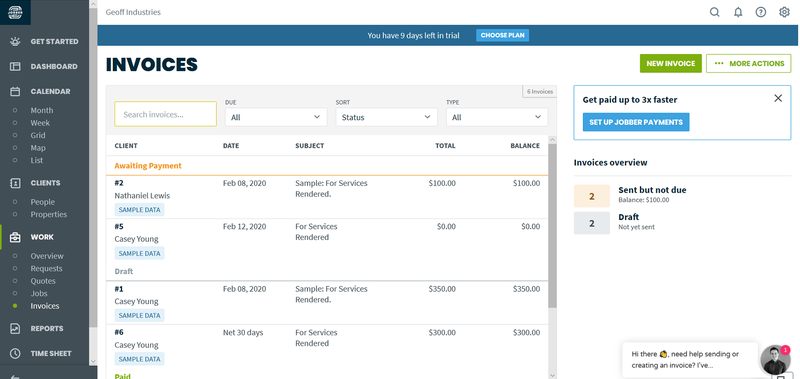 The customer database is straightforward, showing a list of clients in rows with basic details next to them. You can also create and view a list of clients you are visiting on that particular day.
Jobber is available for both Android and iOS platforms. It is good for showing users on the go what tasks are scheduled for that day, and you can clock in and out via the time sheet function.
Key feature: Because Jobber is integrated with Google Maps, the software is able to draw up a route for a technician by simply clicking on the pin-drop icon in the job screen on the app.
Pricing: Jobber's lowest price, its Core version, runs $29/month for one user. Connect is $99/month for up to seven users, and Grow is $199/month for up to 30 users.
3. Service Fusion
Service Fusion is aimed at field service businesses that do a lot of work order tickets and have technicians operating in the field. The software is broad enough that it can be applied to businesses outside the field service industry that deal with invoicing and billing.
You can use the software to automatically generate invoices with the click of a button, and then send it in an email. The software will also show you if the customer opened the invoice email.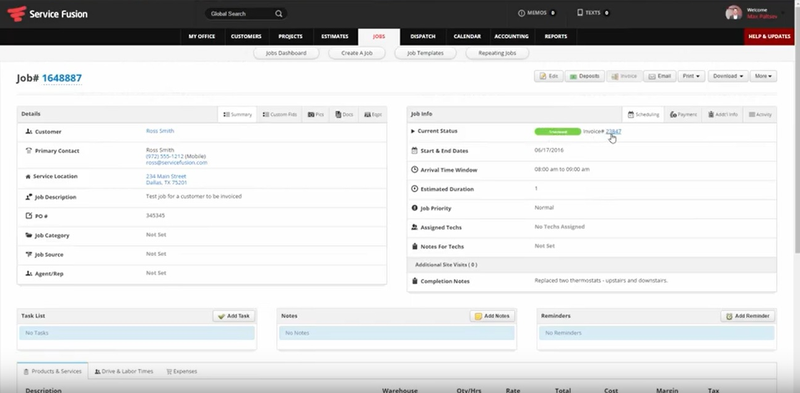 The customer database is fairly typical of work order software, with a basic directory providing name and contact information. You can go deeper by adding fields such as referral source or the type of taxes for that customer. You can bring all that information up by clicking on a customer record.
The mobile app is clean and simple, and it looks radically different from the desktop version. From the main screen, you go to your work orders, customers, map view, your team, and other features.
Key feature: Service Fusion's drag-and-drop calendar is a great scheduling function that offers color-coded appointments to make it easy to organize your work orders.
Pricing: Service Fusion has three price tiers: $99/month for Starter, $199/month for Plus, and $349/month for Pro. All plans include unlimited users, which is pretty rare for software like this, with the more expensive versions offering tools like inventory management and the ability to upload pictures.
4. mHelpDesk
mHelpDesk helps you organize your field service business with features like scheduling and estimates so everyday tasks are all in one place. It has a simple, easy-to-use interface and helps keep the entire team synced.
It is a little on the expensive side, so it might not suit small businesses on a tight budget.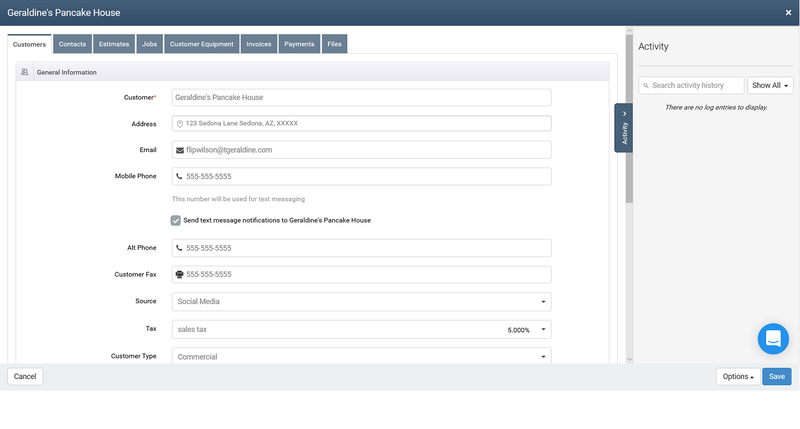 A big part of mHelpDesk is automation. It streamlines a lot of the manual parts of a field service business by automating tasks like scheduling and invoicing. This frees up more time for both managers and field technicians who can use it to help customers instead of spending it punching in numbers.
It takes you right to the schedule for the day. You can easily switch between jobs, and you can get a Google Maps image of the location.
Key feature: mHelpDesk has a great scheduling and dispatching feature that shows where your technicians are on which days, and you can toggle that by switching between day, week, and month views.
Pricing: The software costs $374/month for the first 10 employees, and additional users are billed at $35 per person, up to a maximum of 15 users. If you need more than 15 users, you will need to get custom pricing.
5. Intuit Field Service Management
Intuit is a big name in the software world as the parent company behind QuickBooks, so certainly the company knows a little bit about keeping things organized. Intuit Field Service Management does not disappoint, offering solid features from scheduling to invoicing to job history.
Naturally, the software syncs with QuickBooks, which is helpful for streamlining the financials. It is a good software option for businesses of all sizes.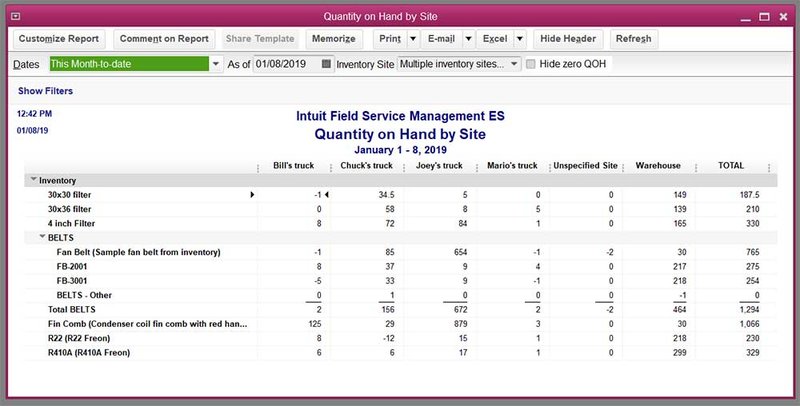 Invoices are organized by work order, and clicking on any invoice brings up basic information on the client. And because it syncs directly with QuickBooks, it makes accounting and payroll a lot easier.
The mobile app is available for both iOS and Android devices, and the clean, simple interface is good for technicians in the field who need something straightforward to help them do their jobs. It even allows them to accept payments or read work history.
Key feature: The software has a "Bread Crumbs" feature that shows where technicians have been, giving you a thorough view of your entire team no matter where you are. Essentially, it shows a bird's-eye view on a map of where your technicians have been, how quickly they're moving, and what work orders they're taking care of.
Pricing: The software is fairly affordable, and straightforward, with just one version to buy, although there are two add-on packages. It is $35/month per user for up to 10 users, $31/month for up to 40 users, and $28/month for up to 101 users.
Start experimenting with work order software
Since you have all the information in front of you, a work order management system should help you run your business more efficiently and allow you to deploy technicians into the field without having to worry whether everything is going smoothly.
By having a good simple work order software option at your fingertips, you will have the confidence to tackle more important tasks.
Look for options that have free trial offerings so you can give them a test drive. If a free trial isn't available but the software looks like a good fit for your business, ask if there is some sort of money-back guarantee. After all, you never know whether the software will be right for your company until you're actually working within it.
We're firm believers in the Golden Rule, which is why editorial opinions are ours alone and have not been previously reviewed, approved, or endorsed by included advertisers. The Ascent does not cover all offers on the market. Editorial content from The Ascent is separate from The Motley Fool editorial content and is created by a different analyst team.
Suzanne Frey, an executive at Alphabet, is a member of The Motley Fool's board of directors. The Motley Fool has positions in and recommends Alphabet (A shares) and Alphabet (C shares). The Motley Fool recommends Intuit. The Motley Fool has a
disclosure policy
.