5 Best Organization Apps for Staying Productive
Many or all of the products here are from our partners that pay us a commission. It's how we make money. But our editorial integrity ensures our experts' opinions aren't influenced by compensation. Terms may apply to offers listed on this page.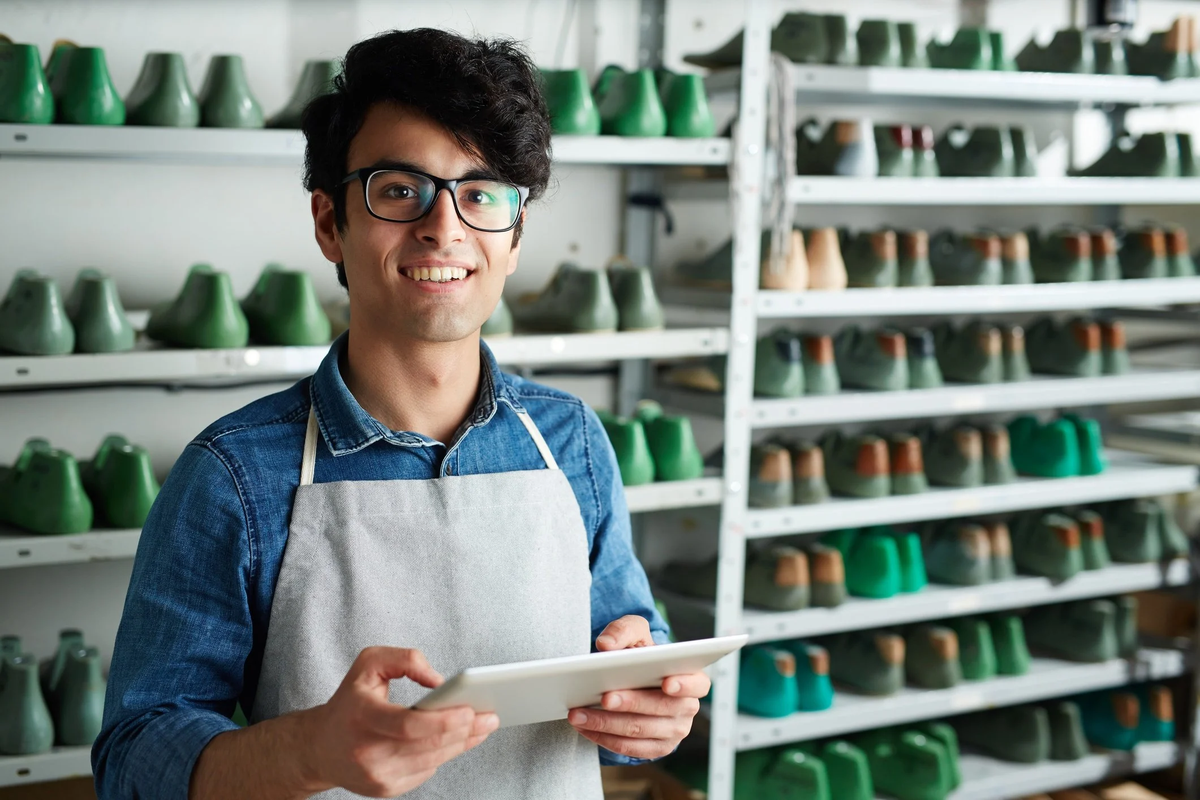 Disorganization is a productivity killer. One study found that the average person wastes more than four hours per week just searching for paper. And that figure increases when you're talking about looking for information on your computer.
At first glance, organization and productivity might not necessarily seem related, but the fact is you can't get a lot done when you're scattered and all over the place.
Having all of your tasks and activities neatly organized through an organization app is the best way to know what to do now so you can get it done and move on to the next task.
We've found five of the top organizational apps that are all very good at solving this problem, with each having a unique approach. These apps also often have project management tools, essentially acting as a miniature project tracker for people on the go.
What to consider when looking for the best organization app
What's the best organization app out there? It's positively overwhelming how many you have to sift through. That is why you need to keep an eye out for these three key features to help guide you to the right organizational app:
1. Ease of use
When choosing between apps to stay organized, you want simplicity more than anything else. The best organization apps are ones that you can load up and instantly have everything at your fingertips without having to tap on all these extra features to access the info you need.
So when you're looking for an app, make sure to give it a try first. Apps that may look very simple based on the screenshots they provide you often come across quite differently when you actually use them.
For example, an app may present a very clean dashboard with all the information you need, but you may find out later that there's a complicated process for adding that information.
2. Helps avoid procrastination
The biggest struggle when it comes to productivity is procrastination, so the best organization apps are ones that can help knock you out of that urge to mess around doing activities that don't matter.
If you struggle with procrastination, look for an app that provides rewards or even punishments to help keep you on track. Also, you want an app that makes it easy to move from one task to another, because that gap between tasks is when it becomes most tempting to procrastinate.
3. Prioritization
Simple to-do lists don't work because there is no priority attached to each item on that list, which can get you into trouble. For example, if you have "paint the ceiling" above "file taxes due today" on a to-do list, you're going to have a bad time.
Look for apps that help you prioritize tasks that are more urgent and important. These apps can also help you identify tasks that are not important and that you can get rid of altogether, saving you time.
5 top organization apps to keep your productive and focused
We chose these six apps because they did a good job at organizing while having their own unique approaches to solving this issue, whether that be prompting action now or better plotting out a week.
1. Best for procrastination: Carrot
We all struggle with procrastination, and that's where Carrot comes in. The app describes itself as a "to-do list with a personality." Basically, the app goes beyond merely organizing your to-dos and really gets on your case when you're not doing what you're supposed to be doing.
It's easy to use, allowing you to add items to the to-do list by simply pulling down on the list. You swipe right to remove them, and get a reward that you can specify.
If it detects you are slacking, however, the app will lambast you for your sloth, even going so far as to ask your permission to blast your laziness on social media. You don't have to do this, of course, but it may help motivate you to stay on task.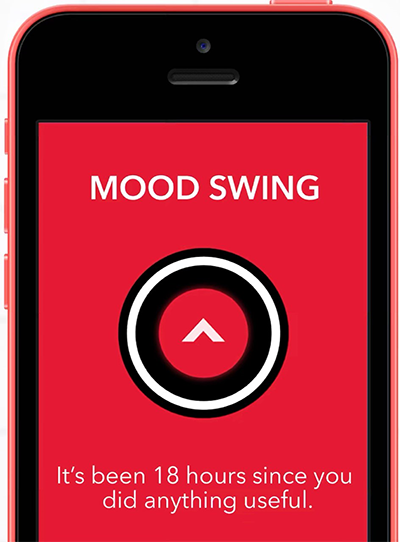 Why we like this app: Sometimes, we just need a swift kick in the pants to get going. This app knocks you out of your procrastinating funk and makes it fun to get stuff done -- and a little terrifying.
Key feature: You can choose from more than 400 unique rewards, which helps keep the app interesting.
Pricing: The app can be purchased for $2.99.
2. Best for visual interfaces: Trello
What's great about Trello is it helps you visualize the task process, from conception to completion. Each time you make progress on a task, you drag that task -- or "card" -- to the next phase. It helps you not only see where you stand with your tasks and how far along they are, but it also helps you break up big tasks into smaller portions so it's not so daunting.
Trello is a system that is based on kanban project management, a process that involves visually depicting work at various stages using cards that can be moved along the board.
Trello is currently offered on the Mac and PC, and the fact that they have made a mobile version that stays true to those offerings makes this one of the best organizational apps for iPhone in our mind.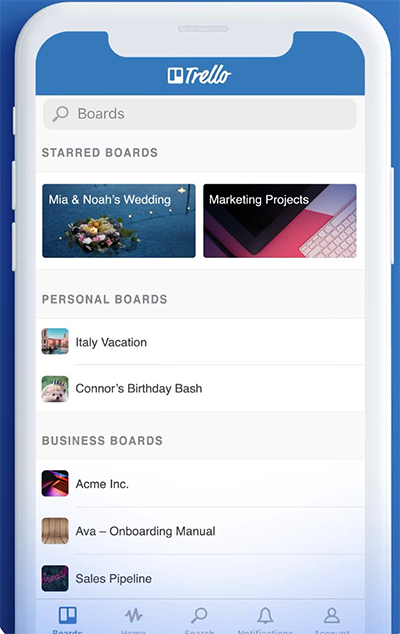 Why we like this app: The great thing about Trello is that the cards system makes everything so visual, and when everything is highly visual and right in front of you, you feel more in control. That's what Trello gives you: a sense that you are in control over yourself.
Key feature: Trello features progress bars that show how far along you are within each step. This is helpful for visualizing just how close to "done" you are with various tasks.
Pricing: There's a free version of Trello, which allows you access to unlimited personal boards, cards, and lists. If you want larger file attachment limits, unlimited team boards, custom fields, and other features, you'll need to upgrade to either Business Class at $9.99/month per user or Enterprise $20.83/month per user.
3. Best for weekly planning: Weekplan
As the name implies, Weekplan is focused on planning out your week, and it's based on the principles set out in the famous self-help book, 7 Habits of Highly Effective People. In the book, author Stephen Covey recommends planning according to the week in order to avoid being bogged down by daily to-do lists and busywork that don't leave much room for prioritization of important tasks.
Weekplan has a beautiful layout for accomplishing this, showing each day of the week in equally sized boxes on your dashboard and all of the tasks set for that day.
There's also an extra "pending" box for activities that are waiting on someone else's actions. This makes the app highly adaptable to even specialized kinds of project management, such as marketing project management.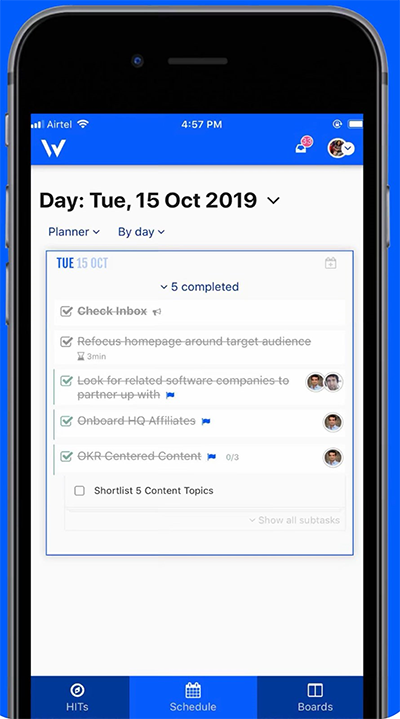 Why we like this app: Weekplan's emphasis on the week and on prioritization produces a calming effect when you're working, because you know you are working on the most important task right now. You don't wonder whether there's some other task you should be doing -- you know that you are doing the best thing you could possibly be doing, thanks to your work in prioritizing the week beforehand.
Key feature: The app has a "quadrant view" that allows you to map out tasks according to their importance and urgency. That way, you can identify tasks that will have the most impact and eliminate tasks that are unnecessary.
Price: The app costs $16.25/month, and $156/year. For that price, you get the following features:
Planner
Calendar sync (GCal and Outlook)
Repeating tasks
Quadrant view
Attachments
Team features
Goals (OKRs)
Vision
Subtasks
Reminders
SMS integration
Access to data download
Pomodoro timer
4. Best for simplicity: Things
If you just want to tackle your to-do list and don't want a complicated app with a lot of functions, Things is for you. It is a super-simple organization app that shows what you need to do today and then the tasks you need to tackle this evening. It also breaks it down according to categories such as "family" or "work."
Adding to-dos to your list is very easy and takes seconds. You can add as much or as little detail as you want. Then you just tap "save" and it's added to your agenda.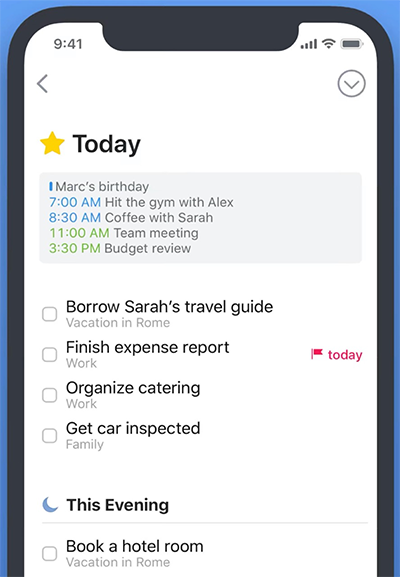 Why we like this app: There are times when you just need an app that can help you execute a to-do list right now, and Things delivers. You can just pick it up, plug in your tasks, and go.
Key feature: Things has a logbook feature that tracks your daily tasks so you can see how much you got done in a day. It can give you that extra boost of motivation when you see how much you've gotten done.
Pricing: Things 3 is available for purchase at a price of $9.99.
5. Best for collaboration: Asana
If you need to do a better job of not only increasing your own organization and productivity, but also that of your team, Asana is a good choice. Asana offers a version of its software that interlinks all stakeholders in your project, providing a place where everyone can see where projects stand, what's due, and who's responsible for what.
Asana has a simple interface that is good for people who aren't techies, and its workload monitoring features will help prevent workers from being overloaded with too much to handle.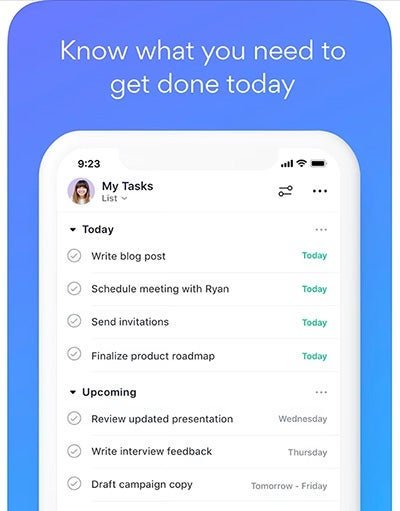 Why we like this app: Asana does a great job of translating the main software into an app form, providing users with the ability to view projects from their phone and see what items are due on their end. It keeps the entire team connected at all times, even when they aren't at their desks.
Key feature: Asana offers a shared team calendar, which provides a long-term view of the project that shows all members of the team what to expect in the coming weeks and months. Having this big-picture view available to everyone ensures that everyone will be on the same page during the next project meeting.
Pricing: Asana has a free version with basic features for up to 15 users, and the app download is free. There's also a premium version, available at $9.99/month per user, and a business version at $19.99/month per user, with extra features and customization options.
Get started by trying a few of them
We think these are the best organization apps out there, and chances are at least a couple of these appeal to you. But you won't know for sure until you at least download a few now to start trying them out. Set aside a few hours for these work organization apps to see if they help you become more productive.
You should find yourself completing more tasks and spending less time on unimportant activities. If you're not, try out a few others. It will almost certainly take you a few tries before you find an app that fits you specifically, so don't settle after just one or two.
If you want to go beyond apps to something a little more robust, try out some project management software or organization software. You may find that implementing project management best practices can help you come up with a project management plan that will get your entire organization on the right track.
We're firm believers in the Golden Rule, which is why editorial opinions are ours alone and have not been previously reviewed, approved, or endorsed by included advertisers. The Ascent does not cover all offers on the market. Editorial content from The Ascent is separate from The Motley Fool editorial content and is created by a different analyst team.
The Motley Fool has no position in any of the stocks mentioned. The Motley Fool has a
disclosure policy
.