How to Prepare Your Small Business to Ride the BOPIS Wave
Many or all of the products here are from our partners that pay us a commission. It's how we make money. But our editorial integrity ensures our experts' opinions aren't influenced by compensation. Terms may apply to offers listed on this page.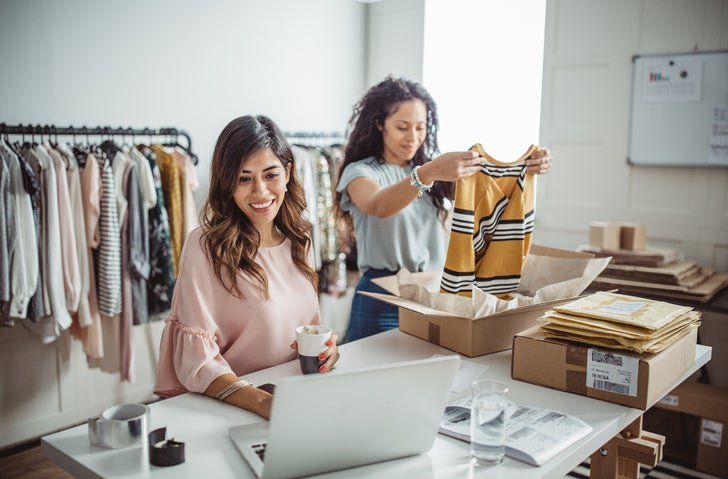 Meeting customer expectations in turbulent times is a top priority for retailers. Learn how BOPIS fulfillment practices can benefit your small business.
Retailers, brick-and-mortar and e-commerce alike, have experienced monumental challenges in meeting customer demands over the past year. From statewide lockdowns to social distancing norms, the shifts in customer purchasing behaviors have pushed retailers to implement flexible and innovative ways to meet customers where they are (or rather, where they're allowed to be).
BOPIS is a fulfillment concept that has been adopted by swathes of retailers looking to satisfy as many customers as possible over the past year. In this article, we take a look at what BOPIS is, its benefits, and best practices for retailers using BOPIS.
Overview: What is BOPIS?
BOPIS is an acronym for "Buy Online, Pick Up In Store." In practice, BOPIS (also known as click-and-collect) is an omnichannel fulfillment and retail management strategy that allows customers to pay for products on a retailer's website, and later pick them up in the retailer's physical store.
BOPIS has grown in popularity over the past year as customers are subject to differing lockdown rules or feel more comfortable browsing items online and picking them up in a more controlled environment.
This strategy requires retailers to have a fully functioning e-commerce website or app, as well as a physical store or location. Additionally, retailers will need to have a robust retail inventory management tool to help manage and merge online and offline stock levels.
4 benefits of BOPIS
BOPIS practices offer retailers and customers alike a wide array of benefits. Below, we explore some of the most notable advantages.
1. Offers customers a convenient shopping experience
There are several customer pickup options that retailers can offer customers who want to enjoy a pay online, pick up in the store experience:
Pick up at the register
Pick up at a locker
Trunk delivery
Curbside pickup
BOPIS options offer customers shopping online a convenient shopping experience because it removes the middleman -- the home delivery process and its associated fees and waiting times. Studies have found that over 90% of customers describe BOPIS options as a convenient shopping option.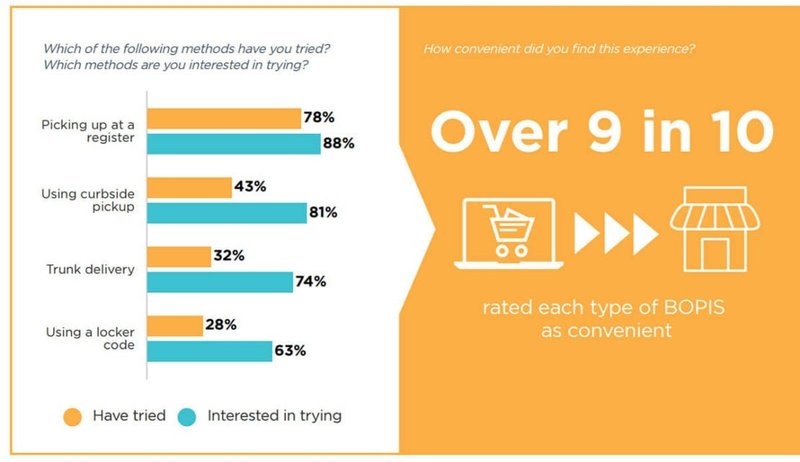 2. Lowers delivery, fulfillment, and storage costs
BOPIS reduces delivery and fulfillment costs for retailers (in turn, reducing the costs for customers), as it is essentially a free delivery option.
BOPIS means less reliance and spend on logistics companies and a reduction of inventory carrying costs.
3. Orders are fulfilled when the customers want
When customers visit stores, there's always a chance that the product they want isn't currently in stock. However, with BOPIS, the customer doesn't need to worry about out-of-stock items, as the product has already been put aside for them once their purchase has been processed.
Many retailers also offer customers the choice of determining their own pickup date and time to offer an even more streamlined service.
4. Increases the chances of unexpected purchases
When customers choose to pick up their order at the register, retailers have more opportunities to present them with other in-store products and retail promotions.
Retailers need to think strategically about:
Where they place their BOPIS pickup point in the store (make sure your customers have to walk past other products before reaching the pickup point)
How they merchandise their products to catch customers' eyes
Where they place point-of-purchase and point-of-sale promotions
What coupons or discounts they can create to complement customers' BOPIS orders to entice them to shop in-store when they pick up their order
These activities can greatly increase the chances of customers browsing and purchasing other products during pickup.
4 best practices when using BOPIS
Now that you know the benefits of implementing BOPIS strategies, we'll take you through the best BOPIS practices to follow.
1. Make BOPIS instructions clear for customers
If you make BOPIS an option for customers, make sure they are aware of how it works. BOPIS is intended to be a convenient option for your customers, so ensure you offer them a seamless experience.
Instructions should make them aware of how the process works before committing to purchase, including how to select a BOPIS fulfillment option during checkout and how to pick up their order when they get to your store or location. Due to COVID-19, many stores are using BOPIS as a safety measure, and are offering customers drop-off options straight to their car trunks.
The Gap, for example, does a great job of outlining its BOPIS instructions on a website landing page.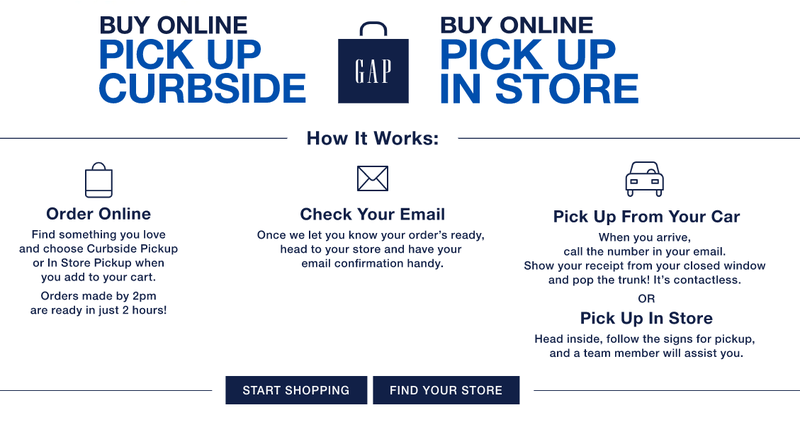 2. Invest in the right technology and software
BOPIS strategies require an omnichannel approach. More specifically, you'll need a retail management tool or POS system that can handle:
Syncing of offline and online orders, to be reflected in inventory
Merging of sales data
Order management
Workflow automation
Without an integrated tech stack, your BOPIS efforts will fall flat. Invest in the correct tools to help your BOPIS processes succeed.
3. Dedicate a specific in-store area to BOPIS pickups
With the rise in BOPIS purchasing, you need to make your store as friendly to your in-store customers as your BOPIS customers.
If you can, have a counter dedicated to BOPIS orders, so that queues don't form around your POS counter. Additionally, make the signage in your store as clear as possible to help direct customers to the right area. Or, if you're implementing trunk/curbside pickup processes, designate an area of the parking lot to make your customers' BOPIS experience as streamlined as possible.
4. Train employees in BOPIS procedures
Your BOPIS success will only be as good as the training you deliver to your staff. The BOPIS model is meant to be convenient for customers -- if they're passed from pillar to post when trying to pick up their order, they're unlikely to be repeat customers.
Set aside time to train employees on all procedures and processes, including any processes they need to learn with regards to the software you use to manage BOPIS orders.
Now's the best time to start offering customers BOPIS retail options
With social distancing rules and partial lockdowns still in place, many customers are opting to order online and pick up their orders in the store for safety reasons. Other customers enjoy the flexibility they have over their purchases, and the fact they don't need to rely on fulfillment services to receive their orders.
Implementing BOPIS processes also helps give retailers a competitive advantage over those with fewer fulfillment options. Done well, offering BOPIS options can increase customer loyalty and boost revenues. Your BOPIS success, however, rests on implementing the right software with capabilities to support a true omnichannel experience.
We're firm believers in the Golden Rule, which is why editorial opinions are ours alone and have not been previously reviewed, approved, or endorsed by included advertisers. The Ascent does not cover all offers on the market. Editorial content from The Ascent is separate from The Motley Fool editorial content and is created by a different analyst team.