With Rich Snippets, You Can Enchant Users and Climb in SEO Results
Many or all of the products here are from our partners that pay us a commission. It's how we make money. But our editorial integrity ensures our experts' opinions aren't influenced by compensation. Terms may apply to offers listed on this page.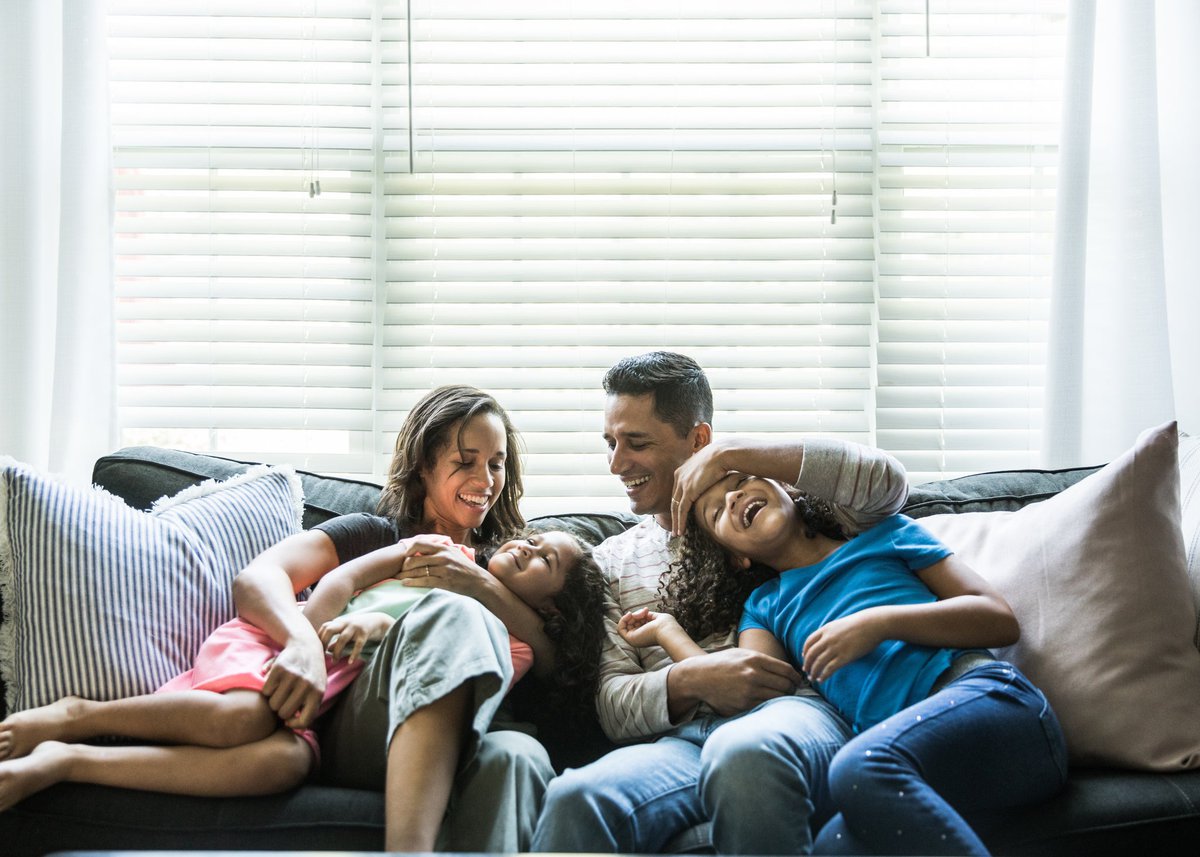 Rich snippets announce the dawn of semantic search. Your site can appear in rich results, too. Here's how your site can benefit from rich snippets.
Search engines are amazing. You search for a keyword or a phrase, and in a split second, a list of relevant results appears. We've come a long way since the days when a search engine would simply take the description you provided via a meta tag, and show that to users. Results have become increasingly relevant, and over time, their looks have become more appealing too. The snippets of information have become richer.
When you see your own page appear in the search results, you will notice it is composed of a title followed by a few lines of text. That's your snippet. The quality and appeal of snippets are improving as they are enriched by what we call structured data that developers insert into their pages to help search engines.
Overview: What are rich snippets?
Search engines provide little snippets of information extracted from your website in their search results. When these snippets are enriched with images, location data, ratings, or other additional information, we call them rich snippets. What's more, since they add more information and stand out from other results, they typically get higher click-through rates.
These snippets used to be simply the text you had inserted in the description meta tag. As search engines evolved and indexed more of a site's content, SEO snippets become two-line extracts from an indexed page, related to the search query.
Today, both these cases can appear: the meta description and snippets extracted from the page. Additionally, structured data the site developer included in the page can be used to enhance the snippet by adding site links, images, and various types of metrics.

4 important types of rich snippets you can find on the SERP
The best way to discover how Google snippets work is by exploring the Search Gallery. It's a collection of use cases and illustrative rich snippet examples. It's constantly evolving, so the number of rich snippet types is likely to expand in the future.
This Google table shows the 31 types of rich results for which you can currently prepare structured data:
| | | |
| --- | --- | --- |
| Article | FAQ | Podcast |
| Book | Home Activities | Product |
| Breadcrumb | How-to | Q&A |
| Carousel | Image License | Recipe |
| Course | Job Posting | Review Snippet |
| Critic Review | Job Training (beta) | Sitelinks Search Box |
| Dataset | Local Business | Software App (beta) |
| Employer Aggregate Rating | Logo | Speakable |
| Event | Movie | Subscription and Paywalled |
| Fact Check | Estimated Salary | Content |
| | | Video |
Let's have a look at a few of them, which may be important for your business.
1. Product
If you're in e-commerce, the structured data you can input for each of your products includes pricing, availability, and review ratings. Ideally, this information should come directly from your product database and be dynamically updated on your product pages. This information is essential for users who are making a buying decision.
2. Local business
Adding information about your business can help Google show enhanced results in the knowledge graph view including business hours, directions, and how to purchase your products or services.
Enhancing your business information within the structured, and specifically the location-specific information, can help improve your local SEO.
3. Review snippet
The review snippet was already a part of the product and local business information above. It's usually composed of an aggregate rating score from reviewers. Beyond products and local business, it can also apply to books, recipes, movies, and software apps.
4. Fact Check
Google Fact Check is urgently needed in this fast-paced and connected world, where popularity often trumps truth. But how can fact-checking have an impact on your SEO?
Google made a much-debated algorithm update nick-named Medic in 2018. Sites in industries related to health and personal finance were especially affected. SEO analysts came to believe that the sites that were affected were less trustworthy or authoritative than other sites.
Perhaps using more fact-checking in sites from these industries could be a good way to establish credibility and trustworthiness for your site, and thereby improve ranking in search results.
3 benefits of providing structured data for rich snippets
Let's not confuse the rich snippets with featured snippets which are extracts from a webpage directly integrated into the Google search result providing the answer to certain query types such what is xxx, how to yyy.
Featured snippets provide prominent visibility of your site giving you authority as an answer provider, and they generate click-throughs to your page. They take the coveted position 0, ahead of all other results on the search page, as shown below.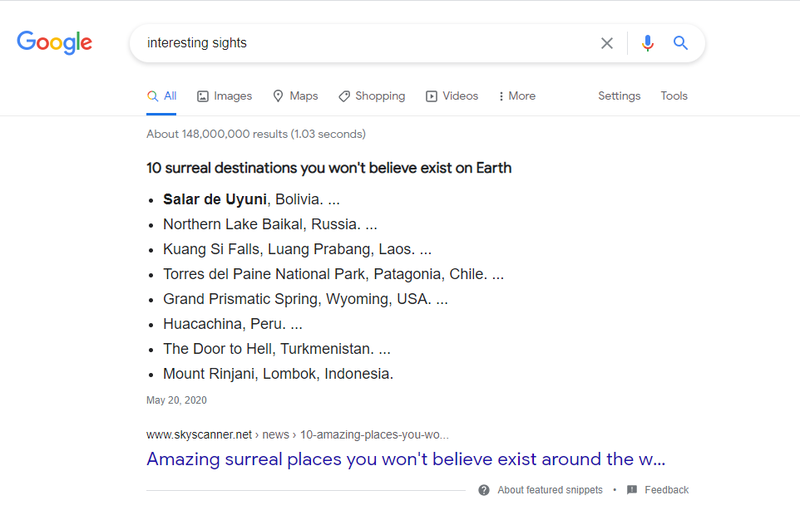 Google rich snippets, on the other hand, have another set of benefits, which we explore below.
1. Make your snippet stand out
There are two categories of snippets in search results: ordinary snippets and rich snippets. Clearly, your rich snippet stands out in search results compared to the ordinary snippet.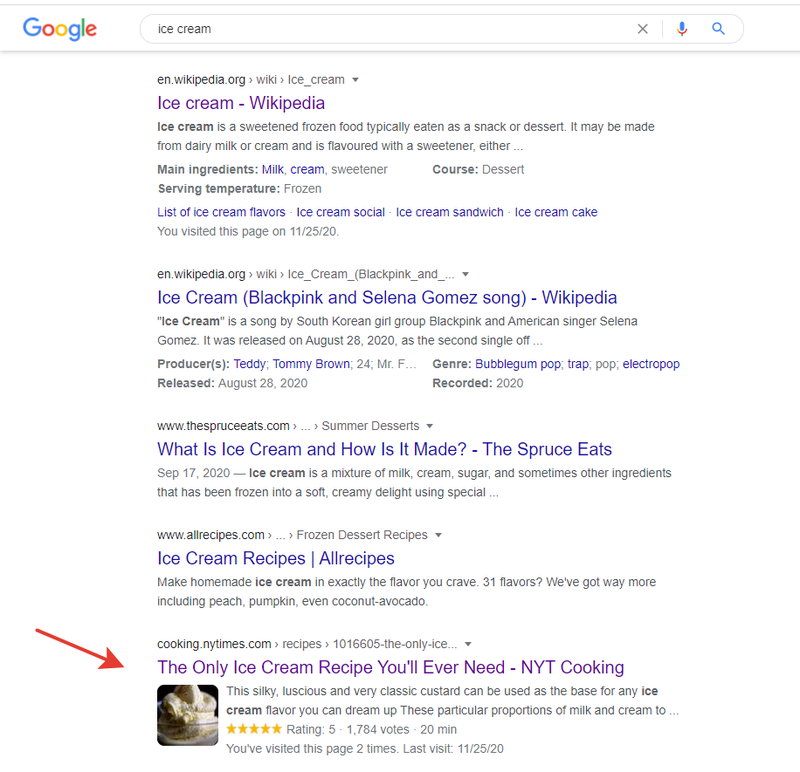 2. Increase click-through rate
The better-looking search result always attracts more clicks. This is especially the case if your snippet includes an image, and even more if surrounding snippets don't.
3. Can improve your rankings
It's generally accepted that Google favors sites with higher click-through rates. If sites listed above your site due to a stronger backlinks profile have not incorporated structured data into their pages, their snippets probably attract fewer clicks. This could help your site move up in the ranks.
How to optimize for the rich snippet
Optimizing for rich snippets is considered advanced SEO. It may have been a recommendation you found in an SEO audit, or you may have identified the opportunity by seeing rich snippets in search results. Handling structured data is not something done lightly. Here are the steps you need to take.
1. Identify the active data types
Search results can differ for each type of search query. The first thing you need to investigate is what types of rich results exist for queries in your keyword research.
An easy way to check for rich results is by using SEO tools that check the search results for rich results, and indicate which types appear for your keywords.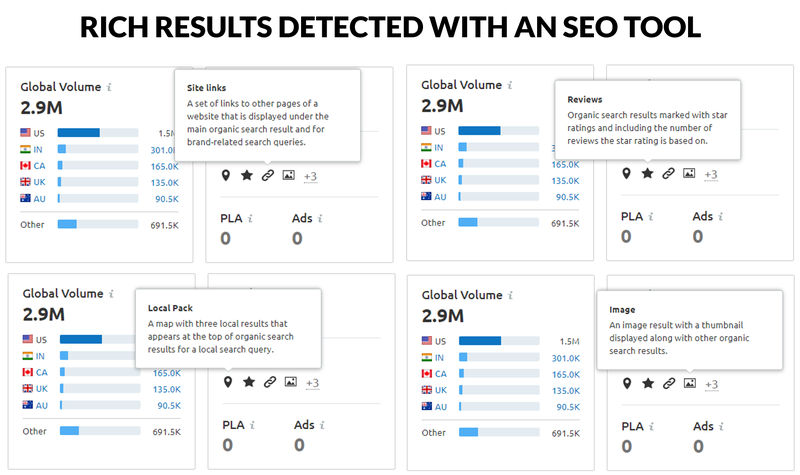 2. Develop a semantic markup strategy
When you've identified your data needs, make sure you can provide that data for all the pages concerned. For some structured data, you only need to update your site once, but for other types, the data source should probably be dynamically updated. This is the case for products.
The ideal process typically involves a database holding dynamic information for each of your pages or items.
3. Code the structured data into your site
Most people are better off getting a developer to incorporate the data into their sites. This is why the markup strategy is such an important step for you to define your needs.
Google's Search Gallery also provides detailed documentation and tools to update and check the validity of the code once it's online.
4. Wait for search engines to pick it up
Once your code is up, and its validity has been verified, you can only wait for the search engines to recrawl and index your site, while you hope they pick up and use the additional code you provided.
Semantic search is a trend for the future
If you feel stuck at the fourth step of this process, waiting for search engines to pick it up, you may not see results for a while. Search engines can pick up the structured data without using it, but they can also update their practice from one day to the next.
By incorporating structured data in your site, you will have made a solid and future-proof improvement in your website structure which is likely to benefit you as semantic search becomes the norm.
We're firm believers in the Golden Rule, which is why editorial opinions are ours alone and have not been previously reviewed, approved, or endorsed by included advertisers. The Ascent does not cover all offers on the market. Editorial content from The Ascent is separate from The Motley Fool editorial content and is created by a different analyst team.
Discover Financial Services is an advertising partner of The Ascent, a Motley Fool company. Suzanne Frey, an executive at Alphabet, is a member of The Motley Fool's board of directors. The Motley Fool has positions in and recommends Alphabet (A shares) and Alphabet (C shares). The Motley Fool recommends Discover Financial Services. The Motley Fool has a
disclosure policy
.