---
Who is AccountEdge for?
AccountEdge Pro is an accounting software designed for small, growing businesses. While there is a plan available for sole proprietors (AccountEdge Basic), the Pro plan is perfectly suited for today's small business owner who wants the best of both worlds: the reliability of an on-premise application coupled with remote system access.
There are numerous online accounting applications on the market if you're looking for anytime access to your business. However, if you think that a little separation wouldn't hurt, then AccountEdge Pro may be right for you. Designed to be installed on your desktop or workstation, AccountEdge Pro can also be remotely accessed to perform specific tasks if necessary.
If you love the idea of a desktop application but still need remote access, you can opt for AccountEdge Pro Hosted, which allows you to access the complete application from anywhere with an internet connection.
If you have employees to pay; AccountEdge Pro offers both self-service and full-service payroll options. If you're an online seller, you may be interested in the Shopify Connector and UPS integration that's available in AccountEdge Pro. You can also track your billable time in the application, a necessity for service businesses.
---
AccountEdge's features
If you're a small business owner, you'll appreciate the wide range of features found in AccountEdge Pro, such as sales and invoicing, purchases, inventory, payroll, time billing, along with merchant banking, which allows you to make and accept online payments.
There are also some handy add-on options available such as AccountEdge Web Pay, which lets you include a payment link in your invoices. There's also an option to process credit cards, so you can use the application to accept payments from customers. One of the newest features is a customer portal that allows your customers to log in and view their accounts, check invoices and statements, and make payments.
The features in AccountEdge Pro are divided into the following categories:
Accounts
Banking
Sales
Time billing
Purchases
Inventory
Customer portal
Card file
Accounts
This is where you can maintain your chart of accounts. There are 100 templates included in AccountEdge Pro for you to choose from, or you can make your own. You can create a budget for any active account — and if you track individual jobs, you can create a budget for each job or project as well.
Banking
You can set up and manage all your banking-related activity here, including importing bank statements for easy reconciliation. AccountEdge Pro recently added an automatic bank feed option, allowing you to connect both bank and credit card accounts to the application. A $5 subscription fee is required to use the bank feed option.
Sales
The sales category offers a ton of features, including the ability to create a quote, process a sales order, create an invoice for a customer, and accept customer payments for all open orders.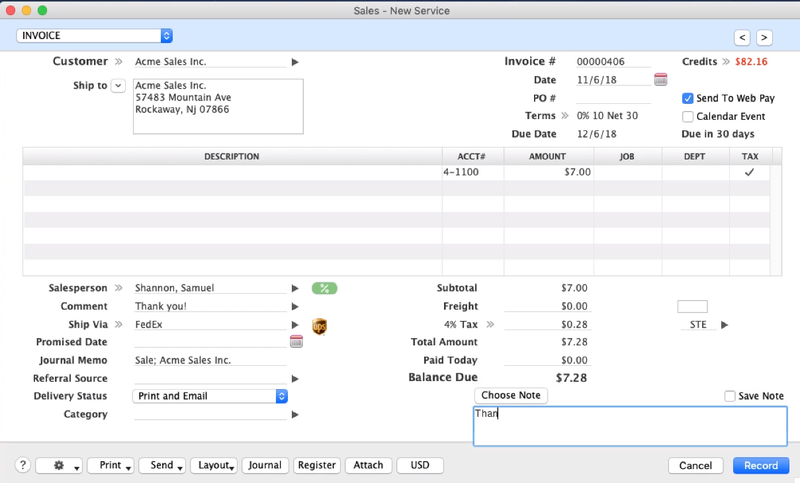 It is easy to invoice for products and services (see above), as well as billing for time. You can place comments and choose how you want to deliver the completed invoice — and if you're shipping a product, it lets you integrate the invoice with UPS and provide your customer with tracking details.
You can also choose to create a sales order for customers that pay in advance. Record incoming payments in the sales category and accept credit card payments by creating an account with AccountEdge Merchant Account.
If you sell products online, sync your online store using the Shopify Connector to manage all of your online sales and inventory properly. You can also attach a document to invoices and purchases for better tracking of warranties, packing slips, and other relevant information.
Time billing
If your business involves tracking your time and billing your customer for that time, AccountEdge Pro is for you. You can track both billable and nonbillable hours spent on a project, or track employee time for billing purposes as well. Work in progress can also be monitored, so you can bill your customer as the project progresses. Using AccountEdge Connect, you or your employees can also track their time remotely.
Purchases
In purchases, you can create a purchase order, convert a bill to an order, enter all of your vendor accounts payable and then pay them electronically or by check. Pay vendors electronically, and process 1099 forms at year end for your contractors, using information tracked in purchases.
Payroll
AccountEdge Pro uses a Payroll Assistant to help you set up your payroll. You have the option to subscribe to the AccountEdge Pro tax service and do your payroll in-house or choose to outsource it through Sure Payroll. If you choose to process payroll in-house, there are a variety of add-on options available including direct deposit, payroll forms, and e-file services.
Inventory
If you're selling products, you need AccountEdge Pro's inventory module. The module lets you add details (see below) about specific items, as well as buying and selling information. It offers an auto-build option as well. You can also assign multiple pricing levels to your products, get an alert when your stock drops below a specified point, keep track of your best-selling products, and even build items and kits. There's a ton more features available, all of which are designed to make your life easier.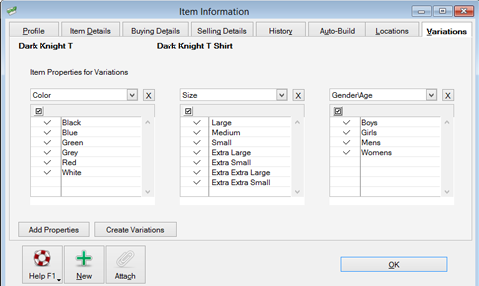 Contacts
Contacts offers a central location for you to manage all of your customers, vendors, and employees. Add a photo of an employee, attach documents or contracts to vendor files, and even create custom letters such as marketing campaigns for your customers here.
Customer portal
If you're in business, you want your customers to pay you on time. The recent addition of the customer portal will help in that effort. Provide your customers with portal access and let them view their account history, review invoices and make payments online.
Reports
AccountEdge Pro offers a great selection of standard reports, including the following:
Accounts
Balance sheet
Profit and loss
General ledger trial balance
Sales tax reports
Customer detail
Currency
Exceptions
Transaction journals
Jobs
Categories
Tax exemption
Audit trail
Recurring transactions
All AccountEdge Pro reports can be previewed prior to printing, or customized if you like. You can also export any AccountEdge Pro report to Microsoft Excel for further customization.
Support
All AccountEdge Pro plans include free email support, with telephone support costing an additional $199 per year. However, telephone support is also free for the first 30 days after you register the product.
There is also a comprehensive knowledgebase available that offers help in a variety of categories. If you can't find what you're looking for, just search the knowledgebase by keyword or type a question. You can also visit the product documentation page to download a variety of user guides in PDF, including a Getting Started Guide, Upgrade Instructions, and an end-of-year Payroll Guide.
There are also a variety of free webinars offered by AccountEdge Pro that you can sign up for, and be sure to check out their YouTube channel, where you'll find more product videos.
---
Benefits of using AccountEdge
Scalability may be the single most important reason to use AccountEdge. With four plans available that range from AccountEdge Basic, which is suitable for sole proprietors all the way to Priority ERP designed for enterprise-level businesses, you will never outgrow this application.
AccountEdge Pro can be used on a Windows or Mac, and also offers a mobile app for iOS devices. The application's end cost is also attractive, with a onetime fee charged for each plan, so you'll only pay more if you purchase any of the available add-ons.
Another benefit is the reliability that a desktop application offers. While many small businesses automatically choose online applications, the reality is that many of those businesses may not need online access. This is particularly true if the majority of your work is done from one location.
Of course, there may be a time when you will need to access your data, and AccountEdge Connect lets you do that without sacrificing the comfort of your desktop application. If you're looking for complete remote access to the entire desktop application, AccountEdge Pro Hosted is available, which gives you all the desktop features you love with the benefit of anytime/anywhere access.
---
AccountEdge pricing


AccountEdge offers excellent scalability, with four plans; Basic, Pro, Priority Zoom, and Priority ERP. The Basic plan has a one-time fee of $149, while the Pro plan costs $399, and supports multiple users, at a one-time fee of $249 for each additional user license.
Pro plan users can also purchase a subscription to AccountEdge Connect, which lets you perform a variety of system functions remotely, including entering sales, recording purchases and bills, and managing vendors and customers. If you're looking for complete online access to all features and functions, check out AccountEdge Pro Hosted.
A subscription to AccountEdge Connect currently runs $25/month for up to five users, while AccountEdge Pro Hosted is available for $40/user per month.
Larger businesses may want to eventually scale up to the Priority plan, which is 100% online and costs $50 per month. The Priority ERP plan is only suitable for very large businesses, with pricing customized for each business.
---
Ease of use
AccountEdge has an intuitive user interface, using flow charts to show the details of the chosen option.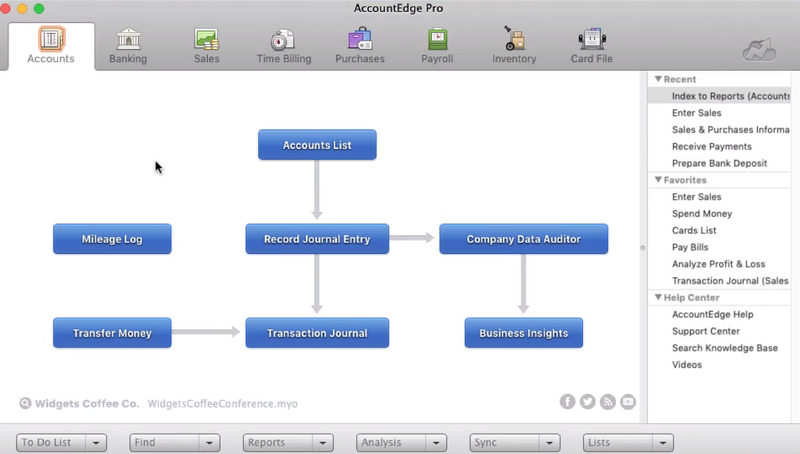 The menu bar at the top of the main user screen (above) offers easy access to all system features, and to the right of the screen are additional system functions, including a list of recent transactions, favorites, and quick access to the AccountEdge help center.
At the bottom of the screen you'll find additional navigational aids such as a To-Do list, which serves as a reminder of tasks that are still incomplete, Reports, Analysis, and Sync, which is what you'll use for AccountEdge Connect.
AccountEdge has an Easy Setup Assistant that will walk you through the entire company setup process, while also providing you with a brief tutorial. AccountEdge offers good customization capability, and you can choose the data entry option that best suits you during setup. Data entry screens contain much more detail than standard online applications do, but they are also structured in a way that allows you complete multiple tasks from a single screen. If you get stuck along the way, just click on the Help button that can be found throughout AccountEdge.
---
Frequently Asked Questions
Is payroll available in AccountEdge Pro?
Yes. There is an in-house option to run payroll yourself or subscribe to Sure Payroll, which integrates with AccountEdge Pro.
Can I still work remotely in AccountEdge Pro?
Yes. If you're interested in being able to connect to your data remotely, a subscription to AccountEdge Connect can help you do so. For complete system access 24/7, AccountEdgePro Hosted is also available.
Is there a mobile app available?
There is a mobile app for iOS smartphones and tablets. There is currently no mobile app for Android devices

Check out AccountEdge if you're a small business owner that wants numerous features, payroll functionality and comprehensive inventory management, at an affordable price.
Check out AccountEdge if you're a small business owner that wants numerous features, payroll functionality and comprehensive inventory management, at an affordable price.
---
How AccountEdge Pro Compares
The Motley Fool has a Disclosure Policy. The Author and/or The Motley Fool may have an interest in companies mentioned.