AccountingSuite is a cloud-accessible online accounting software application that offers a variety of plans suitable for freelancers and small business owners.
Along with excellent accounting capability, AccountingSuite also includes premium features such as time tracking, inventory management, and e-commerce capability.
---
Who is AccountingSuite for?
It's never easy finding the right small business bookkeeping or accounting software application. You may find an application that feels right, but is missing key features that your business needs.
Or, you may find the features you're looking for, but you find yourself struggling through the application, turning to help manuals to guide you through.
If one of these scenarios fits your current situation, you may want to check out AccountingSuite. This cloud-based accounting software application is the perfect balance of easy to use and feature laden, and is suitable for the smallest business, while also supporting up to 10 system users.
And if you sell products online, you won't find another accounting software application better suited to your needs.
---
AccountingSuite's features
AccountingSuite offers the features that small businesses have come to expect from any software application, including cloud accessibility and solid accounting capability. Bank connectivity is also offered in AccountingSuite, with the application able to connect to over 9,000 financial institutions.
You can manage your invoicing in the Sales module, and process and pay bills in the Purchases module. Both project and time tracking capability are offered in the application as well, so you can track projects and profitability, while the time-tracking feature allows you to record the time spent on each individual project.
But AccountingSuite also has some outstanding features not always available in small business accounting software.
Budgeting
Not all small businesses need a budget tool, but if you can get one with your software application, why not take advantage of it? AccountingSuite offers a surprisingly robust budget tool that lets you create budgets for each account in your general ledger.
The budget tool lets you create budgets for the current fiscal year or for any year in the future, and you can choose the account types you wish to include in the budget.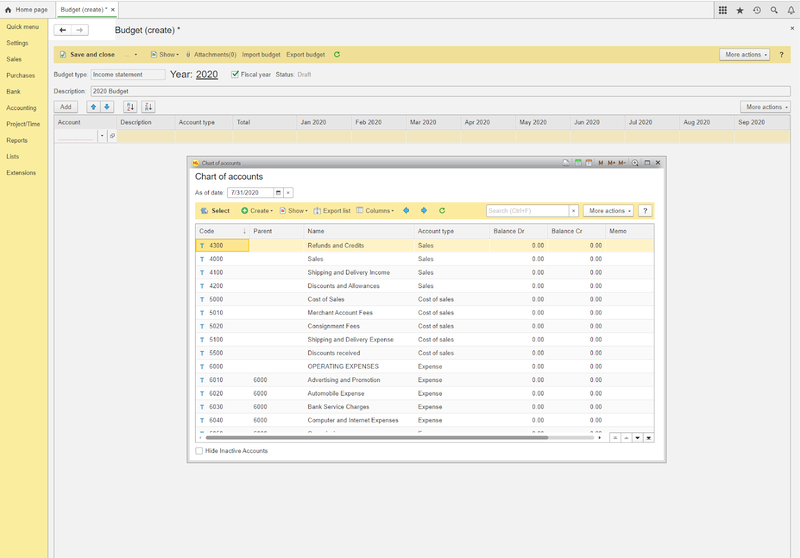 There is also a pre-fill option, which can be used to automatically pre-fill the budget with actual data from the application or from an imported file. If you want to see how close you come to budget, run the Budget Report, which calculates actual income and expenses and compares the actual to budgeted totals.
Accounting
Of course accounting software is going to have accounting functionality, but AccountingSuite includes a variety of features in its accounting module that you'll actually use. These include:
Period closing capability per module
Chart of accounts with sub-accounts
Standard and recurring journal entries
Account classes to better categorize transactions
AccountingSuite also includes a general journal, where you can easily record any journal entries.
Both the sales module and the purchases module integrate seamlessly with the accounting module, with the sales module offering tasks such as sales quotes, sales orders, and product shipments, as well as sales invoices and cash receipts, with AccountingSuite credit card processing done through Stripe.
The application also offers an option to process customer credit memos as well.

The Purchases module allows you to manage purchases as well as record a bill or other expense from a vendor. Recurring bills can also be set up in AccountingSuite, and you can pay bills in the application in a variety of ways including by check, cash, or credit card.
Extensions
The Extensions feature in AccountingSuite is a perfect option for businesses that need to extend product functionality in specific areas.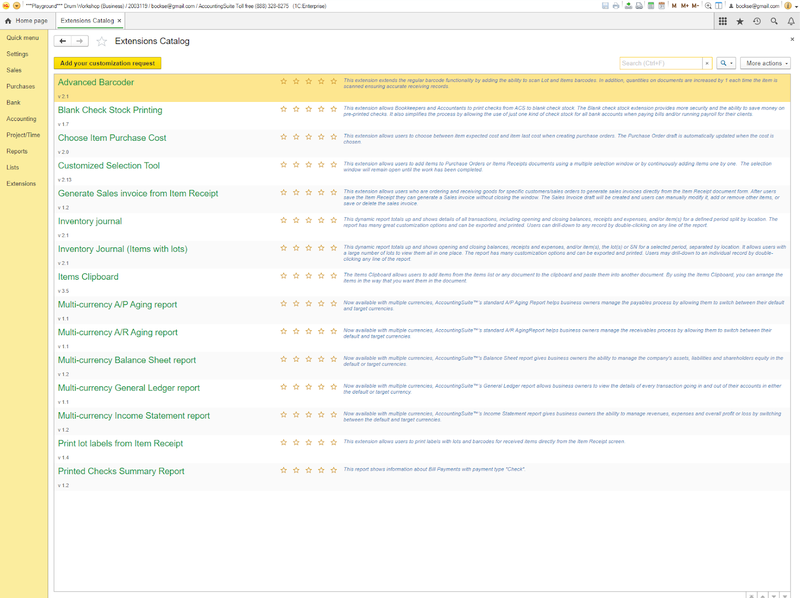 Because you can pick and choose the extensions that make sense for your business, you won't find yourself saddled with a bunch of features you have no use for, nor will you need to scale up to a more powerful (and expensive) plan in order to obtain the functionality you need.
Inventory
AccountingSuite's inventory module is available in the Professional and Pro with E-Commerce plans. The inventory module lets you create new products and new services.
You can input both a pricing level and an expected cost in the application. The inventory module also lets you set up a vendor that is directly connected to the inventory item, as well as assign an expense account directly to the product.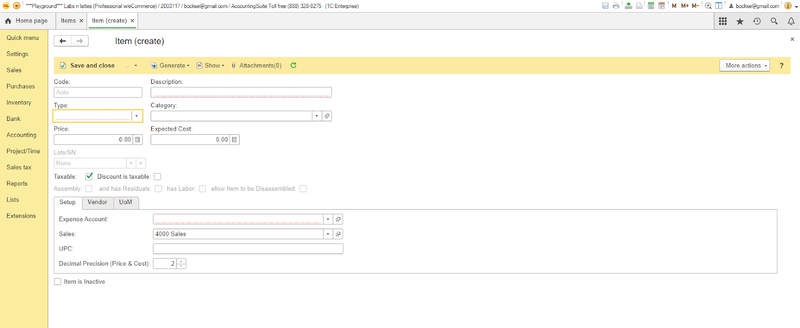 You can easily track your inventory by serial number or lot number, with the application offering multilocation inventory tracking as well as warehouse transfers.
In addition, AccountingSuite supports product assemblies, bill of materials functionality, and weighted average and FIFO inventory costing methods.
E-commerce
Though only available in AccountingSuite's top-level plan, this top-notch e-commerce module is worth mentioning, integrating with platforms such as Amazon, Etsy, eBay, and others.
The e-commerce module also includes multichannel inventory capability, so you can track your inventory and sales across multiple stores, connect all of your online stores, and manage all of your orders from a single dashboard.
---
AccountingSuite's ease of use
Those brand new to AccountingSuite will appreciate the option to download the WalkMe Extension, which walks you through the entire software setup process, including chart of accounts setup, system settings, and connecting your bank account to the application.
AccountingSuite offers a clean, easily navigated home page that is conveniently divided into specific sections, so you'll have a section for accounting and banking, as well as purchases, sales, inventory, and access to support.
Just click on one of the options to be taken to the appropriate screen, later clicking on the home page option at the top to be returned to the full menu.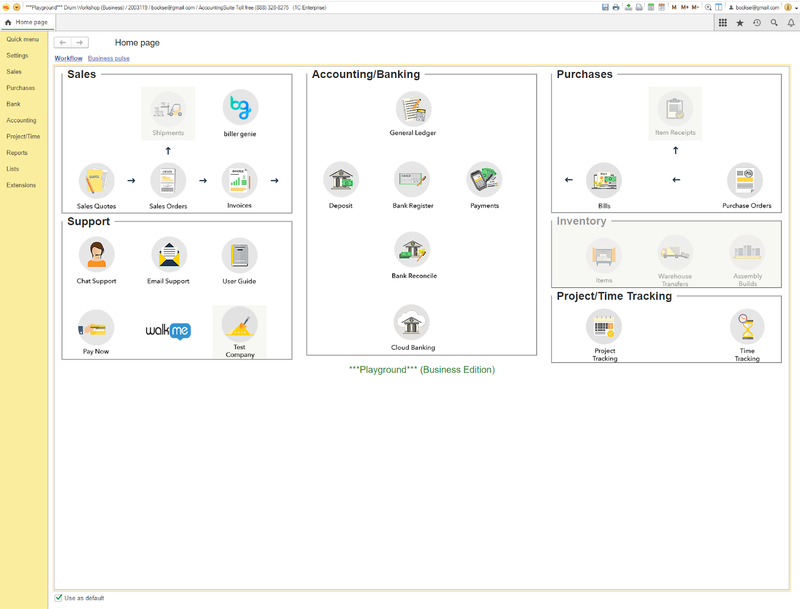 A vertical menu bar to the left of the screen is also available for those that prefer to view all the various features within each menu item. At the top right side of the home page are options to view the functions menu, create and access favorites, access history, search for a particular transaction, and view notifications.
But perhaps the best feature is the easy access to all AccountingSuite help and support functions directly from the home page, which can be a lifesaver for new users finding their way around the application.
All data entry screens in AccountingSuite are intuitive, with look-up options and data-entry shortcuts available throughout, and you can easily access multiple system modules simultaneously without having to close one module in order to view another area of the application.
---
AccountingSuite's pricing
AccountingSuite offers four plans that are suitable for everyone from sole proprietors to those managing multiple e-commerce stores. AccountingSuite plans range from a single-user system to the 10-user Pro plan.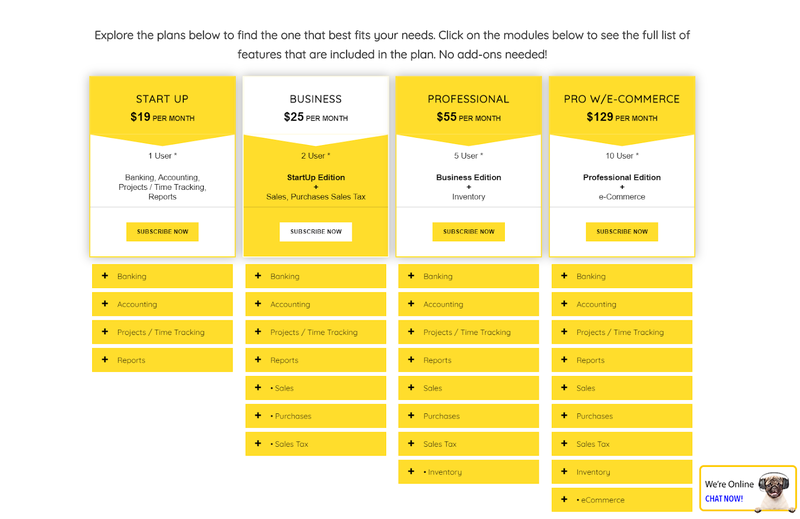 AccountingSuite plans include:
Startup: Perfect for sole proprietors, this single-user plan includes complete accounting and banking functionality and runs $19/month.
Business: A two-user plan, the Business plan includes sales, purchases, and sales tax features and runs $25/month.
Professional: A five-user plan, the Professional plan's inventory feature makes it a good fit for retail businesses. The Professional plan costs $55/month.
Pro with E-commerce: This 10-user plan includes everything in the other three versions along with e-commerce capabilities, making it the perfect fit for online retailers. The Pro plan is $129/month.
With the exception of the Start-up plan, all other plans also include unlimited CPA/bookkeeper seats. In addition, AccountingSuite offers a free 30-day trial for you to access and test-drive, with options to test out three different types of businesses.
---
AccountingSuite's support
Accounting Suite offers a variety of support options including easy access to the support portal, which is located front and center on the home page.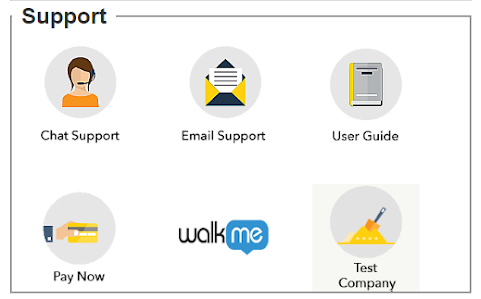 The support portal lets you ask questions or request support via email or chat, with toll-free support available during extended business hours. A comprehensive user guide is also available; it offers access to specific support categories including:
AccountingSuite overview
Getting started guide
Customers and vendors
Sales
Purchases
Inventory
Banking and accounting
Projects and time tracking
The user guide also includes a completely searchable knowledge base, and you can view a variety of how-to videos at your convenience.
---
AccountingSuite reports
AccountingSuite offers a good selection of reports in a variety of categories including:
Accounting
Tools
Bank
Project/time
Purchases
Inventory
Sales
Complete financial statements, such as an income statement and balance sheet, can be easily run in AccountingSuite, and you can access reports by module or from the Reports option on the home page. All reports are fully customizable, so you can change headers and footers, or even reformat a report as you wish.
Filters can also be added to any report, and you can easily create a new report by copying report parameters from an existing report. For more extensive report creation, you'll need to look at integrating with an outside reporting application.
---
AccountingSuite integrations
AccountingSuite currently partners with Zapier, offering more than 500 apps that AccountingSuite users can directly connect to. In addition, the application offers direct integration with PayPal, Stripe, Checkbook io, ShipStation, and Biller Genie, which automates the accounts receivable and collection process.
AccountingSuite also offers Bill.com integration for remote management of both accounts payable and accounts receivable processes, along with Zoho CRM for better customer and vendor management.
---
Benefits of AccountingSuite
A good option for small businesses, AccountingSuite can be of particular benefit to online retailers.
AccountingSuite offers strong accounting features along with excellent inventory management for multiple warehouses, complete with purchase order integration, supplier and vendor invoice management, and inventory warehouse transfers.
The sales interface can double as a point-of-sale system for retailers, and integration with both Stripe and PayPal means easy payment acceptance.
Scalability can also be important, and AccountingSuite offers four plans to choose from, with the ability to easily scale up to a more powerful plan at any time.
The application can also be used with both Windows and OS X/Mac platforms, though AccountingSuite's mobile capability is limited to tablets, with no dedicated app available for mobile devices.
---
AccountingSuite could be right for your business
If you're shopping for accounting and inventory software, AccountingSuite certainly checks all the boxes.
Whether you're a sole proprietor looking for an accounting software application that easily manages your financial transactions or an e-commerce merchant looking for an application that can tie all your online stores together, AccountingSuite is worth a careful look.
Cloud-based, AccountingSuite can be accessed at any time, though if you frequently use your phone to manage your finances, you may want to look for an application that offers a mobile app. AccountingSuite is also an excellent software option for accountants, offering a Partner Program for accounting professionals.
---
Frequently Asked Questions for AccountingSuite
Are there mobile apps available in AccountingSuite?
While AccountingSuite works on both Windows and Mac platforms, the application does not offer mobile apps at this time.
Does AccountingSuite support online payments?
Yes. You can pay vendors electronically as well as accept online payments in AccountingSuite through the Banking module.
Does AccountingSuite prepare financial statements?
Yes, AccountingSuite prepares financial statements including an income statement, trial balance, balance sheet, and statement of cash flows.

AccountingSuite offers a wide variety of features all designed with small business owners in mind. Why not download a demo to try it out for yourself?
AccountingSuite offers a wide variety of features all designed with small business owners in mind. Why not download a demo to try it out for yourself?
---
How AccountingSuite Compares