---
Who is ActiveCampaign for?
ActiveCampaign is a great option for experienced marketers who are already familiar with email marketing software and are looking for an advanced solution that lets them create complex campaigns. It's also suitable for both B2B and B2C marketers, as you can manage both personal contacts and business accounts.
While ActiveCampaign has almost every email marketing feature you can think of, its complexity makes it unsuitable for inexperienced marketers or people who want to create simple campaigns using a basic solution.
---
ActiveCampaign's features
ActiveCampaign is not just an email marketing solution; the higher tier pricing plans also include sales management, CRM, and lead management functionality. We will only focus on the email management capabilities in this review.
Create campaigns
One major flaw with ActiveCampaign is that you can't create an email without first creating a list (below). Forcing users to complete steps in the order specified by ActiveCampaign — rather than letting users work in a way that is best suited to their needs — weakens the user experience.

Once you've set up your list, you can choose from the type of email you want to send, but again ActiveCampaign persists in making you take certain steps before you can create an email, whether you want to or not. In this case, you need to first upload a contact list.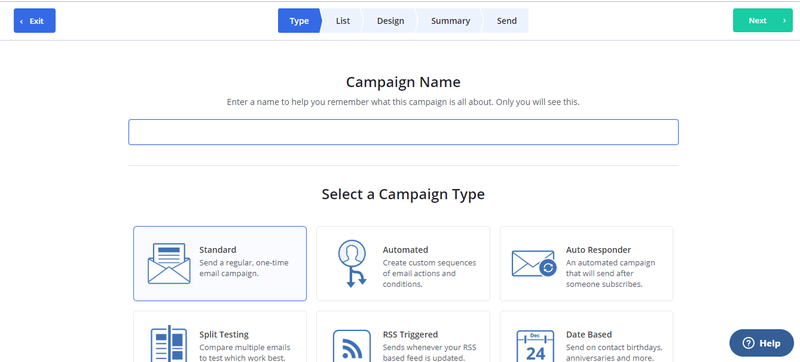 When you do get to create your email, ActiveCampaign doesn't provide a very wide variety of templates, and those that exist are visually unattractive. However, their options are more targeted to specific actions and types of campaigns (above).
These types of targeted emails include:
Product recommendations
Review and feedback
Welcome emails
Discounts
The standout features of ActiveCampaign's drag-and-drop email (below) editor include:
The ability to test your email to see what it looks like across different email clients, and for both mobile and desktop.
Responsive design, which means that your email will show up in the optimum format no matter what device your customers are using .
Spam check — pass or fail depending on certain elements such as email domain.
All of these elements help ensure that the email you are delivering customers provides the best technical and visual experience possible, and that you get more opens and clicks by landing in inboxes rather than spam folders. However, ActiveCampaign only lets you schedule your email for a specific time, instead of optimizing the scheduling according to time zone or at off-peak email open times.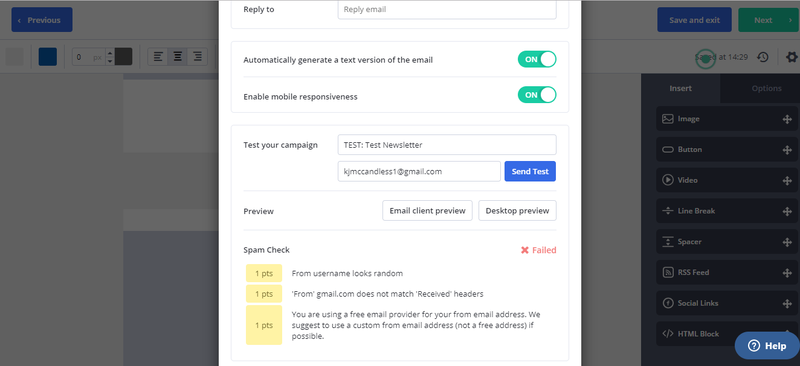 Segmentation
Many email marketing solutions only let you add one condition to create a segment, but ActiveCampaign lets you add multiple, very specific conditions.
For example, you can create a segment for people who have visited your site from your social media channels, live in Georgia, subscribed on August 15, and have viewed four pages on your site.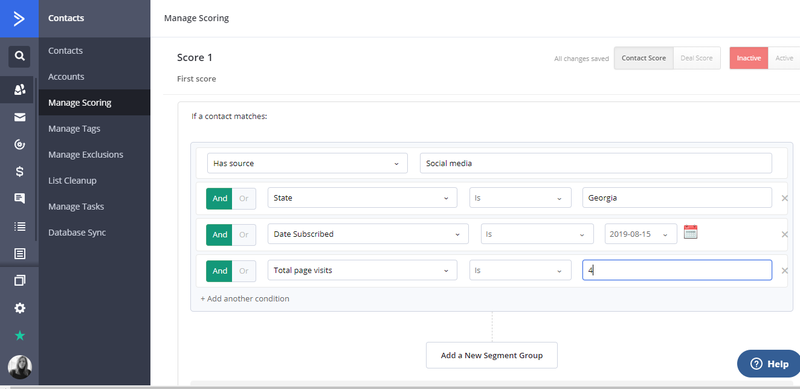 The ability to segment in such a granular way also means that you can use dynamic content to personalize different elements of your emails according to that particular segment. In terms of tracking email performance, you can dive much deeper into what resonates with certain customer segments and get more idea about why particular elements work.
Contact management
Collecting as much data as you can on customers means that you can get better insight into who they are, how they behave, and what they like. With ActiveCampaign, you can add as many custom fields as you like to your signup forms and landing pages, meaning that you can collect data that is most relevant to the way your business operates.
You can also choose what kind of type each new field is (dropdown, text, etc), which improves the user experience when entering their details (below).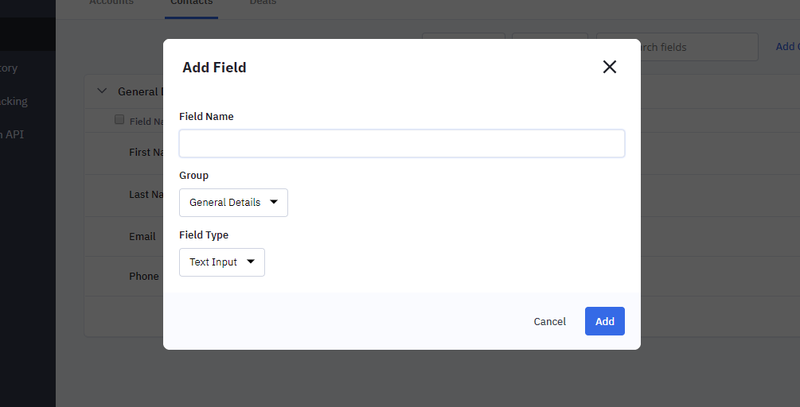 As ActiveCampaign is suitable for both B2B and B2C marketers, you can also manage details for businesses you are selling to, which may include additional information, such as size and turnover of the company, and multiple points of contact.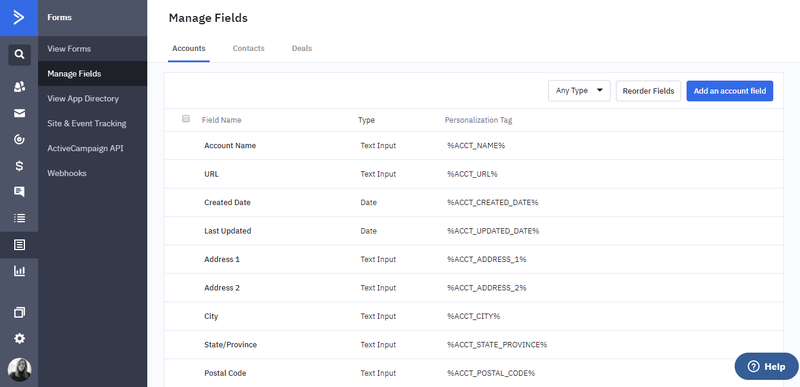 Creating automations
Rather than having to set up automated email workflows by hand, ActiveCampaign provides built-in automation templates. These templates are adapted to different types of campaigns and user behavior, such as:
Cart abandonment
User engagement
Upselling and cross-selling
Repeat product views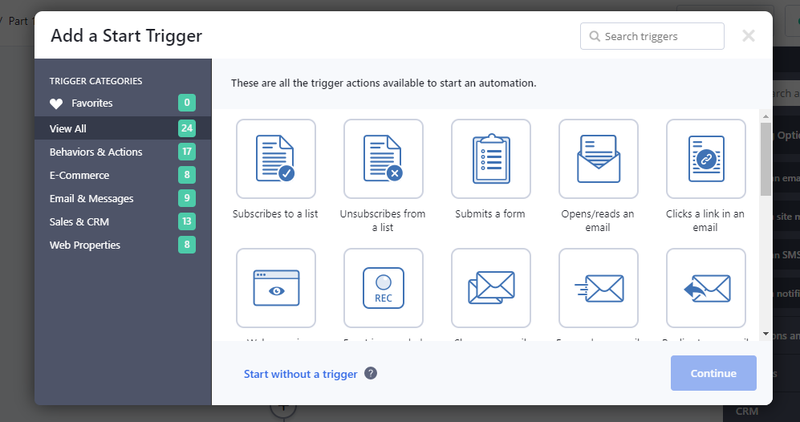 ActiveCampaign categorizes the triggers that kick off the automated workflow to help you move through the process quickly. It also allows you to choose how often to run this automation and whether you want to segment customers that fall under the remit of this automation.
This helps make sure that all customers are receiving the most relevant messages (across any channel) that make sense for their stage in the buying lifecycle.
---
Benefits of using ActiveCampaign
ActiveCampaign has almost unrivaled segmentation capabilities. Being able to create such granular segments means you can create the kind of highly-targeted, super-relevant campaigns that drive customer engagement and boost ROI.
The ability to track performance according to different segments means you can improve the kind of content you deliver to subscribers and meet your goals, whether that is to improve brand awareness through a higher open and click rate or to generate more revenue by increasing conversions. ActiveCampaign also lets you customize the information you can collect from customer signup forms, which helps you to create more tailored and relevant campaigns
---
Working with ActiveCampaign's support
ActiveCampaign has a sticky help button at the bottom of the screen, which means you can access support options at any time. This takes you to the knowledge center. You don't have to navigate away from what you are doing, as you can search the help center and access the information you need straight from the popup window. It's especially useful if you just need a refresher or help on a small task that doesn't require a long explanation.
If you need to get in touch with ActiveCampaign, you can click on the "Contact us" button in the help menu and fill out the form.
---
ActiveCampaign pricing
ActiveCampaign offers a 14-day free trial, which gives access to most of the features, so you can work out which ones you need and which you don't, and get a better idea of which price plan works best for your business.
ActiveCampaign has four pricing plans, with the price of each depending on how many contacts you have in your email list. If you only need email marketing functionality, then the most basic plan (Lite) which comes in at $15 a month as part of a monthly subscription will meet your needs. But if you want CRM and marketing automation capabilities then you need to fork out for a higher-tier plan.
With the Plus plan, you get CRM and lead management capabilities that let you better manage contacts and pipeline stages, as well as the ability to adapt emails according to your brand. With the Professional Plan, you can A/B test automated workflows and optimize send times according to past customer behavior.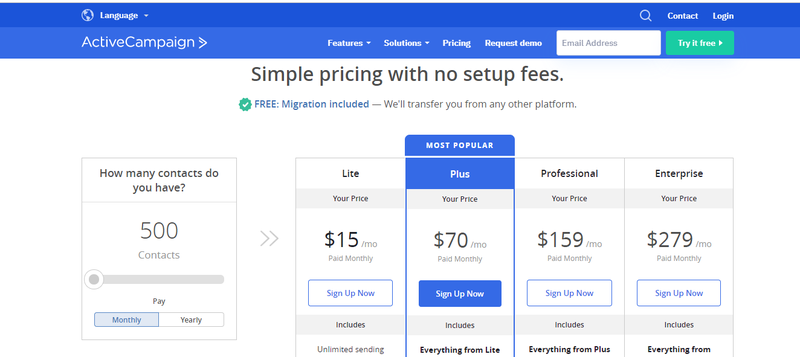 Overall, the strong roster of features makes it good value for money, but only if you are going to use lots of those capabilities to create complex campaigns. If you don't need all of the features then there are other more affordable options — the problem with ActiveCampaign's pricing model is that, as there is no free version, it ends up being more expensive than a lot of other email marketing software for basic users.
---
ActiveCampaign's ease of use
ActiveCampaign is an advanced solution with a huge number of features. If you have never used email marketing software before then this solution presents a huge learning curve, especially as — unlike other similar software — it doesn't include an intro tour that gives an overview of the main features.
ActiveCampaign is the kind of solution where you need to get training to make sure you know how to use the features and what you need to do to create campaigns. It's not the kind of software where you can dive in and get started on your own, unless you've used similar software before, or you are a very experienced marketer.
This software is suitable for bigger companies with the time and resources to train up their users. You need to be willing to put the time in to learn how to use ActiveCampaign, otherwise, you will never be able to fully harness its multitude of useful features.
Getting started
One of the more complicated aspects of ActiveCampaign is knowing where to start. Many features are dependent on the completion of other steps. For example, you can't create a lead score until you've set up a segment. If you're an experienced email marketer, this might seem obvious, but it's overwhelming for someone new.
Using features
There are occasions – normally for ActiveCampaign's more advanced features – where you can get help understanding what a particular feature does, either by following a link to a help center article or through a quick, in-app description. However, a lot of ActiveCampaign's functionality relies on the user having prior knowledge or access to thorough training and a training manual.
ActiveCampaign overcomplicates processes, instead of making it as simple and quick as possible to use. It seems as if everything has to be complex and time-consuming. Take creating a list. You can't just quickly add a list name and start managing it; instead, ActiveCampaign makes you enter a URL for the list, as well as a description.
You also can't create the list unless you fill in all the fields (below), even if they aren't relevant to your use case. It is this lack of flexibility that makes ActiveCampaign a difficult-to-use solution.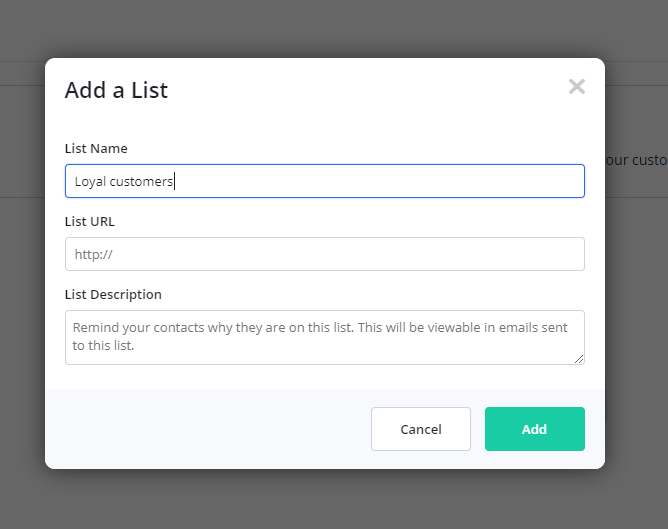 ---
Frequently Asked Questions
How much does ActiveCampaign cost?
ActiveCampaign's most basic price plan starts at $9. There are four pricing plans and the cost depends on the number of contacts you have.
How long is ActiveCampaign free for?
You can use ActiveCampaign's free trial for 14 days. As there is no free plan, after the 14 days you must upgrade to a paid plan.
What is ActiveCampaign used for?
ActiveCampaign is a B2C and B2B email marketing, sales management and CRM solution designed to help you nurture your contacts through the pipeline using a variety of marketing channels.
Does ActiveCampaign have landing pages?
No, you cannot build a landing page directly from within ActiveCampaign, unlike other solutions such as GetResponse or Mailchimp, which allow you to design and create landing pages. If you are using ActiveCampaign and want to build a landing page, you need a third-party integration, such as Leadpages, ClickFunnels, or OptimizePress.
---
Which one is right for you?

Check out ActiveCampaign's excellent segmentation capabilities, but be prepared to work to get it up and running!
Check out ActiveCampaign's excellent segmentation capabilities, but be prepared to work to get it up and running!
---
How ActiveCampaign Compares
The Motley Fool has a Disclosure Policy. The Author and/or The Motley Fool may have an interest in companies mentioned.