If a picture is worth a thousand words, then a picture that moves must be worth a novella!
If you have an email address, there's a good chance you've received an email with movement. Usually eye-catching and entertaining, animated GIFs in emails have the power to boost engagement, entertain, and explain complicated topics with your email list.
---
Do animated emails work for marketing?
It depends. Here's why.
You know your audience, and depending on your industry, you'll know whether or not you should be emailing GIFs. Can you imagine a law firm sending emails with GIFs of baby goats in pajamas? While baby goats in pajamas are super cute, it just doesn't fit the professional image that law firms tend to present.
On the other hand, some industries can (and should) have some fun when emailing their audience(s).
But only if it makes sense.
When you're thinking about using GIFs in your next email, be sure to follow our email marketing best practices and determine if it complements your brand's image and voice.
If you've already determined this is something you definitely want to do, then read on, but first, please enjoy this animated GIF of baby goats in pajamas.
---
How to create and send an animated email in 3 easy steps
Creating and sending GIFs in an email is an easy process. There's usually no coding involved, and you're likely to find the perfect GIF in a matter of seconds. If you're not sure where to start, I've got you covered.
1. Use a built-in tool
Some platforms make it surprisingly easy to add animated GIFs to your emails. For example, Mailchimp's Content Studio allows you to access GIPHY, a large library of GIFs, without having to leave the platform.
If you can insert images for email, you can insert GIFs for email too. Promise. Our email software reviews are also a great resource to help you decide which platform is best for you.
2. Use a GIF library
Maybe you're not using an email marketing platform at the moment, but you still want to respond to an email from your favorite customer who just gave you a five-star review worthy of a Pulitzer Prize with a fun, lighthearted email letting them know how much you appreciate them.
Because that's just what you do. Because you're awesome like that.
In this case, you'll want to check out one of these GIF libraries.
GIPHY

: This is easily the best site for animated GIF examples. GIPHY is everywhere, and once you start upping your GIF game, you'll begin to notice it if you haven't already. With so many options to choose from, you're bound to find what you're looking for.
Tip
: Check out
GIPHY labs
to see how you can integrate it with your favorite applications. The browser add-ons/extensions are especially useful.
Tenor

: If you can't find what you're looking for on GIPHY (you will), check here.
3. Create your own GIFs
Sometimes, you need something truly original. When this happens, you might want to consider creating your own GIFs to meet your needs. There are plenty of options available, but I'll focus on a few of my personal favorites below.
Canva Animator: Canva is a popular platform that allows you to create stunning graphics by dragging and dropping elements. If creativity isn't your forte, Canva comes equipped with templates that you can use as-is or modify to your liking. And for those of you who think you don't have an eye for design, there are helpful tutorials that walk you through the basics of design.
I could go on and on about creating static graphics in Canva, but for the sake of this blog post, there's a feature that people are sleeping on — the Canva Animator. Currently offered in the "pro" package, the Animator allows you to create and download video and animated GIFs that can be incorporated into your email marketing strategy.
Other features helpful for business include collaboration with team members, storage of brand elements (e.g., colors, fonts, etc.), and integration with a wide range of other online tools.
GIPHY Create: With this tool, you can create GIFs and backdrops and decorate them with captions, filters, and stickers. It supports media URLs from GIPHY (obviously), YouTube, Vimeo, and other applications.
Gifs.com: So, your friend swore the 33-minute-long video they just sent would be "absolutely hysterical."
But it wasn't.
We've all been there.
You actually found only 2.3 seconds of the video funny, but you want to capture that part because it had you in literal tears.
Enter Gifs.com.
Simply paste the URL of the video you'd like to make a GIF, and you're all set. Editing tools are built-in, which makes things less complicated. And who doesn't enjoy things that are less complicated?
CloudApp: CloudApp is part of a class of tools that allow you to record your screen, create a GIF, and annotate screenshots. If you have always used text-only instructions that seem to confuse your audience, creating a video could do wonders to improve the overall customer experience.
Tip: Ensure new email subscribers are seeing your updates by adding a short how-to-make-sure-our-emails-don't-end-up-in-your-spam-folder GIF to your drip campaign. Sometimes the instructions may not make any sense and going just one step further can make all the difference.
Photoshop: If you find that you need more options, Photoshop is worth a look. This may not be practical for Photoshop newbies, but it can yield amazing results if you know what you're doing or have the resources to hire someone to do it for you.
---
5 tips for effective marketing using animated emails
Now that you know how to find and create email animated GIFs, you should ask yourself if you should. Channel your inner Ian Malcolm and think about what you're trying to accomplish using these tips as your guide.
1. Make sure it serves a purpose
By now, you're probably excited about adding all the GIFs to your emails. But first, make sure it makes sense before you go all willy-nilly sprinkling your emails with GIFs. Improper, unnecessary use of animation in your emails has the potential to annoy your audience, which could lead to unsubscribes.
One part of effective email list management is making sure your emails follow email marketing best practices.
And as always, if there's any question about using an element in your email, it's probably best not to use it.
2. Check the file size of your GIF
You know this already, but make sure the file size of your GIFs is as small as possible. Your audience has stuff to do and waiting for your GIF to load isn't one of them. Your best bet is to aim for a file size no greater than 1MB. Tools like the online GIF optimizer are available to make optimization quick and easy. Smaller is always better.
3. Consider the email service provider of your audience
…because animated emails, unfortunately, won't work for your subscribers who use Outlook 2007, 2010, and 2013.
Not to worry, though.
According to business data platform Statista, the email client most widely used is the Apple iPhone with Google's Gmail coming in at a very close second. With percentages being 28% and 26%, respectively, the likelihood of your audience seeing your animation is pretty great.
Not sure what to do? Take a look at the next tip.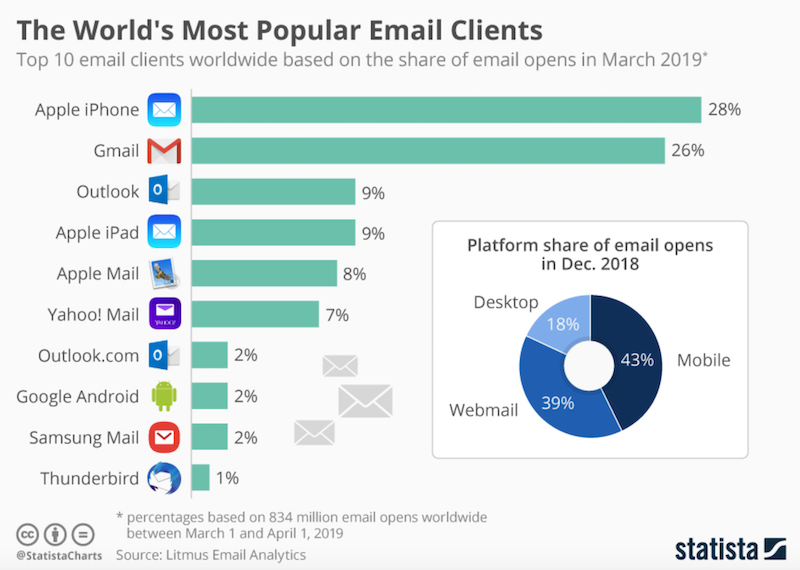 4. Aim for the first frame
Maybe you're sold on using GIFs, but you're still worried that some of your subscribers won't be able to see the animation. If this is you, aim to have your message in the first frame of the GIF.
Not all Wi-Fi connections are created equal, and your subscribers may not be able to fully load your GIF. When your message is in the first frame, you're ensuring that you'll get your point across regardless of whether the animation works or is a total flop.
5. Add descriptive alt text
Have you considered that some of your subscribers have turned off image viewing in their email preferences?
If not, one way to account for this is to use alt text describing each visual element in your email. Not only is it another way to make sure your audience gets your message, but it's also just good practice to ensure that your external communications are accessible to everyone.
Oh, and consider naming your GIF something other than email.gif.
---
3 examples of professional animated emails
Need inspiration? These email marketing examples should get the creative juices flowing and have your colleagues calling you the Email Animator (think the Terminator) in no time.
1. Harry's
Simple. Even if the animation didn't work, you can still read the message, and it's clear what they want the reader to do.
2. University of Tennessee Office of Alumni Affairs
Reminding your audience of shared experiences is a great way to keep them engaged. The opening of the T during the band's pregame performance is a well-known tradition that reminds alumni of football Saturdays in Neyland Stadium.
3. Asana
The message about its update matches the animated GIF while also checking in on subscribers who haven't been to the site or opened emails from Asana in a while.
---
To GIF or not to GIF, that is the question
We've explored how to find GIFs, how to create your own, tips for including animated GIFs in your emails, and a few examples of emails that utilize GIFs so you can see them in action.
And as always, remember if there's any question about whether or not to use a particular GIF or GIFs in general, err on the side of caution and maybe save your perfect GIF for another day.