---
Who is Asana for?
Asana is a project management software that is best suited to smaller teams looking to improve their collaboration and accountability when working on assignments. When it comes to ease of use and navigation, its user interface and user experience are virtually unparalleled.
When I originally wrote this review, I remarked on the lack of any reporting or budgeting features, which made it hard to recommend this tool outside of a narrow collaborative setting. I brought up these concerns to one of the heads of feature development at Asana as a pain point while reviewing the platform. Upon re-reviewing Asana, she let me know that this was something the company took seriously and now offers as part of its Premium tier and above.
While some of Asana's design choices still fit the needs of smaller companies rather than global conglomerates, the addition of these new features puts it into the category of a full-fledged project management tool rather than just a simple collaboration platform.
---
Asana's key features
Asana's features are all about empowering the entire team rather than just the project manager. The emphasis is on task and workload management features that allow the team to prioritize different aspects of the project without burning out. Unfortunately Asana doesn't offer any native budgeting or invoicing features, making it more of a collaborative tool than a full stack project management software.
Security features
Single Sign On (SSO) integrations: Asana integrates with multiple big-name SSO providers, such as Okta, One Login, Google Authenticate, LastPass, and Bitium.
Two-Factor Authentication (2FA): Airtable allows you to set up additional identity verification through 2FA.
Advanced account permissions: Protect your assets by using granular permissions (task, team, and project) controls to restrict access to only the correct users.
Management and planning features
Task prioritization and scheduler: Asana gives users the choice of creating, scheduling, and prioritizing tasks in several different formats including task lists, Gantt (timeline) charts, and kanban boards. This gives you the flexibility to track your teams and projects however it suits you.
Shared team calendar: If you need a long term view of your project, Asana has you covered with a shared team calendar that you or your team can access and update in real-time.
Resource management and time tracking: Use Asana to track your two most valuable project resources — workload and time spent on tasks. Unfortunately the software does not cover most other types of resource management such as tools and materials.
Premade templates: Asana offers many premade templates, from marketing projects to product development, that will allow you to jump right into the action with minimal preparation time.
Automations: Save time by automating repetitive tasks so you can focus on more dynamic and demanding assignments.
Documentation features
Document storage: Store any relevant project files and documents in Asana using the task file attachment tool, that way your team will have access to everything they need at a moment's notice.
Collaboration features
Communication: Asana offers comment sections in every task for discussion, collaboration, and resource sharing.
File sharing: Every task in Asana allows for file uploads, whether it's documents, spreadsheets, PDFs, or images. You can either drag and drop files into a task or manually browse and upload files as you see fit.
Mobile application: Asana offers a mobile version of its software for both iOS and Android users so you can remain in contact with your team and coordinate project tasks on the go.
Budgeting and reporting features
Report dashboards: Asana now offers report dashboards that cover many useful project insights, such as task completion over time and budget projections.
---
Benefits of using Asana
After reviewing Asana and speaking with one of their lead software developers, I've come to the conclusion that what really sets Asana apart is the focus on making all users want to use their product. Unlike other project management tools, this software does not revolve solely around the project manager. For example, Asana offers a feature called "Workload," which provides live visual representations of every team member's current tasks and shows if anyone is particularly overloaded.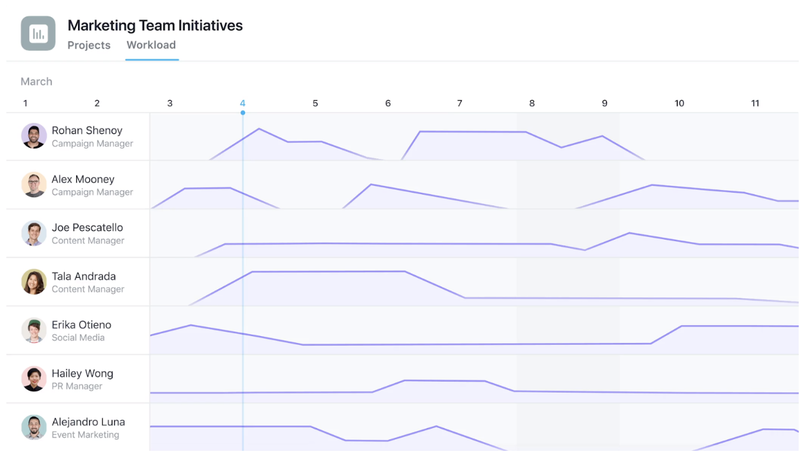 Anytime a team member goes over a certain task threshold, the project manager is warned of overload and is given the opportunity to transfer tasks over to the rest of the team.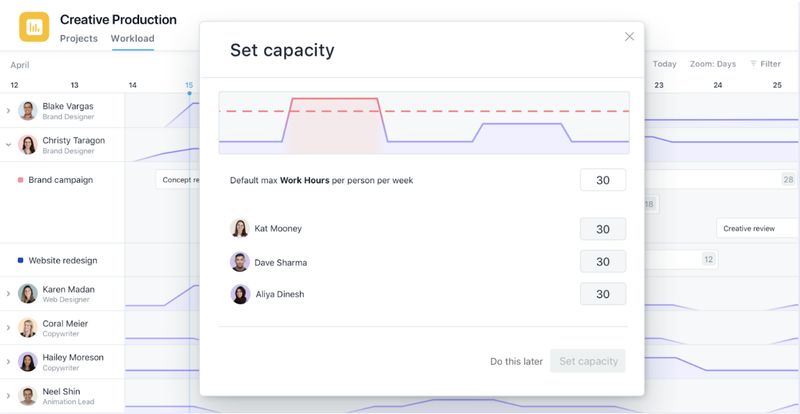 This feature provides the dual benefit of preventing burnouts, as well as incentivizing team members to track all of their work as it comes in. Not only that, but by using "Workload," your team will not need to waste time in meetings discussing who is doing what and when they are doing it.
This kind of mentality is seen throughout Asana, from the multiple task management methods to choose from (work timelines, to-do lists, kanban boards), to their simple user-interface.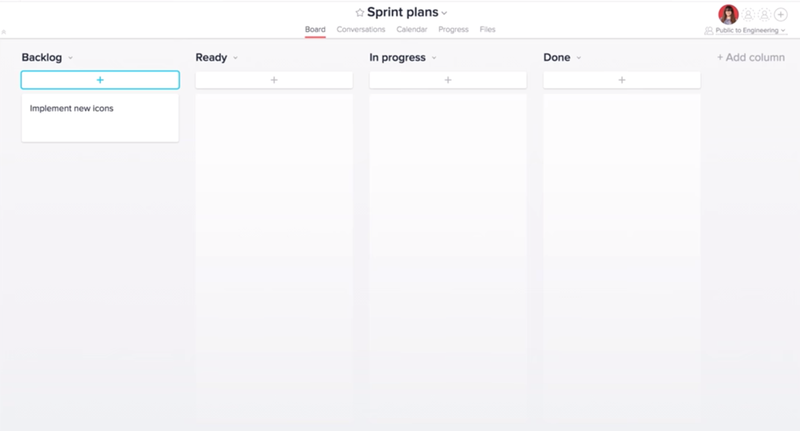 For example, the kanban system for Asana is so simple that you can create task cards at any point in the workflow. I've never seen that before in a kanban system — most only have one "new task" button and once you've created the task, you'll have to move it to the appropriate step. Of course, in a way this kind of system is solving problems that don't really exist, but it definitely shows their commitment to convenience.
In my opinion, Asana takes the simplicity of Basecamp and adds a dose of flexible functionality to create a truly seamless collaboration experience.
---
Asana's pricing
Asana's pricing is a little steep. Once you upgrade beyond the free "Basic" package, the next two pricing tiers of $10.99/month per user or $24.99/month per user will really add up over time. While I highly recommend this product for smaller teams based on its functionality, Asana is best for small teams with large budgets.
Even relatively small teams of 10 users are looking at roughly over $100/month per user for a package that doesn't include Workload and Adobe Creative Cloud unless you go up to the next tier plans: Business and Enterprise.
However, not only is it potentially cheaper than a collaboration tool like Basecamp, but it also has additional visual tracking aids, such as charts, timelines, kanban, etc.
Basic: Free — Task lists, kanban boards, calendars, app integrations, up to 15 users.
Premium: $10.99/user/month with annual contract - All previous features, timelines, advanced searches, project and budget dashboards, priority support, custom field creation, forms, and milestones.
Business: $24.99/user per month with annual contract — All previous features, portfolios, Workload, forms, automatic proofing, priority support, Adobe Creative Cloud integration.
Enterprise: Pricing negotiated with the client — All previous features, user provisioning, data exporting, custom branding, priority support.
---
Asana's ease of use
Building a quality project management tool is always a balancing act between user experience and functionality. Either you're adding so many features that the user experience suffers, or you prioritize ease of use and leave lots of functions behind. The good news is that Asana is able to strike a very healthy balance between these two competing interests.
Asana prides itself on creating a project management software that is accessible to as many people as possible, while providing several task management options and useful team collaboration features. In fact, when you start up Asana for the first time you can take your pick from dozens of templates to get started, such as:
1:1 Meeting Agenda
Digital Fundraising Campaign
New Employee Onboarding
Editorial Calendar
Agency Collaboration
Design Project Plan
Software and System Development
Bug Tracking
Product Roadmap
In my opinion, Asana is one of the few project management tools that you can pick up with very little instruction from the vendor. However, if you do need help, Asana's support service is more than willing to assist you.
Navigating through Asana is also simple with the single left-side menu which lists out all of your key destinations, such as the home dashboard or task lists. I never felt lost while using Asana, but if I had done, Asana was there to help me through my first project with instructions at the bottom of the screen. Each task I add to my project gives me the ability to set its current stage, how high of a priority that task is, and whether or not that task has been approved by my "higher-ups."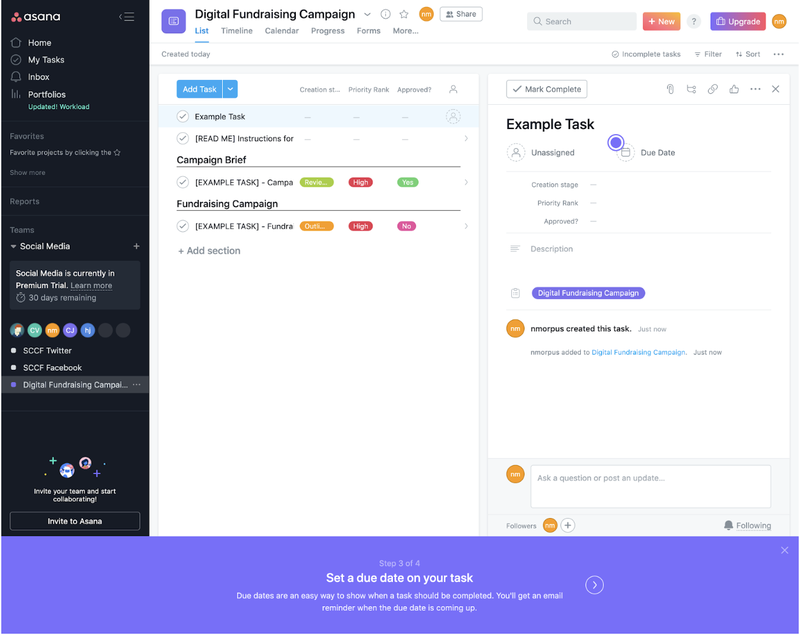 As I complete tasks, they are added to the reports section, where I can see which tasks are finished and which ones are still in progress. No percentages, complex formulas, or strange key combinations are needed to get the information I want. Just point and click.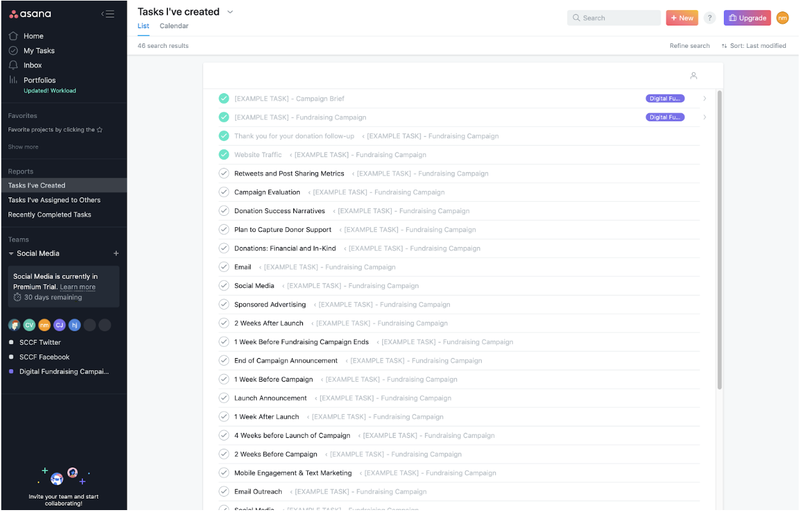 In my original review of Asana, I was so bent out of shape about the lack of budgeting and reporting tools that I recommended Asana alternatives and other tools that would help make up for the lack of these features. Today I am very happy to revise my review and say that Asana made a 180-degree turn in this department by adding these features and executing them in an exceptionally accessible manner. The design and usability of this reporting fits well with the rest of the platform as an easy-to-use and understand addition.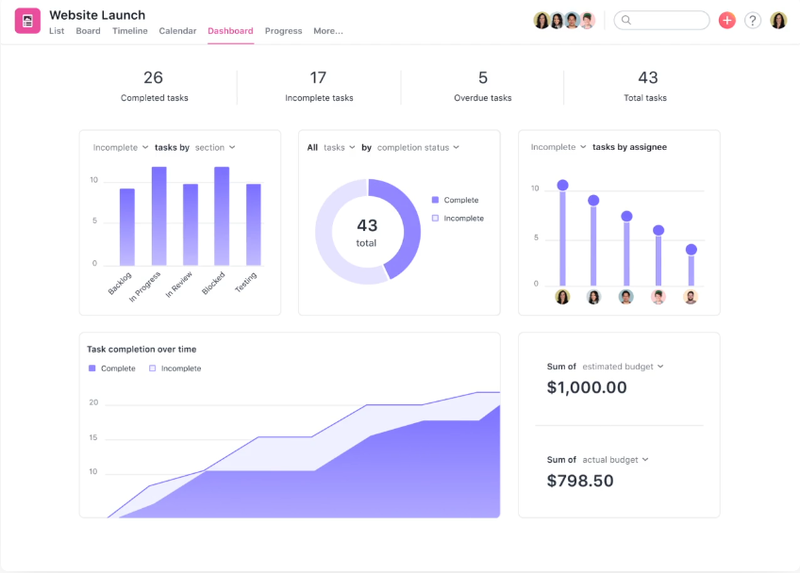 I hope the company maintains this level of usability as it grows and develops the product. I would hate for them to fall down a rabbit hole of complexity like so many other project management tools before them. Right now, when it comes to intuitive design and easy collaboration, Asana is hard to beat.
---
Working with Asana support
Asana provides several options for customer support, such as onboarding documents, forums, webinars, guides, training, use cases, developer's guide, and support articles.
Currently, it does not offer phone support. If you want to chat to troubleshoot or get questions answered, you'll need to email or post a question in the Asana forum.
But if you upgrade to a premium subscription, you'll have access to priority support. This plan (and the pricier ones) include a customer success manager (CSM) that can help with on-site training, coaching calls, onboarding, and solving problems as they arise.
---
Frequently Asked Questions
Is there a free version of Asana?
If all you're looking for is task lists, kanban planning boards, and calendars for small teams of 15 users and fewer, Asana does have a free "Basic" option. However, the features that set this software apart, such as team workload monitoring or project timelines, are only available through the paid options.
Asana also offers a decent 30-day free trial of their "Premium" feature tier. I could cancel the trial at any point within those 30 days and even if I did, those features would still be available to me until it lapses. This way you can try out all of the unique features Asana has to offer before committing to the product.
What kinds of teams and projects work best with Asana?
As mentioned before, I previously classified Asana as more of a collaboration tool than a full-fledged project management software. Upon reevaluation, I've found that the developers at Asana took this observation to heart since they've added additional reporting and budget tracking features that elevate this platform to a higher standing.
The great thing about these new features is that they don't feel shoehorned in at all. The new dashboards flow just as well as the rest of the platform and provide plenty of actionable insights that project managers can use to direct their teams in the right direction.
As for the rest of the tool, Asana is a fantastic choice for those with very little experience with project management software. Asana guides users through the process of creating projects, adding tasks, using templates, and becoming familiar with all the other functions of the platform. It's the perfect tool to learn the ropes of basic project management skills.
What kinds of support does Asana offer?
Asana offers lots of different types of support including support articles, user forums, trainings/webinars, an onboarding guide, use cases, and a developers guide. Phone support was the only assistance I couldn't find, which also happens to be the most important form of customer support. Sometimes training sessions and forums just won't do and you need to speak with a live human being, so I hope Asana decides to offer this in the future.
---
Which one is right for you?

Ramp up your project team with this simple, versatile, and user-focused collaboration tool.
Ramp up your project team with this simple, versatile, and user-focused collaboration tool.
The Motley Fool has a Disclosure Policy. The Author and/or The Motley Fool may have an interest in companies mentioned.