When it comes to collaboration and task management software, Basecamp and Asana are some of the most popular tools in the project management industry. Both scored 9 out of 10 for ease of use on the Blueprint Score, and both scored 7.8 out of 10 overall. Despite these similarities, they offer different functions and features that software buyers should know about before making a purchase.
Let's find out which project management software is right for you.
---
Asana vs. Basecamp: An overview
Who is Asana for?
Asana was founded in 2008 by Facebook co-founder Dustin Moskovitz and ex-Google engineer Justin Rosenstein with the purpose of "simplifying team-based work management." While this project management tool was later to the game than Basecamp, Asana has been met with critical acclaim thanks to its design and ease of use.
Asana officially launched in 2011, and since then, it has continued to add new features and functions to the platform, including a mobile app, kanban board project management, integrations with outside programs, and project timelines.
When I originally wrote this comparison, I remarked on the lack of any reporting or budgeting features, which, just like Basecamp, made it hard to recommend this tool outside of a narrow collaborative setting.
After re-reviewing Asana in 2020, I was pleased to find that reporting features are now offered, albeit only with the Premium pricing tier. This puts Asana a step above a basic collaboration tool, but it still remains a great option for smaller teams.
Who is Basecamp for?
Basecamp, originally known as 37signals, was launched in 2004 as a web-based project management tool as well as a private American web application development company named after its most successful tool.
The creators of Basecamp wanted to build a project management tool that was simple and straightforward for all businesses to use, from large multinational corporations and small and medium sized businesses to individual freelancers.
Today, we are using their latest iteration, Basecamp 3, which takes everything we love about Basecamp and adds new features that weren't available before, such as group chats, messages, and document storage.
---
Asana vs. Basecamp: Features
While Asana and Basecamp appeal to similar markets, their features and functions are vastly different. Find out what makes them different and which platform better suits your needs.
What Asana offers
Just like Basecamp, Asana is a collaboration tool first and foremost, and it offers users some variety when it comes to task scheduling, tracking, and completion.
Asana doesn't offer any budgeting or in-depth reporting, but it does provide multiple task tracking options besides simple task lists, including a shared team calendar and Gantt timeline charts. These are welcome additions for those who prefer visual task management over written lists.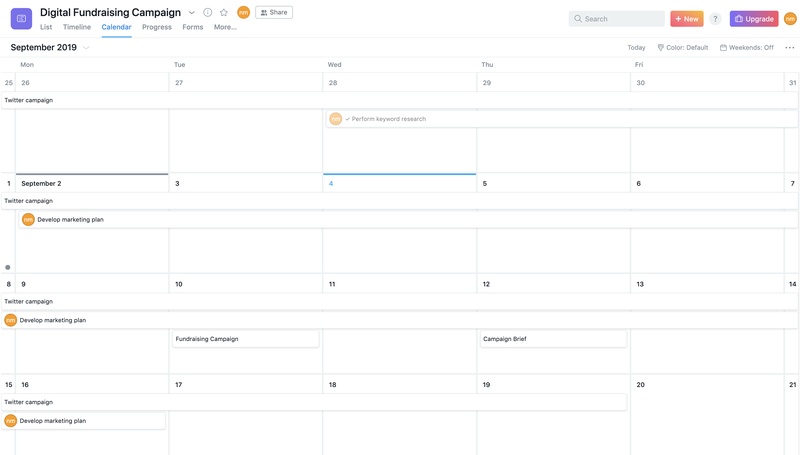 Asana truly separates itself with its unique features, such as the Workload management tool. Using this function, you can track the workload of each team member and set limits to how many tasks they can take on at one time in order to prevent burnouts. This kind of automated management makes Asana more of a worker-focused tool rather than just a management platform.
These worker-centric features and flexible task management options elevate Asana above the average checklist-and-chat software. However, Asana does miss the mark on a few key project management features.
As I previously mentioned, there are no native budgeting tools or invoicing/billing options, making Asana more of a collaborative project tool. Hopefully, if the company's development team adds more of these options in the future, Asana will maintain the same level of simplicity and convenience.
When I originally wrote my review for Asana (and subsequent comparison of these two tools), there weren't any reporting features available. As of 2020, Asana made a 180-degree turn in the reporting department by adding these features and executing them in an exceptionally accessible manner.
Using these reporting features, you can track task completion, overdue tasks, and overall project completion. While Asana doesn't offer any native budgeting features for tracking in your reports, it's possible to create report widgets through integrations with other tools.
What Basecamp offers
Basecamp is a basic collaboration tool that offers everything you'd need to coordinate and execute project tasks, including task lists, file/document sharing, task comment sections, project forums, automated project check-ins, schedules, and a message board. This tool is built around providing the simplest ways to accomplish project tracking and completion.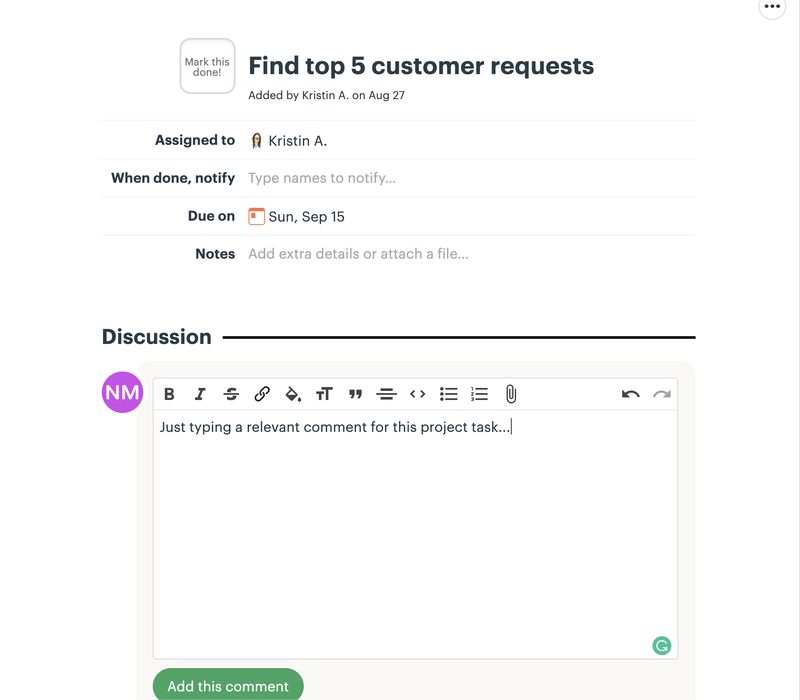 Outside of this, Basecamp is a little scant on features. It doesn't offer any native budget tracking, time-tracking, resource management, or reporting functions. This tool is made for collaboration — and not much else.
If you're looking to tracking budgets or any other kinds of reporting, you'll have to take advantage of Basecamp's many integrations that help fill in those gaps. The closest you'll come to native functionality in those areas is by attaching spreadsheet files to individual tasks or uploading them to the project file storage area.
As I said in my Basecamp review, this software may not offer a lot, but what it does offer, it does very well.
Results
It's quite easy to pick Asana as the winner, here. Asana takes what Basecamp has to offer and gives users even more variety in how projects are tracked and managed. Think of Basecamp as a base model car with window cranks, while Asana is the upscale trim with powered seats, a touchscreen infotainment system, and a backup camera.
---
Asana vs. Basecamp: Support
When it comes to customer support, Basecamp and Asana offer similar types of user guides and troubleshooting help. However, one platform surpasses the other in response time.
What Asana offers
Asana is very similar to Basecamp in the support department. I had a hard time finding a phone number to get in touch with Asana's support team, instead finding only a contact form.
Luckily, Asana offers help guides, FAQs, forums, webinars, and use cases to help you find and solve any issue with the platform. When contacting Asana support through its form, I found its response time a little slow. It took a whole day for someone at Asana to get back to me about a billing issue I was having with the product.
What Basecamp offers
When it comes to customer support, Basecamp offers everything you would expect from a software vendor, except phone support. It does offer a contact support form that promises a response in 30 minutes or less, which is helpful; however, that still doesn't replace the convenience of actually speaking to a human being on the phone.
Of course, considering the extensive tutorials and help guides offered by Basecamp, it seems unlikely there would be many scenarios where you would need to contact support for such a simple tool.
Results
I'm declaring Basecamp the winner, here, even though the platforms offer nearly identical levels of support.
Basecamp wins by a hair simply due to its response time: 30 minutes versus an entire day for response time is a significant difference when major issues crop up (however unlikely that may be when using tools as easy as these).
Both platforms answered my questions accurately, but if timeliness is your thing, then Basecamp wins over Asana.
---
Asana vs. Basecamp: Ease of use
Asana and Basecamp both prioritize ease of use on their platforms, albeit in different ways.
What Asana offers
Asana offers more functionality than Basecamp, which slightly adds to its difficulty. However, the only real hurdle to clear is the additional time spent learning these other features.
Unlike Basecamp's block system, Asana's user interface opts for a traditional setup with a navigation menu on the left, user options in the top right corner, and whatever task you are working on in the center of the screen.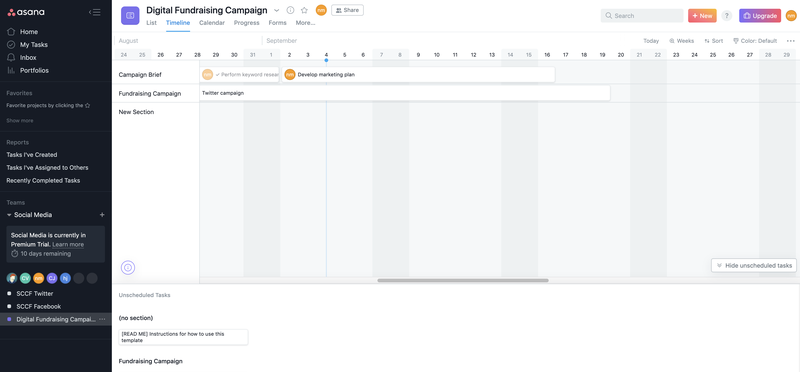 Above is the Gantt timeline view in Asana. You can view all of your tasks in either list, timeline, or calendar format, and these options are listed right under the project name. This user interface is not only very easy to navigate and understand, but it gives you lots of different options to choose from when planning your projects.
What Basecamp offers
When it comes to ease of use, it doesn't get much easier than Basecamp. Everything in the software is clearly labeled and defined in their own blocks, including projects, to-do lists, files/documents, check-ins, schedules, and "campfire" forums.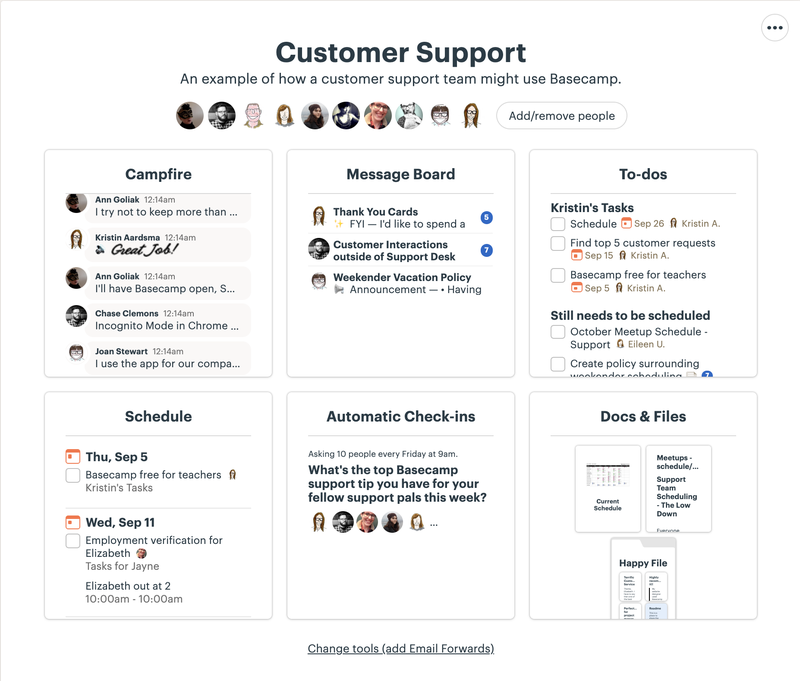 You couldn't get lost in Basecamp if you tried. Part of what makes it so easy to use is the fact that it leaves a lot of complicated features behind, such as billing and invoicing, budgeting, and reporting. Basecamp is a collaboration tool that utilizes the most basic functions you could ask of a project management software.
It doesn't offer Gantt timeline charts, it doesn't measure team workloads, and it won't display your tasks in a kanban board view.
In Basecamp, you create projects, build to-do lists for those projects, upload project materials, schedule tasks, and discuss your progress. That's pretty much it. Basecamp doesn't offer a whole lot, but if this is all you need, you'll be pleased with how easy it functions.
Results
I have to call a tie. At first, it seemed obvious that I would award this section to Basecamp given how intuitive its user interface is. However, even though Asana offers so many more features, it's impressively easy to navigate through them. So, I have to call this one a tie. Great job on both fronts.
---
Asana vs. Basecamp: Pricing
Basecamp and Asana differ greatly in pricing. One offers an affordable and easily scalable solution, while the other will demand more from your wallet up front.
What Asana offers
Asana falls a little short in the pricing department, which I made clear in my Asana review. While it does offer a free version of its software, the user limit for it is lower than Basecamp's and only offers a fraction of the capabilities the paid versions have. Asana's paid options certainly do add up over time, especially if you choose the Business option, which includes its unique Workload features and integrations.
Basic — Free: includes task lists, kanban boards, calendars, app integrations, up to 15 users.
Premium — $9.99/user/month with an annual contract: includes all previous features plus timelines, advanced searches, custom field creation, premium Asana Academy content, and admin privileges.
Business — $19.99/user/month with an annual contract: includes all previous features plus portfolios, Workload, forms, automatic proofing, and Adobe Creative Cloud integration.
Enterprise — Pricing negotiated with the client: includes all previous features plus user provisioning, data exporting, custom branding, and priority support.
That's not to say the paid tiers of Asana aren't worth it, because they are. Just know that if you decide to go with Asana's Premium tier, with only 10 users, you're already meeting the price of Basecamp.
What Basecamp offers
At first glance, you'd be forgiven for thinking Basecamp was expensive. After all, it offers a flat rate of $99 per month, which means each year, you'll spend $1,200 on this software — and that's not cheap. So, why did I give its pricing an 8 out of 10 in my Basecamp review?
It's very simple: This monthly rate is all-inclusive. No matter how many projects you create, users you add, or clients you include, you'll pay the same price. Not to mention you are also given 500 GB of storage space, project templates, and all of the other features Basecamp has to offer.
The more team members you add to the software, the less you pay per person, which is more than I can say for many other software options.
Also, if you have a smaller collaborative team that doesn't need lots of storage space, Basecamp now offers a free option for up to 20 users and three projects at a time.
Results
The nod goes to Basecamp this time. Although Asana offers more functionality, a lot of that functionality comes in the form of additional task management views, instructional content, and integrations.
Asana's per user, per month pricing structure gets very expensive, very fast, while Basecamp's price stays the same no matter how much you grow. This makes Basecamp's scalability far more affordable.
---
Asana vs. Basecamp: Integration with other software
Asana and Basecamp both offer plenty of integrations to help you fill in the gaps not covered by their collaboration-focused features.
What Asana offers
Asana offers plenty of app integrations that'll help you manage any aspect of your projects, including some not offered by Asana's core features. Some of these integrations include:
Adobe Creative Cloud
Dropbox
Microsoft Outlook
Slack
Google Calendar
Everhour Reporting
Mailchimp
What Basecamp offers
Basecamp also offers tons of different integrations that will likely cover all the needs of your projects, including some functions not offered by the software itself. These integrations include:
Everhour Reporting
Hubstaff
Ganttify
ScrumDo
Akita
Zapier
Project Buddy
And many others
However, Basecamp is missing integrations with major programs like Slack, Mailchimp, and Trello, a severe missed opportunity for this software.
Results
Asana might appeal to more users given its ability to integrate with popular software and programs you likely already use. When it comes to integrations, both offer similar third-party partnerships that help with planning, reporting, invoicing, accounting, and asset management.
However, in my view, Asana comes out ahead based on the additional integrations it offers with several well-known and widely used applications, such as Microsoft Outlook, Trello, and Dropbox.
---
Asana vs. Basecamp: Getting started
Both Asana and Basecamp offer very simple startup processes, and it takes only minutes to get up and running once you visit their sites. However, only one offers a more comprehensive onboarding experience when it comes to getting your team up to speed with your new project management software.
What Asana offers
Asana's onboarding process is quite similar to Basecamp's, but with an extra step. After I visited Asana's website and entered my information into the free trial form, I received an email welcoming me to use the tool.
Asana's onboarding content was a little harder to find on its website than Basecamp's, but what it offers is far more detailed. This is understandable considering the additional functionality Asana offers. Asana's onboarding content consists of guides for getting started, onboarding your team, managing/planning tasks, and use cases to help structure your experience.
What Basecamp offers
Getting started with Basecamp was very simple. There's a button on its main website, in the top right-hand corner, beckoning you to try its product for free. This takes you to a page offering either the 30-day free trial for the full system, or the free limited version of the software.
Once you click on the 30-day free trial button, you'll be prompted to enter your name and your email address, create a password, enter the name of your company, then select your type of project. Once you've entered all of this information, you are taken right to the main dashboard. It's that simple.
If you're looking for onboarding content, Basecamp provides all of that in the "How It Works" section of its website, which gives you a detailed overview of the tool and its features in the form of a video and screenshots paired with descriptions. When I first used Basecamp, I found it so easy to understand and navigate that I never even bothered with the onboarding content.
Results
Asana's the winner, here. While Basecamp's signup process was faster and easier because I didn't have to check my email to gain access to the tool, Asana provided more content to help me get the ball rolling with my projects.
---
How They Compare: Asana vs. Basecamp
| | BASECAMP | ASANA |
| --- | --- | --- |
| Task Lists | | |
| Gantt Timeline Charts | | |
| Shared Team Calendar | | |
| File Sharing | | |
| Communication | | |
| Budgeting | | |
| Time Tracking | | |
| Invoicing | | |
| Outside Integrations | | |
| Resource Management | | |
---
Which software is the winner?
Based on the scores, Basecamp is the winner; however, you should always take your specific needs into consideration.
While Asana offers more features, more integrations, and a better, more informative startup process, Basecamp offers better pricing and faster support. When it comes to ease of use, both tools are simple, intuitive, and effortless to navigate.
It all comes down to what kind of collaborative experience you're looking for.
If you're looking to scale your team in a simple task management environment without incurring additional costs or user limitations, then Basecamp is probably best for you. If you're looking for additional features and want to get more detailed with tracking your team workload, then Asana is the tool you're looking for.