I can't think of a better matchup than Trello vs Basecamp. After writing up comparisons of Basecamp's alternatives and Trello's competitors, I figured it was only a matter of time before I covered two of the most user-friendly and simple project management software options on the market.
I love both of these platforms as I've used them extensively for all kinds of different projects. Each one has aspects I enjoy over the other, which led to some close calls in these six categories I judged them by.
The truth is if you're looking for a simple task management platform you can't go wrong with either of them, but one is certainly better than the other.
Find out whether Basecamp or Trello is the right tool for your team.
---
Basecamp vs. Trello: An overview
Who is Basecamp for?
Basecamp, originally known as 37signals, was launched in 2004 as a web-based project management tool as well as a private American web application development company named after its most successful tool.
Basecamp is an extremely simple and straightforward project management tool for different types of businesses and professionals. While Basecamp is marketed as a platform for businesses of all sizes, I'd recommend it for either smaller businesses or smaller teams based on its limited functionality.
Who is Trello for?
Trello software, on the other hand, is a streamlined kanban-based project management tool that focuses on simplifying every aspect of your workflow. Like Basecamp, it is a simple platform that doesn't bog itself down with tons of features, data, and other kinds of complexities.
Trello is limited in its capabilities since it is a workflow tool and not comprehensive project management software. In my view, this tool is best suited for software feature development projects and creative teams that go through iterative or ongoing projects that don't require much, if any, financial management.
---
Basecamp vs. Trello: Features
Software features are where you'll find the biggest difference between these two options. These platforms are based on two entirely different management styles and one offers just a little more functionality than the other.
What Basecamp offers
This tool isn't a jack-of-all-trades, unlike many of its competitors, but instead is a master of one: simplicity. Basecamp is a basic collaboration tool that offers everything you'd need to coordinate, oversee, and execute project tasks.
These features include task lists, file/document sharing, task comment sections, project forums, automated project check-ins, schedules, and a message board.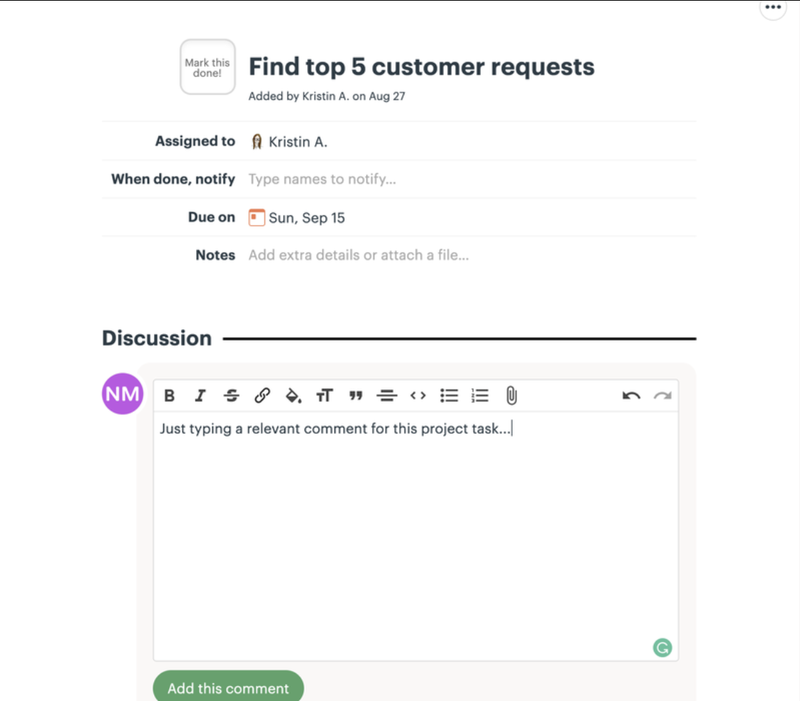 Outside of this, Basecamp is a little scant on features. This isn't a comprehensive project management platform; it's a collaboration tool. This means you won't find any native budgeting or reporting tools.
If you're looking to track budgets or any other kinds of reporting, you'll have to take advantage of Basecamp's integrations, which I will dive into later in this comparison, to fill in those gaps.
What Trello offers
When it comes to a short, but powerful list of features, Trello is the perfect competitor to Basecamp. However, instead of boiling down the task management formula to simple task lists, Trello opts for a kanban-only approach for overseeing your project workflow.
In fact, I believe that Trello has the best kanban system I've ever seen in a project management tool and that's saying something.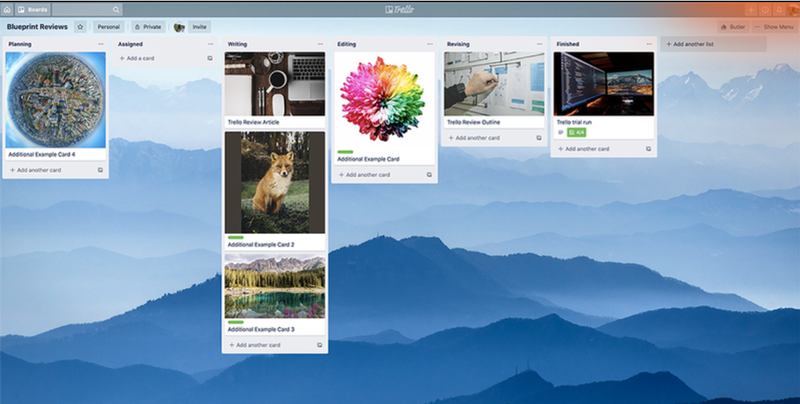 The task cards are simple to navigate and offer lots of functionality, such as labeling, comment threads, sub-task checklists, file attachments, and external tool integrations. Trello definitely has a leg up on Basecamp when it comes to task functions.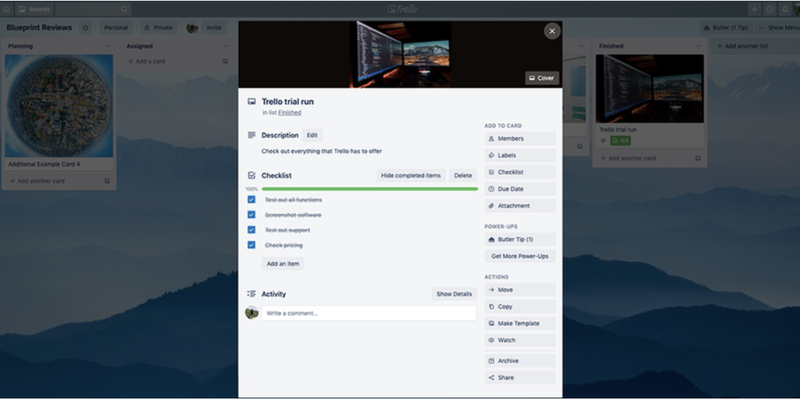 On top of it all, I prefer Trello's "window-in-window" setup for checking task cards instead of loading a new webpage for each task as you must in Basecamp.
As for additional functionality outside of the standard task management features, Trello does offer other Power-Ups and outside integrations to make up for the lack of budgetary or reporting tools.
Results
Winner: Trello
Both tools are very similar in their list of features, however, Trello offers just a little bit more in a much more elegant package.
---
Basecamp vs. Trello: Support
Luckily, both of these tools are extremely easy to learn and use, so customer support isn't a major concern. That being said, it's good to know your vendor will have you back when things go wrong.
What Basecamp offers
When it comes to customer support, Basecamp offers everything you would expect from a software vendor, except phone support. It does offer a contact support form that promises a response in 30 minutes or less, which is helpful.
However, that doesn't replace the convenience of actually speaking to a human being on the phone when time is of the essence.
Of course, considering the extensive tutorials and help guides offered by Basecamp, it seems unlikely there would be many scenarios where you would need to contact support for such a simple tool.
That being said, I can't speak for every user's experience and it would be nice to see Basecamp come with some kind of phone support or at least some form of live chat support for its paid users.
What Trello offers
Trello is owned by Atlassian, so if you have any experience using their flagship platform, Jira, you know they have their own unique way of handling customer support.
Most issues you encounter are dealt with using support ticket forms, but if you opt for the Business Class or Enterprise pricing tiers, you also gain access to their priority phone support.
Luckily, Trello also has an extensive knowledge base and blog which covers a wide range of topics including Trello functionality and team management guides. It would be great to see phone support extended to all tiers of this software, perhaps with a priority given to enterprise users.
Results
Winner: Trello
While both platforms share a similar approach to support, the existence of some sort of phone support puts Trello ahead of Basecamp.
---
Basecamp vs. Trello: Ease of use
This is guaranteed to be an interesting comparison since both platforms have directly competed for the "easiest to use" project management software superlative on The Blueprint.
What Basecamp offers
It's hard to get any easier than Basecamp since the user interface and functionality of this tool are about as basic as it gets. The truth is, you couldn't get lost while using Basecamp even if you tried.
Everything is clearly labeled, the features list is extremely short, and anything that happens in this software is tracked through a notification system.
Basecamp doesn't offer any fancy Gantt charts, workload trackers, kanban boards, or detailed reports. This platform is for creating projects, tracking tasks, sharing files, and discussing progress. That's about it. There's a charming simplicity to Basecamp, and it's hard to make a short features list like this difficult to use.
What Trello offers
Trello also benefits from its charming simplicity but in a different way. Instead of deferring to the most basic setup possible, like Basecamp, Trello takes the concept of kanban project management and makes it as accessible as possible.
The interface is incredibly intuitive and if you have even the slightest experience with any project management software, you'll have no issues picking up this platform within minutes.
On top of that, it's impressive how Trello is able to rival Basecamp's simplicity considering its additional features offered in each task card.
Results
Winner: Trello
This was an extremely close comparison, but when I stack up the features offered by Trello against Basecamp's offerings, Trello wins in the ease of use department. Trello's developers go above and beyond making a kanban board just as easy, if not easier to understand, than Basecamp's task lists.
---
Basecamp vs. Trello: Pricing
It seems both of these tools are vying for the same market, but when it comes down to it, the almighty dollar can be the real deciding factor. Which software is a better value?
What Basecamp offers
In keeping with the trend of simplicity, Basecamp offers a free version of its software as well as only one paid option for a flat monthly fee of $99. The free version does come with certain limitations such as three projects at a time, 20 users, and 1GB of storage space for project files.
The paid version comes without limitations, which is especially beneficial for large teams since a per user structure can add up quickly.
What Trello offers
Trello takes a more traditional approach to their pricing structure:
Free: Unlimited personal boards, unlimited cards, unlimited lists, 10MB per file attachment limit, 10 team boards, one power-up per board, 50 automated command runs per month, two-factor authentication.
Trello Business Class: $9.99/month per user. All previous features, 250MB per file attachment limit, priority support, custom board backgrounds, unlimited team boards, custom fields, calendar view, app integrations, 1,000 automated command runs per month, advanced admin permissions.
Trello Enterprise: Starts at $20.83/month per user with gradual rate decreases as more users are added. All previous features, unlimited command runs, no attachment restrictions, power-up administration, personalized onboarding.
Trello truly shines with its free version that offers unlimited boards, cards, lists, and users. It's a very generous free option that gives you the ability to seriously test out the software before you commit to a paid version. However, once you move into a paid tier, the bill can add up quickly if you have a long list of users.
Results
Winner: Basecamp
Yet another extremely close competition between these two platforms, but I have to give the nod to Basecamp. The flat monthly fee is especially enticing, which surpasses Trello's paid versions once you cross the 10-user mark.
Trello does win in the free software department, but a flat monthly fee is exceptionally affordable once your team begins to grow.
---
Basecamp vs. Trello: Integration with other software
Both Basecamp and Trello focus solely on the task management and collaboration aspects of project management, so it's important for these platforms to offer outside integrations. Which one fills in the gaps best here?
What Basecamp offers
Basecamp also offers plenty of different integrations that will likely shore up some of the functions not offered by the native software itself. These integrations include:
Everhour Reporting
Ganttify
ScrumDo
Akita
Zapier
Project Buddy
And many others
However, Basecamp is missing integrations with major programs like Slack or Mailchimp, which are exceptionally popular tools these days. I believe this is an unfortunate missed opportunity for Basecamp.
What Trello offers
Trello also offers integrations with several different tools, many of which enhance your user experience by filling in the gaps not covered by their collaborative-minded platform. I feel as though this is par for the course for project tools with only one or two purposes in mind. Some of these integrations include.
Results
Winner: Trello
Trello checks off some of the integration boxes missed by Basecamp, such as Slack and Mailchimp.
---
Basecamp vs. Trello: Getting started
Does the simplicity that these two tools offer carry over into the startup process? Let's find out which one comes out on top.
What Basecamp offers
Getting started with Basecamp was very simple. There's a button on its main website, in the top right-hand corner inviting you to start your trial.
Once you click on the 30-day free trial button, you'll be prompted to enter your name and email address, create a password, enter the name of your company, then select your type of project.
Once you've entered all of this information, you are taken right to the main dashboard. It's that simple.
What Trello offers
Trello's startup is quite similar to Basecamp with one minor difference. You start off by entering your information, as expected. There is no upfront payment information needed.
Then you choose your industry and management style, making this a great agile tool with some of its Trello sample boards. Once you're in, you're given a step-by-step tour of the software and given control of your newly created project, which is the only significant difference.
This is extremely helpful if you aren't familiar with kanban software, but I doubt anyone would have much trouble learning this platform without the guide.
Results
Winner: Trello
Trello's addition of a short tour gives it the slight bump over Basecamp (not that Basecamp really needs a tour, but it's a nice touch).
---
How They Compare: Basecamp vs. Trello
| | Basecamp | Trello |
| --- | --- | --- |
| Task Lists | | |
| Gantt Timeline Charts | | |
| Shared Team Calendar | | |
| File Sharing | | |
| Communication | | |
| Budgeting | | |
| Time Tracking | | |
| Invoicing | | |
| Outside Integrations | | |
| Resource Management | | |
---
Trello is the clear winner in this competition
I think it's pretty clear when you stack up these two platforms, Trello is clearly better than Basecamp. Trello offers better features, a better user experience, a better interface, better support, and better integrations than Basecamp and only really falls slightly short in the pricing department.
On top of it all, I currently use Trello for project management on a far more regular basis than Basecamp simply because I prefer kanban boards.
All of that being said, many of the comparisons were extremely close and these two tools are only 0.2 points apart in their overall Blueprint score. Sometimes your management style is what really counts, so if kanban boards aren't what you're looking for then Basecamp is a quality choice to go with.