There comes a point for every salesperson when they are ready to graduate from spreadsheets and use an actual CRM software solution to take their sales process to the next level.
But even after hearing all the sales tips about how CRM is the way to go, the idea of signing up for an expensive service that offers a million features is enough to make one consider sticking with spreadsheets for a little while longer.
Or, you could switch over to one of the CRM solutions that offers the basic functionality and organization a salesperson needs, but doesn't go far beyond that.
Capsule CRM definitely fits this bill, offering a free, web-based platform that will organize your contacts and keep your opportunities front-and-center on a clean sales dashboard.
Capsule has its downsides, as one would expect, but it may just hit all the notes a sole proprietor or a team of just a few salespeople need. And sometimes, that's enough.
---
Who is Capsule CRM for?
Capsule is ideal for sole proprietors or small businesses focused on B2B sales who are looking for a super-simple, straightforward platform accessible via the cloud (with a good mobile app to boot) that they can dive straight into.
This software gives you your own domain and lets you jump right in — something that would be daunting if you're dealing with other more complex software options, but not so with this intuitive platform that is easy to pick up.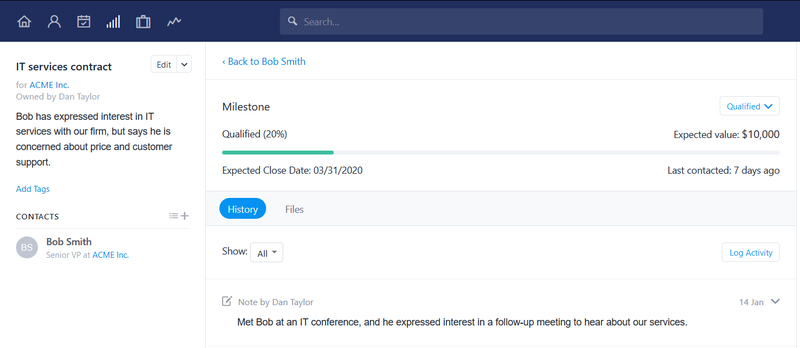 The downside is it doesn't offer the powerful features of some of the other options in our directory, and its integration capabilities with third-party apps is somewhat limited.
---
Capsule CRM's features
Capsule is not going to blow you away with the amount of features it has, but that's fine — or even ideal — depending on what you're trying to accomplish. The features it does have will do a good job of organizing a relatively simple operation.
Contacts
When you're prospecting, you can add a person or an organization, or import contacts from a spreadsheet you already have as long as it's in CSV format, which will save you a huge amount of time from having to manually enter everything.
Capsule CRM automation checks the fields in the CSV spreadsheet and uses it to create fields in the software.
Once the contacts are loaded, you can search for them within the software, and once you find your contact, you can click on the name to bring everything about the contact to the forefront.
You have options to add an opportunity or a case to the contact to track your sales progress. And you can make notes and attach files to the contact.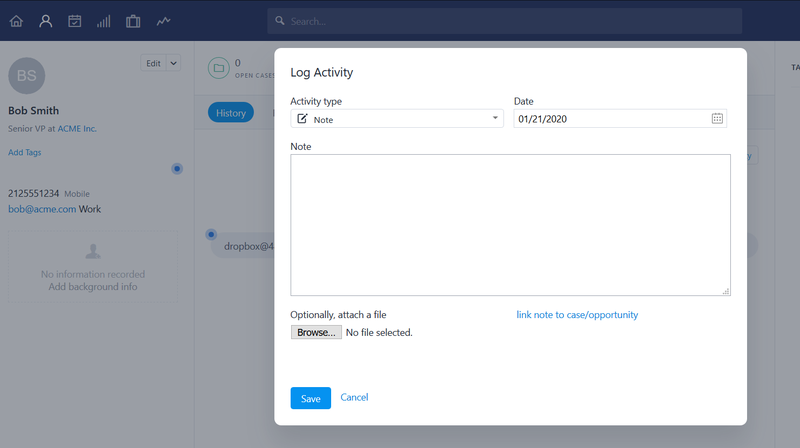 Once you attach tasks to your contacts, such as to call them back on a certain date, you will see all of your upcoming tasks on the left of the main dashboard and all of the latest updates on the right.
The software does a great job of making it easy to access your contacts and show when you need to make your next sales pitch.
Cases
You're able to manage cases in much the same way as contacts, attaching tasks and notes so you know where the issue stands.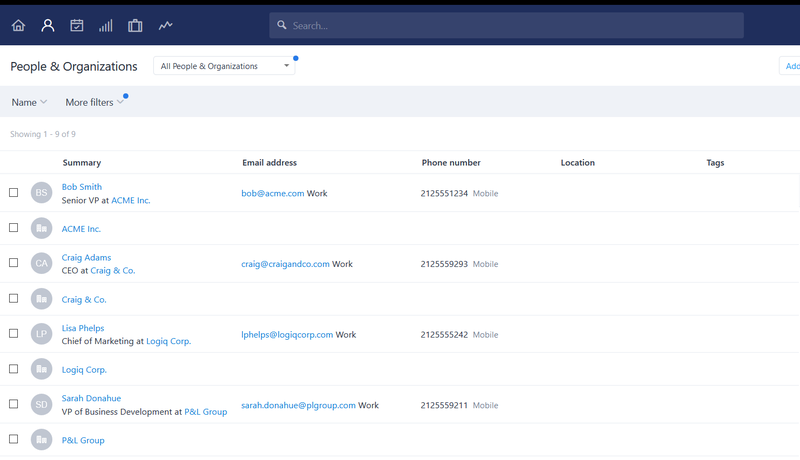 By associating the case with a contact, you'll be able to see it in the contact's history as well as any notes you made about the case even after you resolve it. This provides important context when speaking to a customer.
Opportunities
For new opportunities, you can specify information like expected value, expected close date, and milestone (such as suspect, prospect, or win).
The information you enter is automatically entered into your sales pipeline, which shows you a list of your opportunities and where each of them stands. You can adjust this to show a different date range of prospects at certain milestones, for example.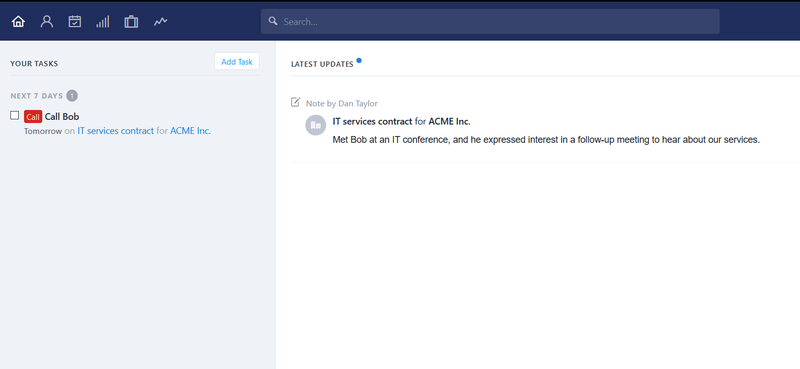 You can add your own custom fields, which provides a little bit of flexibility. These custom fields can be added to people and organizations, opportunities, and cases.
Reporting
Capsule CRM has reporting features, but only for users who upgrade to the paid version. The software produces reports on forecast sales, conversion rates, spot trends, won/lost opportunities over time, and more.
---
Capsule CRM's ease of use
This is the area where Capsule really shines. When you sign up, you get a unique URL: [yourchosenname].capsulecrm.com. With this URL, you can access the CRM from anywhere.
As soon as you log in, you're greeted with the dashboard and some handy icons in the top left that take you directly to your sales pipeline, calendar, contacts, and cases. You can also add tasks to the toolbar at left.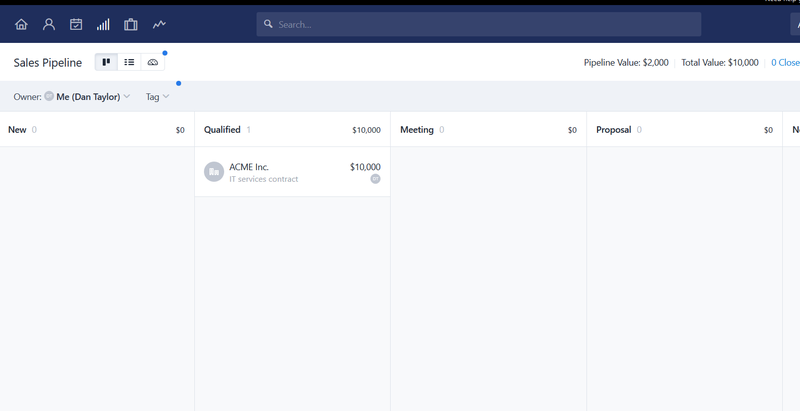 Calling up a lead is as easy as going to your contacts, calendar, or opportunities page and dialing the number that pops up.
Once you make the call, you can click on the contact or opportunity to make a quick note on how it went, and then go into the calendar to add a note on when to call back (and attach it to a specific case or opportunity).
You can set goals for your team and track them via the reporting module, although that requires a paid subscription.
---
Capsule CRM's pricing
Capsule has a free version for up to two users. It limits you to only 10 megabytes of storage and 250 contacts, so it's pretty limited, but it at least allows you to test out the product before springing for a paid version.
This is a great option for small sales teams or sole proprietorships who don't have a lot of money to spend and just need a straightforward CRM.
The Professional version is $12/month per user, and you can get it free for 30 days. With that, you get two gigabytes of storage per user and 50,000 contacts, so it's definitely a huge upgrade in capability.
---
Capsule CRM's support
Like most CRMs, Capsule has a library of articles so you can troubleshoot issues on your own. Articles like "How to import contacts and "G Suite integration" can help you with some of the basic tasks.
There's a form you can fill out to contact Capsule, and it also suggests emailing support@capsulecrm.com or tweeting @capsulecrm. However, there doesn't appear to be any phone number readily available. Its site says to expect a reply from its customer support team Monday through Friday.
---
Benefits of Capsule CRM
Capsule is helpful as a no-nonsense platform for someone who is doing some lead management and customer segmentation and just wants to get contacts organized and start making some calls.
Installation is as simple as signing up for an account and then logging in, and there is no onboarding necessary except a few minutes to play around with the features.
With a limit of 250 contacts in the free version, you have enough space to try out the software before you decide whether to get the paid version — and even then, there's a 30-day free trial.
---
If you're a small business on a budget, Capsule is a great choice
The ideal customer for Capsule CRM seems pretty clear: Based on the fact that there is a free version (and a low-cost paid version) and that the platform is very simple (and not feature-heavy), this is definitely the choice for a sales team of just a few individuals who only need some basic organizing.
If your team needs in-depth reports and analysis, lots of integrations with third-party apps, phone support, and extensive customization options, you're probably better off looking elsewhere.
---
Frequently Asked Questions
Is Capsule CRM easy to use?
Yes, and in fact it appears this is their strongest selling point. The dashboard is very simple and straightforward and perfect for teams — or individuals — who merely need a cloud-based platform that organizes their contacts and opportunities. However, the features and integrations aren't as strong as other CRM solutions.
Does it integrate with third-party apps?
Capsule has a limited list of integrations, and they are only available in the paid version. However, it works with Zapier, which links it up with many more third-party app integrations. If you're looking for a platform with a huge number of integrations, there are better options in our CRM software directory, but this platform will certainly cover the basics like G Suite.
Is there a mobile version?
This software offers an excellent app, which we've found is fairly rare for CRM software. As soon as you log in, you see all recent activity and you have five icons at the bottom that go to your dashboard, contacts list, calendar, pipeline, and cases. Everything is at your fingertips, and it's very easy to navigate.

Need a budget-conscious CRM with basic features? Try out Capsule CRM to see if it's right for your team!
Need a budget-conscious CRM with basic features? Try out Capsule CRM to see if it's right for your team!
The Motley Fool has a Disclosure Policy. The Author and/or The Motley Fool may have an interest in companies mentioned.