The community manager is the gatekeeper between the intranet and the internet. It is a key role in a communication strategy, as that person embodies your brand values and carries your messages both ways between your audience and your enterprise. It is someone who is constantly on a mission to seduce users and prospects and draw them into your community.
The ideal community manager is creative, has an eye for aesthetics, and pays attention to detail. He or she is a bit of a wordsmith, a graphic designer, and is also very data literate. With this exotic blend of competencies, great community managers are hard to find.
And once you find them, you need to give them a great deal of access to your company's strategic information, its brand assets, and its target market definition. And finally, you need to give your community manager significant CEO time if you want to build a successful social media strategy.
Let's look at how you can accomplish all of this.
---
Overview: What is community management?
The defining element of social media is connections between people. When people are connected to your company, they form an online community, and the person in charge of interactions within it is the community manager.
Community management is the process for social media management. It involves setting up social profiles, creating and publishing content, learning from interactions with social connections, and communicating in social channels via direct interactions, publications, and advertising.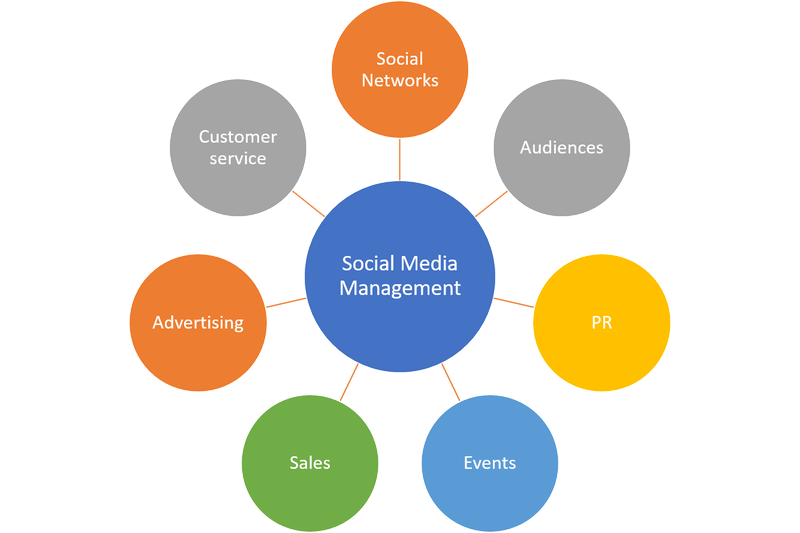 ---
Types of community management
With such a broad scope to cover, community management comes in many different forms. Let's look at some of the types of community management, which may help you determine how to manage social media operations in your business.
1. Business intelligence and market research
Social media is a phenomenal source of information about your audience, your market, and your competitors. Using social listening, you can detect market trends, brand mentions, and target audiences for your business.
Twitter is a great source of real-time information, Facebook is a great source of audience insights, and tools like BuzzSumo and SparkToro can help you find out what information your audience is interested in, and where to publish it.
2. Communication and PR
The core function of community management is the ongoing communication via social platforms, as detailed in a social media marketing plan.
It involves managing profiles and followers, creating a content plan that's synchronized and complementary with other business communications, and interacting with both clients and prospects via social media.
You can take advantage of social media management tools to facilitate this process.
3. Influence and partnerships
Within a community, there are often a lot of opportunities, although they can be difficult to identify. In community building strategies, most people will look for growth in quantitative terms: more fans, more followers, more interactions.
However, the nature of social media algorithms is such that one influencer can have as much impact on the reach of your communications as a hundred small profiles.
A special breed of community strategy is therefore dedicated to identifying influencers and partners to enhance the performance of social media operations.
4. Social media advertising
Social media is a phenomenal data-marketing tool. By tracking and analyzing social media profiles and user behavior, social platforms build audiences, which they use to monetize their otherwise free services via advertising.
For a company with a clear target audience in mind, social media campaigns are both cost-effective and scalable. Social media advertising comes as an additional layer on top of existing community management activities.
5. Client services
With the possibility of end-users to interact directly with representatives of your company via social channels, client services have become an integral part of online community management.
Users feel comfortable contacting a business via social media and expect your company to be organized to provide a meaningful first level of response before escalating complex cases toward another interaction channel.
---
How to create and implement a community management strategy for your small business
Whereas the community manager is key to your social media setup, the organization and processes that you put in place are essential, too. You need to set up efficient processes, choose the right community management tools, and drive the operation with the right metrics. Community management skills alone are not enough to make your operation successful.
Let's go through the steps you need to take to create your community management function:
Organization and tools
Content creation process
Automation
Outreach & following
Real-time interaction
Reporting and insights
Step 1: Organization and tools
The first step in setting up your community management is to organize your social profiles and your content repositories. A password-protected spreadsheet centralizing all the logins and passwords can be useful. So can a dedicated email account or email alias for managing social media accounts.
For sharing content elements, a shared folder is the best solution, as it can provide access to contributors, validators, and other stakeholders. Some community management platforms will provide these in a bundle, but you can also set up your own stack of tools.
The free tools offered by Google (Drive, Gmail, and Sheets) are great for this.
Step 2: Content creation process
The second step in the process is to organize the content creation process. There are different social media content types, and each requires a different sourcing approach.
Use your favorite project management tool to establish the writing and design steps of the content creation process. Store finalized content pieces in a central repository.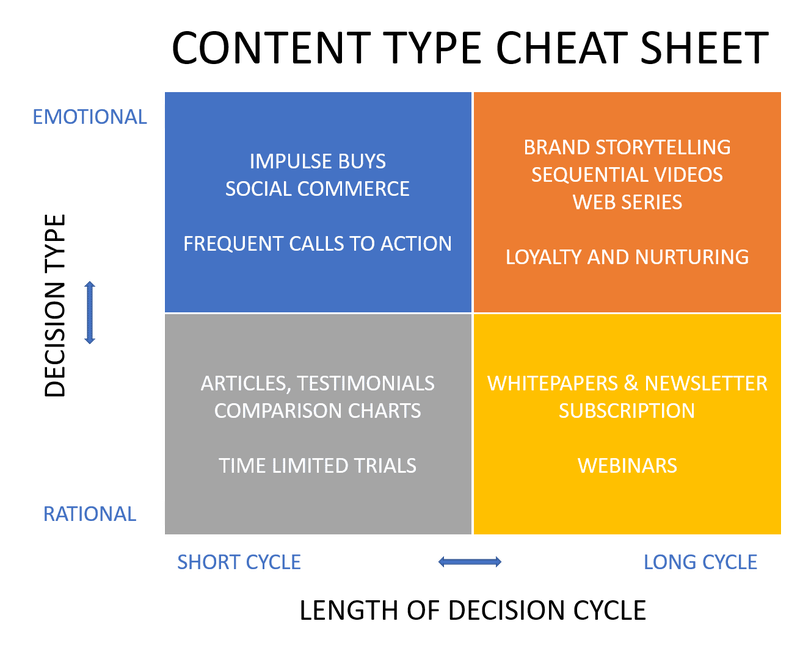 Step 3: Automation
Your strategy takes form in a social media content calendar, which you establish and validate once per month. After that, make sure you automate at least 80% of posts, in order to publish your content pieces at ideal times, and at the right pace.
Step 4: Outreach and following
The number of connections of your social profiles has real importance, although some consider it to be a vanity metric — something you use to compare or to brag about your social media operation.
What really counts is the number of engaged connections; the size of your real community of followers, fans, or friends. Users who engage with your content are precious and directly influence the return on investment you made in creating content. Constantly build and expand your community.
Step 5: Real-time interactions
With 80% of your activity automated, you need to concentrate the remaining 20% on real-time interactions when it matters. This means reacting to notifications, and looking for conversations or chats to join. It is also time well invested in creating "live" moments on your social channels.
A good place to start could be the Facebook Live Producer.
Step 6: Reporting and insights
Last, but not least, you need to use your data literacy to read what matters.
Make sure you take a step back once per month or once per week to see whether you are advancing with your social media operation: keeping up the activity, increasing connections, maintaining engagement rates, and always increasing the reach of the content you publish.
---
A community is composed of engaged connections
You may not think of your social media connections as members of a community. (Some of them probably shouldn't be considered as such.) But the connections that matter to your business are the members of your target audience who have connected with your social profiles, and who engage in conversations, or interact with your posts.
Community management is about maximizing the outcome of interactions with those precious connections, who can become clients of your business or ambassadors for your brand.