---
Intro
When is an email marketing tool not an email marketing tool? When it expands its feature set to cover more than just email marketing.
Constant Contact started life as a pure play email marketing solution, but then it followed the example of its competitors, such as Mailchimp, and expanded to cover advertising, such as Google and Facebook ads.
What does this mean for marketers who only want email marketing functionality? Is it up to the job, or has it cut corners to try to be a one-stop-shop for all marketers? Read our review to find out.
---
Who is Constant Contact for?
While Constant Contact has many advanced features — namely its reporting and contact management functionalities — they are easy to understand and use. So even if you have no email marketing experience, you can quickly dive into this email marketing software and get started, while feeling like you are making the most of all the features.
The lack of a free plan and the high prices make it more suitable for businesses with larger budgets.
---
Constant Contact's features
Constant Contact's reporting and contact management features make it stand out, but there are no weak areas in this all-round email marketing solution.
Create an email
One neat feature is the ability to customize emails according to your brand colors and styles simply by entering the URL of your website. If you don't want to do that, you can use Constant Contact's built-in templates and drag-and-drop email editor to get started.
Even if you use a template, Constant Contact still gives you a lot of editing options, ranging from inserting images, videos, and social share options to adding RSVPs, polls, and donation options. You can edit the newsletter as a whole or the elements of each content block, including changing the styles and backgrounds. As it's so easy to use, and everything is self-explanatory, you can create your own completely customized emails in seconds.
With the dynamic content option, you can even choose to show different content to specific contacts according to any criteria you want, whether that's demographic information such as age or location, or purchase history, or even an email segment. This is a quick but effective way of targeting specific contact groups with highly relevant content.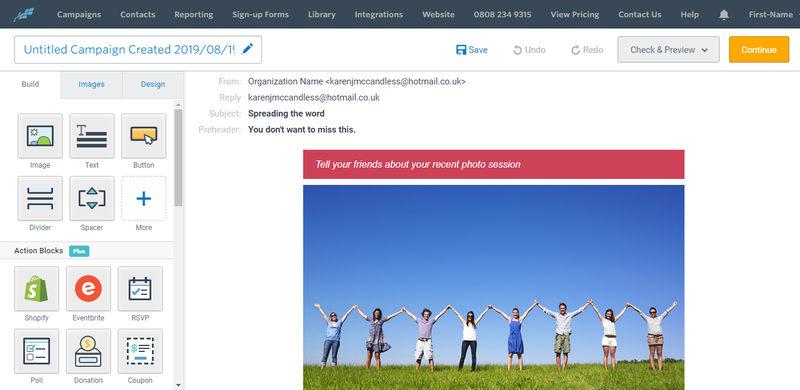 One of the most basic, but also most important, parts of creating a superior user experience is ensuring every aspect is technically correct. Constant Contact helps you out here by checking different elements such as missing links, typos, problems with copywriting, and dates.
When it comes to previewing how your email looks to recipients, you can enter email addresses one by one to make sure your email is displaying correctly on both desktop and mobile. If you want to preview a newsletter according to email clients as a whole — Gmail, Outlook, Yahoo, etc. — you have to pay for an add-on.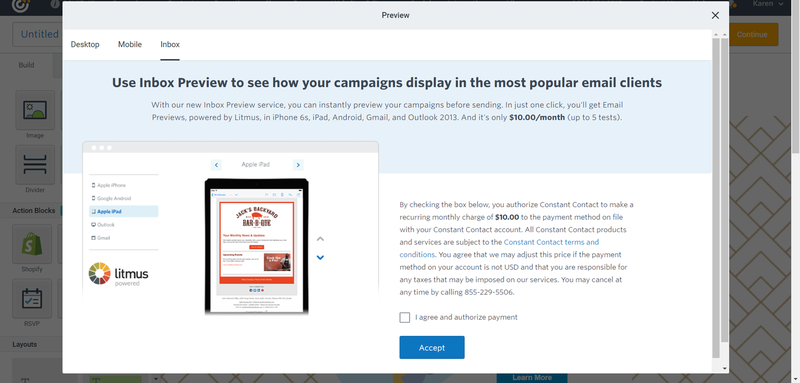 When sending an email, you can choose from a range of scheduling options to help optimize open rates according to past customer behavior, as well as choosing to resend to people who didn't open the first time to improve open rates.
You can also get access to early campaign results rather than waiting for all of the emails to be delivered, meaning you can make changes mid-campaign if you spot an issue.
Contact management
As well as allowing you to add contacts manually or upload them from a file, Constant Contact also lets you import them from other popular email services and productivity apps. This is particularly useful for marketers who are already using another email provider but want to make the move to Constant Contact quickly and smoothly.
Constant Contact doesn't just help you manage contacts, it also helps with growing your email list, which is especially useful when you are just starting out and don't have many subscribers, or if you don't have a lot of time to dedicate to this function. By suggesting actions to take, Constant Contact guides you through the process rather than leaving you to figure it out on your own, which is particularly useful for novice email marketers just starting out.
These actions include:
Building a sign-up page for your website to collect more email addresses
Adding an option where users can send a text message to join your email marketing list
Connecting additional apps (including Facebook)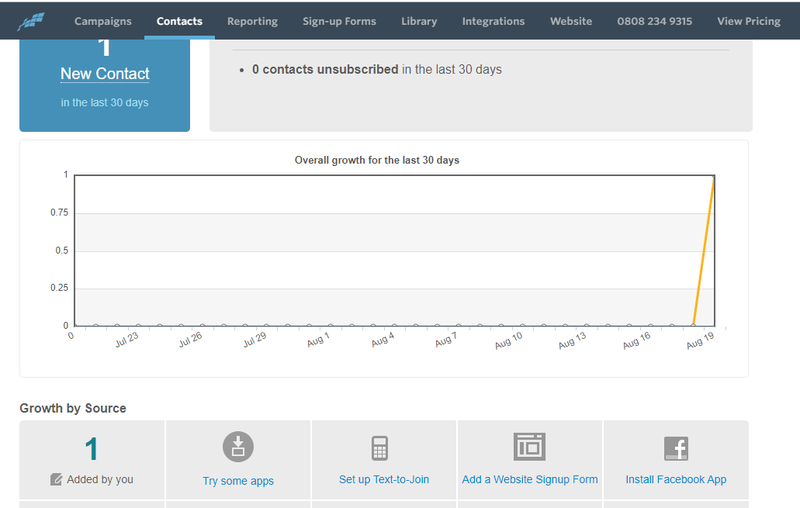 Segmentation
Constant Contact only lets you create segments based on whether a user has received, opened, or clicked on your email. This compares to other email marketing software that lets you segment customers based on criteria such as the last time they opened an email, and whether they have purchased anything or not.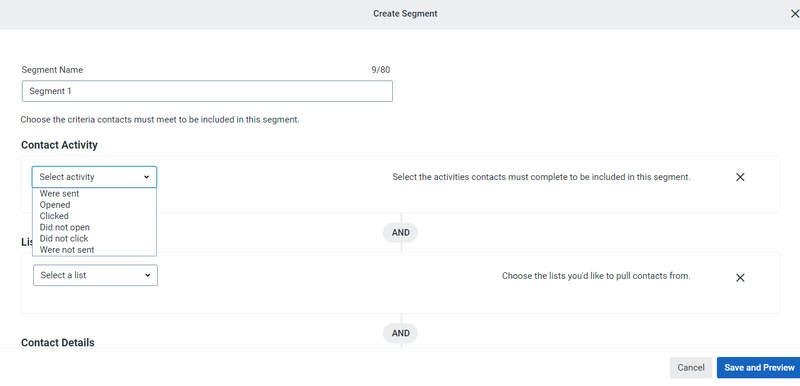 One useful segmentation feature is the ability to connect with Shopify and use data directly from your online shop to create segments. This allows you to target customers across all stages of the customer lifecycle with relevant campaigns that improve the likelihood that they will buy your products or services or reengage with your business.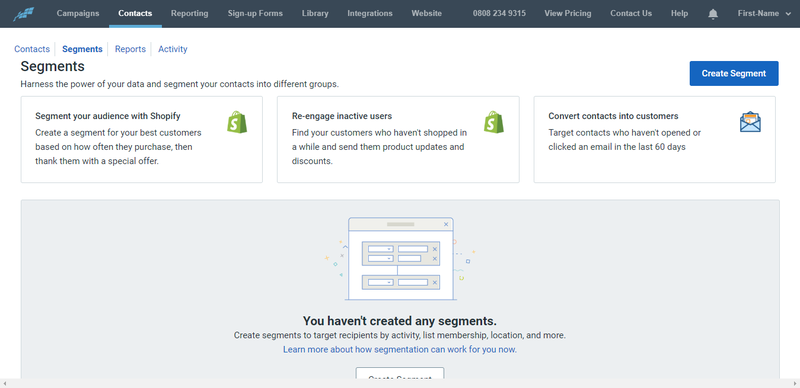 Constant Contact also offers basic automation capabilities, with only a limited number of trigger options available. These options are:
Email opens
Link clicks
Subscriber joining a list
Other email software includes options such as "make a purchase" or "unsubscribe from a list."
The only workflow option available when a contact takes one of the above three actions is to send an email. There is no option to add them to another list, put them in a segment, or send them a push notification or SMS.
This lack of automation functionality means you need to manually take action when customers behave in a certain way, and you can't easily spot links that help you understand the different paths customers take when making purchases.
Reporting
One of Constant Contact's most useful features is that you can see the performance of different emails (sends, bounces, clicks, and opens) on one graph, meaning you can compare the successes of each metric side by side, as well as progress over time.
For example, if you see that your sends have significantly dropped off over time, you know you need to drill down to find out why and take action to rectify that.
With each campaign, you can look at more granular details that might be affecting performance, such as time sent, as well as the activity of different subscribers.
Signup forms
If you want to grow and manage your email list, then you need to capture users' contact information through signup forms on your site. Constant Contact lets you create popups, embedded forms, and customized landing pages depending on the needs of your business.
You can customize the signup and landing pages, adjusting the style properties and background images to reflect your company's brand.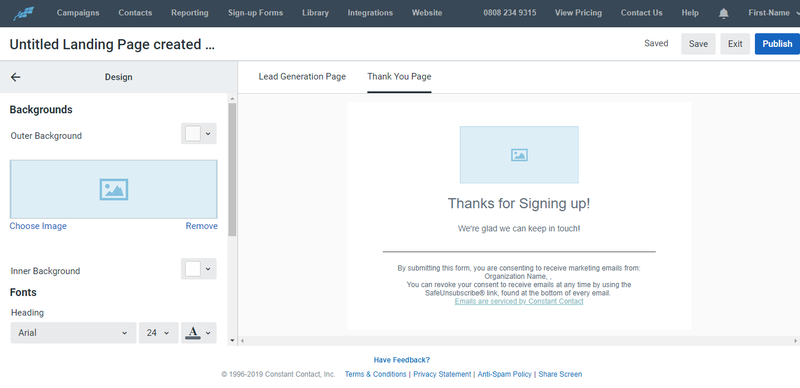 ---
Benefits of using Constant Contact
Constant Contact offers a ton of useful features that allow marketers to create impressive emails, optimize contact management, segment contacts to improve engagement, and track and report on metrics to meet campaign goals.
With Constant Contact, you can delve deep into the performance of your emails to find out what's working and who it's working for — all in a visual way. You can use this insight to improve not only the campaigns you create, but also the way you segment your email list.
---
Working with Constant Contact's support
Constant Contact places a Help option in its horizontal menu, meaning you can access it no matter what you're doing or what page you're on.
In addition to being able to search its knowledge base with lots of in-depth articles and step-by-step tutorials, you can also use this Help option to live chat, phone, or email Constant Contact. One useful support option is the ability to ask a question of other users in the community, which helps with finding workarounds for more specific issues.
You can contact Constant Contact during the following times:
Monday through Thursday, 8 a.m. - 10 p.m. ET
Friday, 8 a.m. - 9 p.m. ET
Saturday, 10 a.m. - 8 p.m. ET
---
Constant Contact pricing
Constant Contact's 30-day free trial requires you to enter your credit card details. If you want to cancel during your free trial (or cancel your account in general), the company makes it extremely difficult. There is no "cancel" option online.
Instead, you have to search the Knowledge Base to find out how to cancel since there's no information within the My Account section about how to do it. Then you have to phone the billing team during open hours to complete the process. When you cancel your account, you have to give a reason to do so.
Canceling is an extremely time-consuming and confusing process, so be sure you want to sign up to Constant Contact before starting the free trial.
Constant Contact doesn't have a free plan, but it does offer a 60-day free trial, with access to almost all features.
As with most email marketing software, the cost of Constant Contact depends on the number of contacts you have. There are two paid pricing plans:
Email: Starts at $20 a month for 500 or fewer contacts; or $45 a month for 501-2,500 contacts
Email Plus: Starts at $45 a month for 500 or fewer contacts; or $70 a month for 501-2,500 contacts
There is a 15% discount if you choose to pay for 6 or 12 months up front, and there's a 30% discount for non-profits.
Considering other email marketing software offer free plans for companies with fewer than 1,000 contacts, Constant Contact is comparatively quite expensive, especially when it only offers basic features in some areas, such as segmentation and landing page capabilities.
---
Constant Contact's ease of use
Constant Contact provides video introductions to help you get up and running with each feature, as well as in-app tips to enable you to improve your email marketing campaigns. For example, when you are in the contacts menu, it advises you to create a pop-up to ask users to subscribe to your newsletter so you can expand your email list.
It's easy to navigate your way around Constant Contact with its clearly marked menus, although sometimes it's hard to find certain features. Email automations and landing pages aren't marked anywhere in the menus, and the only way to create either of these is to navigate back to the home page and start from there.
Constant Contact is slow to load, and it's sluggish nature is frustrating when you're trying to quickly complete tasks or move from one feature to another.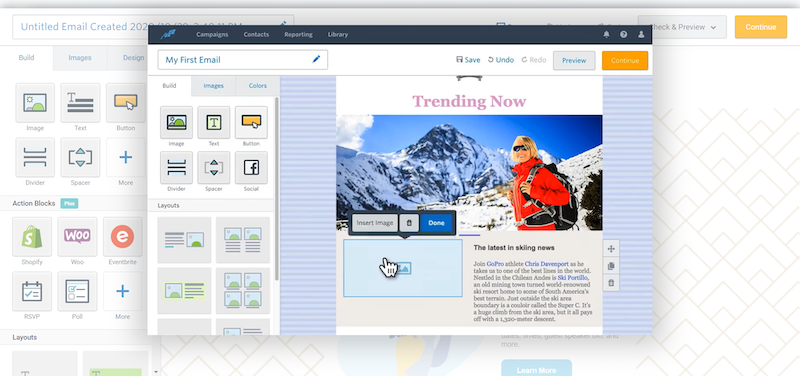 ---
Frequently Asked Questions
Does Constant Contact offer a free version?
Constant Contact does not have a free plan. It has two paid pricing plans, with costs dependent on the number of contacts in your list.
What are the benefits of Constant Contact?
Constant Contact is easy to use, making it a good option for both experienced and novice email marketers. As you can quickly create campaigns, it is also suitable for users without much experience using email marketing software.
Is Constant Contact a CRM?
Constant Contact is an email marketing software, but it does include some of the advanced contact management functionality found in many CRMs.
Is Mailchimp or Constant Contact a better choice?
While Mailchimp got a higher rating, it depends on what you are looking for and what's best for your business. Both are easy to use, intuitive, and packed with features, but Constant Contact has more advanced contact management features, while Mailchimp is better at segmenting customers.
---
Which one is right for you?

Constant Contact is easy-to-use email marketing software that lets you get started quickly, but it lacks some useful features, such as segmentation.
Constant Contact is easy-to-use email marketing software that lets you get started quickly, but it lacks some useful features, such as segmentation.
---
How Constant Contact Compares
The Motley Fool has a Disclosure Policy. The Author and/or The Motley Fool may have an interest in companies mentioned.