It's hard to overstate just how important email marketing content is for a small business. One recent study found that 73% of millennials prefer communications from businesses to come via email compared to any other type of communication method, and 80% of business professionals believe that email marketing is essential for customer retention.
The buttons you use within those emails may seem like a minor part of the content or overall design, but it would be a mistake to think that. Email buttons can have a significant impact on your conversion rate, depending on your approach.
Email buttons help create dynamic email content that prompts potential customers to take action, and therefore designing them is an important part of your email marketing strategy that shouldn't be overlooked. This guide will help you understand the importance of email buttons and how to design ones that will attract clicks.
---
Why use email buttons?
Email buttons help small businesses maximize their email marketing ROI (return on investment) by prompting readers to take action, whether it's to sign up for a mailing list, take advantage of a coupon, or anything else the business wants the recipient to do.
Email buttons are simple, visual prompts to get the reader to take the next step toward making a purchase and are thus critical gateways in the sales pipeline. By thoughtfully designing a button, a business increases the chances that the customer will make a buying decision rather than simply discarding the email.
8 tips to create an email button for your email campaign:
Utilize HTML buttons
Leverage VML
Use bordered buttons
Create strong call-to-action text
Make it big and easy to read
Use lots of imagery
Focus on style
Use software
---
1. Utilize HTML buttons
When you're creating a newsletter, bulletproof buttons are foundational because they can't be blocked by email clients, and HTML buttons are a particularly effective method of doing this. Because the HTML button appears in the email whether the recipient allows images to be shown or not, it's valuable to those worried that their marketing campaigns will be ignored by users who turn off images and thus blunt the message.
These buttons also use CSS (Cascading Style Sheets) to make sure that they will show up in every email client. The downside is that you can't click the whole button — just the text.
---
2. Leverage VML
Vector Markup Language (VML) is another bulletproof button method that uses two-dimensional vector graphics, making it helpful for marketing email formats. It creates two versions of the same button, and the entire button is clickable. This method is versatile for various email applications, although it takes longer to update.
The downside is that it uses a relatively obscure coding language, so it might be difficult to create new ones or update existing ones.
---
3. Use bordered buttons
Border-based CSS buttons have grown in popularity due to their sleek, attractive format. With just a few lines of CSS code, you can create buttons that scale according to font size and light up when a cursor hovers over them. These buttons are endlessly customizable and are a fun, interactive addition to your emails.
---
4. Create strong call-to-action text
When you're running an email marketing campaign, you must focus on what your buttons tell your audience. The text should be action-oriented, urging the reader to click the button to do something. Phrases like "Sign Up Now" and "Get Your Free Gift" are examples of compelling button text.
Avoid words such as "Submit" or "Click Here," which are vague and don't inspire action. Create a sense of urgency to prompt readers to take action now rather than later. Also, make the text brief — overly wordy button text will turn people off.
---
5. Make it big and easy to read
The purpose of a button is to draw the reader's eye, so make a button that is big and easy to read. A small button design will cause readers to pass over it when scanning. Create a button and test it out in various formats and on both mobile and desktop. Put yourself in the reader's shoes and ask if you would notice the button if you were quickly scanning the email.
---
6. Use lots of imagery
Use images to enhance your button. Images have a powerful impact in an email newsletter or other marketing materials, or use them intelligently. Surround the button with images that complement and direct the reader's eye to the button. Failing to use striking images will result in lost leads, and, therefore, lost sales. The design of your email is critical, so don't neglect this important part of enhancing your button and copy.
---
7. Focus on style
Give a lot of thought to style when you design your button. Color choice is critical — does it fit in with your brand colors? Should they be bright, or earthy, or blue and moody? What kind of tone should the button text take — warm and engaging, or serious and urgent?
You should even carefully consider your font. You don't want to use the casual Comic Sans if you're a charity raising money for sick children. Your button needs to fit in with the brand messaging, style, tone, and content of your email in order to have maximum impact.
---
8. Use software
If you want emails to have maximum effect on your subscribers or email list, you should use email marketing software. It has powerful tools to help you connect with your readership, including drip campaign options, the ability to draft A/B testing emails to fine-tune your message, and even button creators so you don't have to design your own from the ground up.
---
Examples of strong buttons
Here are three real-world examples of well-crafted buttons used in email marketing campaigns.
Nectar Mattress
Nectar Mattress does a good job of using imagery to direct readers straight to its button, which is prominently featured in the bottom right and has the bold action words: "Shop Now."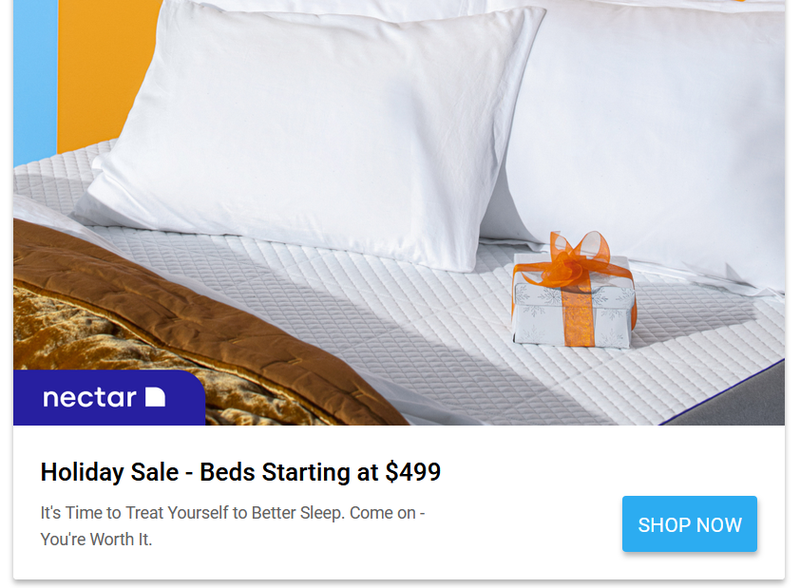 Washington Wizards
This Washington Wizards email also takes a bold, image-centric approach to getting its readers to take action — in this case, to watch a video about the departure of its star athlete. The email also uses the team's colors to further strengthen brand messaging.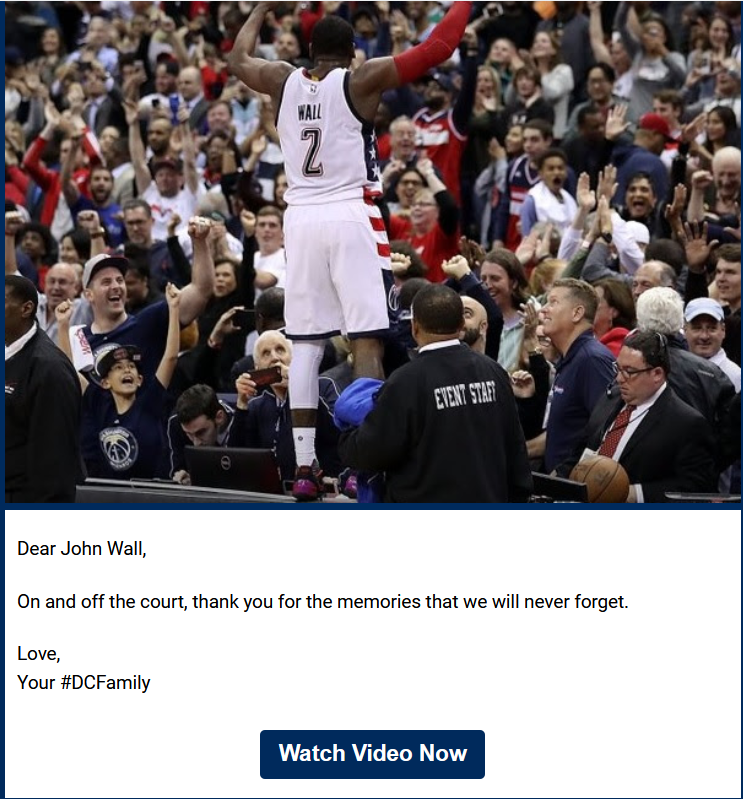 Airfarewatchdog
There's no question what action Airfarewatchdog is asking readers to take with this email. The bright orange button immediately draws the eye, and the "See Deal" text, combined with the arrow, entices readers to check out a possible trip they could take for a very low price. It's certainly a lot more compelling than "Click Here."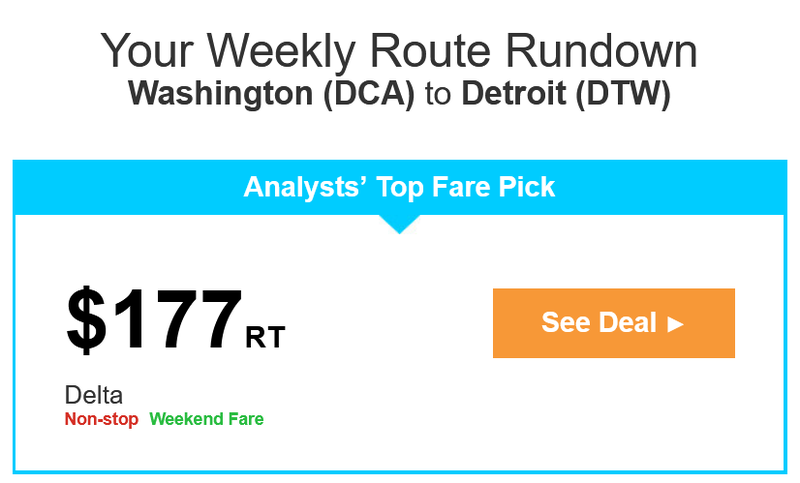 ---
Make button design a bigger part of your email marketing strategy
If button design has been an afterthought in your email marketing process, now's the time to change that. You may be surprised at how big of an impact a simple change to a button can have on the overall conversion rate of your emails.
Play around with different button designs and circulate them in your emails. Track data on response rates and compare how each button performs to determine which ones are the most effective. This kind of testing and experimentation is key to increasing your email marketing success.