There are many approaches to take when creating Facebook ads. In fact, it's easy to become completely overwhelmed by the endless choices. Because of this, many small business owners choose to place basic ads, or worse, forgo advertising on this platform altogether.
We'll be honest, understanding the depths of social media advertising requires some mental gymnastics. However, it's worth the effort because this is where you'll get the most direct, personalized, and effective advertising. That means more bang for your buck.
If you're not promoting your business on Facebook, or if you feel like your ads keep falling short, this guide will help boost your advertising efforts.
8 smart tips for advertising your business on Facebook:
Redesign your business page
Target your audience (but not too much)
Focus on format and placement
Rethink objectives and goals
Understand the analytics tools
Build a community
Try a social media management tool
Don't be limited by a small budget
---
1. Redesign your business page
It's time to get serious about Facebook. That means making sure your business page is up-to-date, engaging, and inviting.
Make sure you're using an official business page; do not rely on your personal Facebook page to promote your business, even if you have thousands of followers. By using Facebook Business Manager you'll have access to a whole array of cool analytics, trends, and statistics. Most importantly, learning how to advertise on Facebook is easy when you have a business page.
If you don't have a dedicated business page yet, you can set one up in an hour. More good news: It's free! Once you've got it up and running, make sure to rework it on a regular basis to fit your business's changing goals and objectives.
Here are a few areas to focus on:
Picture: Use a high-resolution picture. Make sure it's a current and relevant representation of what your business offers. If possible, try to show happy customers enjoying your products or services.
Hours: It's important to keep your current hours listed. Make a note if your business's hours have changed or have been reduced due to COVID-19.
Website: Always include a link to your website. Some businesses include a subscription form on their Facebook page, which easily links directly to their

Mailchimp account

.
Contact info: Include your phone number, email, and any other important contact info. You want your customers to easily reach you!
---
2. Target your audience (but not too much)
One of the best features of advertising on Facebook is being able to target specific demographics. This is especially helpful if you have a business that's geared towards a niche audience — selling baby products, for example. There's no point in wasting your advertising budget on folks who have no kids, right? You want it to pop out while a sleep-deprived parent is scrolling at 2:00 a.m., convincing them that yes, this particular sound machine will help their baby miraculously sleep through the night.
Facebook allows you to narrow the demographics of your ad campaign, such as location, age, gender, interests, and so on. For example, if you have a brick-and-mortar shop, you can select "cities within radius" and specify the distance, so you only target people who can actually visit your store.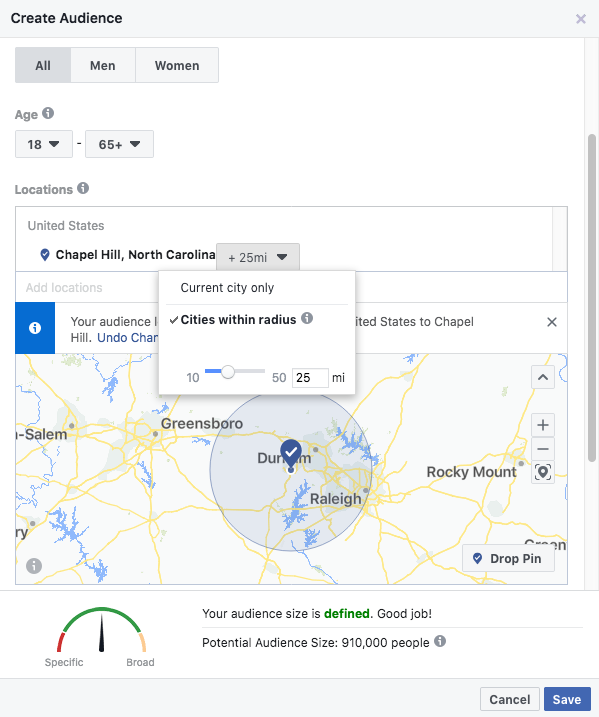 However, it's important to not get carried away when targeting your audience. If you create a hyper-specific audience, the general public will miss out.
For example, an online tutoring service decides to exclude elderly folks in their demographics because they don't have school-aged children. However, an older woman watching her grandson — who just happens to be struggling with his upcoming calculus exam is a potential customer who will never see the ad.
The key is to head over to the planning section in your Facebook Business Manager and click on Audience Insights. Here you'll find information about the people who visit and "like" your page, as well as the demographics of who's on Facebook. This will help guide you to expand your audience to include people similar to your current audience.
Feel free to experiment. See what happens when you expand your audience versus keeping it small. Examine the data by using the analytics tools (see Tip #5).
---
3. Focus on format and placement
Creating an effective ad campaign is a unique process specific to your business. For example, an advertising strategy that works for an online t-shirt business probably won't work for a dance studio.
Most importantly, try different approaches. If you've been doing only photo ads and they haven't been overly successful, consider a different approach.
Currently, here are the main ad formats available on Facebook:
Photo: This is the simplest and most direct method for advertising. Pick a high-quality image to display, along with a short blurb about your product.
Video: Delve deep into the nature of your product, business, or service with a vivid, engaging video. Make sure to post the videos directly to your business page; do not link them from YouTube or Vimeo — the video reach is limited when you approach it this way, unless you have a strong following on those sites.
Stories: These are similar to the "stories" you see your friends posting on Facebook, but with a business twist. They're like videos, but the format allows for more variation, such as including photos.
Messenger: Add a personal touch with a Messenger ad. You can explore interactive or automated features.
Carousel: A Carousel Ad can display up to 10 images or videos, each with its own link.
Slideshow: These are video-like ads consisting of sound, text, and motion.
Collection: This lets you showcase multiple products at once, such as different dress designs.
Playables: This option allows users to preview an app before downloading. However, this is only relevant if your business has an app.
Next, you want to think about the placement of your ad. Here are the options to consider:
On Facebook: This will keep your ad strictly on the Facebook platform.
Off Facebook: You can include other platforms owned by Facebook, such as Instagram.
Desktop: Select this option if you think you'll be targeting people who're mostly sitting at their desktop.
Mobile: A majority of people scroll through Facebook on their phones. It's advisable to always select this option.
Lastly, you want to focus on the ad design. It's not enough to slap up a photo and hope for the best. Use a high-resolution photo that shows people using your product, as well as short, concise text that conveys what your business is about. If you're using multiple images, make sure they follow a similar theme, such as using the same background or color scheme.
Learn more about the specific ad formats at Facebook for Business.
---
4. Rethink objectives and goals
It's not enough to simply place the Facebook ad — you have to know why you're placing that ad. What exactly are you looking to gain from it?
Here are some objectives to consider:
Product sales
New clients
Newsletter readership
Traffic to your website
Brand awareness
Next, go to your business page. On the left side you'll see a blue button that says "promote." Click on that to explore your options.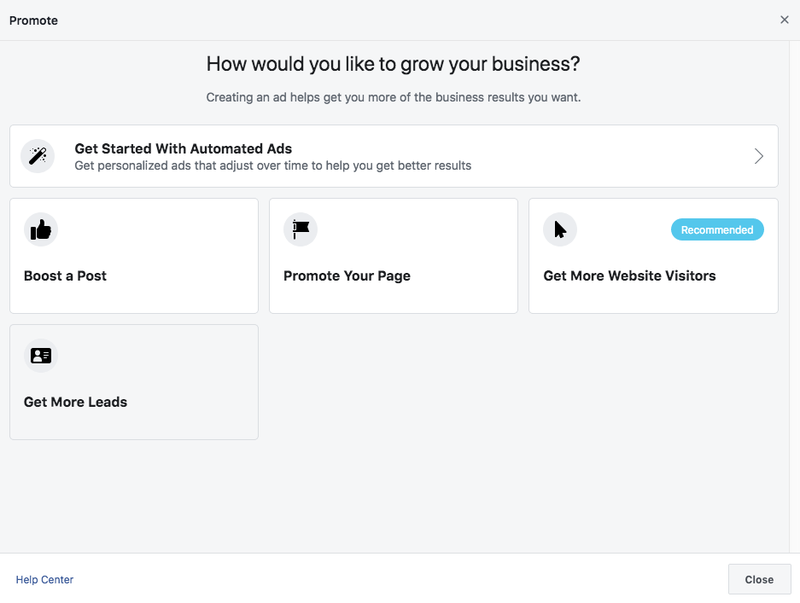 Keep in mind that last year's goals may no longer be relevant. This is why it's crucial to reexamine your goals and objectives with every ad campaign. Then, make sure to review the analytics to see which types of ads performed the best (see the next section).
---
5. Understand the analytics tools
There are many social media marketing tips. The most crucial one is understanding which ads are effective and why. Otherwise you risk taking the same approach again in the future, even if it yielded minimal results.
Take away the guesswork by understanding the Facebook Analytics tools. Here you'll be amazed at all the insider information, such as user profile statistics, page insights, and enhanced data. Access it all by selecting the "Insights" tab on your business page.
Once you've studied the analytics, you can alter your future approaches to Facebook marketing, such as finding ways to create more organic activity, or increasing the effectiveness of your paid campaigns — or a combination of both.
---
6. Build a community
It's important to create a mix of social media content in order to stand out. This is because various approaches will resonate with a wider range of people. One person might be hooked by a compelling video ad, whereas someone else is intrigued by an interactive poll.
The best way to do this is to build a solid community. By integrating several approaches, you'll draw in people from different backgrounds, expanding your business's reach. And even though these approaches take time and effort, they are essentially free.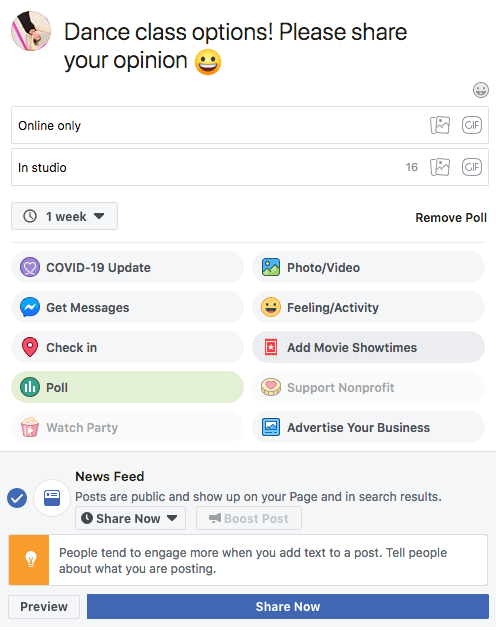 Here are some options to explore in addition to paid advertising:
Regular posts: Create engaging content that goes beyond your product. Consider

boosting a post

to get more attention. Don't forget to include a link to your website, blog, or product page.
Polls: Ask your customers to respond to a series of questions. This not only creates a genuine interest in your services and products, but it also offers useful insights in the process. Keep in mind that Facebook doesn't make it easy to find this option! First you need to click on "Publishing Tools" on the left side of your business page. Then click the blue "Create Post" button at the top. There will be three little dots at the bottom of the pop-up box — click there to find the poll option. Make sure to include an end date so the survey is complete.
Check-in: Enable this feature for when a customer is using your site or actually inside your establishment. This is extremely helpful during the COVID-19 pandemic where customers are unsure if your business is still open.
Live video: This is a wonderful way to interact with your customers in real time.
Product tagging: You can tag specific products in your posts and ads with links that take the reader directly to them.
Facebook group: One of the best ways to build a community is to create an interactive Facebook group. This is in addition to your business page. Here, members can post stories, pictures, and their overall experience with your products. A good example is the

Instant Pot Community

— which has 2.8 million members! You can (and you should) post regular content, but the true value is letting the members boast and rave about your services and products.
---
7. Try a social media management tool
There's no denying that marketing on social media can be complicated and downright exhausting. If you feel completely overwhelmed, consider using software that helps simplify, streamline, and enhance your advertising efforts.
First, make sure to define your goals, your target audience, and what exactly your business needs before investing in a particular software. This will help guide you to the most appropriate product.
Here are the best social media management tools for 2020. They take away the brain work of scheduling posts across a variety of platforms, as well as combining all messages into one, easy-to-read thread. Plus, they help pave the path for new and exciting ways of interacting with customers. For example, Sprout Social helps create a Facebook chatbot and requires no coding experience. How cool!
Lastly, make sure to keep updating your goals and objectives with the software. Business needs change, so don't keep using the same approach if it's not achieving the desired results. Mix things up!
---
8. Don't be limited by a small budget
Many sole proprietors or small business owners shy away from social media advertising strategies, worried it'll cost them an arm and a leg.
However, there are many options when it comes to online advertising. If your advertising budget is limited, start by building a community, such as creating an interactive Facebook group, publishing engaging content, or doing regular "boost" posts — limiting it to $1 a day. Even if only a small audience is reached, it's a start.
Over time you'll see which methods are most effective. Start setting aside more funds to continue those specific ad campaigns. If you can create powerful, direct, and engaging ads directed to a specific (but not too narrow) audience, you'll find that your advertising dollars will stretch further than you ever imagined.
---
Effective advertising on Facebook
It's not enough to simply place a few ads on Facebook and wait for them to perform some magic. You need to think about your business's main goals and objectives, which type of advertising design will be the most effective, and which customers you're trying to influence.
If you've been targeting very specific demographics, consider broadening your reach to include a wider audience. If you haven't engaged with your customers, consider creating a poll, posting a live video, or starting a fun and interactive Facebook group. And don't get stuck in a rut — if you've only posted photo ads, try a video ad next time.
Lastly, even small ad campaigns can be successful if tweaked to perfection. That's why it's important to keep analyzing that data, using it to your advantage to create powerful, effective Facebook ads.