How do you smile via a keyboard? The first social experiments in online communications were text abbreviations such as LOL — for "laughing out loud" — and keyboard emojis such as the wink — ;-)
Facebook took mimicking human social interaction to the next level by trying to recreate a broad range of human relations and interactions via its network. Facebook digitally redefined friendship and created digital proxies for conversation, for shoulder-clapping, and for celebrations.
Perhaps it ended up creating something new instead of recreating the old, but however you look at it, it caught on sufficiently to make Facebook a worldwide network with billions of users. It also turned the closed Facebook environment into an internet platform in its own right.
Where there are consumers, there is an opportunity for businesses to market their products and services to them — and to other businesses. Let's explore how.
---
Considerations for your Facebook marketing
There are a few things to consider when deciding how your business should use Facebook for marketing. For instance, what does marketing on Facebook cost? Well, it costs a lot of time and, depending on the type of strategy, it can have direct cost implications in the form of expenses for advertising or tools.
Advertising is what we call "paid media." There is another type of media bearing no advertising cost, which is "organic media." The first thing you need to do to start marketing on Facebook is to benefit from organic media exposure via a business page for your company.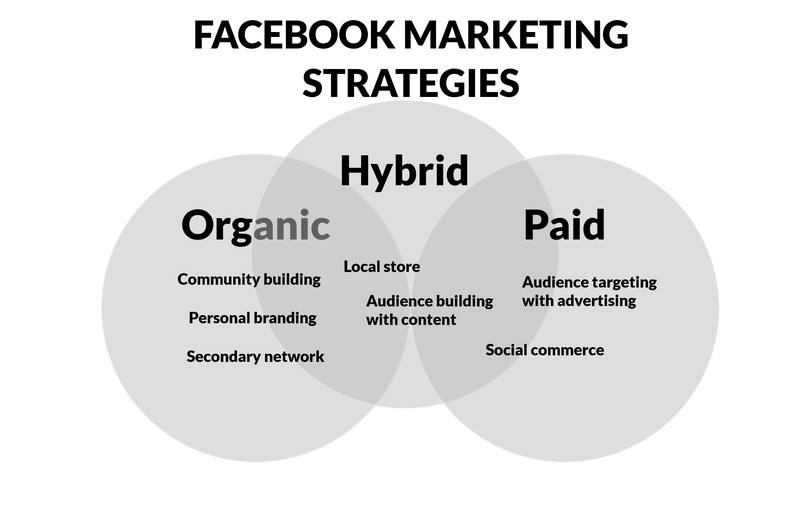 ---
1. Local store
Many owners of physical stores find good use of Facebook for their marketing. They set up a Facebook business page for their point of sale. The page shows opening hours, contact information, menus, or product catalogs.
It allows its users to contact the establishment and, in some cases, to order products or services. The Facebook page is a digital extension of the point of sale.
A local store strategy on Facebook is anchored in organic media. It carries no cost until the store owner decides to generate traffic. This doesn't mean it's free since resources are tied up in updating and maintaining the business page, and time is spent interacting with users.
Some tasks such as post scheduling can be prepared beforehand, but the store manager or someone else will need to go online and manage the page every day.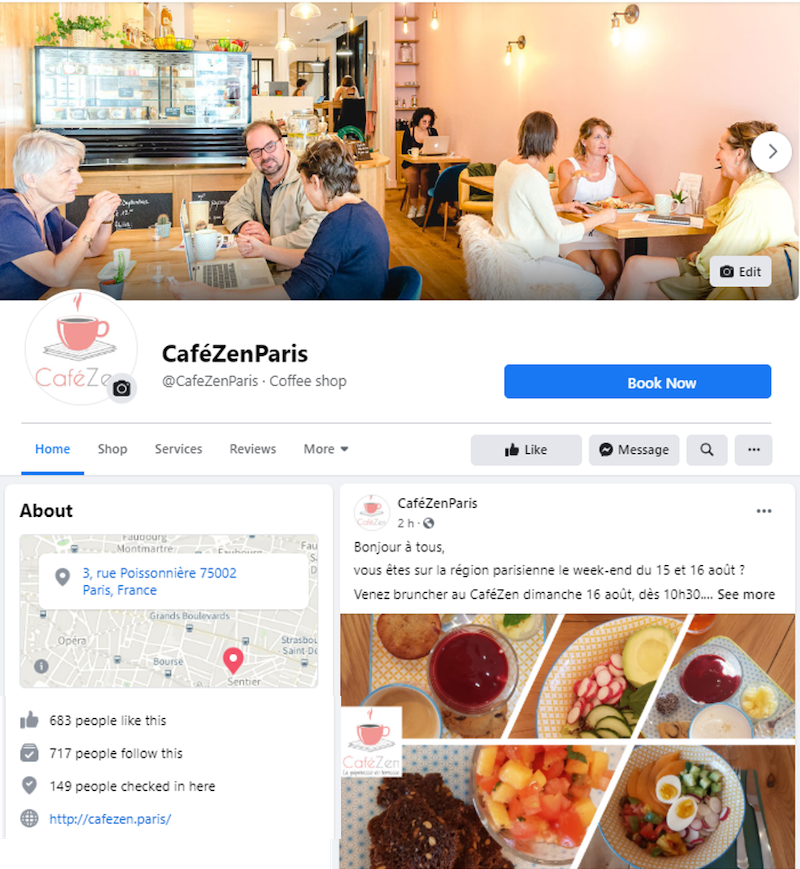 ---
2. Community building
A Facebook community building strategy is an approach to unite users around a cause or a page. It may start with a business page, but it can also be simply in the form of one or more Facebook groups.
The most important ingredient of this Facebook social marketing approach is user participation. Social media is an excellent tool for communities to evolve and for group discussions. The brand or group owner will assume a role of moderation and animation.
The community building strategy is nearly always exclusively organic. It can use advertising to drive new users to the group, but this is rarely the case since it is not a common social media strategy for businesses to use.
There is no direct revenue creation for the community owner. It works better for causes, association, user groups, and other passion-driven initiatives.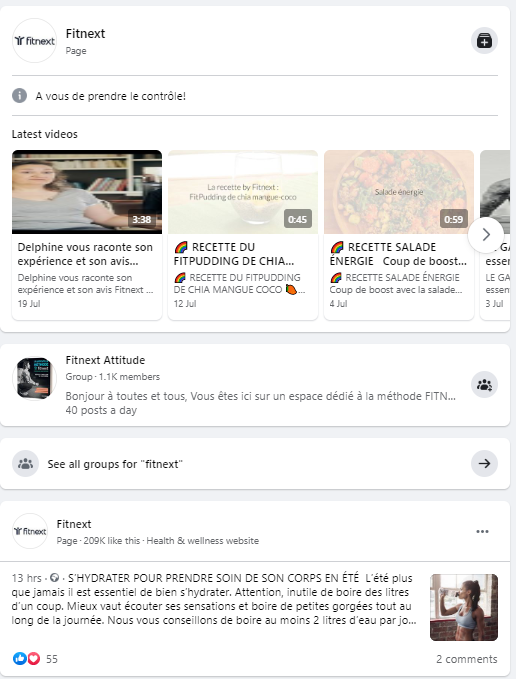 ---
3. Facebook as your secondary social network
Facebook may be the world's largest social network, but that doesn't mean it is the most effective social network channel for your business. Your audience may be easier to reach via another social network, making Facebook a secondary option.
Most businesses will still create a Facebook page, update it with business information, and organize to interact with clients there. Businesses using Facebook as a secondary network will focus on organic media and will aim to optimize resource use to manage the page.
These businesses typically use social media automation tools to carry content from their primary channel to their Facebook page. This strategy can be very efficient for business-to-business marketing and for small businesses with limited resources.

---
4. Personal branding
Social Media is ideal for personal branding, but how is that business strategy? A business owner is key to the social media presence of any company, but the smaller the company, the more this is true.
For a solo business, your company is your personal brand. For a small business, the owner represents the company image and, for a large company, the CEO is the company's authority.
Some business owners try to delegate their online presence, but for a personal branding effort to bring value to a company profile, the branding should carry the personal touch of authenticity which is so important on social media.
A huge untapped opportunity for many businesses is the use of Facebook Live sessions for internal or external updates about a company. Are you the CEO or the owner and not comfortable with communication on social media? Then you should ask for coaching rather than delegating away your image.
A personal branding strategy is rarely a standalone approach; rather, it is complementary to the business strategy. It can, however, be more than just an organic approach. It can make use of sponsored posts and sponsored stories to carry a message further.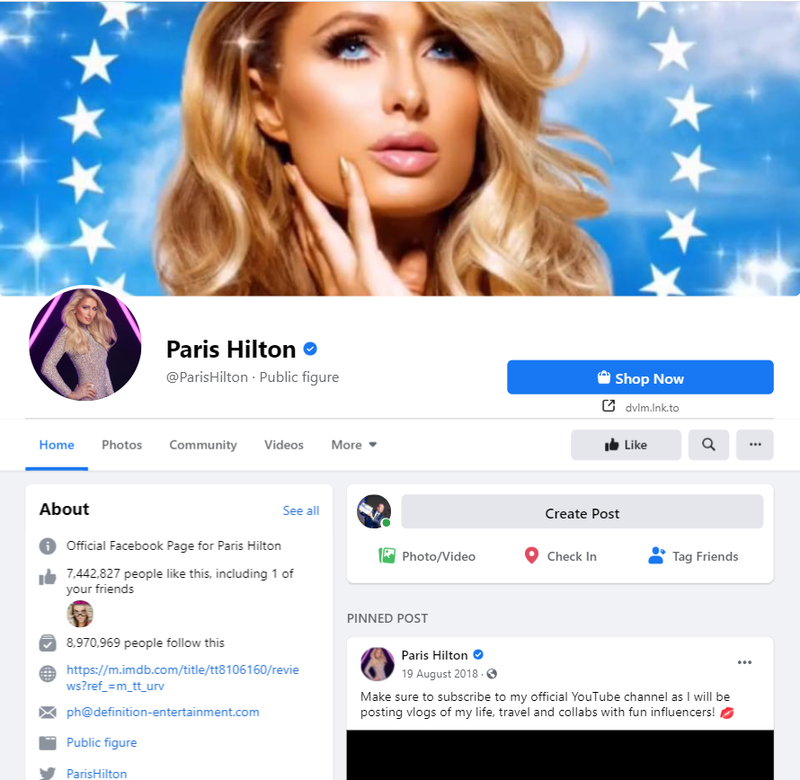 ---
5. Audience building with content
Content-driven strategies work well for Facebook marketing. One great audience-building strategy on Facebook is based on a hybrid model in which organic and paid media interplay.
By creating large quantities of content that resonate with the target audience, it is possible to significantly expand an audience using tactical budgets.
Say you have a media website or a vertical portal of some sort. You can generate unlimited amounts of content targeted to your audience. You publish a new article every day on your Facebook page and, while you're at it, you "boost" the page with a small budget — 1 dollar per day for 10 days to target new audiences.
New users who interact with the content can be invited to like your page and will increase the size of your audience in a natural way.
You can push this strategy by adopting a comparative approach. Using insights from Facebook analytics, you can easily identify the pieces of content with a high potential for engagement and reach.
Prolong your advertising investment on winning content and reduce it on content that fails to resonate with your audience. The cost for each new follower will drop as you build up more data and try more content approaches.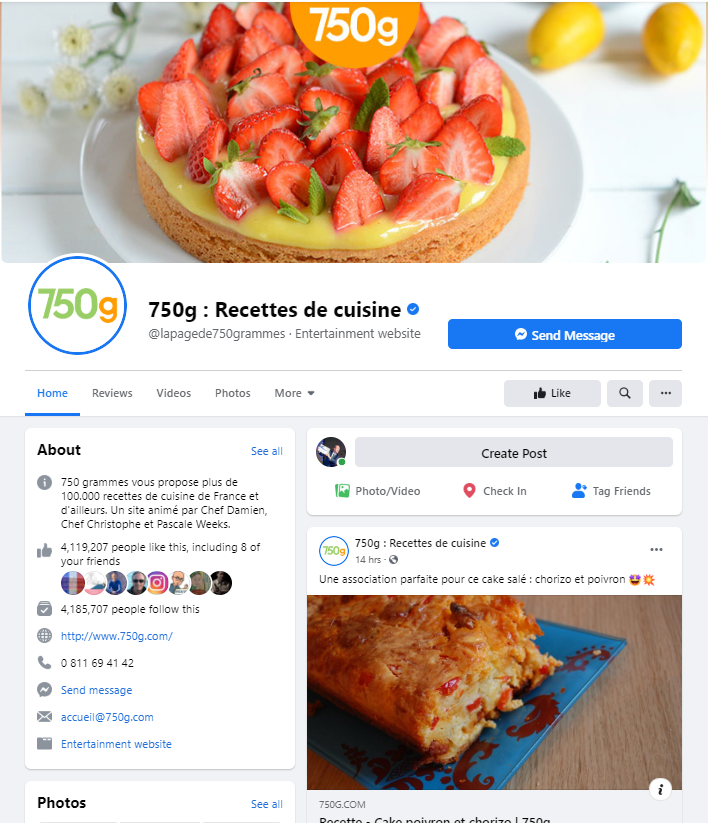 ---
6. Audience targeting with ads
Facebook is a powerful advertising engine allowing businesses to precisely target audiences and reach huge numbers of people at reasonable prices. An audience-targeting strategy is strictly a paid media approach.
Facebook has become one of the biggest digital advertising platforms in the world and captures a large share of social media advertising budgets. In order to start advertising from a Facebook page, you need to set up a Facebook Business Manager, which opens your access to the ad engine.
Advertising on Facebook is based on audience targeting and data marketing. Every action is measured, and campaigns can be optimized to meet goals that can be measured in real time.
Audiences can be created based on events or based on your customer relationship management (CRM). A lookalike audience can be generated using an audience you have already qualified. Combinations are endless and require constant measurement and analysis.
A broad range of advertisers use Facebook advertising. Karola Karlson made a long list of Facebook ad examples, including those from social ad campaigns, from brands such as Oatly, Lyft, Ben & Jerry's, GoPro, Adidas, Asos, Marvel, and Dell.
---
7. Social commerce
Facebook Shops, a mobile-only online shopping experience, debuted in May 2020. Via its subsidiary Instagram, a leader in the space together with Pinterest, Facebook has already had social commerce on its radar for a while.
Social commerce is a social media-driven e-commerce activity in which the buying experience is fully integrated into the social media platform.
Facebook digital marketing has many strengths, and the world's largest social network may well become the leader in this space. You can open the Facebook app on your mobile phone to browse fashion items and make an impulse buy here and now without leaving Facebook.
In a social commerce strategy, you upload your product catalog to a Facebook Shop and activate a payment gateway. This is something you can activate for limited cost on an existing page. Expect to invest in advertising if you are serious about your social commerce.
A social commerce strategy can be great for e-commerce players and for click & mortar companies. Looking at the largest Facebook pages with a store activated, they are mainly in the entertainment sector such as music, sports, and TV, but expect fashion and retail to follow suit.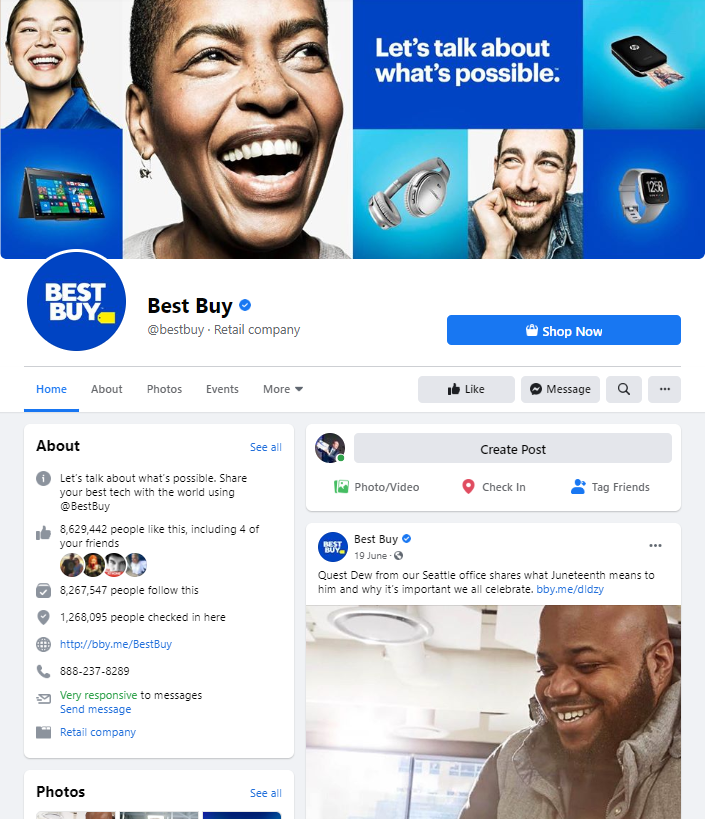 ---
Be where your clients are
As a good marketer, you want your company to be found where your audience is. And whether you are a business-to-business company or business-to-consumer one, your customers are on Facebook.
To monetize its activities, Facebook provides you with a powerful audience-targeting machine, but it also allows for organic and hybrid approaches for your marketing. Pick the Facebook marketing strategy that is the most cost-effective, or the most profitable, for your small business.