Overwhelmed trying to keep up with billing, invoicing, scheduling, dispatching, and the other administrative duties necessary to any field service business? If so, field service management software is for you.
These five field service management software programs represent the top field service management tools The Blueprint has found. They're sure to help you keep track of all the work entailed in any field service business, whether you're in HVAC repair, plumbing, landscaping, or electrician work.
Here are the top picks for the best field service management software options:
Our top 5 picks for the best field service management software
Which of these great field service management software programs is right for you? Each of these field service management software programs for small businesses has its strengths and weaknesses, and each program has something to offer.
Programs have roughly the same features, like Google maps integration, scheduling and dispatching, and work order history, but they do them differently. For instance, some programs offer extra services with their maps integration, like a service that tracks your vehicles in the field.
Keep reading to find out which software for small business is right for your field service operation.
If you want more information, be sure to check out The Blueprint's full field service software reviews of these programs.
1. Jobber
Jobber, a well-established player in the marketplace, deserves its reputation and ranking among field service management software programs.
Thanks to Jobber's pricing structure, it's a great choice for smaller field service businesses. The price tag is about $200/month for 30 or fewer users, so most small field service businesses will be able to afford Jobber. It's also a good option for solo-preneurs, as Jobber offers a one-person option for only $29/month.
Jobber's invoicing feature will be a relief to managers tired of keeping up with disorganized paper invoices. For that matter, it's good for any sort of invoice disorganization, thanks to a search feature that lets you search invoices by whether they've been paid, or their due date. Invoicing is also easy on the mobile app. Once a technician finishes a job, the app asks if they want to create an invoice now, or later.
The mobile app also makes it easy for technicians to keep up with their workload. The Time Sheet button at the bottom of the app screen provides an easily visible Clock In button, which will make it easier to not forget to clock in when you start a job.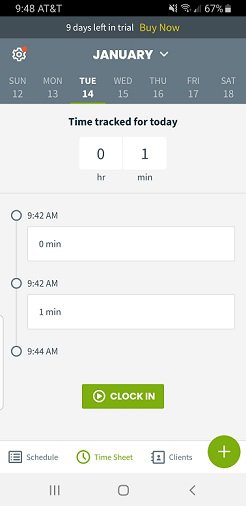 All of these set Jobber apart, but nothing stood out to me more than something I have never encountered in my years of writing about the B2B space: an employee offered to call less. When I called Jobber's customer support to try the software out, the person on the other end of the line asked if I wanted them to make fewer sales calls. Customer service is often an excuse for upselling. To find that wasn't the case with Jobber was, frankly, flooring.
2. mHelpDesk
mHelpDesk is the Blueprint's top field service management software program because of its great UX (user experience), great range of features, and overall ease of use.
For example, mHelpDesk adapts to how the user works. If, for instance, you're trying to create a new work order, but haven't created a customer yet, mHelpDesk won't stop you. It will instead prompt you to create a new customer, then allow you to continue with making the work order you were initially creating.
mHelpDesk's billing and invoicing feature is well-organized, especially for the desktop version. A bar of icons at the top of the invoice screen gives the user a heads up about important facts like how many invoices are past due and how many invoices are still in draft form.
mHelpDesk's app is well designed to optimize technician efficiency. Better yet, it won't bog down technicians who just want to get a job done, rather than struggle to figure out the new software program their boss just gave them.
The first example of this is the fact that mHelpDesk's home screen is a daily calendar that shows you what appointments you have for the day. The focus isn't on the software's functions for its own sake, but on what the tech will be doing that day. In that regard, mHelpDesk is a great field service scheduling software program, as well.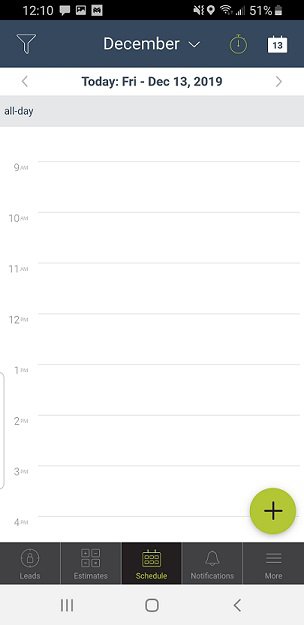 mHelpDesk's customer service is also solid. When I called, I reached a customer support representative with no wait. Though they didn't have the answer to my question, it only took them a few minutes to get in touch with someone who could.
3. Service Fusion
Service Fusion is a solid choice that will work well for you if you have a large company, and particularly if you want to track your technicians while they're on the road.
Service Fusion's mobile app is particularly great. The UI is as simple and intuitive as any program on this list. That should be a help for both digital natives, and tech novices. Your techies will be happy with the good experience, and your non-techies will have an easier time adapting to a new, digital work style.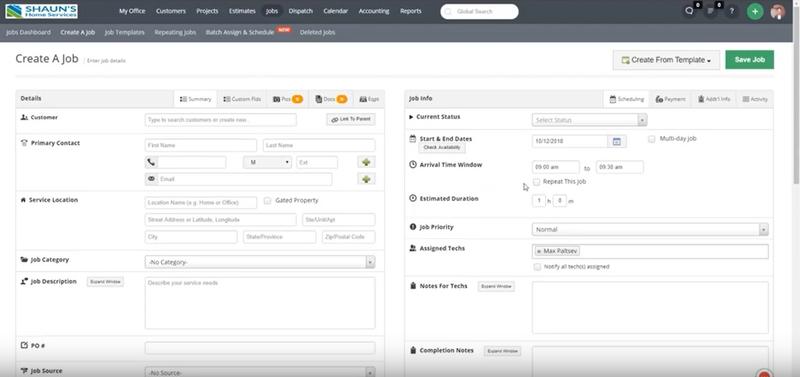 You get a similarly easy experience in creating work orders in the desktop version. When you go to create a work order, existing customers' names will auto-fill, making it easy to click on the customer you want. It's similar to the auto-fill box in a search engine.
While it's an extra charge, Service Fusion does offer a top-notch routing feature. Where many field service programs only offer Google Maps integration, Service Fusion goes further and offers the option to track your drivers, and make sure they're driving safely. They sell $49 GPS units, plus a one-time fee of $20, to track your technicians behind the wheel. It's a great way to make sure your workers aren't engaging in sudden braking, or speeding, when on the job.
4. FieldEdge
The bottom line for FieldEdge: if you're a big business with an established way of doing things, this is a good choice.
For one, FieldEdge offers support and customization that you'll appreciate if you're set in your processes. When you sign on, they'll assign you a support representative who will help train your users, and also help integrate your data into FieldEdge. The price tag, $4,000, for this is prohibitive for small companies, but large ones should be able to absorb the cost.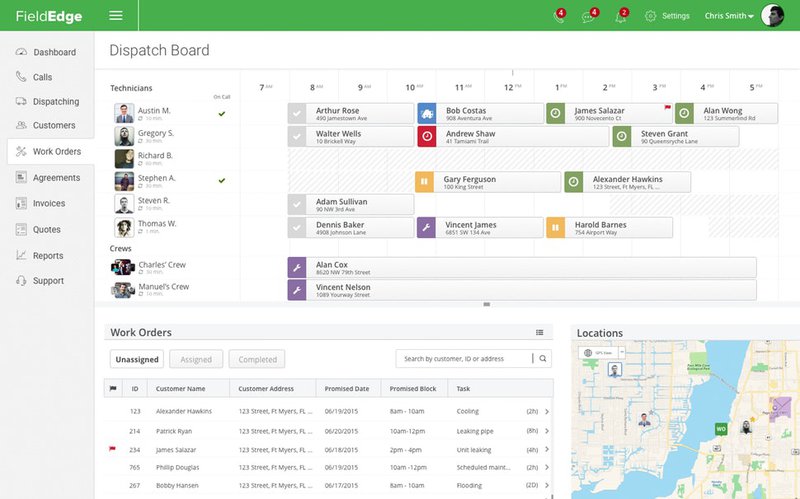 Larger field service businesses will also appreciate FieldEdge's unique approach to QuickBooks integration. They offer live integration, which means that every time a payment is made in QuickBooks, information from FieldEdge is immediately uploaded to QuickBooks. Many other field service management programs instead use batch-and-sync processing, where transactions are held until there are enough for a "batch."
This means you don't get real-time updates about payments and transactions. If you want an up-to-the-minute view of your finances, you'll like FieldEdge's live integration.
Another enterprise-friendly feature is FieldEdge's built-in price book. Any large company that does a large range of tasks probably uses a large range of parts. To that end, it helps that FieldEdge has a built-in price book of inventory items your technicians might use on a regular basis.
Instead of having to enter prices for each new item, they'll only have to look up that item, no matter how obscure, in the catalog. The price book is an extra cost, but the organization it offers a company with hundreds of employees is worth the cost.
5. Intuit Field Service Management
If you have a small business, aren't looking for anything fancy, and have workers who are tech novices, then Intuit Field Service Management is a good choice.
Intuit Field Service Management's UI is simple enough that it will appeal to workers who prefer a more classic look.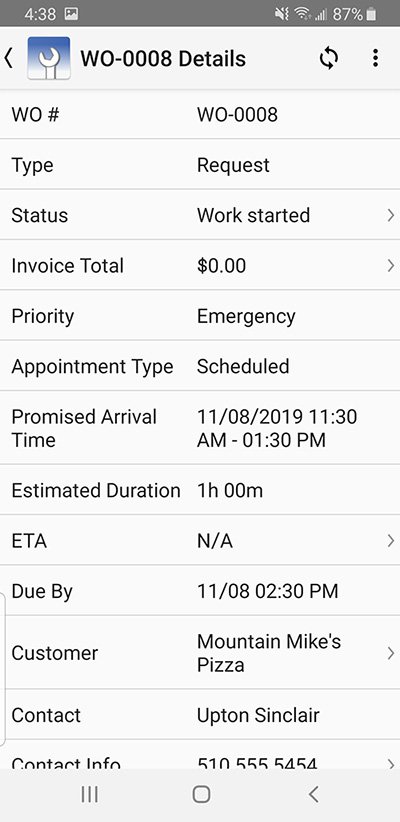 The information your technicians need is all there: the task they need to do, where it is, how long you think it will take, even a customer phone number, if needed. Also, the UI's design is reminiscent of a desktop word processor, which means it will look familiar, even if not that flashy.
Another benefit to the app is the ability to accept payment in the field. If you're looking to cut down on the invoices and payments that can get lost between the technician and the main office, Intuit Field Service Management can make it so your technician gets paid as soon as the job is over.
Intuit's offering is also a help to managers. A feature called Bread Crumbs gives desktop users of the program the opportunity to track the routes their technicians take in the field. If you want to check for sure on whether the damage to their van comes from traveling down a road currently under construction (and not maybe a speeding incident), you'll be able to tell for sure.
What The Blueprint looks for in great field service management software
When looking into what makes a great field service management software program, The Blueprint takes a lot of factors into account. However, there are a few main ones that we focus on: UI/UX, the mobile app, and the cost.
We focus on UI/UX (user interface/user experience) because everything else stems from how easily the user can navigate the program. If a program's as easy to use as a federal bureaucrat's filing system, no one's going to use it, no matter how fast it runs.
And speaking of whether or not you can use something, having a mobile app you can use in the field is essential for a field service management program. That's why the quality of the mobile app is another essential in The Blueprint's review system.
A solid mobile app is not just a great way to keep in touch, it's also a great way to keep track of years of experience. If you've got work order history saved on an accessible mobile app, it means a new technician can check another technician's information about a customer. Years of experience and tribal knowledge is available anywhere, anytime.
Lastly, we focus on cost, for obvious reasons. You're in business to make money doing what you love. That happy partnership happens only if you can exceed your margins. A field service management program at the right price, is a great example of the old "spend money to make money" cliche.
UI/UX
User interface is what the program looks like, and handles like, to the user. The user experience is the overall experience the customer has, from ease of use to accessibility.
UI and UX are important for any program. They're particularly important, however, for field service engineers. That's because field service companies are forever trying to fit 48 hours of work into a 24-hour day, so they don't have the time to do battle with their software.
Add to this the finicky, urgent nature of field service problems. For example, it's 99 degrees and the coffee shop's AC just broke. It's then you'll understand that an accessible UI can be the difference between getting there on time (the routing feature) and being able to pick the right tech for the job (the scheduling dispatching feature in the desktop version).
Mobile app
For a field service management program to be good, the mobile app has to be great. As the name suggests, field service entails going out into the field. If you want to manage those employees in the field, a decent, accessible mobile app is key.
A good mobile app is the difference between knowing that your technician has gotten there, and not being sure where they are. It's the difference between knowing that they've taken a safe and efficient route to the site, and not being sure whether they're on a road that's closed, and will cost them an extra thirty minutes.
Cost
Cost is important for the obvious reasons, you're in business to make money, but also for some less obvious ones. The same pricing model that works for another business may not work for yours.
For instance, if you've got a lot of employees who don't need a lot of features, pricing like Service Fusion's may be a better bet. If you've only got a few technicians, however, the sort of pricing model Jobber offers may be good.
How your business can benefit from using field service management software
Computers have revolutionized business, and field service management is no different. Field service management software programs offer many benefits, chief among them the way they simplify administrative tasks.
A 360 view of your field service business
Once you get past five technicians or so, keeping track of everyone becomes a job in itself. Field service management software, however, can provide you with a glance at the bigger picture, anytime you need it. Some of the programs above even offer dashboards that give you a great at-a-glance view of things, like Service Fusion's.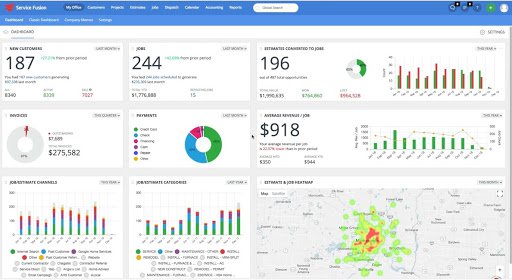 Make the move away from paper
When it comes to books, I'm a definite paper man. When it comes to business? Not so much. Keeping up with endless paper files is frustrating, and inefficient.
Imagine trying to find information on ten years of records on an important client, especially when that client's favorite technician is about to retire. That's a lot of institutional knowledge that could leave with your employee, unless the records for that customer are kept in the work order history feature of a software program.
Conquer cash flow woes
Cash flow's a problem for most small businesses. That problem can get worse if you're waiting on customers to respond to an invoice, whether by phone or mail. A field service management software program, however, makes it easy to keep the money flowing.
Many field service management programs have invoicing features where a technician can assign an invoice from the field, and some even offer the option for customers to pay on the spot.
Field Service Management Software Frequently Asked Questions
What does field service management software help you do?
Field service management software helps you run elements of your business like scheduling and dispatching, billing and invoicing, work order management, routing, and even keeping track of work order history.
Does field service management software work on smartphones and tablets?
Most field service management software programs work on Android and Apple smartphones and tablets.
How is field service management software priced?
Pricing structures vary between field service management programs. Some are priced by number of users, and that pricing is even split by whether the user is a desktop user/administrator, or only has access to the smartphone app. Some programs' pricing plans are for unlimited users, but instead differentiate pricing based on how many features you want access to.