It takes more than just a lead database and an appointment calendar to make a great customer relationship management (CRM) system.
Salespeople need a platform that can provide insightful reports, automate tedious manual tasks, log calls, and generally just allow users to spend as much time as possible doing what they do best: building relationships with clients.
Lots of CRM platforms do the basics right, but they struggle to reach the right balance when it comes to features and price point, or they may drop the ball when it comes to customer support.
However, Freshworks CRM scores high marks in just about every category, making this a platform you should strongly consider regardless of the size of your business.
Whether you're in B2B sales or sell directly to consumers, Freshworks CRM does an outstanding job of providing a platform that does everything a sales team needs it to do. Here's all that you need to know about this CRM, and who it's suited for.
---
Who is Freshworks CRM for?
Freshworks CRM (formerly "Freshsales") is one of many offerings from Freshworks. It has great features for managing a team of salespeople, and as such, it is generally a good CRM software option for larger companies that need to keep a number of salespeople working efficiently.
So if you need powerful sales and marketing tools and want to boost the effectiveness of your team, this is geared toward you.

That said, because it has an affordable basic version with robust features, small companies with minimal sales teams (or sole proprietors) will get a lot of value out of this platform. It's not a free CRM software, but it has a lengthy free trial and the initial price point is very low.
---
Freshworks CRM's features
Like all CRMs, Freshworks CRM offers lead management, contacts, deals, a visual pipeline — the basics. But three other features make this platform a little more unique.
Lead scoring
All sales leads are not created equal. Some are just not interested in what you have to offer, while others are just a couple conversations away from being a customer.
Figuring out how close you are to a sale is vital in determining how you interact with that lead and what your strategy is going to be, so Freshworks CRM's lead scoring feature — which allows you to rank leads based on their level of engagement — is a nice prospecting tool that will make you feel more in control of your sales pipeline.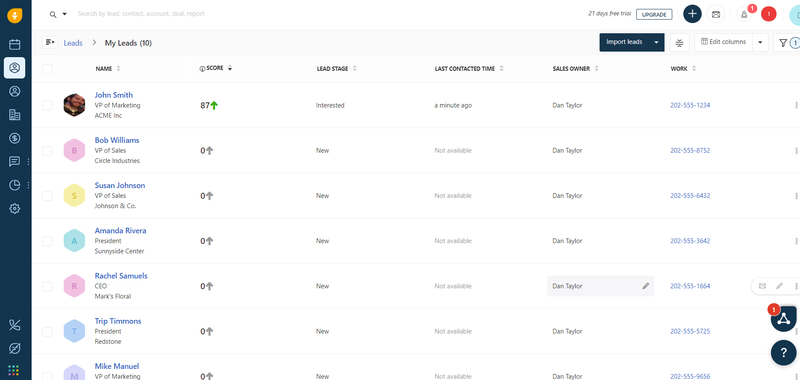 Visually, it's easy to see which leads score the highest and therefore who you should give the most attention to.
Team management
If you manage a sales team and are not just a one-person band, Freshworks CRM has features that can help you. You can group your team by a number of categories, from geography to deal size to product division, and the software will auto-assign prospects to the right salespeople.
And while the basic version doesn't deal a lot with team management, the higher-priced versions offer workflow automations, lead assignment, advanced reporting, event tracking, sales goals, audit logs, and other powerful features that can help boost a team's sales.
Reports
At the heart of any decent CRM software are the reports. You can't be a good salesperson if you don't have access to strong reporting features that can show you how well you're doing when it comes to lead generation, conversion rate, and other important metrics.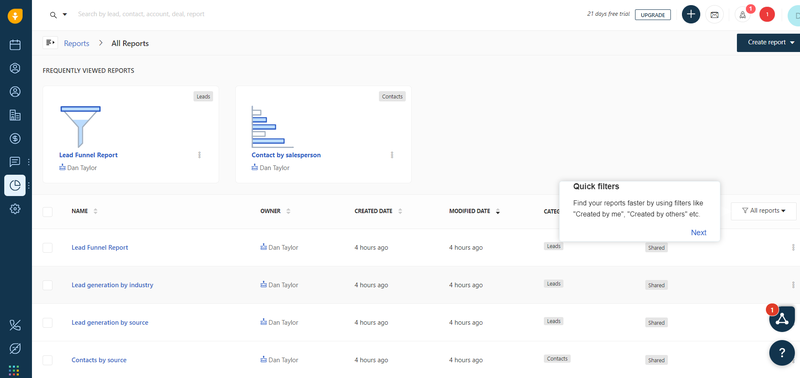 And Freshworks CRM does a good job, offering 32 different types of reports, from manual call logs to leads generated this month to email activity reports. And they're generated instantly using the information you enter through the software, so there's no effort to produce them.
---
Freshworks CRM's ease of use
Many CRMs try to throw a lot of information at you with dashboards featuring blocks of random information, but Freshworks CRM is a little more intentional about it.
The dashboard is mostly taken up by your activities and appointments, so the first thing you'll see when you log in is what kind of tasks you've accomplished and what appointments are coming up.
The downside to this approach is you're more limited when it comes to customizing what information is on the dashboard. Also, it doesn't give you that nice bird's-eye view of where you stand when it comes to key metrics like where you are with your sales quotas; you have to navigate to another page to get that info.
Navigation is simple, however. An icon-based menu to the side allows you to jump between leads, contacts, deals, reports, and email tools. Some actions, like filling out forms and flipping through pages, get tedious at times, but it is not a dealbreaker.

If you have a list of leads or contacts in a spreadsheet, it's easy to upload them into the software. You just choose the file from your computer, and it asks you to match your fields with its fields, and then it pulls all of the records from that file.
One interesting thing it does is automatically pull information from the web on your leads (although it's not always accurate).
After adding one made-up generic name to the list of leads, it automatically pulled a LinkedIn profile of someone with a matching name and company (and even put the individual's profile picture on the lead's profile in the software).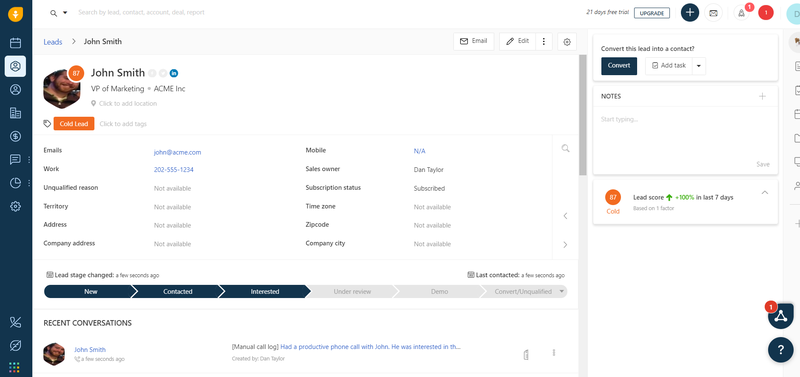 ---
Freshworks CRM's pricing
Like most CRMs, Freshworks CRM's pricing is on a per-user, per-month basis. You choose from four tiers with an increasing amount of features, with a steep discount for paying up front for the year. First, we'll list the annual price, followed by the monthly price.
Blossom is $12/month per user ($19 billed monthly). For that, you get the standard lead and deal management along with marketplace apps, Freshworks integrations, SMS integration, API access and a phone powered by Freshcaller.
Garden is $25/month per user ($35 billed monthly). This version comes with extras such as 250 bulk emails per user per day, workflow automations, teams, and advanced reports.
Estate is $49/month per user ($65 billed monthly). This expands bulk emails to 1,000 per user per day, gives you more workflow automations and sales sequences, advanced customization options, and event tracking.
Forest is $79/month per user (annual commitment only). This is for the real heavy users, with 5,000 bulk emails per user per day, up to 50 teams, IP whitelisting, audit logs, a data center, and a dedicated account manager.
This pricing structure makes Freshworks CRM a good option for a small business because the basic version comes at a low price and includes enough features for a sales team to do their jobs.
However, the steep penalty for signing up month-to-month (about 50% higher) is a downside. It might be a good idea to sign up month-to-month at first and then, when you are confident the software is right for you, spring for the annual contract.
You can sign up for a 21-day free trial, with no credit card required.
---
Freshworks CRM's support
Freshworks CRM's website offers FAQs, articles, and explainer videos for self-help. However, you aren't totally on your own. At the bottom of the Support page is a sales and support phone number and email.
After dialing the number, I was able to almost immediately get a member of the support team on the phone. Also, within the software itself is a live chat function if you want to get your questions answered that way.
The support options are impressive for this platform. Many other platforms either don't offer phone support or live chat, or they do but you have to pay a premium for it. Freshworks CRM provides it for free.
And the explainer videos are a nice bonus, so you're not just relying on articles. The only downside is that there doesn't appear to be a user forum specific to Freshworks CRM.
---
Benefits of Freshworks CRM
Freshworks CRM is an easy-to-use platform that requires minimal onboarding, making it great for someone who just wants to pick it up and start using it. And because it has a low price point for the basic version, a salesperson can sign up and try it out without paying a lot or making a big commitment.
It also boasts a long list of advanced features for companies who manage sales teams and need more than just a basic CRM. The more complicated features may require a little more onboarding time, but there's not much you can do to get around that if you want to get your sales team to the next level.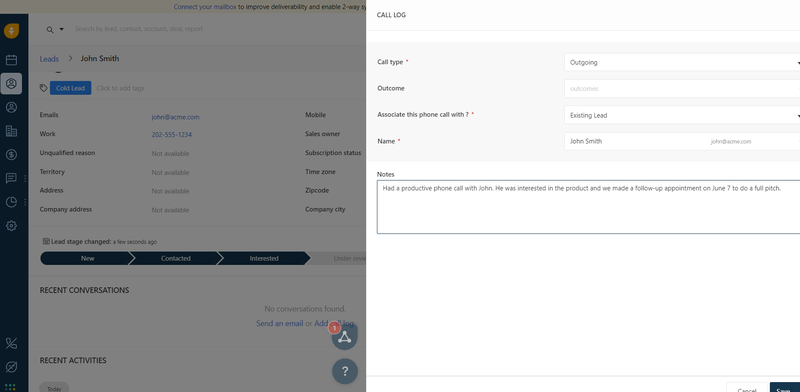 ---
Freshworks CRM offers something for everyone
With a generous list of features and a reasonable pricing structure, Freshworks CRM does a good job of offering something to businesses of all sizes.
It's an affordable CRM for small business owners who just have a few users and only need basic CRM features, but enterprise companies with extensive needs who are willing to pay the higher price have the option to get something more powerful.
It certainly seems more suited to companies with teams of salespeople since many of its features are geared toward that dynamic, so if you're a small business and you're the only salesperson, a lot of features may not be useful to you. But most of the features will come in handy.
---
Frequently Asked Questions for Freshworks CRM
Is Freshworks CRM affordable?
Freshworks CRM scores high in the affordability area, with its basic version at a price that most small businesses can afford. There's also a 21-day free trial, which is a generous period of time to try out the software (and you don't have to enter any credit card information). The only downside is a steep penalty for paying month-to-month instead of annually.
What features does Freshworks CRM offer?
Besides basic CRM features, Freshworks CRM has a few unique elements. Its lead scoring system makes it easy to see which clients are closest to a sale and should therefore get more attention. It does a good job with managing teams of salespeople, although most of those tools are only available in the higher-priced versions. And it has lots of reports to choose from so you can do a deep dive into your sales performance.
Is Freshworks CRM easy to use?
Freshworks CRM is intuitive, with a simple menu to the left of the screen that makes navigation easy, and a dashboard that puts your tasks front and center. Reports are easy to access and generate. And a lot of typically manual tasks are automated, which helps save time.
Does Freshworks CRM offer good customer service?
Freshworks CRM does an outstanding job when it comes to customer support, making it easy to reach the support team via phone, email, or live chat, and offering extensive self-help options like videos and articles.

Freshworks CRM does a solid job of providing a nice balance of price and features, so small businesses and large enterprises alike can enjoy the platform. However, there are other options out there that may be a better fit for your company, so check out The Blueprint's reviews of other CRM software options before making a purchase decision.
Freshworks CRM does a solid job of providing a nice balance of price and features, so small businesses and large enterprises alike can enjoy the platform. However, there are other options out there that may be a better fit for your company, so check out The Blueprint's reviews of other CRM software options before making a purchase decision.
---
How Freshworks CRM Compares
The Motley Fool has a Disclosure Policy. The Author and/or The Motley Fool may have an interest in companies mentioned.