A Pegasystems study finds that employees "switch between up to 35 job-critical applications more than 1,100 times per day." Google Workspace aims to reduce those clicks and put more of what you need in one spot.
After all, staying productive and connected isn't as simple as it once was. As more teams work virtually, online productivity suites give us ways to replace or enhance on-site communications.
Using Google Apps for business helps you create sensible workflows for internal collaboration and external stakeholders and clients. If you need an all-in-one solution, Google certainly earns its place among competitors.
Use this Google Workspace review to determine if the Google office suite is a good fit for your company.
---
Who is Google Workspace for?
Google Workspace is for anyone who wants to take control of their digital workspace. Owners of small to medium-size businesses can add up to 300 people to Google Workspace plans, while larger companies benefit from advanced administrative controls with the Enterprise package.
Although solopreneurs and freelancers may be content with free Google apps, paid plans provide integrated experiences and help increase productivity.
Plus, educational institutions and nonprofits can take advantage of free or lower-priced versions to better serve students, donors, and volunteers.
In short, this office suite gives you a virtual Google workplace to get jobs done quicker and easier than using dozens of different software programs.
---
Google Workspace's features
Business users get more than a dozen different productivity applications. With built-in video conferencing, calendar and content management, and real-time editing capabilities, teams can collaborate on projects with ease.
Productivity applications include:
Gmail: Oversee email, chat, rooms, and meetings in one application
Calendar: Manage schedules, add tasks, or create meetings
Drive: Store content on personal and shared drives
Docs: Create and edit documents or collaborate in real time with your team and clients
Sheets: Develop spreadsheets and invite people to collaborate
Slides: Design moving slideshows and share them across Google Workspace
Meet: Host a video conference with a max of 100-250 participants
Chat: Turn conversations into threads or hop on a video call
Keep: Sync notes across all devices
Sites: Build a website to keep employees and clients updated
Forms: Generate surveys or event registration pages
Currents: Use this digital bulletin board to motivate and connect teams
Google Gmail
Gmail for business goes beyond basic email collection. It adds functions for rooms, meetings, and chat in one dashboard, making it easier to see all communications in one spot.
If you're reading an email, you don't need to open another app to message your teammate. Simply click on a function on the left panel to interact in real time with your co-workers.
With Google Workspace email, you can create up to 30 email aliases per user. For team members who want to stick with Microsoft Outlook, you can use Google Workspace Sync for Microsoft Outlook (GWSMO).
Google Gmail uses algorithms and artificial intelligence (AI) to keep your inbox clean. Advanced spam filters do a great job at eliminating junk from your inbox. Algorithms automatically sort emails into categories, so important email stays top of mind.

Google Chat
With Google Chat, you can add rooms for teams or invite people from outside of your organization. It's similar to Slack as you can keep your space organized by creating topic threads.
But with one click, you can forward messages to your email or attach files from your Google Drive or hard drive. Google Chat works on any web browser, or you can download an app for mobile devices.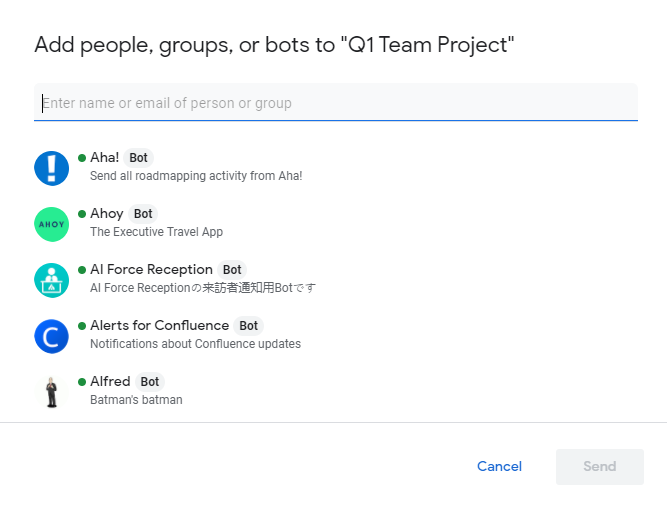 Google Meet
Google Meet is a video conferencing solution. You can open the Meet app to hold meetings with 100-250 participants, depending on your plan. You can also start a video conference while using Gmail or Chat by clicking on the icon or tab. Or schedule a Google Meet via the Calendar app.
With one click, you can enable captions, raise your hand during meetings, chat with participants, or share your screen. All packages, except the Business Starter plan, include meeting recording, polling and Q&A, and breakout rooms. The Business Plus plan adds attendance tracking.
Like Zoom, Google Meet offers a few fun background choices and allows you to customize your view. However, Google's video conferencing lacks advanced features such as a built-in whiteboard and waiting rooms.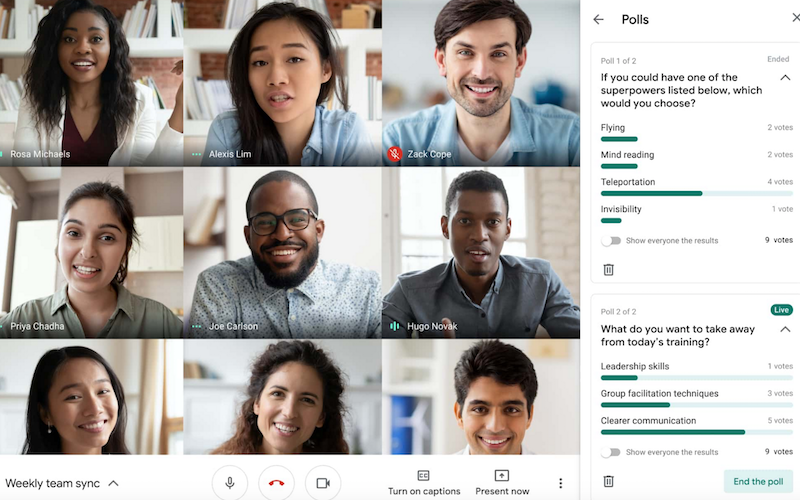 Admin Console
A big advantage of using the paid Google Apps for business is advanced admin functionality. A single portal displays everything you need to manage security, apps, and devices. Click on various icons to:
Add users by sending a login email or remove users
Handle browsers, devices, and permissions for all users
Check usage reports and analytics
Adjust admin roles
Manage apps by department, user, or company-wide
Reset passwords, view audit logs, or contact support from any device

Google Dashboard
Although you can pull up your productivity suite by clicking on the icon in the upper right corner, your Google dashboard puts all business applications on one screen. This is a nice option for users who want one home base to return to.
Each business app you click opens up on a new screen, allowing you to move easily between projects and tasks.

---
Google Workspace's ease of use
When it comes to all the essential tools, such as Google Docs, Gmail, and Sheets, Google Workspace is incredibly easy to use. However, like most productivity platforms, it takes time to figure out how to incorporate various features into your workflow.
Installation and set up
The Google ecosystem is entirely cloud-based, so there's nothing to download unless you want desktop shortcuts or mobile apps. To sign up for your free trial, you need to add a payment method.
Google walks you through each step. You're able to jump right into adding users or sending invites to collaborate with clients. It's easy to get overwhelmed with so many apps and functions. Fortunately, Google offers starter checklists for you and your team members.
User experience
Almost all Google apps appear and function similarly to Gmail. Hover over any icon and a description pops up. The user interface may feel cluttered to new users, but it doesn't take long to get up to speed.
---
Google Workspace's pricing
Google offers a free version for personal use that comes with 15GB of storage and provides access to key features such as Gmail, Drive, and Docs.
Unlike Microsoft 365, Google offers month-to-month plans, so you don't need to commit to an annual subscription.
Paid versions add administrative and security features and greater functionality in some Google apps. The 14-day free trial allows you to create up to 10 user accounts, giving you and your team plenty of time to try out all the great features.
Once your trial is up, you can choose from four paid plans:
Business Starter: $6/month per user for 30GB cloud storage and up to 100 participants per video meeting
Business Standard: $12/month per user for 2TB storage and 150 participants per meeting. This plan adds meeting recording, polling, and breakout rooms.
Business Plus: $18/month per user for 5TB storage and up to 250 participants per video meeting. With this version, you get attendance tracking.
Enterprise: A custom quote available for unlimited storage and up to 250 participants per meeting, plus advanced security and analytics
---
Google Workspace's support
Most Google applications have a small question mark icon near the top right. Click on it to pull up a searchable help screen. Or you can tap on a training tab in some applications, such as Calendar and Gmail.
Google offers a vast knowledge base with quick start guides, tutorials, and many ways to learn more about Google Workspace. However, if you need to speak with a live person, paid Google Workspace plans include 24/7 phone, email, and chat options.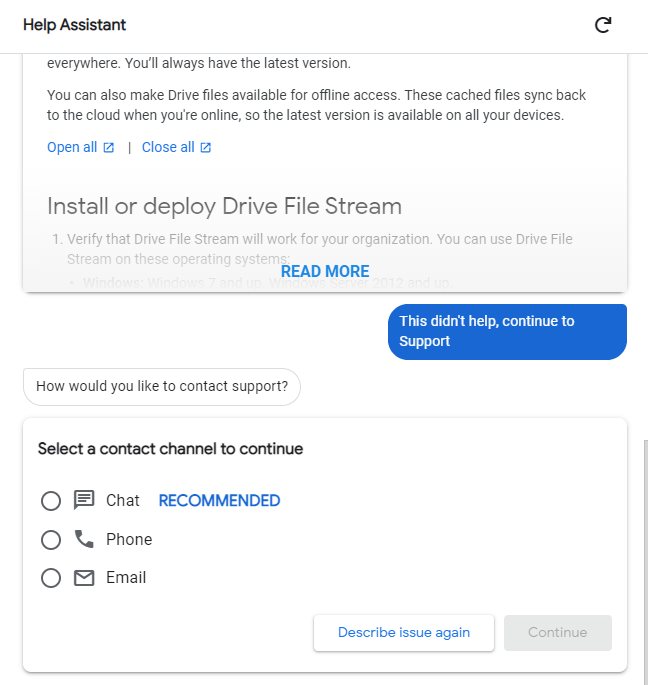 ---
Benefits of Google Workspace
Nearly all companies use cloud computing software. But tracking conversations and documents over multiple cloud spaces, dashboards, and applications can be frustrating.
Office suites give you control over conversations and content. By connecting your team to Google Workspace, you can take advantage of:
One central dashboard for 13 document, spreadsheet, communication, and productivity apps
Cross-app functionality saving you time when switching between applications
Ability to host up to 250 meeting participants
Real-time collaboration with clients inside documents or spreadsheets
Assignment of tasks in rooms, documents, spreadsheets, or slides
Ability to create groups for teams or your entire organization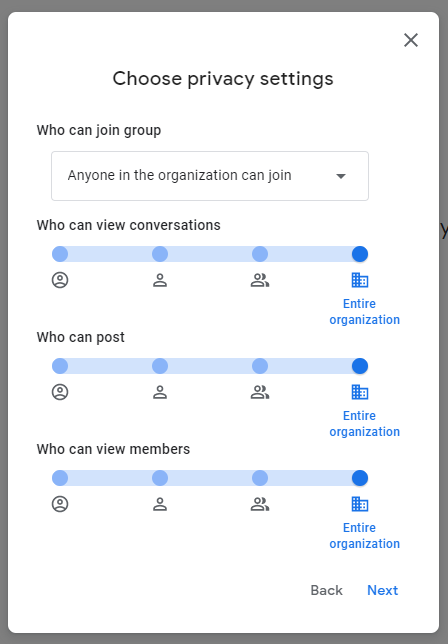 ---
A great platform for companies
Google Workspace is one of the quickest tools you can deploy to get your teams connected. It doesn't require hard drive storage space and works from any device. The right cloud computing tools make it easier for business owners, employees, and clients to collaborate remotely.
With increased attention given to online productivity suites, you can expect to see platforms from Google to Microsoft strive to deliver better functionality and plenty of updated features.
---
Frequently Asked Questions for Google Workspace
What's the difference between Google's free apps and Google Workspace?
For starters, you only get 15GB of storage with Google's free apps, whereas Google Workspace offers plans with 30GB, 2TB, 5TB, or unlimited storage. Plus, paid packages give you custom business email addresses, interoperability with Microsoft Outlook, and 24/7 phone, email, and chat support.
Is Google Workspace the same as G Suite?
Yes, Google Workspace replaces G Suite and provides the same user-friendly tools Google is known for. However, it adds more functionality between apps and improves upon existing workflows.
What is Google workspace used for?
Business owners and solopreneurs use Google Workspace to manage content and break down silos between on-site and remote teams. With an all-in-one productivity suite, you can connect employees, clients, and external stakeholders while using AI to automate many processes.

Find out if Google Workspace is right for your business by signing up for a 14-day free trial and adding up to 10 users.
Find out if Google Workspace is right for your business by signing up for a 14-day free trial and adding up to 10 users.
---
How Google Workspace Compares