HubSpot's Marketing Hub is a beast of a tool.
Is there anything it can't do?
It's not just an email marketing tool. It also offers customer relationship management (CRM), lead generation, social media, customer service, and collaboration functionality. Oh, and HubSpot actually coined the term inbound marketing. It's quite a pedigree.
It's not possible to purchase just the email marketing tools on their own, so it's important to consider whether you want (or need) the rest of the marketing suite that comes with it before you take the plunge. If you're just starting out and only want a basic email marketing solution, then HubSpot might be too much for you.
That's why it's important to consider your goals and shop around before making a decision.
---
Who is HubSpot Marketing Hub for?
HubSpot Marketing Hub is aimed at all business sizes, but its price could prove too expensive for small companies and solopreneurs.
Its ease of use makes it suitable for any level of email marketer and means you can get up to speed quickly. HubSpot is a market leader, and its Marketing Hub software is already used by a lot of companies, which means that many email marketers are already familiar with the solution and know how it works.
---
HubSpot Marketing Hub's features
HubSpot Marketing Hub has a very strong feature set, allowing you to quickly create email campaigns, tailor your content to different audiences and personalize it to individual circumstances. It also lets you track the performance of each campaign in great detail.
Email editor
HubSpot Marketing Hub has a huge range of email templates for different purposes, including:
Welcome emails
Email newsletters
Event invitations
E-book launch
Reengagement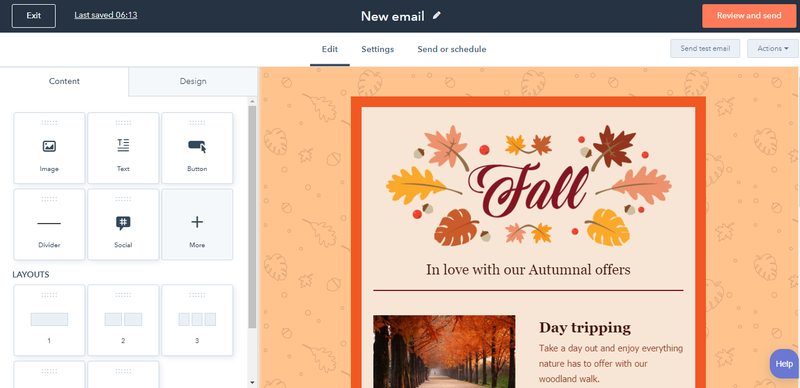 Its email editor also lets you add a range of different content blocks, such as image, buttons, and social sharing options, and edit the design of each. And it gives you a great deal of flexibility to change the overall layout of the email, for instance, adding and removing columns and rows.
HubSpot Marketing Hub is useful for both B2B and B2C marketers, as it lets you personalize the email with both personal contact details, such as name and location, and company details, such company name and industry.
One handy feature HubSpot Marketing Hub offers is the ability to personalize emails according to the customer lifecycle stage or their membership in different lists.
This means that you only need to create one email and HubSpot Marketing Hub will adjust content such as subject lines, links, and attachments, according to conditions such as if they have made a purchase before.
HubSpot Marketing Hub works in a similar way to a drag-and-drop builder that allows you to easily create landing pages from scratch or from templates. HubSpot Marketing Hub's landing page functionality can also help you grow your email list and increase conversions by allowing you to build pages that target certain groups of customers or campaigns.
In addition, HubSpot Marketing Hub's lead flow functionality allows you to create popup forms for special offers and to collect more sign-up details.
Automations
When you're creating a single email, you can choose to turn it into a series of automated emails. These automated series can be activated by a variety of triggers, such as:
A customer fills out a sign-up form
A customer's last date of interaction with your brand
Product page views
Interactions with emails and ads
You can choose from as many triggers or conditions as you like and make the sequences follow as many steps as you like. For example, you can choose a trigger that will initiate an action whenever a customer receives an email but doesn't open it, and they also haven't interacted with your brand in 60 days. This then triggers a series of reengagement actions or emails.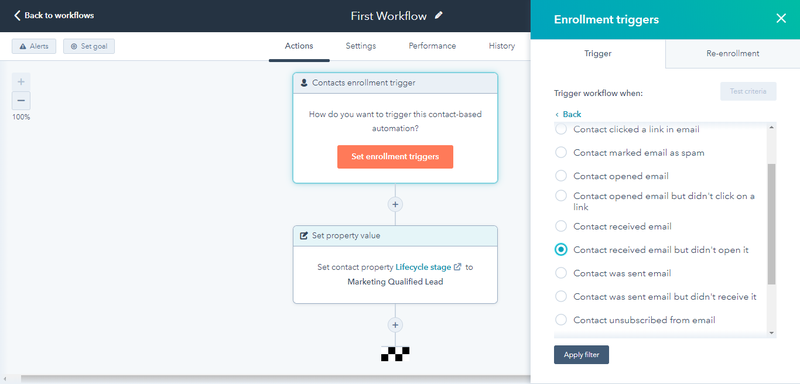 HubSpot Marketing Hub also provides full flexibility when you are building your automations, letting you set them to run for a period of time, or to only run during certain campaigns.
You can also set goals for your automated series of emails, such as a website visit or email open, and remove your customers from the series when they take this action.
Contact management
HubSpot Marketing Hub presents customer data like a CRM solution, letting you see all contact interaction details in one place. For example, you can see the lists each contact is on, automations they are currently enrolled in, updates to their information, and all interactions this contact has had with anyone in your company.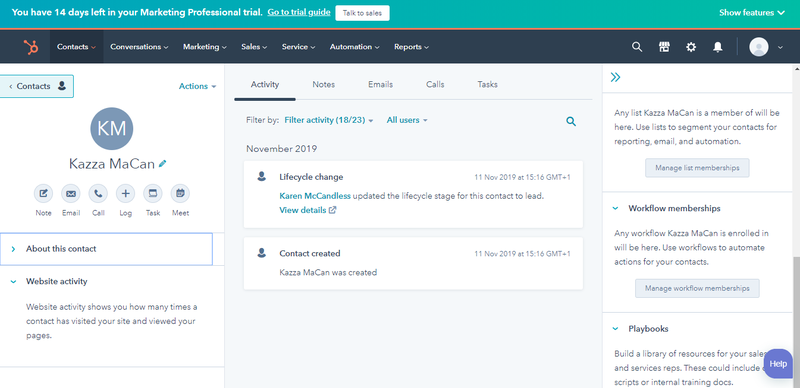 You can filter contacts by multiple conditions, such as location, date of sign-up, last activity date, and the customer's lifecycle stage. These results can help you create more granular contact lists, geared to more specific conditions.
Analytics
HubSpot Marketing Hub provides comprehensive email marketing performance data. You can easily compare your email campaigns with your other marketing campaigns across channels such as social media and paid display ads, and see which is more successful.
With the overall performance view, you can see the evolution of your email campaigns and track metrics such as:
Opens
Clicks
Bounces
Unsubscribes
Spam reports
HubSpot Marketing Hub goes even further, letting you take a deep dive into email engagement with metrics such as links that received the most clicks and most engaged contacts. An HTML click map provides a visual breakdown of all the links that were clicked on in your email.
HubSpot Marketing Hub's overall marketing performance analysis shows you how many new contacts you gained (or missed) through each email campaign, the time spent viewing an email, as well as their engagement over time. This will give you an idea of who is truly interested and can provide valuable data for future marketing actions.
---
HubSpot Marketing Hub's ease of use
HubSpot Marketing Hub is a comprehensive, feature-laden solution covering not just email marketing, but also sales, customer service, and CRM. As with any all-in-one direct marketing and sales solution, it takes time to find your way around.
The learning curve is understandably steeper than with a standalone email marketing solution because there is more to learn and more features to use.
After asking several questions to get to know more about what you are using the solution for, HubSpot Marketing Hub leaves you to your own devices to figure out what to do first. Unlike other email marketing software, it doesn't recommend any actions you should start out with or steps to take to create your first campaign.
This can feel overwhelming and you can easily get lost if you haven't got much experience using email marketing software. However, the navigation is well organized with straightforward names, so you can easily find all the functionality. It's easy to use the various features and the user interface is intuitive so the next step is always obvious and logical.
When you start using a feature, HubSpot Marketing Hub provides useful tips and tricks. In addition, a comprehensive blog provides a wide variety of sales and marketing topics. It inserts links to these articles within the app to help you understand how to use the features or improve your emails. Articles cover helpful tips such as how to personalize a subject line, as well as giving you advice on how including a winning subject line is the best way to start an email that converts.
---
HubSpot Marketing Hub's pricing
HubSpot Marketing Hub doesn't offer an individual email marketing plan, but you do get access to email marketing capabilities in the free HubSpot CRM plan. It lets you send up to 2,000 emails a month, which will only serve businesses who don't have many contacts on their email list.
HubSpot Marketing's paid pricing plans, which also include HubSpot's plethora of marketing automation tools, may seem expensive in comparison to other email marketing software. The most basic plan starts at $50 per month for up to 1,000 contacts, although there is a 14-day free trial and a 20% discount if you pay annually.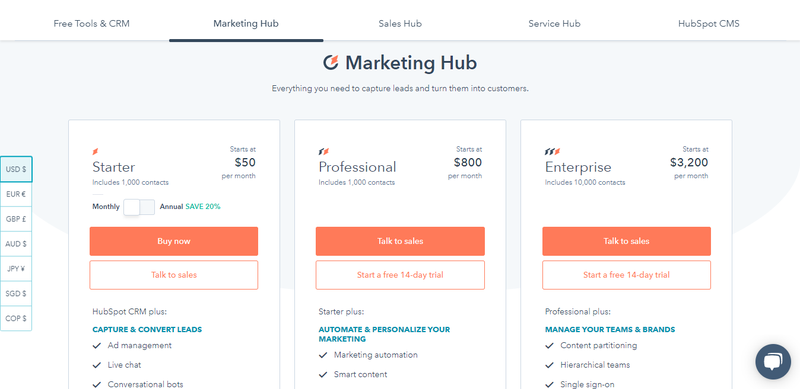 The price for the least expensive plan then goes up to $100 per month for up to 2,000 contacts and $150 per month for up to 3,000 contacts. This plan is good value for money, but it may be cost prohibitive for businesses with limited budgets. The other pricing plans, with a richer feature set, start at $800 per month for up to 1,000 contacts and $3,200 per month for up to 10,000 contacts, which will likely put them out of reach for small businesses.
---
Working with HubSpot Marketing Hub support
HubSpot Marketing Hub has a sticky help button that is visible at all times. Clicking on the button gives you 3 options: you can search the knowledge base for a self-service help option, you can fill out a form and a HubSpot customer service agent will call you back within five minutes, or you can choose the email and live chat support options (although live chat is not available on a 24/7 basis).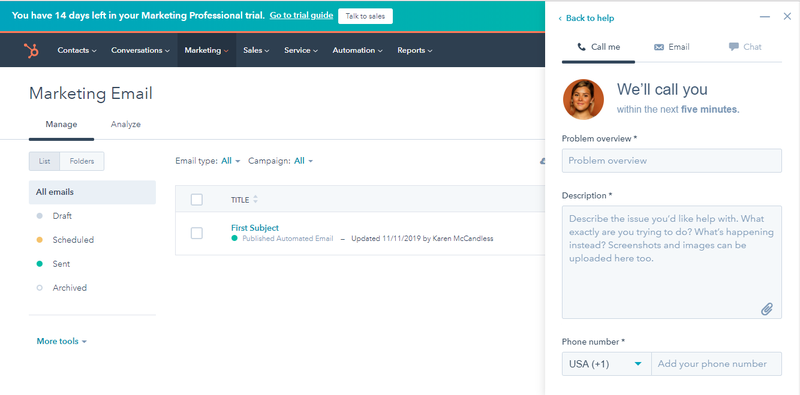 HubSpot Marketing Hub has an online community where you can ask for peer-to-peer support if you can't reach HubSpot's own support and you want a more immediate answer. The company also offers many webinars you can join live or access on-demand, which help you learn how to use HubSpot Marketing Hub and improve your B2B email marketing campaigns.
---
Benefits of HubSpot Marketing Hub
HubSpot Marketing Hub's easy-to-use email editor allows you to create professional looking email campaigns with just a few clicks. It also allows you to automatically create content that is highly personalized. HubSpot Marketing Hub's analytics gives you both an overview and a detailed insight into your email campaign performance, while its forms and landing page functionality help you grow your email list.
---
HubSpot Marketing Hub: great solution, but not for everyone
HubSpot Marketing Hub is a fantastic email marketing tool but, because it's not a standalone solution, it is more expensive and may be too costly for many smaller businesses. If you can afford to fork out more, and you want a solution that makes even the most advanced feature easy to use, then HubSpot Marketing Hub is a great option. Its huge feature list may take you a while to master and understand where everything is, but it's worth it when you get it right.
---
Frequently Asked Questions
How much does HubSpot Marketing Hub cost per month?
HubSpot offers email marketing tools with its free CRM, but this only allows you to send up to 2,000 emails a month. If you need more, you will have to fork out at least $50 per month for up to 1,000 contacts for HubSpot Marketing Hub. This is the least expensive pricing plan. The other two paid pricing plans start at $800 and $3,200 respectively for up to 1,000 contacts.
Is HubSpot Marketing Hub easy to use?
Yes. HubSpot Marketing Hub has a ton of features but, given the intuitive nature of its user interface and its in-app help and tips, you can get up and running quickly even if you haven't used email marketing software before.
Why should I use HubSpot Marketing Hub?
HubSpot Marketing Hub helps you personalize email marketing campaigns on an individual level and create automated email sequences that can help nurture your customers down the sales pipeline. It also allows you to get insight into the performance of your campaigns and understand how you can optimize them to boost revenue.

Try out one of the best email marketing solutions available today with the HubSpot Marketing Hub.
Try out one of the best email marketing solutions available today with the HubSpot Marketing Hub.
---
How HubSpot Marketing Hub Compares
The Motley Fool has a Disclosure Policy. The Author and/or The Motley Fool may have an interest in companies mentioned.