---
Who is Insightly for?
Could your sales or marketing team benefit from more leads, stronger relationships, and business intelligence? That's the value that Insightly provides, and you won't have to break the bank to give it a try.
Insightly is a CRM software for small and medium business owners who want to improve the way they manage leads, projects, and sales. If this is an area where your business struggles, then Insightly offers value and convenience.
---
Insightly features
One of the most important features is that Insightly is cloud-based. Your entire team can access their dashboards and pipelines from anywhere with an internet connection. No fancy desktop apps or OS required.
Whether you want to sell more products or improve the overall flow of both small and large projects, Insightly has a number of features that are worth considering.
Lead routing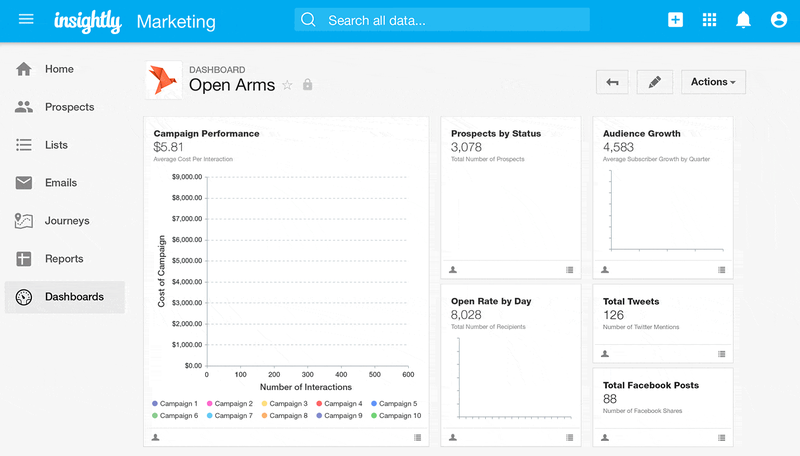 If you're in the marketing and sales game, then you know that timing is everything. Timing can be the difference between closing an easy deal and missing the opportunity of a lifetime.
Insightly lead routing enables your sales team to hone in on red-hot leads. You can automatically send leads to the right team member during every step of your pipeline.
The vibrant and straightforward design means that your entire team will be keenly aware of the status of each lead. The dashboard makes it simple to visualize the entire lead generation process — especially the productive activity timeline that makes it even easier see the status and history of emails, phone calls, tasks, and meetings.
Insightly's best lead routing features:
Smart routing technology enables you to route the right lead to the right team member at the right time
Easily track the most crucial information, including timeline, emails, phone calls, tasks, and meetings
Minimize downtime and redundancy during every step of your lead generation and follow up process
Email marketing
Do you need to track, save, and even send emails to your prospects? Maybe you've looked at bulk emailing options, but the cost was too high? Or, perhaps IT-related hassle has prevented you from sending bulk emails in the past?
If that's the case, then Insightly's email marketing features are worth considering. You can contact your prospect database using the bulk email feature without any advanced technical knowledge. You can then use Insightly to track your emails. You'll know if, and when, your prospects have opened your emails, or if they're ducking your every attempt to contact them.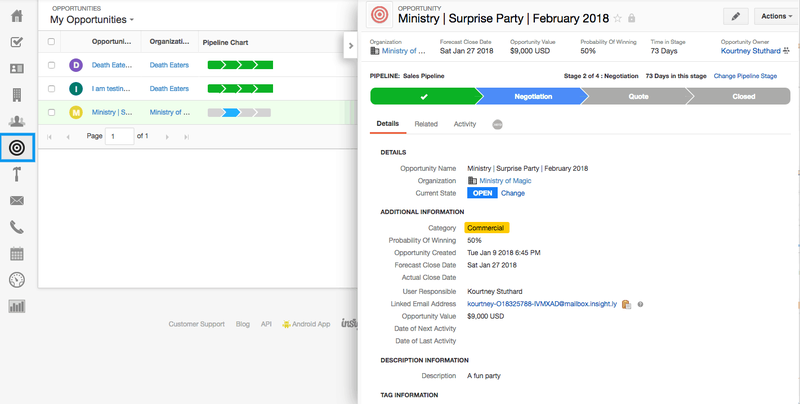 Insightly's best email marketing features:
With notifications and email delivery tracking, you'll know exactly when your leads open and click your emails
Easily create and send emails right within Insightly
Bulk emailing options allow you to contact your entire database without any IT related stress
Custom dashboards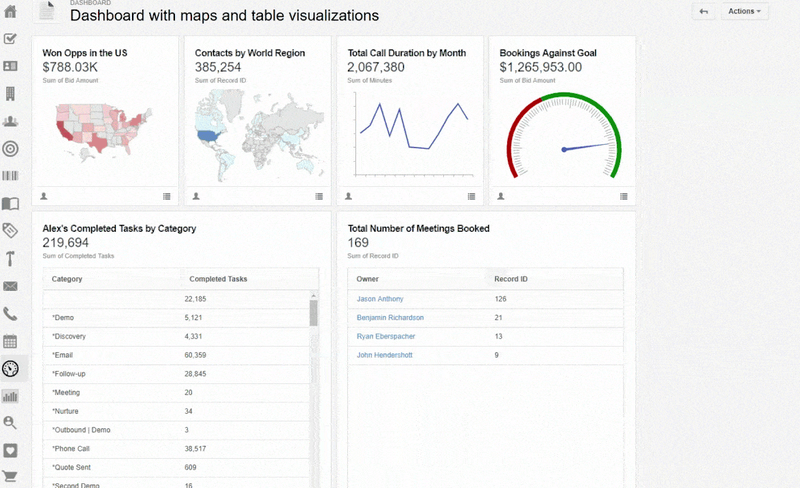 A reliable CRM is all about dashboards, and how quickly and easily you can visualize and understand the data. Insightly shines with its customizable and beautiful reporting options. Their custom dashboard feature lets you to streamline your business processes using vibrant colors that are easy to understand.
Insightly also offers a boatload of customizability, and you can easily design dashboards to showcase and track your crucial metrics. Using Insightly's business intelligence feature, you can quickly launch and deploy detailed data visualizations. Such visuals can instantly reveal and showcase any data set or milestone.
Insightly's best dashboard features:
Quickly customize dashboards, views, and workflows based upon business objectives and goals
Streamline your entire business process and easily showcase nearly any dataset you wish
Produce beautiful charts, graphs, and visualizations and share them with your team using simple drag-and-drop architecture
Integrations
If your team relies on third-party tools that you love, then Insightly makes it straightforward and painless to integrate with your existing pipeline. Insightly also integrates with Zapier, so if your favorite third-party app isn't listed below, then don't worry because Zapier integrates with over 1,500 apps.
Here's a list of some of the Insightly integrations:
Microsoft Outlook
Microsoft Office 365
Gmail
Google Apps & GSuite
Slack
Zapier
Dropbox
Google Drive
Evernote
Ninja Forms
---
How Insightly can benefit your business
When your team logs in to Insightly, they're going to behold a vibrant and beautiful CRM that is easy to understand quickly. Insightly brilliantly visualizes pipelines and opportunities, so your team knows the exact status of every lead and project.
Your team can quickly access tasks, contacts, organizations, leads, and reports that need their attention.
A cloud-based architecture gives access real-time information. Regardless of where your prospects reside in the world or what operating system they're running, they can access your entire pipeline quickly.
---
Insightly pricing
There are three pricing plans for Insightly: Plus, Professional, and Enterprise. Insightly also offers a free plan for up to two users, which is not widely advertised and has limited features. However, it's worth noting that a "forever free" plan exists. Insightly also offers separate marketing plans that can help to reinforce your marketing efforts.
Let's take a more in-depth look at the three main pricing plans. Please note that the prices below reflect annual plans.
Plus: The Plus plan costs $29/month per user. It's perfect if you want to keep in touch with your prospects without missing critical windows of opportunity. The Plus plan enables you to schedule emails and manage leads, and you also get up to 100 email templates, which is a nice touch.
Professional: The Professional plan costs $49/month per user. If you're happy with the core features and want to add the lead assignment roles feature, as well as have priority email support, then swing for the professional plan.
If you're going to take your business to the next level with automation and productivity, then the professional plan is worth consideration.
Enterprise: The Enterprise plan costs $99/month per user. It's great for medium-size businesses that love Insightly and want to grasp its best CRM features. The Enterprise plan grants you unlimited records and unlimited storage, plus a dedicated specialist to help you whenever you need it.
Free plan: Insightly's "forever free" plan makes it easy for you and a partner to manage your projects, sales, and contacts neatly and securely from the cloud. The free plan doesn't offer the most features. However, it won't cost you a penny, so it may be worth experimenting with.
---
Getting started: How easy is it to use?
Insightly is very straightforward to use, and their cloud-based architecture means that your entire team is always on the same page. It is simple to get started, and they also offer a free two-week trial to see if you love their innovative and intuitive CRM.
Do you use another CRM, an email autoresponder, or CSV files to manage your current database? If so, Insightly will make it super simple to import your leads without hiring a developer or pulling out your hair.
What other people say about Insightly
If you search on social media, you'll find that a lot of customers love their automation and sales features. Here's one of my favorite mentions, which I tend to agree with!

---
Final summary
Insightly rocks if you want to provide unrivaled customer support so you can create a fantastic experience for every customer and prospect that you ever attract. With a perfect mix of low-cost features with premium upgrades, you can get started then scale as your demands increase over time.
They get bonus points for style and their beautiful dashboards, cloud-based architecture, and stellar support.
---
Frequently Asked Questions
Is Insightly free to use?
Insightly is competitively priced compared to many of its competitors. The company offers a free version with limited features, as well as a free two-week trial that lets you test out its products.
If you decide that Insightly rocks, you can upgrade to the Plus plan, which is the cheapest option, for $29/month per user (billed annually). It lets you schedule emails, track your pipeline, and communicate with your team. If you need more, Insightly also offers more comprehensive CRM services and marketing solutions.
Insightly has excellent support, earning a perfect score in that category from The Blueprint. In addition to the customer service team, it has a help center, a community, and hosted webinars with helpful information.
Is Insightly cloud-based?
Insightly is cloud-based, which is easily one of its best features. A cloud base means that your sales team can be confident that the status of every lead. No more second-guessing yourself because you're unsure of where your last contact left off. Now your team knows for a fact how to properly engage each lead, every time.

If you're looking for stronger relationships and better business intelligence, but without breaking the bank, Insightly could be a great choice for you.
If you're looking for stronger relationships and better business intelligence, but without breaking the bank, Insightly could be a great choice for you.
The Motley Fool has a Disclosure Policy. The Author and/or The Motley Fool may have an interest in companies mentioned.