If your sales team is not using CRM software, you're in the minority. A recent study by SuperOffice found that 74% of businesses are using some type of CRM platform.
But diving into that statistic reveals an interesting reality: 91% of businesses with over 11 employees use CRM, but just 50% of those with 10 employees or less do.
Smaller companies have been slower to adopt CRM software, perhaps not realizing the tremendous benefits it can provide even to a small team doing B2B sales. And if you run a small team — or are a one-man band — there are two great CRM options you should consider to improve your sales process: Zoho CRM or Insightly.
---
Insightly vs. Zoho CRM: An overview
This is an interesting matchup between two cloud-based CRMs, each with its own unique benefits. Insightly offers advantages to both small and large businesses, while Zoho is geared more to smaller and mid-sized companies, although both software options offer Enterprise versions.
Who is Insightly for?
Insightly is a cloud-based CRM that is good for companies both big and small who seek an option with built-in marketing tools and automation.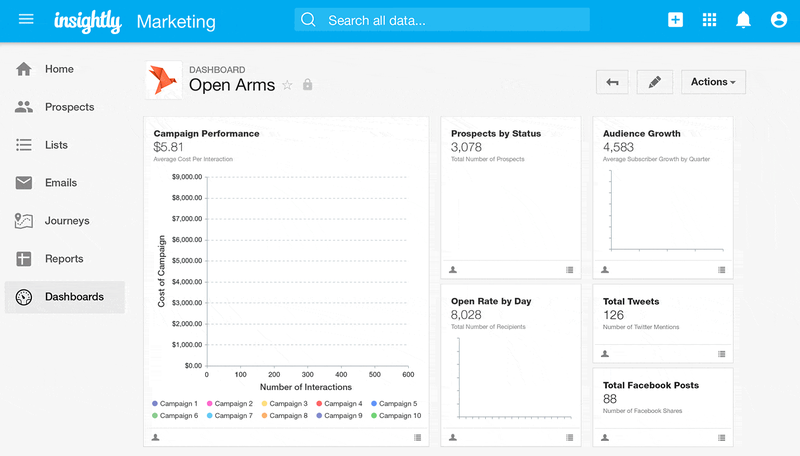 This software is good for large sales teams that want good support and are willing to pay for excellent marketing tools. It also works for Insightly small business customers who want a solid "forever free" platform that they can get up and running quickly to improve their sales pipeline.
Who is Zoho CRM for?
Zoho CRM is also web-based but more suited for sole proprietorships and small- to mid-sized businesses who want an intuitive platform with a wide range of features, from account management to sales management.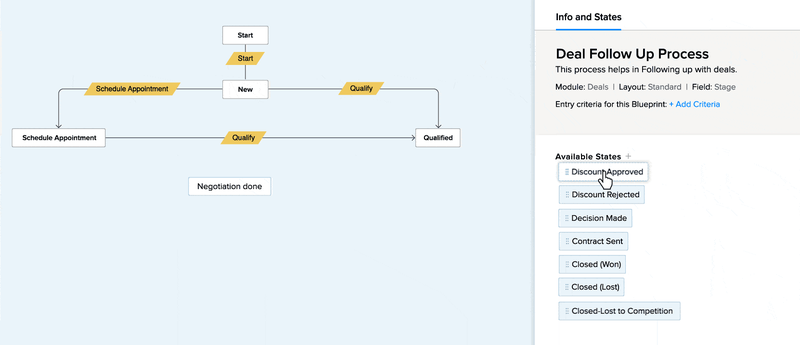 Its design is not as flashy as some other CRM solutions out there and you'll have a learning curve, but it's a good, straightforward option for sales teams.
---
Insightly vs. Zoho CRM: Features
Choosing between Zoho and Insightly when it comes to features is a bit tricky since they both offer a similar menu, but they function quite differently.
What Insightly offers
Because it is cloud-based, Insightly can be accessed from anywhere with an internet connection, with no software to install.
The software itself has lead routing, which automatically sends leads to members of the sales team so that they can contact that prospect at just the right time and more efficiently close a sale.
Reports in Insightly can help you dive into data to improve your team's efficiency, along with Insightly workflow automation. It displays all this information on highly visual and customizable dashboards that keep all the information in one place.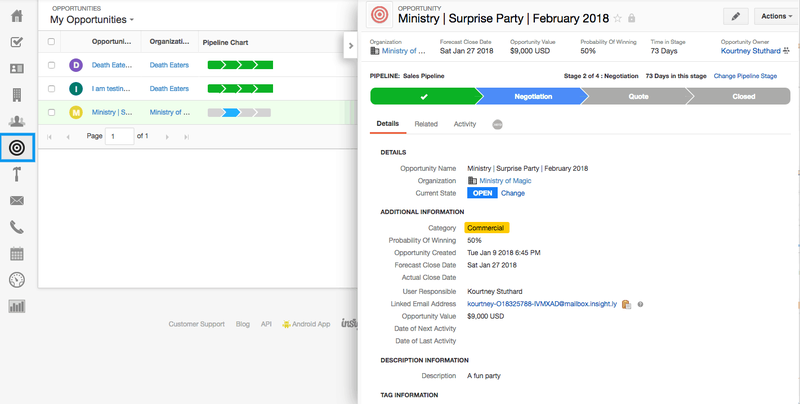 Insightly also has an email marketing tool that tracks, saves, and sends emails to leads, a nice addition for teams that need a strong marketing aspect to their CRM.
What Zoho CRM offers
Zoho's cloud-based platform is also accessible anywhere.
The free version of Zoho features tools ranging from call logs and notes to social media integration to sales tasks and events.
Upgrading to paid tiers gets you features such as sales forecasting and live tracking of visitors, or using social media to generate leads and create Google Adwords campaigns.
By springing for the highest membership tier, you'll get custom modules, customer support, reports, enhanced storage, inbound marketing with automation, and more.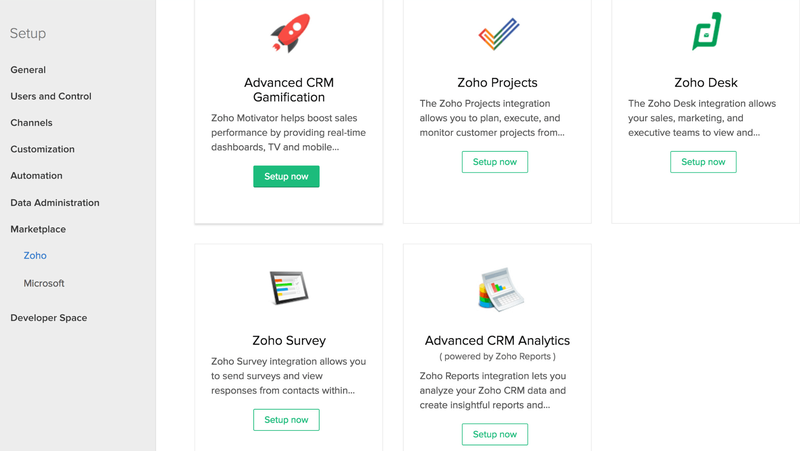 Results
Winner: Insightly
Both Insightly and Zoho are packed with powerful features, but Insightly in our view has a slightly better selection.
---
Insightly vs. Zoho CRM: Support
Both of these options offer solid support, and both require that you pay for that privilege. They also provide some online and community support that your team may find helpful.
What Insightly offers
Insightly offers a Help Center where you can find answers to common questions and even a special section just for CRM beginners.
This is helpful for salespeople new to CRMs who are trying to make the transition to their software. You'll find a robust community where users can help others find answers to technical issues and other questions.
Beyond that, Insightly offers "success programs" where you can get personal training and support from the company for fees starting at $1,500. This gives you access to email support, phone support, quarterly webinars, training, workshops, and more.
What Zoho CRM offers
Zoho also has an article database for customers to help themselves, and they have a customer support number that is limited to business hours and to customers of Enterprise and Plus.
Zoho has a thriving community of users who are ready and willing to help with just about any question you might have, which is certainly a big plus.
Results
Winner: Insightly
Both options charge for customer support, but Insightly appears to offer a more holistic support option, and their Help Center and community offers a lot of help for those unwilling to pony up.
---
Insightly vs. Zoho CRM: Ease of use
When it comes to ease of use, we're looking for software options that take you right to an intuitive dashboard and allow you to quickly and easily navigate to the most vital information a salesperson needs to access.
What Insightly offers
Simplicity appears to be the name of the game for this platform.
As soon as you login to Insightly, you are taken to the dashboard's home page. The dashboard shows a visual layout of your total sales, sales pipeline funnel, lost opportunities, and other metrics that you can adjust according to your preferences.
There's a handy menu that allows you to quickly navigate to your contacts, leads, projects, tasks, emails, calendar, and more.
What Zoho CRM offers
Zoho also has an intuitive, user-friendly design that is particularly good for social media integration, something that most CRM software solutions out there don't do very well, if at all. The layout is simple, albeit not as visual as others, but some users may prefer that.
Zoho's home page takes you directly to open leads and tasks as a default, although you can customize the dashboard to show whatever components you want.
It also has a menu bar situated at the top that takes you directly to leads, contacts, reports, analytics, and more. There are a huge number of menu items to choose from, so navigation does take some getting used to.
Results
Winner: Insightly
Insightly's dashboard is more simple and straightforward than Zoho's, with the latter offering a long list of menu options that is easy to get lost in.
---
Insightly vs. Zoho CRM: Pricing
Since both software options are priced on a per-month, per-user basis, this is a straightforward comparison.
What Insightly offers
In addition to its "forever free" option, Insightly pricing includes the following options:
Plus: $35/month per user
Professional: $59/month per user
Enterprise: $129/month per user
What Zoho CRM offers
Zoho pricing includes the following options, billed annually:
Standard: $12/month per user
Professional: $20/month per user
Enterprise: $35/month per user
Ultimate Edition: $100/month per user
Results
Winner: Zoho CRM
Zoho's tiers come at a much lower price than Insightly's — the latter's Enterprise edition is nearly four times as expensive as Zoho's Enterprise option, for example.
However, it's a bit tough to compare them apples-to-apples since their extras are different. Insightly's enterprise version offers tools such as automating business processes and more advanced contact and organization management. Zoho offers extras such as auto responders, data encryption, and custom modules and buttons.
Still, if you're looking to save money, Zoho is the clear winner — even the ultimate version, which includes more automation and advanced customization, comes in at a lower price.
---
Insightly vs. Zoho CRM: Integration with other software
Both options impressed us when it came to integration. Users of third-party platforms like Outlook, Office 365, and Mailchimp will be satisfied with both options' connectivity.
What Insightly offers
Insightly offers integration with all the major third-party business platforms, such as Microsoft Outlook, Office 365, G Suite, QuickBooks, Mailchimp, Slack, Dropbox, Google Drive, and more.
It also integrates with Zapier, which itself integrates with more than 1,500 apps, so you can use that to integrate any platform that Insightly doesn't immediately provide access to.
What Zoho CRM offers
Zoho also integrates with the big third-party platforms your sales team probably uses, like Mailchimp, Quickbooks, and Outlook. Its integration with social media is a big selling point for the software.
Zoho also provides the capability to build your own extension for free and add it to their Marketplace, which you can explore for other user-created apps.
Results
Winner: Zoho CRM
Both options provide extensive access to third-party apps, but Zoho appears to have a broader range of integrations, and access to user-generated apps is a plus.
---
How They Compare: Insightly vs. Zoho CRM
| | Insightly | Zoho CRM |
| --- | --- | --- |
| Free version | | |
| Free trial | | |
| Phone support | | |
| User community | | |
| Integration w/3rd-party apps | | |
---
Insightly wins, but both deserve a try
Insightly's intuitive dashboard, excellent support, and solid lineup of features earn it the win in this matchup.
However, Zoho has a lot of benefits that might tip the scales in its favor for some businesses, particularly those concerned about price and integration with third-party apps.
Your best bet is to give them both a try and see which one fits your business better.