Instagram has over 1 billion active users. Using Instagram for business is a great way to get your product in front of many consumers. Instagram now supports businesses with Instagram shoppable tags, which takes interested users directly to your website to make a purchase.
The ease of driving traffic with shoppable Instagram tags can dramatically increase your website visitors and boost sales. Natori was able to increase the traffic to its website by 1,417% using the product tagging feature. Magnolia Boutique saw a 20% increase in revenue when it used Instagram product tagging.
---
Overview: What is Instagram product tagging?
Instagram shoppable tags is an Instagram business feature that allows shop owners to tag products in their social media content. These tags then link back to a sales page. This allows users to make purchases from your Instagram store with just a few clicks.
Instagram product tagging is similar to the Swipe Up Instagram feature. It's a way to engage followers and direct them to your website or Instagram shop. Instagram shoppable tags direct customers to a product page where they can purchase items. Users no longer have to type in your website and find the products on their own.
---
How to create a shop on Instagram to tag products
Before you can start tagging away at all the wonderful products you sell, you must be eligible to use Instagram shopping. You will need to set up a shop and get it approved through Instagram first.
1. Determine eligibility
The first step will be to read and agree with Instagram e-commerce policies. You must represent your business and domain, demonstrate trustworthiness, and follow best practices. These criteria must also be met.
2. Connect to your Facebook page
Once you have qualified and agreed to Instagram's policies, you need to connect your Instagram business account to a Facebook page. This step maximizes the benefit of having an Instagram shop. Consider the benefits of linking your Facebook page to Instagram.
Run Instagram and Facebook ads.
Post efficiently. The linked accounts allow you to post on both platforms in one step. Your Facebook ads will reach more people because they also run on Instagram.
Easily manage your messages. When Facebook and Instagram are linked, you can manage your messages from a single inbox.
Sync business contact information.
Gain access to cross-app tools. You'll gain access to appointment booking buttons, donation stickers, and camera effects for both platforms.
3. Sign up for a business manager account
You'll need to sign up for a Facebook Business Manager account to set up your shop in Facebook Commerce Manager. This lets you manage your ad accounts, pages, and the people who may work on them.
4. Set up your shop
Set up your shop in Facebook Commerce Manager. Select the checkout method and the sales channels to have a shop on Instagram or Facebook.
If you run your store with one of Instagram's e-commerce platform partners, such as Shopify or BigCommerce, you can connect your catalog through them. This will automatically sync the product listings. Connecting your store through an e-commerce platform is recommended. It makes inventory tracking and managing orders much easier.
5. Add products to your shop
Once your shop is set up in Commerce Manager, you can add products by connecting to an existing catalog or add them individually.
During the setup in Commerce Manager, you will select an existing catalog or create a new one to hold inventory. Then you may add a catalog and products.
Go to

www.facebook.com/products

.
Click on Add Catalog.
Select the inventory type. Click Next.
Choose how you want to add items to your catalog. You can upload them yourself or connect to the e-commerce platform you use.
Select the Business Manager account associated with the catalog. Assign permission to people to work on the catalog.
Enter a name for the catalog.
Click Create.
6. Submit for review
After you have products in your online shop, it's time to submit it to Instagram for review. The Instagram review process only takes a few days.
Go to your business Instagram profile and tap the three lines indicating the menu.
Select Settings.
Sign up for shopping.
Follow the steps listed to submit your account for review.
Go to Shopping in Settings to check your status.
Sometimes businesses may need to provide Instagram with additional domain details. If you receive a notification, complete the domain verification process.
7. Turn on shopping feature
Once Instagram approves your account, you can turn on the shopping feature. Follow these simple steps.
Tap the three lines on your business Instagram profile.
Select Settings.
Tap Business and then Shopping.
Choose the Product Catalog you want to connect.
Select Done.
8. Upload and tag photos
Upload photos as you would for a regular post. You can tag up to five products for each photo.
Type the names of the products you want to tag. They must correspond to the product name in the catalog. Select them as they appear in the search box.
Tap Add photo.
Add a caption.
Click on Tag Products.
Click on a photo.
Search for a product.
Click on the product from the catalog.
Tap Done.
Click Share.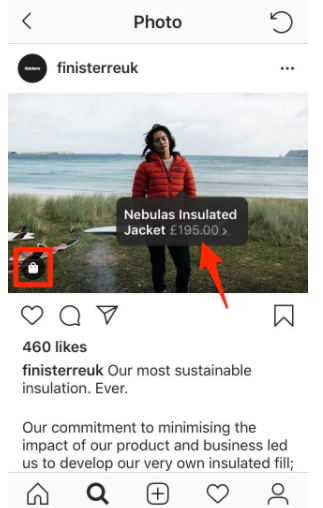 ---
Tips for creating engaging Instagram product posts that convert
The last thing you want is to create a ton of Instagram product posts that no one cares about. Before you plan out your social media content strategy, make sure you're following some simple guidelines that boost the conversion rate of product posts and increase your post visibility.
Create a lookbook with carousel posts
You can tag up to 20 products in a carousel post with ten photos. That gives you a chance to showcase a lot of great products at one time. A carousel post can function as a lookbook for a new collection. You can also use it for a special campaign and incorporate shoppable tags.
Use descriptive hashtags so your products are searchable
Help users find you with descriptive hashtags. Hashtags ensure the post is searchable on the Explore page. Many Instagram users follow hashtags, so when you use them they're more likely to show up in their newsfeed.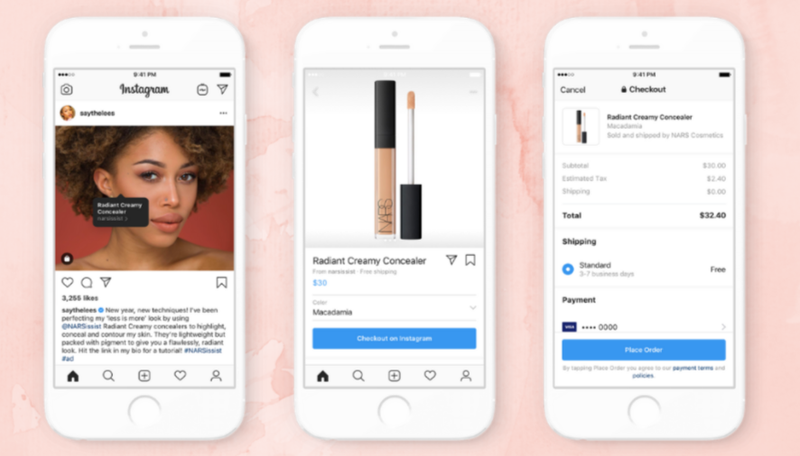 Promote a giveaway
Giveaways are a great way to hook your target market. People love to get something for free. When you create a promotional giveaway, include a hashtag to make it searchable. Include instructions for followers to share the giveaway with their friends. This will increase your reach and drive traffic to your promotion.
Giveaways are a great way to feature the products you want to sell with shoppable tags. Not everyone will want to wait until the giveaway ends. Some people may want to purchase it right away. Tag the products you plan on giving away to allow followers to purchase them immediately.
Share user-generated content
Many businesses share user-generated content to build their brand on Instagram. They ask customers to share product reviews or photos featuring real buyers using the products. Then they share these posts on their profiles and mention the customer. The products in the pictures can be tagged with shoppable tags.
User-generated content increases social proof for your business. It increases customer loyalty, expands reach, and establishes trust for the business.
Post consistently
Create a regular posting schedule. The Instagram algorithm displays posts of companies with regular engagement and interaction with their followers. Schedule Instagram posts when your target market is most likely to be online and able to interact with your posts. Social media management tools can help you keep track of what and when you post.
---
Instagram product tagging boosts sales
A social media strategy that includes Instagram shoppable tags can be a great way to grow your business. Tagging user-generated content demonstrates social proof. It shows off your products in context. This can help the customer envision themselves using the product.
Instagram product tagging also shortens the steps customers have to take to make a purchase. Customers no longer have to leave Instagram to find the product they're interested in on the company website. They can simply click on the product from the picture from their mobile device. These additional conveniences increase customer sales.