---
Who is Mailchimp for?
Mailchimp is suitable for any marketer, even if they have no email marketing experience and have never used email marketing software before. Its ease of use, combined with its heavy focus on analytics and actionable insight, make it a good solution for anyone focused on tracking metrics and taking a data-driven approach to email marketing.
---
Mailchimp's features
Mailchimp's standout features are its reporting and contact management functionality. It also has a strong email editor and useful in-built automation templates to make creating automated email responders much easier.
Create an email campaign
Mailchimp makes creating an email campaign easy, and it shows you all the steps you need to take upfront, which makes it suitable for novice users. The workflow won't necessarily suit everyone as you have to fill in all the details of your campaign — such as subscribers, subject line, and from address — before you can design your email.
In terms of email design functionality, Mailchimp gives you tons of options and flexibility (shown below). When you create your email, you can choose:
Basic layouts
Layouts targeted at certain campaign types, such as announcements, or product sales
Template themes
Coding your own from scratch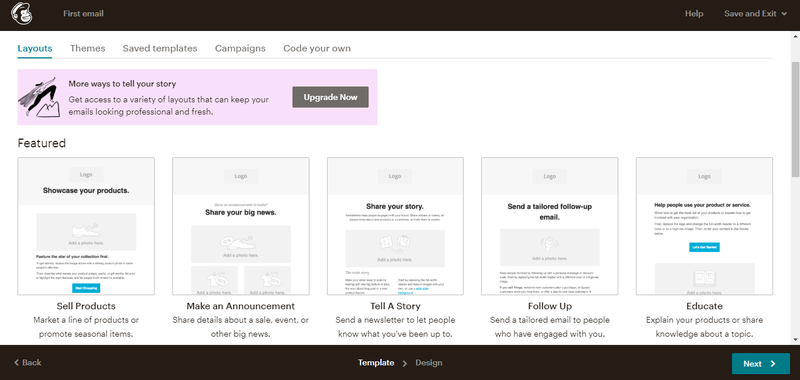 It is also easy to adapt your template (below) by adding elements such as text blocks, social sharing buttons, videos, and images. And everything, from the font, to indents, colors and shades, and even spell checking can be completely customized to your brand.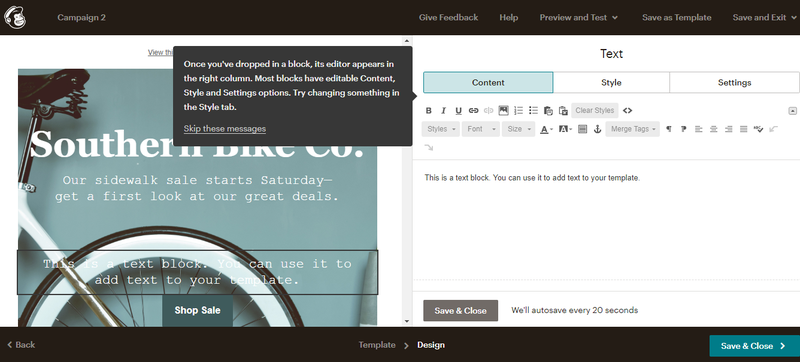 For me, Mailchimp's commenting section is one of its stand out features. It allows you to send test emails to other people, and then collects all their comments in one place. This enables better collaboration, and helps to ensure your emails are error-free.
Mailchimp also includes advanced A/B testing functionality, letting you test up to three different variations of not only content but also, subject line, from name, and send time, and sending these variations to a percentage of your email list or segment. As every campaign has different goals, Mailchimp also lets you specify the criteria on which you chose the winning email. This could be click or open rate, total revenue, or another option of your choosing.
Audience
Mailchimp has advanced contact management functionality which means it can be used as an alternative to a CRM system. Under the heading "audience", its contact management dashboard and functionality are super analytical. You can find all the usual features, such as adding contacts manually and importing lists, but you can also drill down into the specific behavior of your contacts.
Take the audience segmentation capabilities. Other email marketing software may give you the insights, such as email open rate and clicks or demographic data, but you have to build the segments yourself. Mailchimp builds segments automatically, based on a machine learning model that predicts how likely a customer is to shop with you again, and how much they are likely to spend. You can then send campaigns to this segment from the audience dashboard.
All the segments — whether created by you or by Mailchimp — are dynamic. So instead of you having to manually maintain them, Mailchimp moves contacts in and out of segments as they meet (or stop meeting) the relevant criteria. The more sophisticated the automation, the better you can target contacts with relevant content. And this solution not only means you don't have to spend time building segments and creating lists, you're also less likely to accidently miss a contact.
Automations
Mailchimp lets you set up automated workflows based on behavior triggers, such as a customer abandoning a cart or signing up to your email list. You can choose from Mailchimp templated drip campaigns, which extend beyond customer acquisition to customer loyalty and transactional emails and notifications. Some of the more specific and useful automation templates include:
Rewarding loyal customers
Order notifications
Cart or browse abandonment
Purchase follow up
Win back / customer reengagement
You can either create a single email for each automation workflow, or create a series (see below). For example, you might want to create a series to try to win back a customer who hasn't interacted with your brand for a while. You could send one email with products that are new or recommended, and follow this up with a discount if they don't respond. Finally, if they still haven't responded, you can send them an email to say you are removing them from your list. You can set this up in Mailchimp so that it all happens automatically at set intervals without you having to lift a finger.
Reports
Some email marketing software only gives you access to basic stats such as sends, bounces, opens, and clicks. Mailchimp's Marketing Platform (below) provides the kind of insight that allows you to understand the ROI of each campaign in real terms. Some of the most useful reports, for example, are number of orders, average order revenue, and total revenue. This allows you to see which campaigns have actually made an impact, rather than tracking vanity metrics that haven't actually brought in revenue.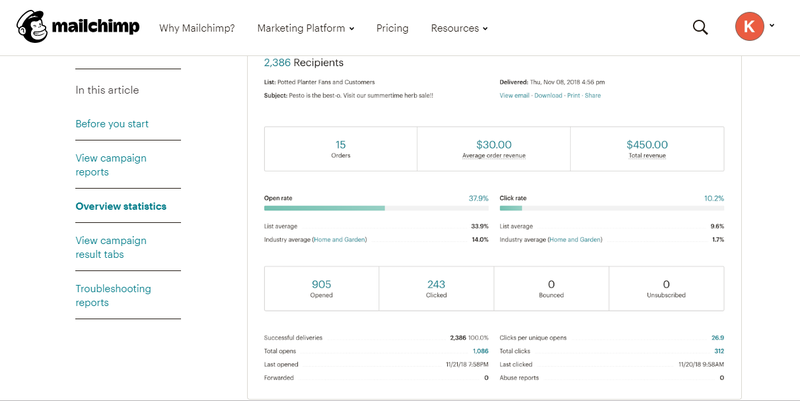 These stats differ depending on the most important metrics for each of your campaigns. So if your campaign is designed to drive downloads of an ebook, this is the metric that Mailchimp will display front and center.
Mailchimp's comparative reports mean you can improve the effectiveness of your campaigns over time. These results show you if they are getting better (or worse) results, or if there are specific spikes for particularly successful emails. You can also quickly identify any issues, such as a gradual decline in your click rate, as well as any common attributes of successful campaigns.
Other actionable insights that Mailchimp tracks include:
A map of "opens" according to location
Subscribers who open your email the most
The performance of your email in the first 24 hours
Mailchimp not only lets you track the performance of one-off email campaigns, it also shows you how each of your automated email series are performing. That way you can take action to correct any of the steps if they aren't nurturing customers down the pipeline.
Customer Journey Builder
Mailchimp recently introduced a feature called "Customer Journey Builder," which allows you to design a path for customers to increase your chances of converting them to a sale. You can create customized paths for customers based on how they interact with your company.
For example, if a customer buys a product from your website, you can choose what happens next, such as a customized offer for a related product.
Additionally, Mailchimp has unveiled "Dynamic Content," which helps users save time creating personalized emails. The feature tailors a single email to offer unique content to different recipients.
---
Benefits of using Mailchimp
Mailchimp's advanced email marketing functionality, combined with its ease of use, well-organized navigation, and well-designed user interface, allow you to easily target the right customers at the right time with the right content. Its granular reporting features give you the necessary insight into customer behavior to enable you to create campaigns that get more opens and clicks and, ultimately, generate more revenue.
Mailchimp's new Customer Journey Builder and Dynamic Content features allow you to further tailor your message to individual recipients without a lot of additional work, making it more likely you will turn someone on your email list into a paying customer.
---
Working with Mailchimp's support
With Mailchimp, 24/7 support is only available with paid plans, and phone support is only provided with the highest-tier price plan. With the free plan, when you click on the help button, it takes you directly to the searchable Knowledge Base (below), which recommends you articles based on the steps you are taking or have most recently taken.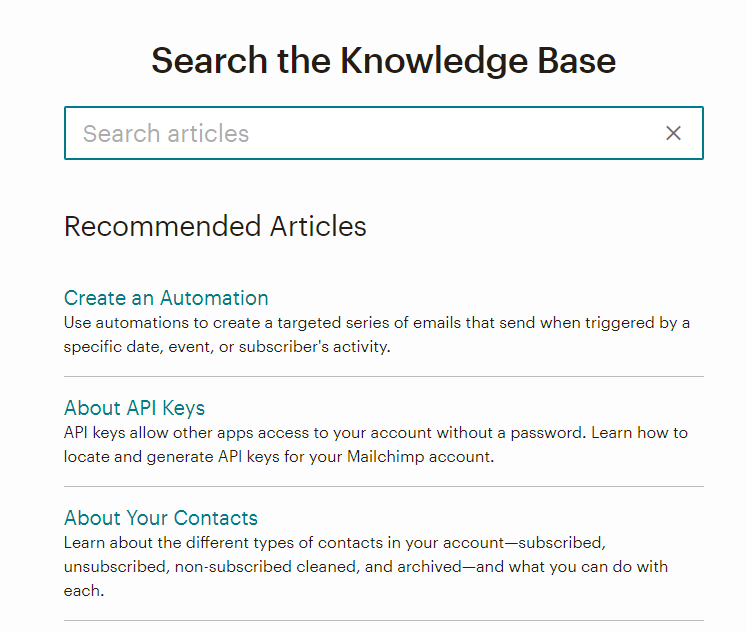 If you are happy to search for help yourself, the support articles are very detailed, with lots of screenshots, videos and links to other relevant information. However, the fact that it's very difficult for people on the free plan to contact Mailchimp is a major downside. The only way to find the contact details is to scroll to the bottom of one of the Knowledge Base articles, which is not obvious. If you have an issue and you're not paying a premium, it seems like Mailchimp expects you to sort it out yourself, even if it's a bug in the system.
Links to articles within the Knowledge Base are peppered throughout the app, and appear when you are using specific features. For example, when you are writing the subject line, Mailchimp provides a link to an article on how to write a great subject line. This means that you can access support when you need it without having to search for the relevant information.
---
Mailchimp pricing
Mailchimp has a free pricing plan, plus three other tiers of paid price plans. The free plan lets you send up to a total of 10,000 emails per month (so you could send five emails to a list of 2,000 people). If you want basic contact management, a selection of templates, email and landing page creation, and have less than 2,000 contacts, then the free plan is sufficient. The Essentials Plan lets you send up to 500,000 emails a month, compared to 1.2 million on the Standard Plan, and around 3 million on the Premium plan.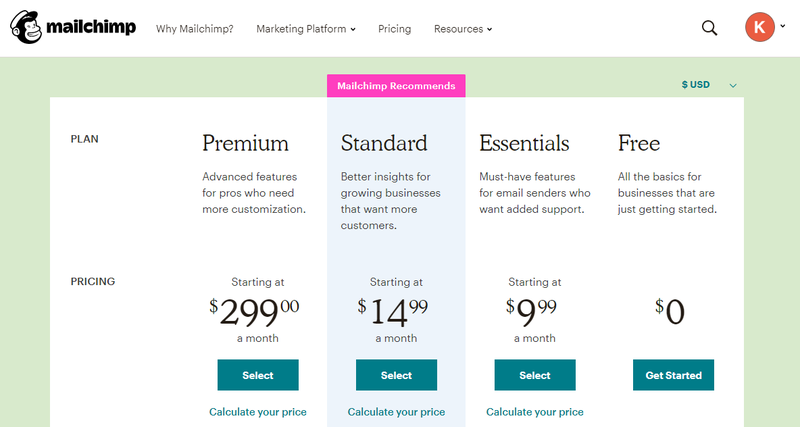 As with most email marketing software, Mailchimp charges different prices according to the number of contacts you have. If you have more than 500 contacts then Mailchimp is more expensive than a lot of other email marketing software. For example, the Essentials Plan, which is the least expensive paid plan, costs $19.99 per month for 1,500 contacts. However, these plans do include access to the more granular analytics features and better email creation functionality.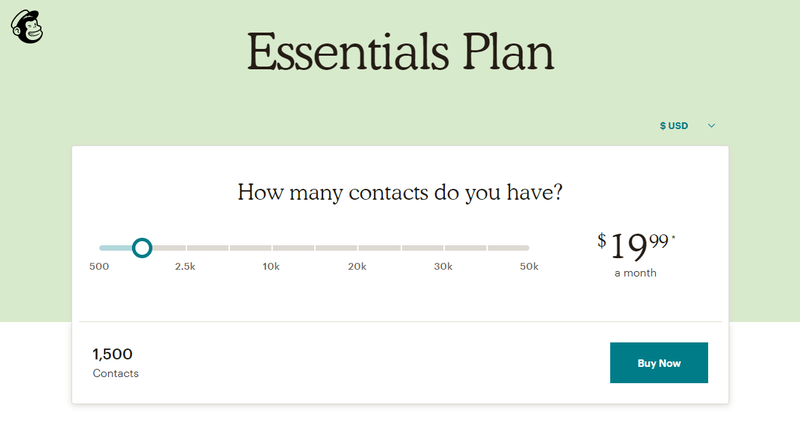 ---
Mailchimp's ease of use
Getting up and running on Mailchimp is akin to being trained by a real person. Its friendly in-app copywriting makes creating email campaigns both easy and fun. The step-by-step approach and checklist-style user interface help you understand not only what you are doing but also why you are doing it.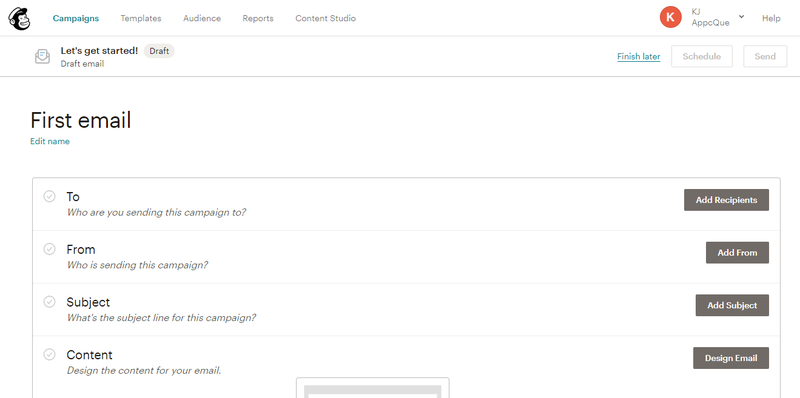 Getting started
Mailchimp tailors your email marketing experience to your business needs (see below), such as whether you:
Support online bookings or appointments
Sell products online
Measure success by the amount of products sold online or people interacting with your software
This makes it easy to access to the most useful features for your business, as well as getting personalized tips and assistance.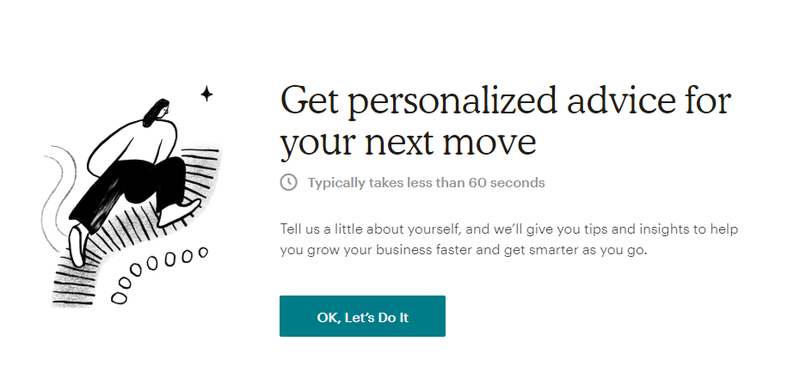 Mailchimp provides helpful tips, such as creating a popup or sharing your sign-up form on social media. These help you get the most out of the software and understand how you can use its features to benefit your business.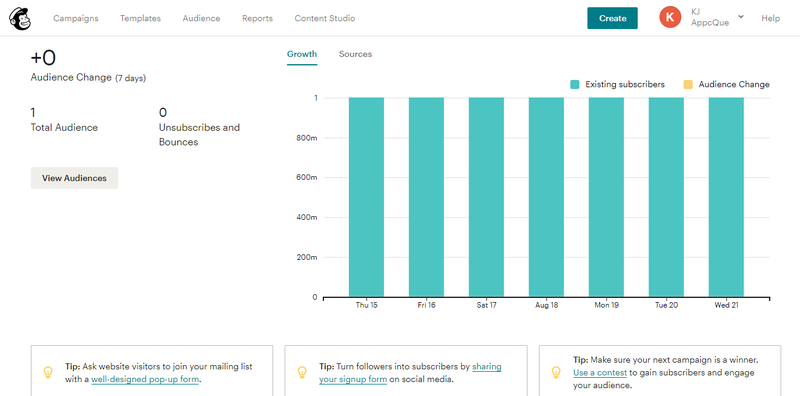 When you start using the software, it directs you towards the "create a campaign" option so you know what to do to get up and running immediately.
In-app help and tips
For each step you take, Mailchimp suggests ways that you can use the software to improve your campaigns and make them more successful. In the case below, it explains why you should send your emails to segmented lists. This is especially useful for novice email marketers who aren't familiar with the different marketing concepts.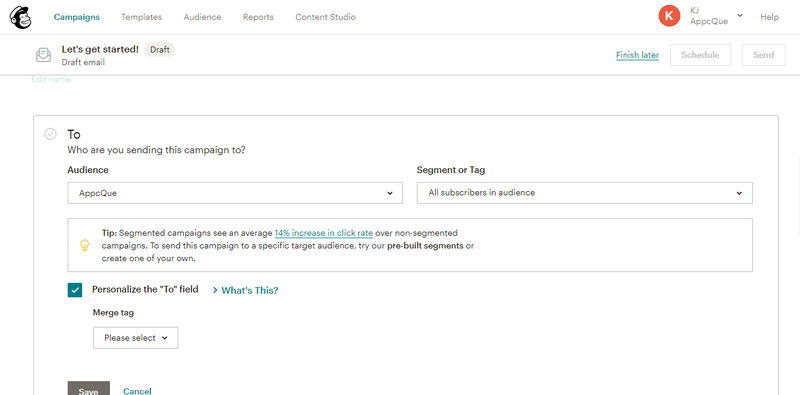 Mailchimp uses in-app messaging to show you how to use each feature when you're carrying out a task for the first time. Take the email editor as an example. It explains how to use the editor step-by-step, with a series of different messages appearing as you complete each task. This is helpful if you've never used email marketing software before as it guides you through the process rather than just leaving you to get on with it.
---
Frequently Asked Questions for Mailchimp
How much does Mailchimp cost?
Mailchimp has a free plan, which allows you to send up to 10,000 emails per month. The paid pricing plans start at $9.99.
What is Mailchimp used for?
Mailchimp is an email marketing tool designed to help improve the effectiveness of your email campaign, but it also includes CRM and contact management functionality.
Is Mailchimp easy to use?
Mailchimp is excellent for people that have never used email marketing software before as it is straightforward to use. It's easy to get started without any tutorials or help.
Can I use Gmail with Mailchimp?
You can use your Gmail email address to send email from Mailchimp, but there are delivery issues with free email domains that mean they mean not be delivered. It may be worth investing in your own paid domain to make sure the email ends up in your customers' inbox.
Can I use Mailchimp without a website?
Yes, while you do have to enter a website domain when signing up, this can be a blog post or even your Twitter page. You can also use Mailchimp to build or grow your list without a website. Instead of hosting signup forms on your website, you can use Mailchimp's own landing pages and generate custom URLs within the solution. And you can then share via email, social media, or send to customers directly.
---
Which one is right for you?

Find out what makes Mailchimp a great option for all marketers, whether you're new to the game, or have years of experience.
Find out what makes Mailchimp a great option for all marketers, whether you're new to the game, or have years of experience.
The Motley Fool has a Disclosure Policy. The Author and/or The Motley Fool may have an interest in companies mentioned.