Mailigen is young, as this email marketing software was only launched in 2010.
However, it's already won the attention of an impressive number of companies across a wide range of industries, such as pharma giant Bayer, U.K. department store chain Debenhams, and Swedish bank SEB.
This is partly because its youth and need to prove itself mean it's adding new features and upgrading functionality all the time.
Within the last couple of years, it has added a library of pre-designed templates, introduced email preview options according to email clients, and added a spam test to make sure emails don't end up in recipients' junk folders.
However, Mailigen still has a lot of work to do to cement its place in the competitive email marketing software arena.
---
Who is Mailigen for?
Mailigen is a straightforward email marketing service.
Its simple and logical navigation allows all users to quickly get up to speed and find the features they're looking for. It's straightforward, so you don't have to spend lots of time messing around to create campaigns, but its raft of advanced features means you can use the solution to create complex campaigns if you want to.
---
Mailigen's features
Mailigen's standout feature is its autoresponders, which help you create an automated series of emails with minimal effort as it puts together the workflows and the emails for you.
Mailigen also lets you tailor content for specific audiences through its dynamic content functionality.
It also provides direct marketing functionality for other marketing channels such as SMS, but this review will only look at the email marketing services Mailigen provides.
Email campaign wizard
Mailigen includes responsive templates that display in an optimal layout for the device being used for a variety of different campaigns and purposes, including:
Newsletters
Events
Re-activation
E-commerce
Compared to the variety of templates available from competitors such as SendPulse, Mailigen's templates are quite basic, which means you need to put more effort into the design when making an email newsletter.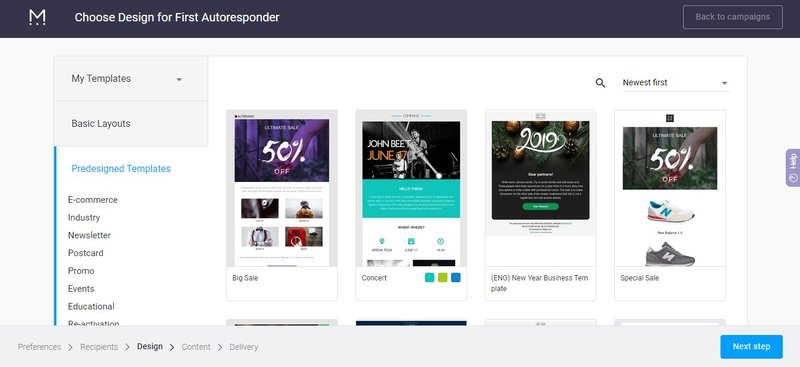 If you're moving from another email marketing solution, or if you've designed your emails outside of this software, you can import a template to Mailigen. The drag-and-drop editor lets you add and remove different content blocks, whether that's video, images, social media buttons, or text.
Mailigen also helps you create more tailored content through the use of dynamic content. You can choose to only show certain content blocks to particular lists or segments.
There are limited sending options; you can only send immediately or schedule for a specific time in the future, and you can't optimize send time according to time zone or past customer behavior, like you can in other email marketing solutions.
Email campaign performance analytics are also limited, as you only have the ability to monitor open and clicks, and you can't export these reports.
Autoresponders
Mailigen provides templates to help you get started with creating autoresponders, which are automated series of emails triggered by customer behavior. Each autoresponder can only be sent to one list or segment.
What's really useful is that, unlike other email marketing software, Mailigen creates the emails within each template, and all you have to do is make edits and customize or personalize them according to your brand and style.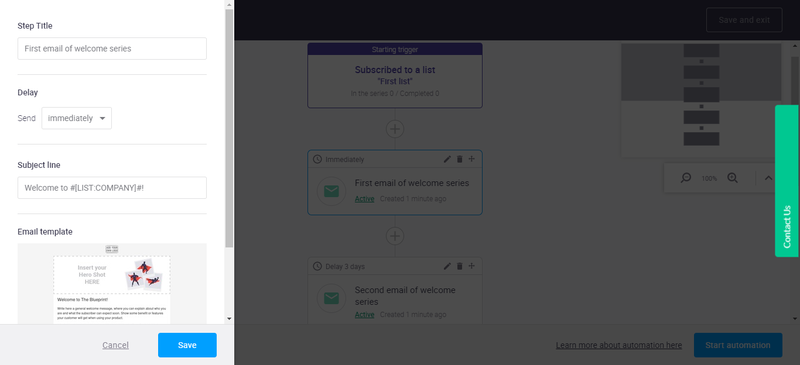 You can also access analytics for each email in the series, including number of emails opened and clicked as well as overall reports for each automated series of emails.
Subscriber and email list management
Before you add or import customer details, you first have to create a list, as every subscriber has to be a member of a list. To help with your email list management, Mailigen lets you add as many custom fields as you like to collect all of the important customer details.
To get even more specific, you can create groups within these lists.
You can also use Mailigen to create sign-up forms to grow your list, but the functionality is quite basic, and you can only add subscribers to one list.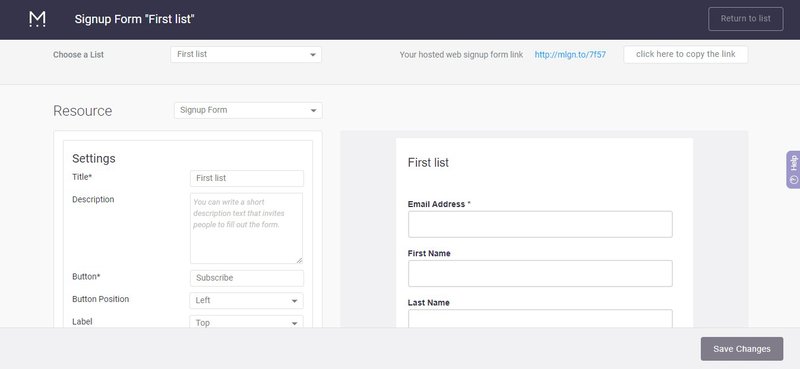 Mailigen automatically creates reports for each individual list that provide insight into increases in engagement, list growth, and opens by email client, device, domain, and location.
Segmentation
You can create as many segments as you like from any of your lists, and Mailigen lets you add multiple conditions to create segments, including:
Demographic data, such as name and location
Opt-in source
Device or browser used
Date added to the list
Activity, such as opens and clicks
You can extend this functionality to include transactional data, such as total number of orders and average order value.
Mailigen includes dynamic segmentation, which means it automatically updates your segments as and when subscribers start and stop meeting your criteria. For example, if a customer hasn't clicked on any link in your newsletter, that person will be included in a "never clicked" segment.
As soon as they click on a link, they will be removed from this segment automatically.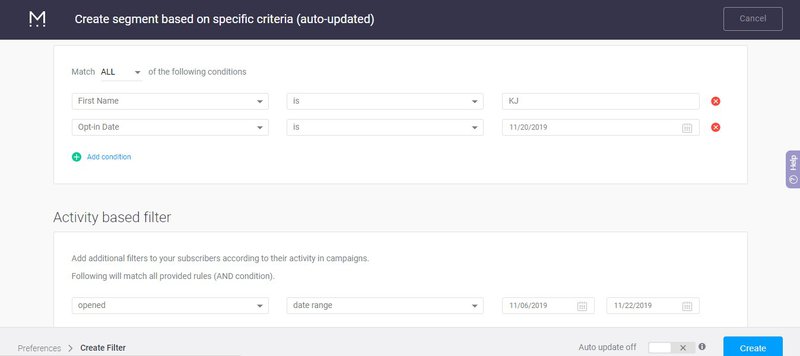 Mailigen lets you create segments from email lists, from campaign results, and from your ecommerce data, such as number of orders. You can also search for subscribers to add to lists.
---
Mailigen's ease of use
When you first start using Mailigen, it gives you an overview of the entire solution in the form of an introductory video. You are then presented with a checklist of tasks to complete to get started with your email marketing campaigns.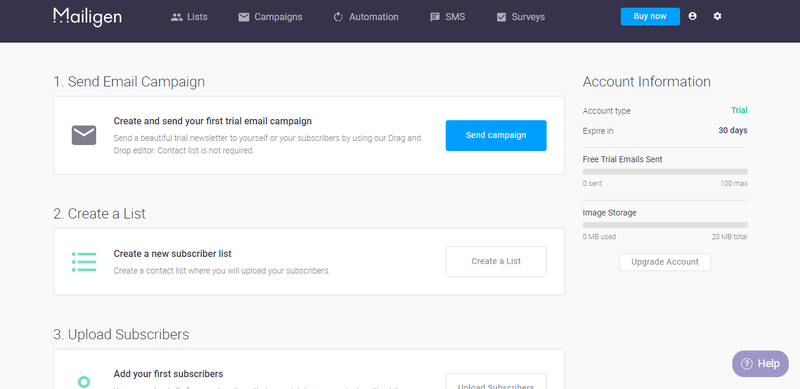 The main dashboard gets quite busy the more you use the solution, displaying most engaged users, list engagement, email campaign performance, and account information all in one place.
While it's a useful overview, splitting the information into separate places — putting most engaged users in the contact management menu, for example — would make it less overwhelming.
Simple navigation
Mailigen organizes its features in a logical way, with one menu for lists (and submenus for ways you can grow or manipulate your list), one for autoresponders, and one for email campaigns.
You can quickly navigate around the software and find all options within seconds.
It also lets you quickly jump to common actions such as creating a list for an email campaign from a big blue button on the main dashboard.
Mailigen can be slow, and there are issues with lag, especially in the drag-and-drop email editor. There are also occasional glitches in the system; when I tried to create a new group, it sent me to a page with a video explaining how to create a list.
---
Mailigen's pricing
Mailigen doesn't offer a free plan, but it does provide a 30-day free trial, which allows you to send up to 100 emails during that period. All paid pricing plans have the exact same features, with the price differing according to the number of subscribers you have on your email list.
Price plans start at $10 per month for 500 subscribers and increase as follows:
$15 per month for 1,000 subscribers
$25 per month for 2,500 subscribers
$40 per month for 5,000 subscribers
$50 per month for 7,500 subscribers
$60 per month for 10,000 subscribers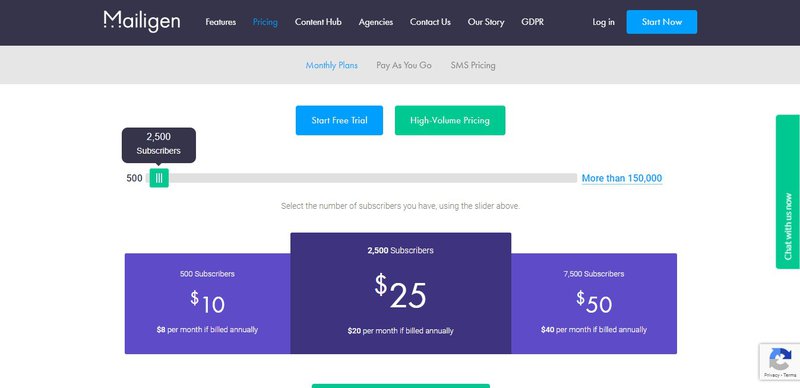 Mailigen's starting price of $10 isn't great value for money as it only includes 500 subscribers, but as your email list grows, the price becomes very reasonable, especially by the time your list reaches 7,500 subscribers.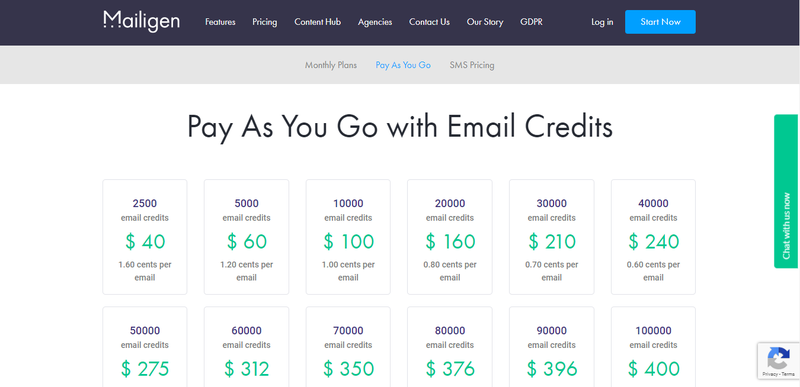 Mailigen also offers pay-as-you-go plans, where you pay for each email you send. The least-expensive option costs $40 for 2,500 emails, which works out at $1.60 per email.
---
Working with Mailigen support
Unlike other solutions such as Mailchimp, which send you down the self-service support route unless you pay a premium, Mailigen encourages its users to get in touch.
At the bottom of the main dashboard, Mailigen provides names, email addresses, and phone numbers for customer support agents (or mentors, as it calls them) so if you call or email, you know who you are talking to.
There are also links to articles within the knowledge base, which provide help using the software as well as digital marketing tips, in case you'd prefer to search for the answer yourself.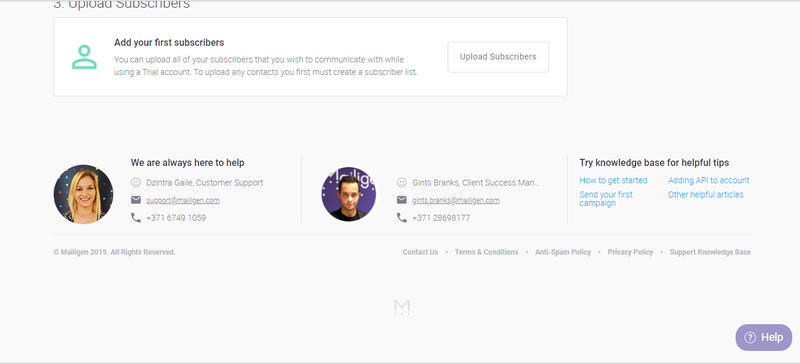 When you click on the sticky purple "help" button, which is present at all times, you can either search the knowledge base or use the live chat option. Mailigen also provides localized support, with customer service agents in New York, London, Paris, St. Petersburg, and Hong Kong.
---
Benefits of Mailigen
Mailigen has excellent autoresponder functionality, meaning you can more quickly and easily send the right content to the right people at the right time. It also lets you tailor the content you display to people on different lists through its use of dynamic content.
Instead of having to maintain your segments manually, Mailigen automatically adds and removes people based on whether they stop or start meeting the specified conditions.
---
A work in progress
Mailigen is great for email marketers who want to get up and running right away without having to go through any training. It's simple to use: You can create emails quickly, start a new list, upload existing contacts, and easily run through the options to build a campaign.
Mailigen also has top-notch autoresponders, with templates that create emails as well as workflows and the ability to monitor the performance of each email.
However, Mailigen feels like a work in progress. It needs to expand its range of templates and make them a bit prettier.
If it wants to compete with the likes of Mailchimp, Zoho Campaigns, and HubSpot Marketing Hub, it needs to improve its segmentation capabilities, add more sending options, and work on incorporating some unique features.
---
Frequently Asked Questions
No, but it does provide a 30-day free trial that allows you to send up to 100 emails during that period. All paid pricing plans have the exact same features, with the price differing according to how many subscribers you have. Its plans start at $10 per month for 500 subscribers.
Is Mailigen better than Mailchimp?
It depends what you're looking for. While Mailigen doesn't offer quite the same roster of features as Mailchimp, such as advanced segmentation, CRM-style contact management functionality, and revenue-driven reporting, it has better support options and is a simpler solution.
Does Mailigen include autoresponders?
Yes, Mailigen's star feature is its autoresponders. You can create your own automated series of emails, or you can use one of Mailigen's templates. If you use a template, Mailigen creates the emails for you, as well as the workflow, and you can monitor the overall performance as well as the performance of each email.

Take advantage of Mailigen's easy-to-use and all-encompassing email marketing functionality.
Take advantage of Mailigen's easy-to-use and all-encompassing email marketing functionality.
The Motley Fool has a Disclosure Policy. The Author and/or The Motley Fool may have an interest in companies mentioned.