If you're considering launching a new business or adding a new product to your existing business, your first step should be to do a market analysis, a process that provides an in-depth look at potential customers and competitors along with detailed information about the industry you're looking to enter.
---
Overview: What is a market analysis?
Market analysis is an important tool to utilize if you're looking to start a business, expand your business into another field, or add a new product line to your existing business.
Market analysis helps you identify potential markets and customers, provides you with valuable information such as industry health and outlook, and gives you a long look at the competition.
A market analysis also provides data such as whether your proposed product or service would be entering an already crowded field, or whether your potential customers would pay for the product or service you're offering.
If you're looking for potential investors or thinking about applying for a loan, completing a market analysis is a must.
---
How to perform a market analysis for your small business
While larger businesses may hire a firm that specializes in preparing a business market analysis, anyone can complete a market analysis summary. There are numerous resources available to assist you through the process; here are some of the best.
U.S. Census Bureau

: The U.S. Census Bureau contains plenty of demographic data that you can use to prepare your market analysis, including quick facts and data profiles.

Bureau of Labor Statistics

: Even better than the Census Bureau, the Bureau of Labor Statistics provides regional, state, and local data on everything from inflation and pricing to productivity and pay and benefit information.

U.S. Small Business Administration

: The Small Business Administration provides detailed information on planning your business, including preparing a business plan, completing a market analysis, and numerous other resources to assist you with starting a new business.
While the links above are helpful, there are even more resources you can use to prepare a competitive market analysis, such as local and state chambers of commerce, trade journals, and even visits to local stores.
If you're not sure where to start, just follow the steps below.
Step 1: Industry outlook
Do you know a lot about the industry you're interested in? In order to be successful, you should.
Data such as size, scope, projected growth rates, and the life cycle of businesses in your target industry are just a few of the things you should be researching. This is particularly important if you're planning on bringing in investors or applying for a loan, since those parties will want to know this information as well.
It's also important to make the information as relevant to your situation as possible. For example, if you're planning on opening a local business that relies on foot traffic, your research will be much different than if you're planning to start an online business that ships across the globe.
Step 2: Find your customers
While it's tempting to assume that everyone is a potential customer, they're not. The more time you spend researching exactly who your customers are, the more likely it is that your business will be successful.
For example, if you want to sell high-end leather purses and wallets, your target audience is likely affluent adults between ages 25-65.
While it's certainly possible that someone younger than 25 or older than 65 will purchase a wallet or purse from your store, appealing to a specific demographic helps you target your core customer base in your marketing and sales efforts.
Don't just identify your core customer base; drill down to include details such as income and location. When identifying your core customer base, you may also want to spend a little time researching their buying habits.
Do women spend a lot of money annually on purses? Do men purchase wallets frequently, or do they wait until they absolutely need one? While you're at it, spend a little time researching the gift aspect of your product. Does it have a place in the gift market?
Step 3: Dig into the competition
One of the most important parts of your market analysis is the competition. When researching your potential competitors, consider the following things.
Market saturation: Preparing a target market analysis can provide information on market saturation along with the number of current competitors in your area.
Value of the competition: If someone is looking for a custom-designed leather wallet, what store do they buy it from? These are the places you want to study closely. What do they offer their customers? Is there something you would offer that they don't? What would you need to offer those customers in order for them to purchase a wallet from your store instead?
Value of indirect competition: When studying the competition, be sure to look at indirect competition as well. In the case of wallets and purses, indirect competition could be a luxury clothing store that sells accessories as well as high-end department stores that sell expensive purses and wallets. How would you convince their current customers to purchase from your store instead?
Strengths and weaknesses: When studying the competition, be sure to look at both their strengths and their weaknesses.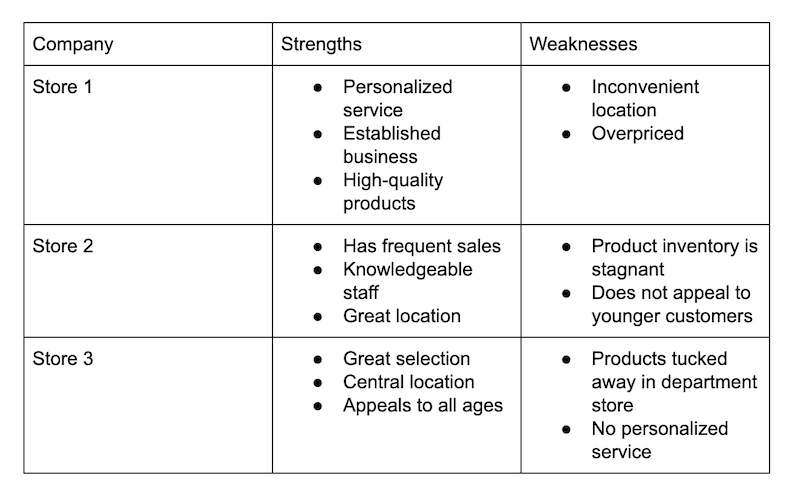 Step 4: Explore regulations
This is a fairly simple aspect to research and is much more important for those opening a business that needs special licensing or is subject to government oversight such as food service or medical/health businesses.
Be sure you know and understand any restrictions that currently exist in the industry.
Once you know those restrictions, you can decide whether you'll be able to abide by the restrictions easily, whether there's additional work that needs to be completed in order to abide by those restrictions, or whether it's best that you drop the idea for a more feasible one.
Step 5: Analyze your findings and create a plan
Once you've completed your market analysis, it's time to analyze your findings and start planning.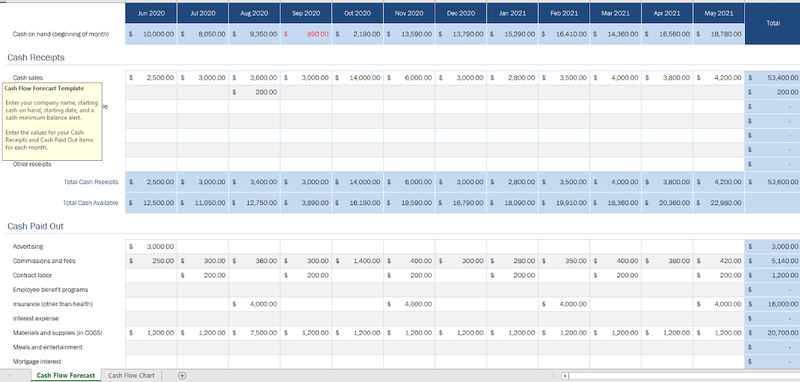 When creating your plan, be sure to include a cash-flow forecast for your business. This financial projection can help predict profitability levels, and it's a necessity if you're looking for investors or hoping to obtain a business loan.
Even if you're funding the business yourself, a cash-flow forecast can help you plan out your business operations for the next 12 months and provide you with a set of goals to achieve.
Here are some additional items you'll want to pay close attention to when preparing your market analysis.
Current economy: The economy is in constant fluctuation. Is this the best time to launch a business, or is it better to wait? How will your business handle future downturns in the economy? Will your business be able to survive a long downturn in the economy? These are all questions that should be addressed in your market analysis.
Industry outlook: Beanie Babies, anyone? Before you hop aboard the next big thing, be sure it has some staying power. At one time, only small, specialty card and gift stores sold Beanie Babies, but by the end of the product's life span, gas stations and mini-marts were selling them as well. Before you invest a lot of time and money into a product or service that's currently trending, do as much research as possible to determine whether it has staying power.
Pricing: While it helps to look at competitor pricing, do some estimating of your own. If you're opening the purse and wallet store, will you buy directly from a supplier, or do you intend to produce custom items in a warehouse? How much will those products or materials cost, and how much will you have to charge in order to make a profit? The answers to those questions can help determine whether your business has a good chance of success.
---
Do your market analysis before opening your doors
How many businesses open their doors only to close months later? While doing a market analysis won't ensure that your newly launched business will be a success, it does allow you to explore possible pitfalls as well as ways to make your business stand out from the competition.
Once you launch your business, be sure to arm yourself with the accounting tools needed to manage your business finances properly. To find an accounting software application that's right for your brand-new business, be sure to check out The Blueprint's accounting software reviews.