mHelpDesk is a robust field service management software program designed for businesses such as HVAC repair and installation, plumbers, electricians, and landscapers.
Its easy-to-use user interface makes it a solid bet for companies that have a heavy workload or technicians who may be tech-phobic.
---
Who is mHelpDesk for?
mHelpDesk is for a range of field service businesses, such as HVAC repair, landscaping, plumbing, and the like.
Any job where your employees are assigned a job, get a work order, and go out into the field to do their work is the sort of job for which mHelpDesk is designed.
mHelpDesk is good for businesses of any size, but the price point may be prohibitive for small businesses, or those just starting out.
mHelpDesk's features facilitate the day-to-day tasks of any field service business. For instance, mHelpDesk offers scheduling for the jobs you need to do, routing to get you there in an efficient fashion, and invoicing so you can avoid paperwork once the job is finished.
---
mHelpDesk's features
mHelpDesk's features are designed to automate the time-consuming parts of running a field service business. Like most field service software programs, the idea is to coordinate busy work that can create bottlenecks, like scheduling and invoicing.
mHelpDesk's features are designed for both managers and field technicians. That said, managers and employees have different abilities, or permissions, within the program.
There's also a different view on the desktop version versus the smartphone app that field technicians are most likely to use.
Billing and invoicing
mHelpDesk's invoicing feature is organized by jobs. The most helpful part of this feature is the bar of five icons at the top of the screen, which shows you how many invoices are still in draft form, how many have been sent, and even how many are overdue.
Most importantly, it also tells you how many have been paid. Given that cash flow is a major issue for any business, having an icon that readily shows you the number of unpaid invoices is a huge help.
The actual list of invoices is organized by the date of issue, the customer, the balance, the total cost, and, most importantly, whether it's been paid. In another win for mHelpDesk's UI, there's a button to create a new invoice, easily distinguished by a different color from the rest of the screen.
Customer database
mHelpDesk takes an interesting approach to their customer database. Instead of giving the list of customers its own tab, mHelpDesk has a "People" tab that turns into a drop-down menu with customers, contacts (just contact information), your staff, and your teams.
While the division seems obvious, it shows cleverness and forethought on mHelpDesk's part. The division between customers and contacts, for instance, may seem unnecessary.
However, if a member of your office staff reaches out to, say, a restaurant that needs frequent plumbing help, it's good to know who, specifically, to ask for. The manager will know what's up with the men's bathroom, while the overstressed hostess at the front won't know who to pass your call onto.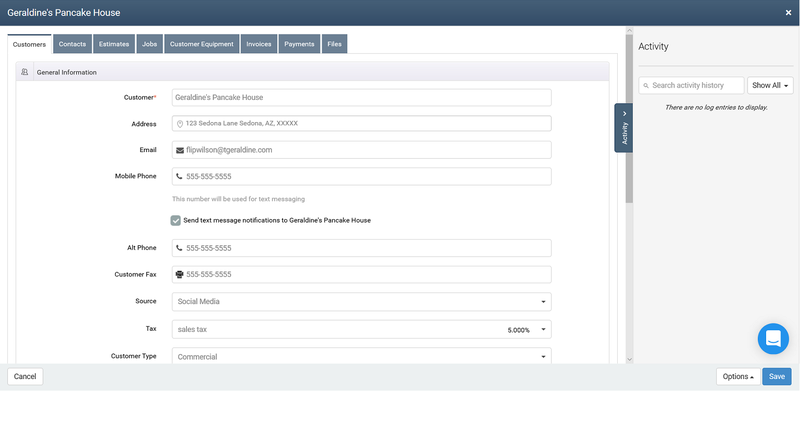 When you do a customer lookup, the layout for the customer information screen is a standard list of basic facts about that customer.
Mobile app
mHelpDesk offers their app for both iOS, version 9.0 or later, and Android, version 4.4 or later. mHelpDesk's mobile app benefits from the same excellent UX as its desktop program. The home screen for the app is the Schedule, which makes it easy for a technician to see their workload schedule for that day.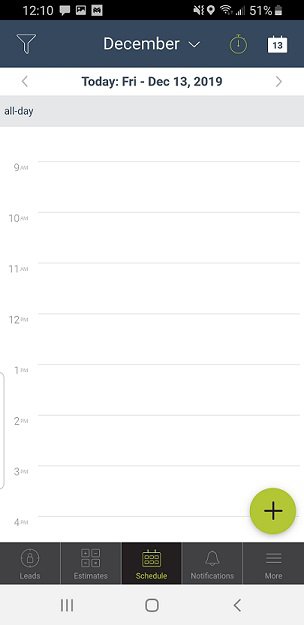 The app makes it easy to switch between jobs. When you click on a job in your schedule, for instance, you're taken to that job, and given basic information. You also get a Google Maps image of the location.
Work order management
Instead of a plain list of work orders, mHelpDesk's desktop version puts information about the day's jobs in two places: the home screen, and the scheduling tab. This is very helpful and logical, since if you're looking at work orders, you're probably interested in when they're coming up in the next week.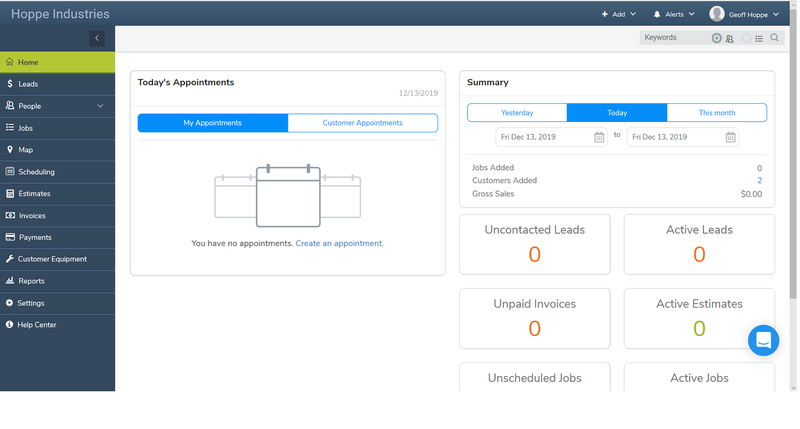 mHelpDesk's smartphone app lists information for upcoming jobs under the More tab. However, upcoming jobs are also listed on the Schedule page, which is the main screen that appears when you open the app.
Clicking on that job in the schedule will take you to the same information you'd get in the Jobs section of the app. It's the same implementation as the desktop program and an interesting way to streamline your work view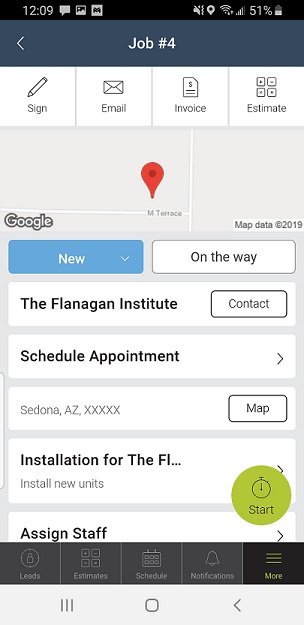 That said, if you prefer the traditional way of keeping your list of jobs and calendar separate, you probably won't care for this feature.
Routing
Within the mHelpDesk desktop program, you'll be able to see where clients and jobs are located. The same feature is also available in the smartphone app.
If you click on Map next to the address, you'll be transferred to Google Maps and given the usual selection of possible routes.
Since mHelpDesk integrates with Google Maps, you can even use the street view feature you normally get in Google Maps. If you're worried your technician may not recognize the job site, this tool can be a big help.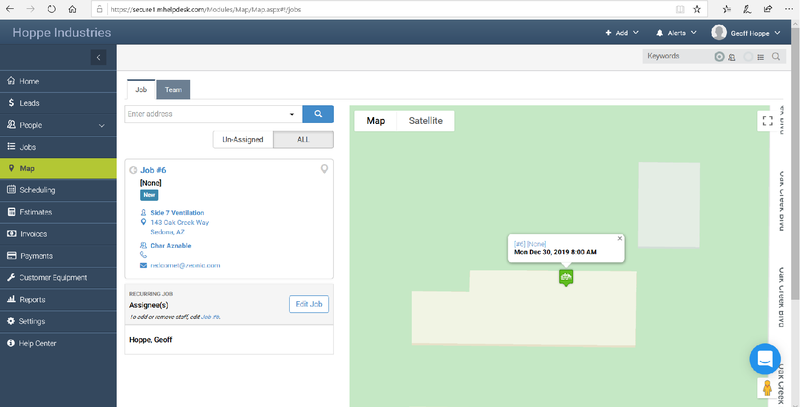 The map feature can also show you unassigned jobs, which show up as little red flags, and jobs that have been assigned which appear with a green flag.
Scheduling and dispatching
The scheduling board on the desktop version is easy to read. It also allows you to toggle between day, week, and month, making it easy to see which of your technicians are where, on which days.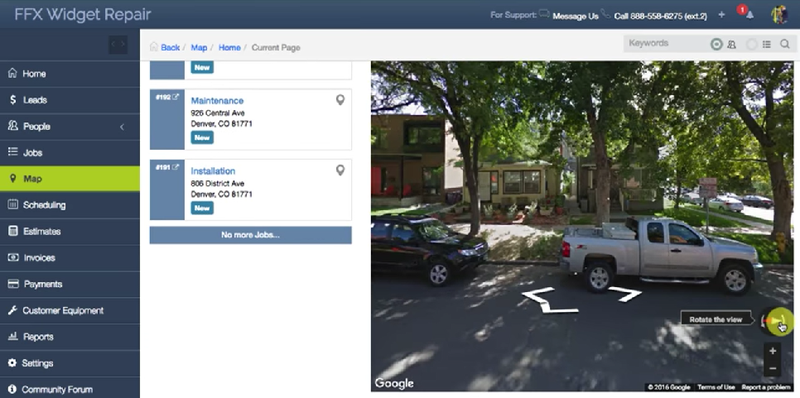 Scheduling on the app is also direct. For one, it's the first thing technicians will see when they open the app. Also, scheduling is laid out in a very basic fashion, with an hour-by-hour view of each work day.
If your technicians have ever used a day planner or the calendar on their smartphone, they'll be able to easily access their schedule.
---
mHelpDesk's ease of use
Ease of use is where mHelpDesk shines. Field service management software programs are designed to make administrivia easy. mHelpDesk accomplishes that.
It also adds some truly intuitive design features that even ease the minor nuisances attendant on using a software program designed with ease of use in mind.
For instance, if I start a new job for a client I haven't entered into the system yet, mHelpDesk prompts me to add a customer first. It may seem like a nuisance initially, but it makes it easier to stay on track with the job you're trying to create.
Another example of mHelpDesk's intuitive design is how options appear when you click on them in the desktop program.
Instead of displaying your choice as a new page, a screen drops down in front of the one you were on, prompting you to fill in the information. Once you have, that screen disappears, and takes you back to where you were.
---
mHelpDesk's pricing
mHelpDesk costs $374/month for up to the first ten employees. Each employee after that costs $35/person. However, mHelpDesk does offer custom pricing after you pass fifteen users.
For custom quote prices, you'll have to call and request a quote to get any more in-depth information than the above.
I called the mHelpDesk, told them I ran an HVAC service company, would have 20 users and about 40-50 jobs/week, and wanted a simple version of the software. I was quoted $499/month.
---
Working with mHelpDesk support
Many users have high praise for mHelpDesk's customer service. Customers cite the readiness of mHelpDesk to help them customize the program to their needs. This is good to hear, since some complain about how mHelpDesk doesn't exactly fit their specific business requirements.
As a test, I reached out to mHelpDesk support and asked whether it was possible to switch the home screen on the smartphone app. I was connected with no wait (so, a big plus). I asked him the question, and he had to ask the tech team. The wait was 5-6 minutes, and his answer was that no, I wouldn't be able to customize the home screen when I open the app.
I also asked whether I could customize the fields that appear in the Work Order screen. Again, I was put on hold for a minute or two, and, again, the answer was no.
However, in both cases, the rep was very helpful. When he wasn't sure, he found someone with the answer.
In total, the above exchanges took 15 minutes. That's pretty good.
---
Benefits of mHelpDesk
One of the biggest benefits of mHelpDesk is the accessibility of its scheduling system. Thanks to the drag-and-drop design, even people who struggle with the task of matching employees to jobs, will find it easy to do so.
Administrative skills aren't distributed equally among people, and it may be the case that your businesses' office doesn't have any naturally talented administrators. After all, you probably got into business to fix things, not swap dates on a calendar.
To that end, the visual, drag-and-drop calendar design is a great way to make administrivia easy for your employees (or you) who may be stuck with the organizational tasks.
---
Help your technicians dive into tech with mHelpDesk
Software and technology are changing the world. Fortunately, mHelpDesk's easy user experience makes this transition simple, even for people who don't like technology.
Where many software programs expect you to adapt to how they're designed, mHelpDesk's intuitive design adapts to how you learn the program and how you want to use its features.
---
Frequently Asked Questions
How much does mHelpDesk cost?
mHelpDesk's pricing is $374/month, for up to ten users. Each extra person beyond the first ten, is $35/user.
Does mHelpDesk have a smartphone app?
Yes, mHelpDesk offers a smartphone app for both iOS and Android, with the same ease of use as its desktop version.
Is mHelpDesk available in the cloud?
Yes. mHelpDesk is a cloud-only software program; they do not have an on-premises version.

For a user-friendly field management software to manage your technicians, try mHelpDesk's application.
For a user-friendly field management software to manage your technicians, try mHelpDesk's application.
The Motley Fool has a Disclosure Policy. The Author and/or The Motley Fool may have an interest in companies mentioned.