Your employee retention efforts need to start the minute you first contact a candidate. A major reason people quit a job is an ineffective onboarding process.
It's the first time they get to see under the hood of your company and its operations. You need to make a good first impression.
Recruitment and onboarding both can and should play a part in reducing your employee turnover rates. More than three quarters of new hires who had a formal onboarding process met their goals, while only half of new hires who didn't have a formal onboarding process met theirs.
A good way to improve the onboarding process is by automating some aspects and using software to help you keep track of tasks and progress.
Learn how monday.com can help you transform your employee onboarding process.
---
Overview: What is monday.com?
Your first instinct might be to turn to your HR software with staff onboarding, not monday.com, which is known as a project management solution and may seem like a strange fit.
But this software is also an employee management system that can help you manage your HR processes. monday.com's employee development and management features include:
recruitment pipeline
onboarding
employee wellbeing
development and learning
---
5 features of monday.com that can be used for employee onboarding
monday.com has specific features either designed for employee onboarding or which can help create a smooth and speedy process that shows your company in its best light to new employees.
1. Employee onboarding template
To help you get up and running quickly, monday.com provides a pre-built employee onboarding template. You can adapt the template and customize it to your company's onboarding process and make adjustments as your onboarding process evolves.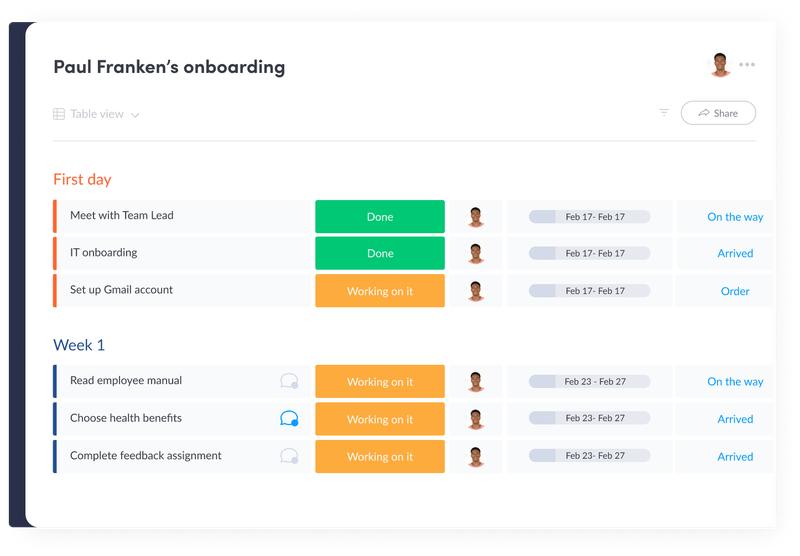 It's very common for employees these days to be onboarded remotely, and monday.com has templates specifically for this scenario. They include:
remote equipment check
knowledge library to provide new hires with all the materials for onboarding
a log for 1-2-1 meetings
Manage your onboarding with monday.com
monday.com can be used for many of your HR processes, including onboarding, performance tracking, and hiring. Start a free 14-day trial today.
Manage your onboarding with monday.com
monday.com can be used for many of your HR processes, including onboarding, performance tracking, and hiring. Start a free 14-day trial today.
2. Forms
When you create a board (a board is a place to organize everything you need to do — like a visual task list), you'll be able to create a form based on that board. You can share a link to this form with your new hire. Each response to the questions on this form will create a new item on your board.
You could use this to collect introductory information about your new hire, which is useful to make an announcement to your team or company when the employee starts.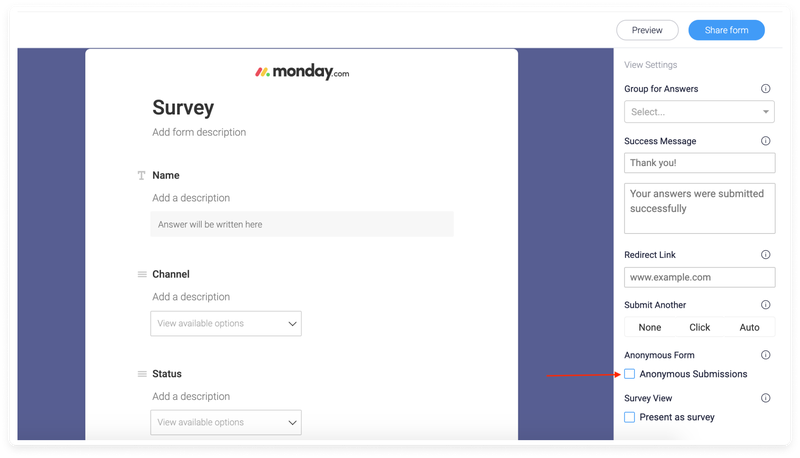 3. Document storage and file sharing
monday.com allows you to attach files to each task. You can use this feature to upload employee onboarding materials that your new employee will need when they start.
Your new hire can also upload documents they need to provide you before their first day, such as identification.
4. Advanced account permissions
You won't want to give your new employee full access to your boards until they officially start work at your company. monday.com's granular permissions controls allow you to protect your assets and restrict access to limited users.
5. Resource allocation
Onboarding a new employee is a team effort. You'll need other members of your team and company to share their knowledge and get to know your new employees. But you have to work out how to best schedule meetings and knowledge sharing sessions with each employee.
monday.com's timelines and project overview show you what each member of your team is working on at the moment and in the upcoming weeks. This gives you the visibility to schedule, prioritize, and allocate onboarding tasks.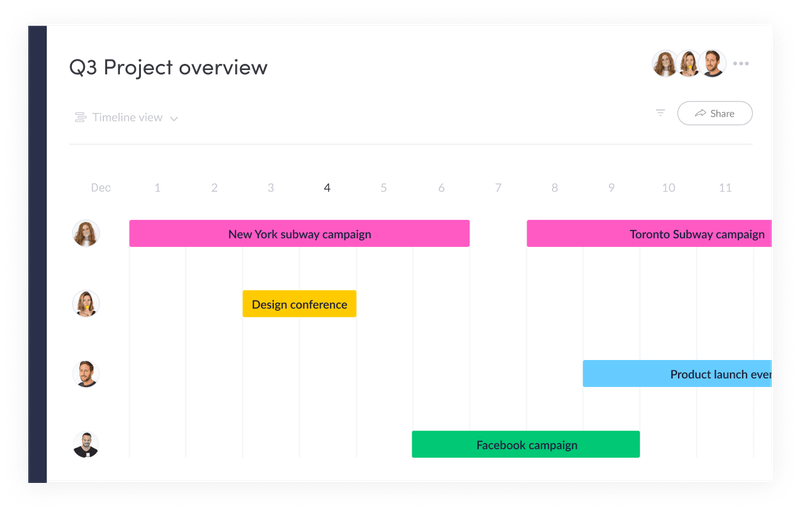 The Workload widget also allows you to see who in your team is overloaded with tasks from across all boards and who can take on more.
---
How to use monday.com for employee onboarding
Follow the steps below to get new hires onboarded and up to speed faster.
1. Set up a checklist
Using the monday.com employee onboarding template, set up a checklist of tasks that need to be completed. This onboarding checklist should kick in as soon as the new hire has accepted your job offer.
Include both pre-hire tasks, such as completing paperwork and background checks, and post-hire tasks, such as meeting the team and setting up new accounts and technology.
You can also have separate checklists for the new hire, the manager, and any other employees involved in onboarding. The template is fully customizable, so you can add and remove different columns to fit your process.
2. Assign owners and due dates to each task
monday.com has project management at its core, so it's easy to assign owners and add due dates to both tasks and sub-tasks. You can track the status, add dependencies, and estimate how long you think each task should take.
monday.com lets you reorder your tasks by priority and add filters so only your tasks or tasks coming due soon show up.
monday.com also allows you to view each of your project boards in a team calendar view. This way, you'll be able to see which tasks are due weeks or months in advance.
3. Introduce your new employee
If you have an all-company board (which we recommend), you can introduce your new employee there. Using the information your new hire's provided, you can add details about them to help your workforce get to know them better.
When you @ mention everyone, the announcement will be posted in the updates section of the board and will be accessible to everyone. Other employees can comment on the update to welcome your new hire, and they can add a comment as well when they start and you give them access.
4. Evaluate the process
It's important to continuously analyze the process so you can spot areas where you can improve. monday.com's Dashboard provides a snapshot and indicates how tasks have progressed in the past.
The Chart widget is useful in helping you better plan for the future. This wedge provides a breakdown of the tasks based on status and team member.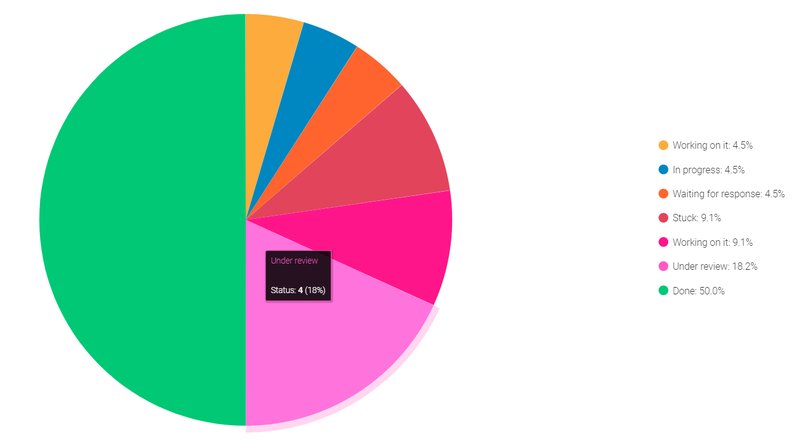 ---
Multiuse software
monday.com has a ton of functionality that can help you overhaul your onboarding process, but it's also a good solution for multiple types of teams and projects. It can help you track invoices, budget, communicate with clients, and collaborate with your team no matter where they are located.
Some all-in-one software is difficult to use because it tries to provide too many features, but monday.com is an excellent blend of usability and functionality.