---
Who is monday.com for?
Typically when it comes to project management software, the more functionality you add to the tool, the harder it becomes to learn. monday.com strikes a rare balance between functionality and ease-of-use, making it an almost ideal project management tool for businesses and organizations of all sizes. It is visually appealing, has a simple learning curve, and covers most project needs (task tracking, team collaboration, budgeting, etc.).
The only roadblock for some people is the price. monday.com offers lots of different pricing structures for all kinds of users, but when it comes to the lower tiers, you will sacrifice file storage space, calendars, and limits on activity logs. So if your team can afford all of the function that makes monday.com such a great project management tool, rest assured that this product can handle nearly anything you throw at it.
---
monday.com's features
monday.com earned nearly a perfect score for features; however, the only thing it seemed to be missing was an invoicing function to give project managers a way to bill their clients. Aside from that, this product offers you everything you could possibly want in a project management system in a convenient and easy-to-use package.
Management and planning features
Task scheduler and prioritization: All task items organized with multiple status columns to help you track project progress.
Shared team calendar: monday.com allows you to view each of your project boards in a team calendar view. This way you'll be able to see which tasks are due weeks or months in advance.
Resource management: The system also allows you to create custom boards that are meant to track resources for your project.
Time tracking: If you need to track the time spent on each task, monday.com gives you the ability to add time tracking as a separate column. This feature is only available to the Pro and Enterprise plans.
Pre-made templates: monday.com offers more than 200 pre-made project templates that will allow you to jump right into the action with minimal preparation time.
Documentation features
Document storage: monday.com uses a file attachment button in each task item, which allows you to store relevant project documents, images, spreadsheets, or any other related materials. This type of storage makes finding relevant materials easier than a centralized storage field.
Collaboration features
Communication: Minus any kind of chat functions, monday.com offers all other forms of standard communication features such as task comments and message boards. These functions include file upload buttons, GIFs, and "@" mentions like most other collaboration tools.
File sharing: As stated before, monday.com's file storage and sharing features live in each task. This way all relevant users will have access to all of the necessary project resources. So long as you are tagged in a project board, you will receive notifications about new files added to each task.
Team dashboards: You can create dashboards for any project or user in monday.com with multiple types of widgets, including task progress, project calendar, project timeline, and custom number columns (budgets, resource numbers, etc).
Mobile application: monday.com offers a mobile version of its software for both iOS and Android users so you can remain in contact with your team and coordinate project tasks on the go.
Budgeting features
Budget dashboards: As mentioned above, monday.com has a whole range of dashboard options, including custom number columns that can be used to create budget dashboards. Use the formula columns to put together any type budget tracking for your project.
Security features
Single Sign On (SSO) integrations: monday.com integrates with multiple big name SSO providers, such as Okta, One Login, and Azure AD.
Advanced account permissions: Protect your assets and grant access to the correct personnel using granular permissions controls to restrict access to only the correct users.
---
Benefits of using monday.com
The biggest benefit to monday.com is how easy it is to pick up and run with, especially if you have even the slightest experience with project management software. Even if you're inexperienced, monday.com has an extensive knowledge base that covers even the most unique requirements for the software. For example, if you need to build a board that tracks profit margins, its knowledge base will walk you through the step-by-step process for creating it.
When I think of easy project management tools, I typically think of products like Basecamp. Other products are simple to use, but skimp out on features that many project managers need. Not monday.com. entire product runs off of its "board" system, and once you've mastered it, there is nothing that'll trip you up while planning, tracking, and completing your project.
---
monday.com pricing
This is the one area where monday.com falls short for me. Its pricing system is very complicated since it is based on user and feature tiers. While this kind of custom pricing is appealing, since no one wants to pay for more than what they actually need, its prices tend to run a little high in my opinion.
monday.com's pricing tiers are separated into four categories:
Basic: Unlimited project viewers, unlimited boards, iOS and Android apps, 5GB file storage limit, 1 week activity log limit, 1 dashboard limit
Standard: All the features included in the Basic plan, 50GB file storage limit, unlimited activity log, 4 guest accounts, timeline view, calendar view, advanced search, custom forms, integrations access, 3 dashboard limit
Pro: All the features included in the Standard plan, unlimited file storage, unlimited guest accounts, time tracking, chart views, formula columns, private boards, 10 dashboards
Enterprise: All the features included in the Pro plan, 25 dashboards, audit logs, user session management, advanced account permissions, one-on-one training, dedicated customer success manager
Of course, each tier is more expensive than the last, but the pricing differences don't end there. It even breaks down pricing by nine separate user counts:
2 users
5 users
15 users
25 users
50 users
100 users
200 users
200+ users
Here is the pricing structure by user and feature tiers per month (all Enterprise solutions are negotiated between the vendor and client):
| Users | Basic | Standard | Pro | Enterprise |
| --- | --- | --- | --- | --- |
| 3 Users | $24 | $29 | $48 | Contact |
| 5 Users | $39 | $49 | $79 | Contact |
| 10 Users | $79 | $99 | $159 | Contact |
| 15 Users | $119 | $149 | $239 | Contact |
| 20 Users | $159 | $199 | $319 | Contact |
| 25 Users | $199 | $249 | $399 | Contact |
| 30 Users | $239 | $299 | $479 | Contact |
| 40 Users | $319 | $399 | $639 | Contact |
| 50 Users | Contact | Contact | Contact | Contact |
| 100 Users | Contact | Contact | Contact | Contact |
| 200+ Users | Contact | Contact | Contact | Contact |
As you can see, monday.com's pricing is affordable at first, but the Basic tier only offers the bare minimum for features. These are features you could find in other project management tools for a lower price or for free if you looked hard enough. The more users and features you add, the more the price tag grows, and it grows fast.
Pricing for monday.com has increased over the past year, and now an even greater number of pricing tiers and user counts are hidden behind a "contact us" prompt. Some of these increases can be explained by inflation and economic circumstances that have impacted businesses over the course of 2020.
As for the increased use of "contact us" for prices, I don't believe this is necessarily due to monday.com being shy about pricing since they give users a pretty transparent and granular breakdown of most of their tiers. Once you've waded into 50-100 users, you'll probably want certain features, have unique deployment needs, and want an accurate price based on the exact number of users.
---
Ease of use
As someone who deals in a heavy dose of cynicism on a daily basis, I find myself scoffing at most marketing gimmicks, slogans, and advertisements going above and beyond to sell me the idea that this product or service will solve my problems and alleviate my daily stresses. So when I saw the words "easy, visual, intuitive" on the monday.com website, I felt a tinge of cynicism. After all, the company renamed its product from "Da Pulse" to the day of the week least associated with being easy... monday. *groans*
Well, monday.com threw my cynicism back in my face with a user interface that was pleasing to look at and easy to use. monday.com operates in what it calls a "board" system. Every aspect of your project is kept under its own board.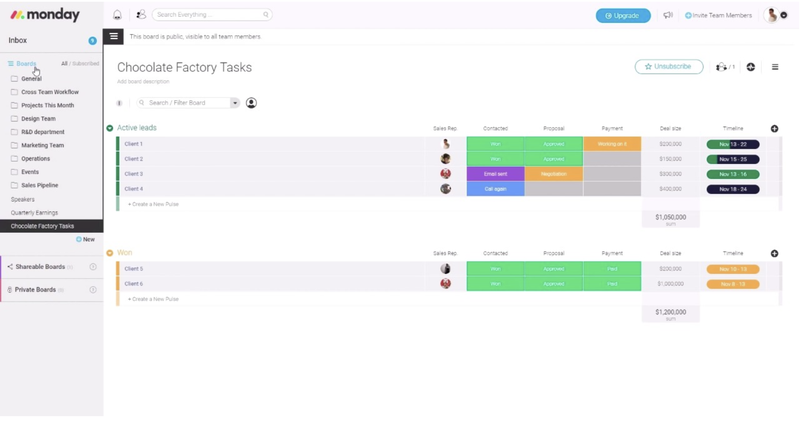 monday.com describes its board system like an open office: So long as you are a user that is subscribed to that board, you can see everything that is being done. Each board groups tasks into separate task lists. Each task has horizontally listed status columns with its own set of customizable progress indicators so you can track each project action as it happens.
This function is pretty similar to a task list function, but with its own unique flair that sets it apart from other standard task management features. Each status button has a dog ear–like function that allows you to leave comments or pin resources and files to each task, making resource storage easy to track.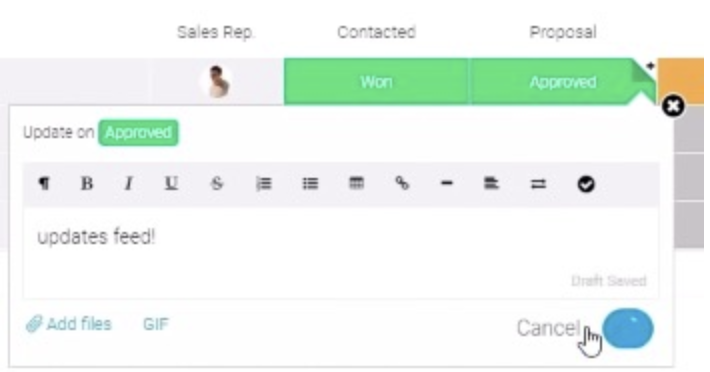 If task lists aren't your style, monday.com can also turn your scheduler into a visual Gantt-like chart that maps out all of your team members and the tasks they are currently working on. Similar to Asana, monday.com also allows you to see the current bandwidth of your team on the far right side of the user row, which gives you the opportunity to balance out tasks and delegate work without creating overload for one or two team members.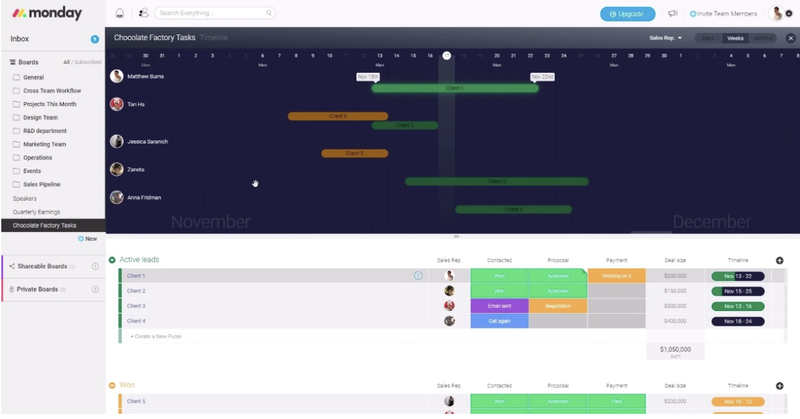 As you can see with the sample Chocolate Factory scenario above, every client is mapped out based on their status and how long it has taken to seal the deal with each one.
Setting all of this up required no special plugins or add-ons. Everything you would need to create and track a workflow is made obvious right from the start, giving you time to work on your projects, rather than your software becoming the project.
monday.com has the simplicity of a collaboration tool, yet also gives you the option to go deeper if need be. If you're looking to create budgets, the Pro plan allows you to use the Formula Column feature to make calculations across different columns. This way you can create your own budget boards and track project expenses. All you have to do is follow the guide and use the pre-made formulas to create trackers for profit margins, budget rollovers, and expense reports.
Everything about monday.com revolves around simplicity and its tool reflects that. At the end of it all, I just wish they would change the name, but that's just me.
---
Frequently Asked Questions for monday.com
Is there a free version of monday.com?
No, unfortunately, monday.com does not offer a free version of its software. However, it does offer a free trial of the Pro features tier for seven days. While this trial period is helpful since the Pro tier offers all of the different functions of the software, I don't feel as though a week is a sufficient amount of time to find out if a project management tool is right for you.
However, as of 2020, monday.com offers discounted plans for students, nonprofits, or those dedicating their efforts to fighting the COVID-19 pandemic. Those who fall into the last category only have to fill out a form explaining their efforts and provide the proper documentation to prove their nonprofit or NGO status. It's great to see that monday.com is trying to get its OS product into the hands of customers who need it but can't afford the full price.
What kinds of teams and projects work best with monday.com?
As I said before, the beauty of monday.com is just how simple and feature-heavy its software is. This makes monday.com perfect for all kinds of teams and projects. Most projects use task lists, task status functions, resource management, project timelines, and communication features. The only thing that'll hold back some teams from using monday.com is the price tag.
So if your team or project has the budget for a tool like monday.com, rest assured knowing that this project management software is flexible enough for you.
What kind of customer support does monday.com offer?
Sometimes a software is only as good as its support. Luckily, monday.com excels at customer support. They offer FAQs, webinars, community forums, video tutorials, an extensive knowledge base, phone support, and even a dedicated customer success manager at the Enterprise level.
You'll never go without help when using monday.com.

If you want to plan, track, and complete your projects with ease, be sure to try out monday.com!
If you want to plan, track, and complete your projects with ease, be sure to try out monday.com!
The Motley Fool has a Disclosure Policy. The Author and/or The Motley Fool may have an interest in companies mentioned.