MoonMail claims to be "the easiest way to send email marketing newsletters".
That is definitely not the case.
It was the least user-friendly of the email marketing software that I've reviewed for The Blueprint and used before, either personally or professionally.
It also has a whole page on its website dedicated to free email marketing. Except MoonMail doesn't provide free email marketing.
There is a 14-day trial period that allows you to test out its features and begin emailing for free, but there is no free plan. This is an extremely misleading statement.
As we mention later on, if you are in any doubt as to whether MoonMail is free or not, that's pretty quickly cleared up when they ask for your credit card details as the first step of the sign-up process.
MoonMail claims to have a range of big-name clients, such as Amazon, Nespresso and Warner Brothers. I can't understand why these companies would choose MoonMail.
---
Who is MoonMail for?
Most email and direct marketing solutions try to appeal to all types of users. However, MoonMail's lack of email templates suggests that this product was built by people who don't understand that the average email marketer might not have the skill level to use markdown and might need pre-made templates.
---
MoonMail's features
MoonMail is light on features. It has most of the basics: email wizard, segmentation, autoresponders, A/B testing, sign-up forms and analytics.
But it lacks advanced features that would encourage you to pick it over the many other solutions on the market.
Campaigns
MoonMail displays an always-visible checklist with the steps you need to take to create an email blast, so you always know where you are in the process.
The first step in creating an email newsletter is to decide if you want to create a single message campaign or an autoresponder campaign that is triggered by customer behavior.
Once you've chosen your segment, and you must choose one, it's time to create your message. MoonMail doesn't provide pre-designed templates; you have to code your own using its HTML builder and a markdown cheatsheet.
This suggests that MoonMail was built by someone who doesn't understand how marketers work and what they are looking for in an email platform.
This will also put the solution beyond the reach of novice email marketers and anyone who doesn't have access to design resources.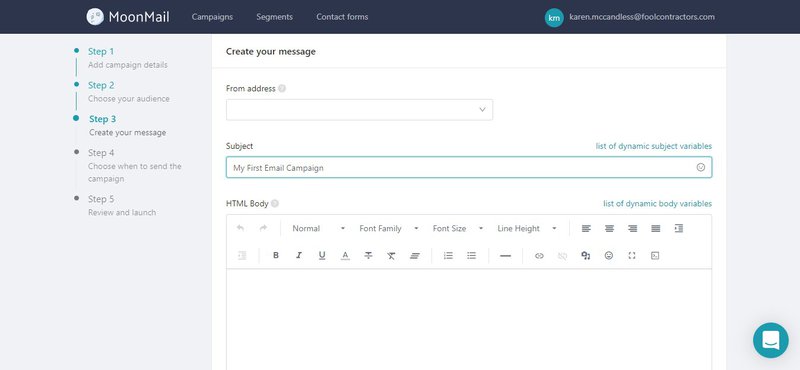 You can also create basic contact forms that encourage signups that will help grow your email list.
Segmentation
I've used and reviewed a lot of email marketing software, and I consider myself tech-savvy, but I was at a loss when it came to building a segment.
Bear in mind that it's common when choosing new software to want to test out a variety of different options before making a decision. That means it's important to make everything very clear during the testing process.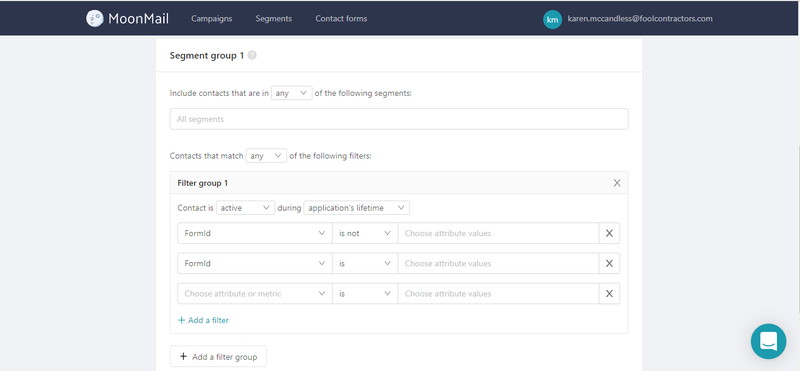 The only condition you can add to create a segment is when the contact had last been active, for example, if they had opened an email within the last week or 24 hours. There are no options to add conditions such as location, past purchase behavior, or website visits.
Analytics
MoonMail's reporting and analytics functionality is basic, especially compared to other email marketing solutions, such as Mailchimp, which provide revenue-driven analytics.
MoonMail's main dashboard consists of different email campaign performance reports. It provides data on:
Total emails sent and delivered
Spam complaints
Bounces
Opens and open rate as a percentage
Clicks and click rate as a percentage
Unsubscribe rate
Email deliverability reputation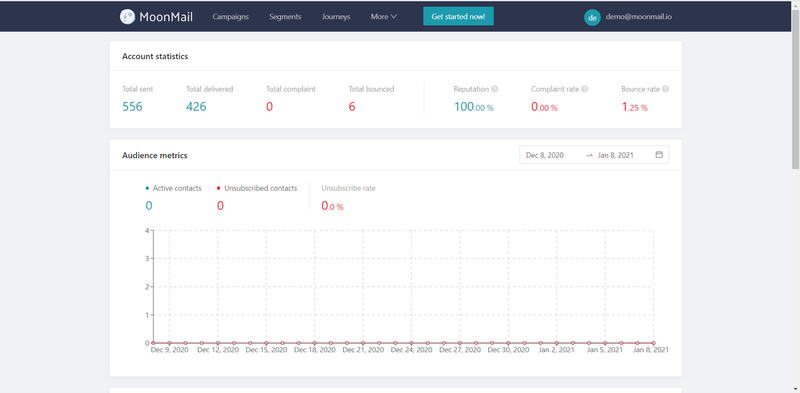 ---
MoonMail's ease of use
MoonMail is one of the only email marketing solutions that asks for your payment details upfront.
It then charges you $1 without your consent — I assume to confirm that your payment method is valid. It refunds you that payment, but it says it can take up to 10 days for this refund to reach your account.
While $1 isn't a massive amount, it isn't good business practice to do this without asking your permission first.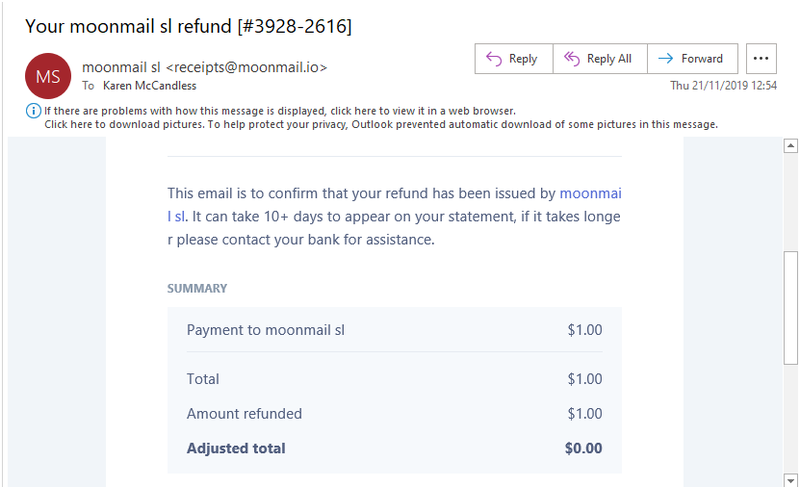 Moonmail doesn't make set up any easier from thereon.
You have to fill out your domain (MoonMail won't work unless you have your own domain), your website URL, and a description of your company's activities. It feels like they're going to even ask the name of your firstborn.
It's a time-consuming and over-complicated process, and the user experience compares very badly to other email marketing solutions.
But it doesn't end there, you'll be excited to know. You then have to add DNS configuration for your domain, although you can skip this step if you want to start using the functionality immediately.
But congratulations if you were hardy enough to make it past these steps, as you're ready to start using MoonMail!
Finding your feet
MoonMail's navigation is straightforward. It splits out the options for campaigns, segments and contact forms into separate menus. I believe it would be useful to make autoresponders a separate menu rather than including it as an option in the campaign menu.
Some of MoonMail's features are easy to use, for example creating a campaign. As long as you are able to create an email yourself, that is. Its segmentation functionality is much more complicated than other solutions.
---
MoonMail's pricing
MoonMail provides a free sandbox account for testing purposes, which allows you to send emails to up to 10 verified contacts.
There are three main paid plans and an Enterprise plan with custom pricing. Its least-expensive pricing plan starts at $59 per month. This allows you to send 50,000 emails per month to 10,000 recipients. This price could put it out of reach for many small businesses.
None of the pricing plans are good value for the money if you have a lot of subscribers or send a lot of emails per month. Even if you upgrade to the Starter plan, which costs $249 per month, you can still only send 250,000 emails to up to 50,000 contacts. Most other email marketing solutions let you send unlimited emails to unlimited contacts when using their more expensive plans.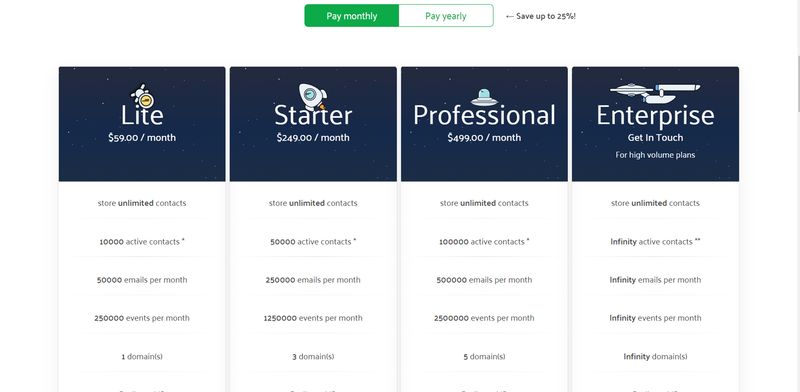 ---
Working with MoonMail support
MoonMail provides live chat support. All you have to do is click on the button at the bottom of the screen. Their customer support staff normally reply within an hour.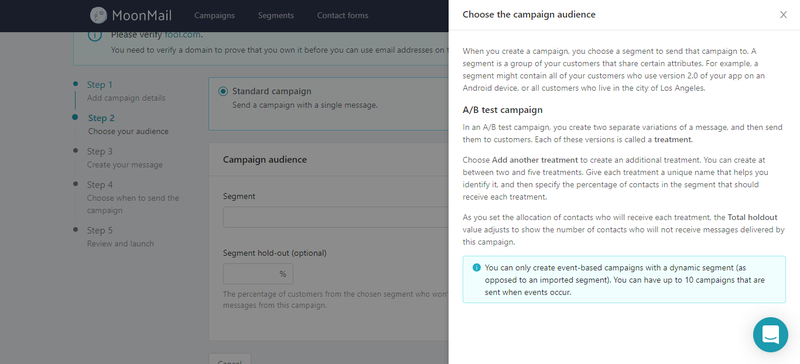 MoonMail has a searchable help center with articles full of screenshots, videos and walkthroughs that provide digital marketing tips to help you better use its software. It sprinkles helpful hints throughout the app that open as popups, so you don't have to open a separate tab to read the information.
---
Benefits of MoonMail
MoonMail has an easily accessible live chat support option, which is available 24/7. It also has a vast array of useful articles in its help center.
MoonMail also offers the main features needed to run basic email marketing campaigns (albeit the lack of email templates makes it more complicated and time-consuming) and all these features are easily accessible in the main navigation.
---
Very basic, confusing solution
The differences between most of today's leading email marketing services are minimal. The user experience varies, some have more advanced features, others have better pricing structures, and some provide more support. MoonMail is a bit of a mystery.
The sign-up process takes a while. Features — such a segmentation — are more difficult to understand, and MoonMail lacks advanced features, such as autoresponder templates, scheduling email sends according to past behavior, and revenue-driven analytics. The user interface is very basic, and not attractive at all.
The user experience is ok, as you can quickly access all options, partly because there aren't that many features.
Then there is the issue of the free email marketing plans. They don't really offer free plans; you have to enter your credit card details to sign up. Then they send you an email to say they have taken $1 from your account (without your permission), and they will refund it within 10 days.
That action alone speaks for itself.
---
Frequently Asked Questions for MoonMail
Yes and no. MoonMail provides a free sandbox account for testing purposes, which allows you to send emails to up to 10 verified contacts. Unless your business only needs a few customers, that won't be enough to run email marketing campaigns. Its least-expensive pricing plan starts at $59 per month, which allows you to send 50,000 emails a month to 10,000 recipients.
Does MoonMail include autoresponders?
Yes, MoonMail provides autoresponders, which allow you to create automated sequences of emails that are triggered by customer behavior, such as signing up to a list. It does not include autoresponders in its least expensive pricing plan.
Does MoonMail have email templates?
No, MoonMail doesn't come with email templates. You have to use their HTML builder to create your email blasts.
The Motley Fool has a Disclosure Policy. The Author and/or The Motley Fool may have an interest in companies mentioned.